Chicago Fire:

Landon Donovan
November, 20, 2011
11/20/11
10:35
PM CT
By
Charlie Corr
| ESPNChicago.com
Landon Donovan netted a 72nd-minute goal and the Los Angeles Galaxy defeated the Houston Dynamo, 1-0, on Sunday to win the MLS Cup at The Home Depot Center in Carson, Calif. The Galaxy earned its third MLS Cup, previously winning in 2002 and 2005.
The Galaxy, which dominated in possession for much of the night, finally broke the stalemate as Donovan's shot actually deflected off of Houston goalkeeper Tally Hall's left glove. But the deflection was not enough to push the ball away from the frame as it rolled inside the right post for the one-goal lead. David Beckham -- perhaps playing in his final MLS match -- and then Robbie Keane set up Donovan's tally.
"Whether I stay or not, I've had an amazing five years," Beckham said to ESPN's Rob Stone following the match. "The fans have been unbelievable. The owners have been unbelievable. The players, every one of them are heroes tonight. We've been incredible all season, and this capped it off."
Los Angeles had more than its share of scoring chances, especially in the first half. Much of the focus in the first 45 minutes was on Galaxy forward Adam Cristman's opportunities.
Cristman, who filled in for former Chicago Fire forward Chad Barrett (dislocated his ankle in training), had three strong chances, starting with a 12th-minute header off of a Beckham corner kick. Cristman was unmarked in the middle of the box, but his header went wide right. In the 27th minute, Cristman's header went over the goal as Beckham set him up. And in the 28th, the Galaxy tried to take advantage of a Dynamo turnover, but Cristman lost his footing on another potential scoring chance. Chris Birchall replaced Cristman early in the second half.
The only first-half strike that went on goal came from the Dynamo's Danny Cruz, whose 44th-minute shot went directly to Galaxy goalkeeper Josh Saunders.
In the 57th minute, Keane thought he had the game's first goal. But he was ruled offside, even though replays showed that he was level with the Dynamo's Geoff Cameron.
Former Fire forward and Dynamo starter Calen Carr did not show up much in the final third. But he did help in the Houston buildup that eventually led to an Adam Moffat header that went wide right of the goal in the 66th minute. Carr was replaced by Carlos Costly after that sequence.
In the waning moments of the match, Beckham took a free kick about two minutes into second-half stoppage time. Beckham's strike went toward the upper right corner of the frame, but Hall batted the ball aside.
2012 schedule changes benefit Fire:
The Fire struggled mightily against Western Conference teams this past season with a 3-8-7 record, compared to a very respectable 6-1-9 mark against their fellow Eastern Conference sides.
The days of a balanced schedule will come to a close with the Montreal Impact joining MLS as the league's 19th team next year. There will be some significant changes within the league in both the regular season and postseason.
The Impact, coached by former Fire midfielder Jesse Marsch, will become the 10th Eastern Conference team. Next year
during the regular season
, each Eastern Conference side will play a total of 25 conference matches and nine matches against West teams within the 34-game schedule.
Next year's playoffs
also will no longer include a neutral championship site, though this year worked out completely in the Galaxy's favor at The Home Depot Center. Moving forward, the championship match will be played at the home venue of the participating team with a higher regular-season points total. Another big playoff change will feature a two-leg series in the Eastern and Western Conference Championships instead of a single match, a format that has been in place for the past nine seasons.
Carolina Challenge Cup schedule set:
Recently the Charleston Battery announced the
2012 Carolina Challenge Cup tournament schedule
in which the Fire, Columbus Crew, D.C. United and host Charleston are participating.
The Fire open the tournament against D.C. on Feb. 25 (4 p.m. CT kickoff), followed by a match against the Crew on Feb. 29 (4 p.m.) and the Batter on March 3 (6:15 p.m.).
July, 10, 2011
7/10/11
12:48
AM CT
By
Charlie Corr
| ESPNChicago.com
Since taking over the Chicago Fire's coaching duties, interim head coach Frank Klopas has preached about strengthening the defense on set pieces.
The Fire had not allowed a set-piece goal during Klopas' first seven games at the helm. But
David Beckham
and the Los Angeles Galaxy put an end to that trend, as the Galaxy scored twice on set pieces en route to a 2-1 victory over Chicago on Saturday at The Home Depot Center in Carson, Calif.
Beckham scored directly off of a corner kick for the game-winner, and he provided a corner kick assist on a
Landon Donovan
header. Cristian Nazarit scored the Fire's lone goal in between Beckham's corners, with all three goals coming in an eight-minute span.
"We got too comfortable against the wrong team," Fire midfielder
Patrick Nyarko
said. "We lost concentration on a couple of goals, and that's unacceptable. A lapse of concentration against a team like this, they'll take advantage of it."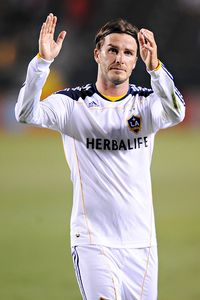 Christopher Hanewinckel/US PresswireDavid Beckham scored the game-winning goal against the Fire on Saturday night.
The Fire (2-5-12) suffered their first loss under Klopas (1-1-6). It also marks Chicago's first defeat since a 2-1 loss to the Philadelphia Union on May 21. The Western Conference-leading Galaxy (10-2-9) extended its unbeaten run to 12 games.

On Saturday, the Galaxy offense came to life in the second half, highlighted by Beckham's 66th-minute corner kick goal. Beckham took a low, driving corner from the left side and found the net. The ball eluded several players, including Fire goalkeeper Sean Johnson and Nyarko who was trying to cover the back right post.

"It went through Jalil [Anibaba], Sean, and I couldn't see the ball until it was in the net," Nyarko said. "It was bad defending on our part."

In the 58th, Beckham sent the corner kick in from the right side and found Donovan on the back left post for a 1-0 lead. Donovan rose above Fire defender Gonzalo Segares and headed the ball into the right side of the net.

The Fire quickly recovered from Donovan's goal. In the 62nd minute, Nyarko sent a right-footed cross from the left side of the pitch and connected with Nazarit. Nazarit drove his header underneath Galaxy goalkeeper Josh Saunders and into the net to tie the score at 1-1.

The match ended on an ugly note when Nyarko was taken out by the Galaxy's Chris Birchall in second-half stoppage time. Birchall was shown a yellow card, and the Fire took exception to a harsh challenge that could have been ruled a red. Fire forward Diego Chaves immediately rushed in, and multiple players left their respective benches. Fire defender Josip Mikulic, who was a reserve, was shown a red card.

Analysis: The end result certainly did not paint the picture of how the match went in the early going.

The Fire's game plan was effective throughout the first half and the early stages of the second half. Donovan's 58th-minute goal was the first attempt the Galaxy had on net, so the Fire had a positive impact during this difficult road match. Once Chicago allowed some Galaxy set pieces on a regular basis, that played into the host team's hands.

Chicago had some good chances to put some momentum in its corner. Fire defender Anibaba had a scoring chance in the 45th minute. Anibaba appeared to be squared up to put his header on frame, but he pushed it wide right of the net. Early in the first half, Nyarko worked his way into the box from the left side, but the Galaxy's Gregg Berhalter slid in to deflect Nyarko's 14th-minute chance away from the goal.

Fire midfielder Marco Pappa could have had a stronger performance. He missed a glaring chance to level the match in the 72nd minute. Nyarko made a quick move to get around the Galaxy's Bryan Jordan on the left side. He provided a perfect setup for Pappa, but he sent his shot over the crossbar.

The Fire have had plenty of draws -- as well as a win -- that were poorer performances than Saturday's loss. But there is no question that Klopas will reiterate his set piece emphasis moving past this game.
April, 16, 2011
4/16/11
2:19
PM CT
By
Charlie Corr
| ESPNChicago.com
BRIDGEVIEW, Ill. -- Chicago Fire head coach Carlos de los Cobos typically stresses the importance of maintaining a similar lineup from game to game, as any coach would prefer. But with back-to-back road losses and the team's worst defensive effort of the season on Thursday, De los Cobos might have some important personnel decisions to make as the Fire attempt to end their little skid when they host the Los Angeles Galaxy on Sunday at Toyota Park.
The Fire posted road losses to Seattle Sounders FC on April 9 and the expansion Portland Timbers on Thursday, and the focus is on Chicago's recent shaky defensive efforts. Chicago allowed a season-high four goals against Portland in a 4-2 loss. Second-year goalkeeper
Sean Johnson
had one of his poorest efforts of the season against Portland, including the inability to secure the ball that directly led to the Timbers' third goal.
Following Saturday's training, De los Cobos was not ready to state a firm answer as to whether Johnson would return in the net on Sunday, or whether he is leaning toward 33-year-old
Jon Conway
making his Fire debut.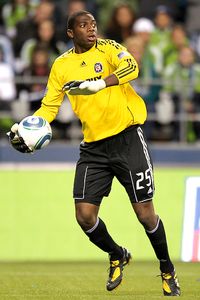 Otto Greule Jr/Getty ImagesFire goalkeeper Sean Johnson has lost his last two matches.
"I don't know, I don't know, I don't know," De los Cobos said. "Right now, I don't know. I need to think. I need to talk with [Sean] first. ... We have a good player like Jonny. I think Jonny is very good to stick with us because he can help transmit his experience to Sean and to help him mature."

One person who is back in the mix is center defensive back Josip Mikulic. The Fire missed the stability of Mikulic, who had an effective first two games of the season. Mikulic then injured his quad during 11-vs.-11 training the day before Chicago's Lamar Hunt U.S. Opener Cup qualifier against the Colorado Rapids on March 30.

"Right now, it's perfect," Mikulic said of his leg. "Not to worry -- I'm ready."

Dasan Robinson took over for Mikulic during the Fire's two road games against Seattle Sounders FC and Portland. Again, De los Cobos did not state with certainty as to which way he will turn on Sunday at center defensive back. An own goal against Portland and some noticeably slow movement on the pitch probably do not help Robinson's cause, though De los Cobos said he was pleased with Robinson's effort on the road trip.

"I need to analyze [the situation] because Dasan occupied the space, and he worked very good in the matches against Seattle and Portland," De los Cobos said. "I'm one to think about these situations and analyze different circumstances. [Sunday], I'll make my decisions."

The Fire (1-2-1) are at the bottom of the Eastern Conference standings. And while the season is incredibly young, Chicago already has reached an important juncture as the Fire cannot afford a third straight game without some points in their pocket.

The last time the Fire hosted the Galaxy, it marked an undisputed turning point for the worst during Chicago's 2010 season. On Sept. 4, 2010, Chicago maintained a scoreless draw for much of the match while playing shorthanded (Gonzalo Segares was ejected in the 21st minute). Collins John tallied an 88th-minute free kick goal for a 1-0 Fire lead as Toyota Park was abuzz. But instead of sweeping the season series against the eventual Supporters' Shield winners, L.A.'s Omar Gonzalez headed home a game-tying goal off of a Landon Donovan corner kick for a 1-1 draw.

The Fire had other opportunities to stay in the playoff hunt following that match, but last year's campaign went mostly downhill from that point.

Chicago has a couple of elements in its favor this Sunday -- a return home to Toyota Park, and a Galaxy side that is remarkably shorthanded.

The Galaxy confirmed Saturday to ESPNChicago.com that Donovan (knee inflammation) is unavailable for Sunday's game. David Beckham (yellow card accumulation, suspended), Juninho (two yellows on Wednesday, suspended) and Jovan Kirovski (second game of two-game suspension) also are not available for the Galaxy (2-1-3).
April, 15, 2011
4/15/11
6:52
PM CT
By
Charlie Corr
| ESPNChicago.com
The Los Angeles Galaxy's Landon Donovan did not travel with his team to Chicago as the Galaxy prepares for its match against the Fire on Sunday at Toyota Park in Bridgeview.

While the Galaxy (2-1-3) has not officially ruled out Donovan for Sunday's game (he is questionable on this week's injury report with knee inflammation), the odds of the team pushing to bring him in over the weekend and see game-time action looks bleak at the moment. Donovan missed Wednesday's scoreless draw against Toronto FC and last Saturday's 1-1 draw against D.C. United.

L.A.'s roster is heavily depleted heading into Sunday's game.

Galaxy midfielder David Beckham was issued his fifth yellow card of the season this week and will subsequently miss this weekend's match. Juninho was booked twice on Wednesday and has to serve a one-game suspension. And the MLS Disciplinary Committee extended midfielder Jovan Kirovski's suspension to a second game for verbal abuse of an official following the April 9 match against D.C. United. Kirovski served a red card suspension Wednesday and now has to miss Sunday's game.

Carrasco suspended, fined for Nyarko hit: Seattle Sounders FC midfielder Servando Carrasco was suspended for one game and fined $500 for his reckless challenge against Fire midfielder and forward Patrick Nyarko last Saturday. Nyarko was dealt a blow to his shin in the 90th minute, and had to leave the match, which resulted in a 2-1 win for Seattle. The challenge was severe, but Nyarko only had a bad bruise and played during Chicago's 4-2 loss to the expansion Portland Timbers on Thursday.

Carrasco received a yellow card, but the MLS Disciplinary Committee announced Friday that his challenge endangered Nyarko's safety -- a pretty obvious conclusion for anyone who watched the match and the replays. Carrasco will miss the Sounders' match against the Philadelphia Union this Saturday.