Chicago Fire:

Leo Percovich
January, 6, 2012
1/06/12
12:42
PM CT
CHICAGO -- Mike Matkovich and Leo Percovich will return to the
Chicago Fire
as assistant coaches for the 2012 season, the team announced on Friday. The two full-time assistant coaches will serve under Frank Klopas, who was named head coach on Nov. 3.
Matkovich, 49, previously served as a Fire assistant coach from 2009-10, but spent 2011 as the director of coaching for the Chicago Fire Juniors-South and as an assistant coach for the team's Academy sides. Hailing from Frankfort, Ill., Matkovich's first job with the Fire was as head coach of the Chicago Fire PDL from 2002-06. He held assistant coaching positions with
Toronto FC
in 2007 and with Percovich at
Chivas USA
in 2008.
For Percovich, 43, this will be his second season as an assistant coach with the Fire.
A native of Montevideo, Uruguay, Percovich is a former Copa Libertadores and Uruguayan First Division champion who joined Toronto FC as an assistant coach in 2009, after serving as a goalkeeper coach with the
Colorado Rapids
and Chivas USA.
Klopas, the team's first technical director from 2008-2011, was appointed interim head coach in late May after a 1-4-6 start led to the firing of coach Carlos de los Cobos. The Fire finished the season 8-5-10 under Klopas, narrowly missing the playoffs.
The Fire open the season Mar. 17 in Montreal and will host the
Philadelphia Union
at Toyota Park in their home opener on Mar. 24.
May, 11, 2011
5/11/11
6:34
PM CT
By
Charlie Corr
| ESPNChicago.com
BRIDGEVIEW, Ill. -- Chicago Fire assistant coach Leo Percovich can chew out someone in one moment and be the nicest guy in the next.
On one end of the spectrum, Percovich brings necessary energy to training, as well as a strong voice. That voice did land him a fine during the preseason's Carolina Challenge Cup, when he had a few choice things to say to the officials.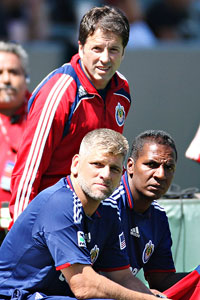 Juan Miranda/Getty ImagesFormer Chivas USA assistant Leo Percovich has helped the Fire's revamped roster mesh.
But on the other end of the spectrum, Percovich has gone out of his way to try to establish a sense of "harmony" within the club. During the preseason, Percovich purposely mixed and matched roommates from various countries so the Fire's heavily revamped lineup could get acclimated to one another before the season began.
"We have 11 or 12 nationalities on the team, different cultures, religions and habits," Percovich said. "You have to have the same character and same spirit on the team. That's very important for everybody to stay in the same habit. At the end of the preseason, we had a group where everybody knows everybody."
Percovich, who was an assistant coach at Toronto FC last season, is going to face his former team as the Fire travel to Toronto's BMO Field this Saturday with the hopes of erasing a six-game winless streak.
"I'm excited to come back and play against them," said Percovich, who assisted for Toronto under former head coach Preki. "Everybody you worked with and trained, it's always exciting."
The 43-year-old Percovich, a native of Montevideo, Uruguay, was added to Chicago's staff in January under head coach Carlos de los Cobos. Percovich enjoyed a 15-year professional career as a goalkeeper, with six games for Uruguay's national team.
In 2002, Percovich wanted to get involved in the coaching side, and he eventually made it into MLS in 2006, joining fellow Uruguayan Fernando Clavijo's staff with the Colorado Rapids as a goalkeeper coach.
"It was clear that I wanted to be a coach, and there's a very clear process for that," Percovich said. "I'm just doing my job and growing up in my career. I want to be a head coach one day, for sure. I have to be ready and learn as much as I can through this experience."
Following the Rapids, Percovich moved on to Chivas USA, where he was the goalkeeper coach for former Fire original Zach Thornton. During the 2009 season, Percovich helped rejuvenate Thornton's career as Thornton posted a career-best 12 shutouts, a 0.87 goals against average and garnered MLS Goalkeeper of the Year honors.
"He's a fantastic person," Percovich said of Thornton. "We were like brothers. Basically he came to me when he was 35 years old, and his best season he had was in 2009. That was a tremendous season, and I was very happy for him."
The Fire have several ties to Uruguay, which has a population that is roughly two-thirds the size of all of Cook County. As far as the pedigree of soccer in this South American country, Percovich says the style is different these days.
"The style of soccer in Uruguay has changed in the last 10 years," Percovich said. "When I was there, there were only good No. 10s and the rest were more physical, strong people. Now, players have more speed and more ability in their position. They are much more technical."
The Fire tapped into that market and acquired Uruguayan forwards Diego Chaves and Gaston Puerari during the offseason. From a salary standpoint, their additions have been a steal, especially team goal scoring leader Chaves. Chaves and Puerari are making a combined $95,000. Percovich was not familiar with them, but he instantly saw a familiar demeanor.
"I never met them before, but from the first time when we were together, you can identify with their routines," Percovich said. "The pride they have -- they never want to lose one ball, and that's a very typical characteristic of Uruguayan players. It's a small country, and the only thing you have is your name. So they want to preserve their name with that attitude and character. You've seen their talent and technique."
Percovich hopes to stamp his name in the coaching realm, though clearly this season has been a trying one for everyone involved with the Fire (1-3-4). Percovich and the Fire have created one thing, and that is truly a universal belief that the team's system will pan out.
Percovich says a maturity factor will be the ingredient in things turning around, though with a nearly a quarter of the season in the books, that element needs to come soon.
"We have to be more mature," Percovich said. "We have had three ties [in a row], and it takes maturity to preserve and control the time, the tempo and the possession. That didn't happen against Houston and we lost our heads. We knew what we were doing against Colorado, but they came after us and scored 4 minutes into the second half.
"We have to work at it, and we have the right attitude and talent. When you're under pressure and thinking of your job, it will come back and you'll start to win."
January, 18, 2011
1/18/11
11:17
AM CT
By
Charlie Corr
| ESPNChicago.com
C.J. Brown, who has been the face of Chicago Fire soccer and was a member of the inaugural team in 1998, will have another MLS team affiliation stamped to his name.

Real Salt Lake named Brown its assistant coach on Tuesday as he replaces Robin Fraser, who took over the head coach role with Chivas USA.

"C.J. has been a highly respected defender in MLS for a long time," RSL head coach Jason Kreis said. "He has shown what loyalty, professionalism, hard work and dedication can get you in MLS as a player, and I'm certain he will bring those same qualities to his coaching. We are pleased to be adding not only a terrific soccer mind to our staff, but also a terrific man that truly wants to succeed at this new challenge in his life."

Brown's first contact with Salt Lake first started at the MLS Combine, and talks progressed from there.

"I'm glad that they gave me the opportunity," Brown said on the Bill and Spence Show on ESPN 700 in Salt Lake City. "It's a very good coaching staff, a great coaching staff. They have a good club and everybody I've spoken with has been very good to me. I'm excited to get started. I really want to keep pushing this program in the right direction."

Brown was coaching the Fire Juniors program and expressed toward the end of the 2010 season his desire to become an assistant coach in MLS once he retired -- preferably assisting with the Fire.

But when the Fire did have an opening following the departure of Naperville native and U.S. U-18 men's national team head coach Mike Matkovich, Chicago instead went with former Toronto FC assistant Leo Percovich.

"This is a great opportunity for C.J., and everyone at the Fire is very happy for him," Fire technical director Frank Klopas said in a statement. "We are grateful for all of his contributions to the club, and we wish C.J. and his wife, Kim, and their two girls the very best."

While the Fire have not publicly expressed the reasons for passing up on Brown to work his way into an assistant role with the Fire, two factors weighed heavily in Percovich's favor: Percovich is bilingual, so the Uruguayan native's communication among the players and predominantly Spanish-speaking Fire head coach Carlos de los Cobos will not get lost in translation, and Percovich has MLS coaching experience as an assistant for two years with Toronto and as a goalkeeper coach with the Colorado Rapids and Chivas USA.
January, 12, 2011
1/12/11
12:03
PM CT
By
Charlie Corr
| ESPNChicago.com
The Chicago Fire announced the addition of Leo Percovich as first assistant coach on Wednesday. Percovich takes over the position previously held by Naperville native and U.S. U-18 men's national team head coach Mike Matkovich.

Coincidentally, Matkovich and Percovich were both part of Chivas USA's 2008 team, with Matkovich holding an assistant job and Percovich the goalkeeper coach position.

Percovich, 42, is a native of Montevideo, Uruguay, and he has been involved in Major League Soccer since 2006. He was a goalkeeper coach with the Colorado Rapids (2006-2007) and Chivas USA (2008-2009) and joined Toronto FC as an assistant coach just before the 2009 season got underway.

During his playing days, Percovich made six appearances with the Uruguayan national team.