Chicago Fire:

Matt Pickens
November, 22, 2010
11/22/10
1:07
AM CT
By
Charlie Corr
| ESPNChicago.com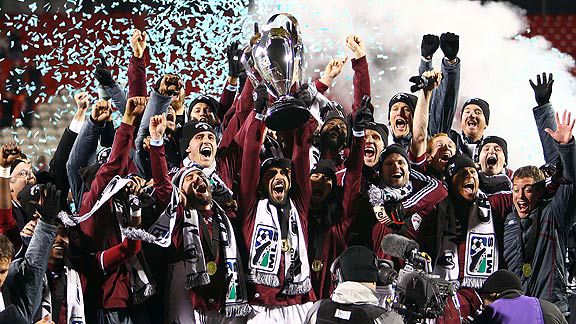 Tom Szczerbowski/US PresswireThe MLS season is offically over and the Colorado Rapids are left holding the cup. Former Fire keeper Matt Pickens and the Rapids withstood a late flurry of shots to beat FC Dallas 2-1 and capture the title.
This year's MLS Cup had its slow moments, but the finish was action-packed.

The Colorado Rapids benefited from an own-goal in overtime and went on to beat FC Dallas, 2-1, on Sunday for their first MLS title at BMO Field in Toronto. Colorado's Mac Kandji punched the ball off of Dallas defender George John's leg for the game-winner in the 107th minute.

"Honestly, I don't mind how they come," Rapids head coach Gary Smith said during the post-game press conference. "If they're winners, it doesn't matter. The overriding thought is they must be under some pressure to make that mistake."

Kandji injured his leg on the play, forcing Colorado to play for about 15 minutes with only 10 men. Dallas had some potential scoring moments down the stretch, but the Colorado defense was up to the task, including a huge save from former Chicago Fire and current Rapids goalkeeper Matt Pickens in the 121st minute to turn away a John strike.

Rounding up the scoring, Colorado's Conor Casey tallied a second-half equalizer to earn MLS Cup MVP honors, and MLS regular-season MVP David Ferreira had Dallas' lone goal in the first half.

Here are some highlights and thoughts from Sunday's MLS Cup:

Pickens prevails: Between Dallas goalkeeper Kevin Hartman and Pickens, it was the former Fire goalkeeper who had the busier night. Pickens came up with five saves, none bigger than the 121st-minute stop against John.

John's strike was bound for the inside of the left post, but Pickens dove to his right and lunged just enough to get his left glove on the ball and turn the shot away. Pickens made some other noteworthy stops, reacting well in the 71st minute when a shot deflected off a Rapids player, made a stop on Ferreira's 118th-minute strike toward the right post, and punched away a couple of key Dallas crosses.

But Pickens' back line deserves a bunch of credit for limiting his chances. There were several Dallas flurries where Pickens' defense blocked the ball from even reaching the goal area.

Pickens' counterpart, Hartman, made only two saves on the night. Hartman was the big story following his team's Western Conference victory over the Los Angeles Galaxy. In regulation, Hartman had the match's clutch save in the 62nd minute, diving to his left to deflect a Jeff Larentowicz shot.

Marquee contributions: So much was made about how this MLS Cup did not include the New York Red Bulls, or the Los Angeles Galaxy's Landon Donovan and David Beckham. But Colorado and Dallas peaked at the right moment and earned the big stage. Both teams' marquee players stepped up on the scoring side, as well.

Two completely different styles of attacking players showcased what they are best at.

On Dallas' side, Ferreira's uncanny knack for finding space led to the match's first goal in the 35th minute. Marvin Chavez provided a perfect cross from the right side as Colorado's Anthony Wallace allowed Chavez enough space to the right. Pickens tried to step up and intercept the ball at the top of the goal box, but Ferreira just got his foot on the ball and placed it into the back of the net for a 1-0 lead.

For Colorado, Casey muscled his way around the offensive third all game, and in the 56th minute he reaped the rewards with a game-tying goal. Jamie Smith crossed the ball in from the left side and it was up for grabs among Casey, Hartman and Benitez. All three converged and were on the ground. The ball briefly sat on the pitch before Casey stuck his right foot out and poked the ball into the net.

The one marquee player who played only a minor role Sunday was Rapids forward Omar Cummings. By the 98th minute, Smith decided to bring in Kandji for Cummings, who was injured and was not effective in the second half. He did have a couple of noteworthy moments in the first half, showing some beautiful work with the ball in the 37th minute to nearly equalize the match 2 minutes after Ferreira's goal. Cummings also had a header that went wide left in the 29th minute.

Key non-call: With the match still scoreless, referee Baldomero Toledo was the subject of a non-call during the 27th minute. Casey and Dallas defender Jair Benitez tangled in the box and Casey took a fall. Casey and the Colorado side were fuming about the lack of a whistle and penalty kick opportunity.

The only thing that could have gone against Casey was that he made the initial contact against Benitez. But after that, Benitez kicked Casey with his left foot, then appeared to trip Casey with a desperate lunge.

Whether Casey made an exaggerated motion to signify the trip is up for debate. But there was contact, and Toledo should have blown his whistle. It should have been the first clear-cut scoring opportunity of the match, and it would have changed the tone of the game.

It's a moot point, though, with Colorado netting the win.

2011 playoff change: At halftime of Sunday's MLS Cup, MLS commissioner Don Garber joined the ESPN booth to reveal that next season will include 10 playoff teams, and increase from the this year's eight-team field. Garber did not have specifics about the system, other than to respond to how this year we saw four Western Conference teams at the semifinal round, and that it should not happen in the future.

"It doesn't make sense to have two Western teams playing in the Eastern Conference final," Garber said. "We will find a way to solve that for next year. We need about 30 days to figure that one out."

With two new teams coming into the league for 2011, the regular-season schedule will increase to 34 games. But why should the playoff field increase by two?

There is little incentive to put together a superb regular season. As long as you can survive the playoff line, MLS likes the fact that parity will create an equal opportunity for everyone. Garber was presented with an opportunity to explain how to reward say the Supporter's Shield winner, but he dodged the issue with ambiguities.

Increasing the number of playoff teams is a bit premature. A double-digit playoff picture would be more appropriate when MLS reaches 20-plus organizations.
November, 19, 2010
11/19/10
6:29
PM CT
By
Charlie Corr
| ESPNChicago.com
Former Chicago Fire and current Colorado Rapids goalkeeper
Matt Pickens
was hopping around overseas just a couple years ago.
Following his strong 2007 MLS season with the Fire -- a campaign that found Chicago one win shy of competing for an MLS Cup -- Pickens explored his options, competing with Queens Park Rangers and battling in various trials throughout Europe.
Doug Pensinger/Getty ImagesColorado goalie Matt Pickens allowed 32 goals in 29 regular-season games this year.
"I played my four-year contract out and got a few offers from Europe. As any soccer player will tell you, you don't know when you'll get another opportunity like that," Pickens said. "So I took it. It made me an experienced player, going through that tribulation. You find out what type of player you are."

When things did not pan out in Europe, Pickens found his way back to MLS and Colorado last season. And now, he's one win away from an MLS Cup as his Colorado side takes on FC Dallas this Sunday at BMO Field in Toronto (7:30 p.m. CT kickoff, ESPN).

"Last season, coming in and trying to play a full season after not playing consistently for a full year, that took a toll on my body," Pickens said. "My body didn't hold up as much as I thought it would, and I had a few injuries last year that set me back. That hurt me. This year, I started in 29 out of 30 games during the regular season, so I've been staying healthy and playing consistently.

"That's the most important thing to a goalkeeper is consistency, and you start to play with more confidence," he said. "When you're in and out, it's hard to keep a rhythm going."

Colorado as a whole has jelled during this critical stage of the season. Among the Western Conference-heavy playoff field as a wild card, the Rapids topped the Columbus Crew in a shootout, then blanked the San Jose Earthquakes, 1-0, to reach the final.

"We've been decent all season," Pickens said. "We haven't dipped too hard, and over the last two months or so we've been playing our best ball."

The attacking side will be a huge focal point in Sunday's game. The Rapids have their familiar tandem of Conor Casey and Omar Cummings, and Dallas sports Jeff Cunningham and recently-named MLS MVP David Ferreira.

"Our back four have been great and have made my job easier," Pickens said. "We need to be fully aware of what Dallas can do -- respect Ferreira, respect and neutralize Cunningham's speed. We didn't play them long ago, but this is going to be a different game."

Equally important will be the goalkeeping matchup. Pickens has put together a strong season, allowing only 32 goals in 29 regular-season games. And it certainly can be argued that Dallas goalkeeper Kevin Hartman is the sole reason why his squad advanced to this stage, past last year's champion Los Angeles Galaxy in the Western Conference final.

"He's been solid his whole career, [14 years]. I'm on my seventh," Pickens said. "I've done half of what he's done, and he understands the game better than I do because of his experience. I'm still learning. Kevin would say the same thing. He's a proven goalkeeper in this league."

Pickens has had to deal with a groin strain for several months now, but he is good to go for this weekend's match.

"It's been a bit tricky, something I've had to monitor a bit more," Pickens said. "But I'm feeling better than the last few months. Having a full week [off] between each game has helped, so I'm feeling good."

Along his path, enduring the highs and lows, Pickens looks back fondly on his five-season tenure with the Fire that started when he was the 19th selection of the 2004 MLS SuperDraft.

"I really liked that locker room, a lot," Pickens said. "Of course I love Chicago for giving me my start, and it's close to home. Colorado has been good home to me, as well. We have a new attitude, and I've found myself in a Cup final now."