Chicago Fire:

Michael Videira
January, 21, 2013
1/21/13
11:22
PM CT
The Chicago Fire re-signed Corben Bone and picked up the contract options for Alex and Michael Videira, the team announced Monday.

"It was important for us to have Corben, Alex and Michael return in 2013," said Fire President of Soccer Operations Javier Leon. "They are skillful and versatile players that provide us with depth in a variety of positions."

Per MLS policy, the terms of the three midfielders' deals were not disclosed.


Bone, the Fire's first-round selection (13th overall) in the 2010 MLS SuperDraft, has made 17 appearances in three seasons with the Fire. He was one of only four players to start all of the Fire's 2012 Reserve League matches, scoring one goal and tallying two assists in 897 minutes.

Alex joined the Fire during the 2012 summer transfer window from Swiss side FC Wohlen He scored two goals in his 17 regular season appearances.

Videira joined the Fire on March 10, 2011 from USSF Division 2 Pro side AC St. Louis. In two seasons with the Fire, Videira has started seven of the 12 matches in which he appeared, notching one assist over 900 minutes.


Fire defender Arne Friedrich received his U.S. Green Card, the team announced, granting him permanent resident status in the United States. Friedrich will no longer occupy an International Player slot on the Fire roster.


The Fire also announced Monday that they did not pick up the option for Mexican international forward Guillermo Franco.



September, 9, 2012
9/09/12
12:49
AM CT
The Chicago Fire rallied with two second-half goals to earn a 2-2 draw against reigning Mexican league champions Santos Laguna in an international friendly Saturday night at Toyota Park.

Michael Videira tallied first for the Fire in the 48th minute, taking a corner kick from Daniel Paladini while charging through the box and scoring on Santos goalkeeper Miguel Becerra from close range.

The Fire tied the game in the 63rd minute when Dominic Oduro found Corben Bone up the right side and Bone tallied under Becerra and inside the back post.

Santos forward Benjamin Joya started the scoring in the 24th minute, dribbling to the top of the Fire box before beating Fire goalie Paolo Tornaghi and inside the right post.

Santos struck again five minutes later when Daniel Luduena forced a turnover at the back. The Argentine attacker took a deflected ball off the feet of Videira before placing his effort to the left of Tornaghi.

The Fire return to league action on the road against Toronto FC at BMO Field on Wednesday.
April, 27, 2011
4/27/11
4:16
PM CT
By
Charlie Corr
| ESPNChicago.com
BRIDGEVIEW, Ill. -- In the midst of a four-game winless streak and only one point in hand during April, the
Chicago Fire
are regularly deciphering their shortcomings to turn around a poor start to the 2011 season. The Fire hover near the bottom of the Eastern Conference with a 1-3-2 record, with Saturday's game at the defending MLS champion
Colorado Rapids
on the horizon.
Chicago's defense has been an obvious detriment to the team in recent weeks as the Fire have allowed 12 goals this year, which currently ties for second-most in the league. But the midfield also has been a growing point of concern.
In the Fire's most recent 1-1 draw against the
Houston Dynamo
, Fire head coach Carlos de los Cobos made some changes to every line. That included the insertion of Libertyville native and center midfielder
Baggio Husidic
, who started for the first time this season. Husidic got the call over
Michael Videira
, though Videira eventually subbed for Husidic in the second half.
"Even though people criticize our center midfield for not being that creative, I think we have guys in there that on their day can do it," Fire midfielder
Patrick Nyarko
said. "Baggio is an excellent passer with the ball from midfield, but we just need to get more possession out there. It starts from the back all the way up front."
It is unknown if Husidic will immediately be brought back into the starting lineup this Saturday. The 23-year-old University of Illinois-Chicago alum was a regular who contributed on the offensive end with five goals and three assists in 22 games in 2010.
"He's been a player that shows his ability to score some goals and add a bunch of assists," Fire defensive midfielder
Logan Pause
said. "He's a box-to-box midfielder that can help not only on the defending end but help create things going forward."
"I think he's trying to gain his confidence back and his touch back," Nyarko said. "I was speaking to him before the [Houston] game and he's talking about how he hasn't played in a while and he didn't know how it's going to go and stuff like that, and I told him it was going to be fine. He knows how to play the game. It was his first game back [since the season opener], so let's see what the next couple of games hold. I think working himself back in, he'll be a dangerous asset for us."
Midfield shortcomings:
The Fire's production within the midfield has not been up to par this season, to say the least. The possession has not been strong. The creativity has been lacking. And that has led to some unattractive soccer during a winless streak.
"We obviously haven't had possession at most parts of the game," Nyarko said. "Either the center backs get under pressure and just whack the ball and not bring it up -- I have yet to figure it out. But it definitely shows in long periods of the game that we're not moving and not passing the ball along. I think that will come a long way to help us if we try to keep possession of the ball at most parts of the game. That's where we look the most dangerous, when we keep the ball on the move and try to create chances off of that."
"We're not getting the results, but that's not to say there are times in the game where we are putting some good soccer together," Pause said. "I think that's something we are focusing on, and some of that in time will take care of itself. We need to make sure that we're sticking with what we're doing, continuing to plug away and focus on the details, and hopefully the results will come."
Complementing front line:
The massive personnel turnover for a second straight season has something to do with things not meshing from time to time. But at some point the Fire need to create some regular flow between the midfield and forward lines to start digging out of this hole and string together some points.
In this past game, recent acquisition
Dominic Oduro
got his first start ahead of Uruguayan forward
Gaston Puerari
. Nyarko was on the same page with Oduro in terms of seeing eye-to-eye with passing and receiving the ball, but dependable Uruguayan forward
Diego Chaves
, who tends to drop back into the midfield, was not in sync with Oduro against Houston.
"Diego hasn't really had the time to play with him, and I know [Oduro] from a while back," Nyarko said. "He talked to me about how he likes to move and how he likes the ball to be played. I kind of looked for that, and being a quick player like myself, I know it's really dangerous to break defenses down.
"I think Diego builds a really great partnership with Gaston, and they know each other's movement and they try to play off each other a lot. I think a couple more games together -- and it all comes down to the lineup changes and all that -- [Chaves and Oduro will] get to know each other. Diego is a smart, clever soccer player. He's one of the best I've played with, and he'll learn the movements quickly."
Defensive compensation:
The Fire burned themselves in last week's game by falling into a defensive mode when they were clinging to a 1-0 lead. Preserving the win, rather than going for the win, had a trickle effect on every line. Several Fire players were noticeably worn out down the stretch, and the Dynamo tallied a second-half equalizer.
"I think we all shut down," Nyarko said. "I blame that a little bit on the mini-losing streak that we went on. We shut it down and tried to get that one-goal win. We all dropped back -- way back -- and we're just booting balls and they're coming straight back to us. When that happens, the forwards have a tendency of also dropping and not getting stretched out.
"We have to do a better job of pushing guys up and taking that risk, play like it's 0-0 instead of playing like we're 1-nil up."
January, 31, 2011
1/31/11
9:23
PM CT
By
Charlie Corr
| ESPNChicago.com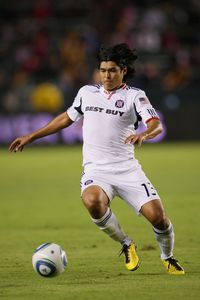 Victor Decolongon/Getty ImagesDeris Umanzor could return to his previous Salvadoran club, Aguila, where he played from 2005 to 2010.
The Chicago Fire are "exploring" the possibility of sending defender Deris Umanzor to a team in El Salvador, according to an ESPNChicago.com source with knowledge of the situation.

The source said that the move had not been finalized as of Monday afternoon. But if things progress -- and there's a possibility of a move being finalized as early as Tuesday -- it would provide Umanzor a regular starting job, the source said.

Several outside reports have stated that Umanzor could return to his previous Salvadoran club, Aguila, where he played from 2005 to 2010.

The Fire brought in Umanzor in March of last year, and his role has been limited. He started in five of 10 games, logging 502 minutes in regular-season play in 2010. He has seen some time at left back and in the midfield.

Earlier this year, Umanzor scored a goal and had an assist to help El Salvador defeat Belize, 5-2, to earn a berth in the 2011 CONCACAF Gold Cup.

Preseason trialists in town: The Fire's preseason training kicked off Monday, and over the coming days more will be known about the players on trial in Bridgeview. The Fire provided a few names publicly on its site, and ESPNChicago.com learned of a few others through a source.

On the defensive side, the Fire are taking a look at a number of players, such as 23-year-old Nate Weiss, who recently played for Latvian side FK Jelgava; Colombian 18-year-old Yoximar Granados, who primarily is a right back; and 24-year-old Graham Dugoni, who played second-division ball in Norway and was injured during his senior season at Duke. With Steven Kinney missing several months recovering from a ruptured Achilles tendon, and the absences of retired defender C.J. Brown and Atlas-bound Wilman Conde, Chicago is exploring all of its options in the back.

In the midfield, the Fire are taking a look at 25-year-old Michael Videira, a 2008 draft pick out of Duke who played briefly with the New England Revolution; 19-year-old Martin Rivas out of Argentina; and 19-year-old Amadou Sanyang, a Gambian midfielder who played for Toronto FC.

At forward, 19-year-old Fabian Burbano, a Colombian U-20 international from Envigado FC, was given high praises by U.S. U-20 coach Thomas Rongen, who alerted the Fire about his potential. Chicago also is taking a look at Scottish forward Ashley McInnes out of Tulsa.

Two forwards on the horizon: The Fire are coy about the addition of two new forwards that they are hoping to officially sign sometime this week. The agents, players and MLS have agreed to financial terms, a source said, but an International Transfer Certificate delay has prevented the Fire and league from officially announcing the signings.