Chicago Fire:

Mike Banner
June, 30, 2011
6/30/11
9:29
PM CT
By
Charlie Corr
| ESPNChicago.com
BRIDGEVIEW, Ill. -- The Chicago Fire are only three draws away from matching FC Dallas' MLS record of 14 last season, and only half of the 2011 campaign is in the books.

Considering the parity of MLS and the league-wide pattern of regular stalemates across the board, the Fire likely will establish a new ties mark when all is said and done. But clearly this team wants -- and needs -- to start penciling extra points in the win column.

The Fire open the second half of their season when they travel west to take on Chivas USA. But there is this gray area lingering within the club. Is Chicago on the cusp of turning those draws into occasional wins, or will this be an ongoing issue that will place them out of the running for a postseason?

"The decisions have to be better when we do create," Fire interim head coach Frank Klopas said. "We've got to be better in those moments. In the last game against New York, we had our chances, whether they were 3v2s, 6v5s -- we have to finish our plays better. The attitude has been good. We're working on our patterns. It's just the finishing in the final third."

It will be interesting to see how the Fire approach further personnel additions, especially in the central midfield. Argentine midfielder Sebastian Grazzini has been linked to the Fire, with Klopas confirming in mid-June that the team has been looking at him.

Pending any additions, the Fire in the immediate future need to work with what they already have in place. And as the Fire (2-4-11) enter the weekend, they have a fairly steep hill to climb as they currently are tied with Sporting Kansas City for seventh place in the Eastern Conference.

In league play, the Fire had a quiet June on the scoreboard, outscoring their opponents by a 3-2 margin in six games, posting a 1-0-5 record. Diego Chaves netted a goal in Lamar Hunt U.S. Open Cup action on Tuesday against the USL Pro's Rochester Rhinos. He has not scored an MLS goal since a 1-1 draw against the Houston Dynamo on April 23.

The Fire are healing up a bit, and every available option will be important. One focal point heading into this Saturday's game is the absence of midfielder Daniel Paladini, whose accumulation of yellow cards will force him to miss the Chivas match. But defensive midfielder Logan Pause (concussion) comes back just in time. Pause trained Thursday and is traveling with the Fire to California.

Also improving on the health front are midfielder Mike Banner (Achilles tendinitis) and defender Steven Kinney (Achilles tendinitis). Both were training with the full team on Thursday. However, Klopas did not have a definitive answer as to when either player is returning.

"It was good," Klopas said. "They were involved in the technical aspect of training, so they are starting to get some touches with the ball and go through exercises. It was great to see them out there. But it's going to be a while. They need some time and training to make up for the time they've missed. They're one step closer, so that's a positive sign."
August, 1, 2010
8/01/10
11:22
PM CT
By
Charlie Corr
| ESPNChicago.com
The Chicago Fire were able to do something in a 20-minute span that they had not done in a full 90-minute match throughout the season -- score three goals.
The Fire's early barrage of goals led to a 3-2 victory over the Western Conference-leading Los Angeles Galaxy on Sunday at the Home Depot Center in Carson, Calif. The Fire improved to .500 (5-5-5) and L.A. fell to 12-3-4.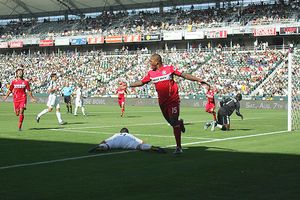 Victor Decolongon/Getty ImagesCollins John netted one of the team's season-high three goals within the first 20 minutes.
Marco Pappa and Collins John netted goals in the 4th and 5th minutes, respectively, and Mike Banner's rebound goal in the 19th minute gave Chicago a 3-0 lead.

"I saw Marco winding up for a shot, and I expected a rebound, and it came right to me," Banner said. "It couldn't have fallen any better for me, and I put it in."

The Galaxy hung around with a pair of penalty-kick goals from Landon Donovan, the first of which was Donovan's 100th in MLS play. But this was all about the Fire's wake-up call on the offensive end.

The passing and movement for Chicago's three scores was strong.

Patrick Nyarko's and Baggio Husidic's quick passes led to Pappa's goal. Nyarko's pass and John's run were timed perfectly down the right-hand side, and John did the rest with a powerful near-right-post strike past L.A. goalkeeper Donovan Ricketts. And for Banner's rebound goal, Husidic crossed to Pappa, and Pappa's shot forced Ricketts to make a difficult save and unable to recover in time to defender Banner's attempt.

Fire goalkeeper and 2010 MLS SuperDraft selection Sean Johnson made his league debut Sunday, and he was tested immediately.

In the 2nd minute, Johnson made a clutch reaction save against the Galaxy's Edson Buddle. Johnson dove a bit to his right, the ball went to his left, but Johnson kicked the ball away to keep the Galaxy off the scoreboard. In the 50th, Johnson punched away another Buddle strike at the near right post.

But Johnson's biggest save came in the 85th minute as Chicago continued to cling to its one-goal lead. The Galaxy's Tristan Bowen crossed the ball from the right side and found Alan Gordon in the middle. Gordon's snap header was bound for the left post, but Johnson quickly reacted and smothered the ball to preserve the win.

"Johnson had a great performance, and that speaks volumes about his abilities and character," Fire head coach Carlos de los Cobos said. "Because it's not easy to play here at the Home Depot Center, against the best team. ... He had two or three great saves, which allowed us to walk away with three points."

The Fire's most recent acquisition, Freddie Ljungberg, made his Chicago debut when he replaced Pappa in the 58th minute.

ANALYSIS: The Fire posted a much-needed league victory, and the variety of goal scorers on Sunday was a big plus moving forward.

Pappa continues to be the team's main offensive weapon with seven goals, but John's goal afterward was vital. The Fire's front line has not contributed enough this season. John not only netted the goal, but he stayed active and tested L.A.'s high line throughout the match. John's decision in the 19th minute to let a cross bypass him from the right side was an intelligent move, too, as Pappa had room to take an initial strike on goal, and Banner capitalized on the rebound for what proved to be the game-winner.

On the defensive end, Johnson came up with several big saves, and he looked very composed in his first MLS start. If Johnson hasn't stamped his role as the team's No. 1, he's definitely convinced De los Cobos that he should go back to him again for next Sunday when they host the New York Red Bulls.

Johnson has back-to-back wins against Pumas UNAM in SuperLiga and now the top MLS team in the Galaxy. And in both games Johnson did not allow a goal in the run of play. The only negative in his MLS debut was a late hand ball outside the box in second-half stoppage time, but L.A. could not take advantage.

The Fire are at .500, but they didn't play like a mid-level team this weekend. Plus, they didn't have newly-signed designated player Nery Castillo. They sat veteran forward Brian McBride. Ljungberg was only used for the final 35 minutes of Sunday's match.

There is an abundance of potential within this group if they can collectively contribute like they did Sunday.