Chicago Fire:

MLS Expansion Draft
November, 23, 2011
11/23/11
4:13
PM CT
By
Charlie Corr
| ESPNChicago.com
Any concerns over losing a portion of the Chicago Fire's roster were put to rest as the Montreal Impact made 10 selections outside of the Fire's unprotected player pool during Wednesday's MLS Expansion Draft.
Former Fire midfielder and Impact head coach Jesse Marsch inherits a franchise that selected former Houston Dynamo forward
Brian Ching
with the top pick in the draft. Despite reports that Ching said he would retire if selected in the expansion draft, the Impact took him No. 1 anyway.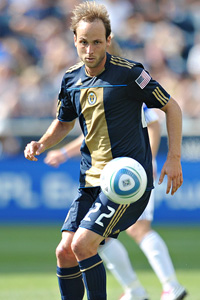 Drew Hallowell/Getty ImagesFormer Fire midfielder Justin Mapp played in 29 games this season for the Philadelphia Union.
The Impact's third selection was former Fire midfielder Justin Mapp out of the Philadelphia Union. Mapp started in 24 of 29 games this past season, tallying three goals and four assists.

Chicago entered the expansion draft with a trio of defenders who had nine or more starts during the 2011 season -- right back Dan Gargan and center backs Josip Mikulic and Yamith Cuesta. But the Impact focused elsewhere and the Fire's roster stays intact heading into the offseason.

Last year the Fire lost midfielders John Thorrington and Peter Lowry in the expansion draft to the Vancouver Whitecaps and Portland Timbers, respectively. They played a combined 14 games and did not log a goal or an assist during the 2011 season.

The Impact brings the league to 19 franchises for the 2012 campaign. On Wednesday, Montreal selected seven-year veteran defender/midfielder James Riley with its ninth pick, but then traded Riley to Chivas USA for forward Justin Braun and midfielder Gerson Mayen. The Impact took 20-year-old Chivas defender and 2011 first-round draft pick Zarek Valentin with its second selection in the expansion draft.

Impact's 2011 MLS Expansion Draft selections: 1. Brian Ching (F, Houston Dynamo); 2. Zarek Valentin (D, Chivas USA); 3. Justin Mapp (M, Philadelphia Union); 4. Bobby Burling (D, San Jose Earthquakes); 5. Jeb Brovsky (M, Vancouver Whitecaps); 6. Collen Warner (M, Real Salt Lake); 7. Josh Gardner (D, Columbus Crew); 8. Sanna Nyassi (M, Colorado Rapids); 9. James Riley* (D, Seattle Sounders); 10. Seth Sinovic (D, Sporting Kansas City)

* Traded to Chivas USA for Justin Braun and Gerson Mayen
November, 21, 2011
11/21/11
5:50
PM CT
By
Charlie Corr
| ESPNChicago.com
The Chicago Fire and other Major League Soccer teams submitted their 11-player protected lists Monday in preparation for Wednesday's MLS Expansion Draft for the Montreal Impact.

Among some of the Fire's noteworthy players left unprotected are forward Diego Chaves, midfielder Daniel Paladini, and defenders Dan Gargan, Josip Mikulic and Yamith Cuesta.

Fire's 11-player protected list: Sean Johnson (GK), Cory Gibbs (D), Jalil Anibaba (D), Gonzalo Segares (D), Pavel Pardo (M), Logan Pause (M), Marco Pappa (M), Sebastian Grazzini (M), Orr Barouch (F), Patrick Nyarko (F/M), Dominic Oduro (F)

Unprotected list (available for Impact selection): Jon Conway (GK), Alec Dufty (GK), Yamith Cuesta (D), Dan Gargan (D), Steven Kinney (D), Josip Mikulic (D), Pari Pantazopoulos (D), Mike Banner (M), Michael Videira (M), Daniel Paladini M), Baggio Husidic (M), Cristian Nazarit (F), Gabriel Ferrari (F), Diego Chaves (F)

Exempt from selection (Generation adidas or homegrown status): Corben Bone (M), Kellen Gulley (F), Victor Pineda (M)

Impact head coach and former Fire midfielder Jesse Marsch certainly will have his share of player options to choose from.

Chaves came to the Fire with high expectations, but it is not too surprising that he was left unprotected heading into the expansion draft. Chaves had a good start and decent finish to the 2011 season with six goals. But Chaves went through a long goal-less stretch and saw his playing time dwindle.

Gargan was a key midseason acquisition for the Fire during the 2011 campaign, adding stability to a back line that was short on outside back options. His name typically was third on the midseason hierarchy mention, with midfielders Sebastian Grazzini and Pavel Pardo grabbing most of the attention. But Gargan filled the right back role quite well. His absence from the Fire's 11-man list probably stands out the most, so it would not be out of the question to see the 28-year-old Gargan bound for Montreal. Gargan has become a bit of an MLS journeyman since the Colorado Rapids drafted him in 2005.

There are a number of ways that Montreal could look upon the Fire's roster, and it appears that Chicago is most willing to part with someone on the defensive end. Along with Gargan, center backs Mikulic and Cuesta both posted plenty of starting minutes for the Fire this past season. The 22-year-old Cuesta had 18 starts and 1,681 minutes, and the 25-year-old Mikulic had 12 starts and 1,038 minutes.

Last year the Fire lost a pair of midfielders in John Thorrington (Vancouver Whitecaps) and Peter Lowry (Portland Timbers), and Montreal could go in that direction this year. Paladini is a viable option, having earned 16 starts this year for Chicago. University of Illinois-Chicago product and 2009 draft pick Baggio Husidic also was left unprotected. The third-year midfielder is coming off a season that included zero goals and two assists, but Montreal might see some potential if Husidic returned to the five-goal, three-assist performance that he logged in 2010.