Chicago Fire:

Peter Lowry
November, 24, 2010
11/24/10
2:51
PM CT
By
Charlie Corr
| ESPNChicago.com
The Chicago Fire parted ways with a pair of central midfielders during Wednesday's MLS Expansion Draft.

The Portland Timbers selected Peter Lowry and the Vancouver Whitecaps chose John Thorrington with their final pick.

The 25-year-old Lowry posted two goals in 12 starts and 15 games during the 2010 season. He had a three-goal season in 2009 with the Fire and posted five goals and three assists on the Fire's reserve team in 2008.

In the expansion draft process, once a player is selected, the organization that lost the player is then allowed to protect another on the list. In the Fire's case, defender Dasan Robinson -- highly considered a potential selection in this draft -- was protected following the Lowry pick.

Thorrington had a five-year run with the Fire, but there were plenty of hiccups along the way. Whether it was his two-month-long hamstring injury in 2005 or his lingering quad injury this past year, Thorrington's health always was a concern.

When he was healthy, Thorrington brought some much-needed energy to the pitch. In 2010, Lowry logged only 397 minutes and tallied a goal. During his Fire career, he posted nine goals and two assists in 59 matches. Thorrington had a career-high five goals in 2008.

Portland chose FC Dallas midfielder Dax McCarty with the first overall pick, followed by Vancouver's selection of Seattle midfielder Sanna Nyassi.
October, 8, 2010
10/08/10
11:18
PM CT
By
Charlie Corr
| ESPNChicago.com
BRIDGEVIEW, Ill. -- The Chicago Fire dominated in possession and scoring opportunities, and they properly rewarded themselves with a 2-0 victory over the Columbus Crew on Friday in front of 15,124 at Toyota Park.

Midfielder Peter Lowry and forward Brian McBride netted goals as Chicago won for only the second time over a 12-game stretch. The Fire had the bulk of control on both ends of the pitch.

"Our concentration was good," McBride said. "We probably sat back a little bit too much at the end, but we bent and didn't break."

"It was very good -- because guys are moving off the ball. The ball's moving," Fire defender C.J. Brown said. "It's not just getting off their foot, dribble, dribble, dribble. When we dribble, dribble, dribble, we get in trouble."

For Lowry, who rarely has played since Chicago made its multiple midseason acquisitions, he netted the 600th goal in Fire history in the 30th minute for a 1-0 lead. McBride, the original No. 1 overall MLS Draft selection by Columbus, tallied his goal in the 53rd minute.

Lowry's goal originated when Fire defender Steven Kinney dished to Patrick Nyarko, who made a quick touch to lead Lowry on the right side. Lowry took a dribble to gain inside space on Crew defender Chad Marshall, and Lowry directed the ball past Columbus goalkeeper William Hesmer, just inside the left post.

Lowry's tally was the Fire's first home goal since Collins John's 88th-minute strike during a 1-1 draw against the Los Angeles Galaxy on Sept. 4.

McBride gave the Fire (8-11-8) a 2-0 cushion when Nyarko made a clinical rolling pass from the right side. McBride simply had to put a foot on the ball for a textbook tally. The passing in the sequence was strong, too, with Kinney and Freddie Ljungberg putting touches on the ball before Nyarko set McBride up.

Nyarko has been dealing with an ankle problem and received an injection at halftime, but the team's assists leader gutted it out.

"Give the kid a lot of credit," Fire assistant coach Mike Matkovich said. "He stuck it out. He dug in deep, and that's a good mentality that the whole team needs. We need more guys like that."

The Crew (13-8-7) truly struggled in creating scoring chances, though they started to get their act together midway through the second half. The first legitimate opportunity came in the 66th minute when Frankie Hejduk took a deep, low strike as goalkeeper Andrew Dykstra made the kick save. Then in the 72nd, Dykstra dove to his right to halt a strike from Guillermo Barros Schelotto.

The Fire also dodged a couple of bullets when Schelotto missed a close chance in the 74th and Andres Mendoza hit the video monitor in the 76th.

In the 90th minute, Bratislav Ristic, playing at left defensive back, saved a sure Kevin Burns goal as Ristic cleared the ball in the goal box to preserve the clean sheet.

"The guy did great," Matkovich said of Ristic. "Maybe next game we'll put him in the goal, maybe the game after that put him at center back. The guy's done great. I can't say enough about him. The guy runs his tail off."

Dykstra made three saves as he filled in for rookie goalkeeper Sean Johnson (hyphema), whose status is still up in the air for Tuesday's match against the Kansas City Wizards.

"It's been a little while," Dykstra said of playing for the first time since SuperLiga earlier this summer. "Kind of feel a little rusty because you haven't seen that type of speed. You can't simulate something like that in practice. When you go against one of the more direct teams in the league that is very good at what they do, it made it a little tough on me. I feel like I wasn't perfect today."

The Fire defense did hold down the Crew's scoring chances, allowing only one shot through the first half.

"The defense was stellar tonight," Dykstra said. "All four of them, and if you include the midfield, they did a very good job keeping their positions, keeping everything in front of them."

Analysis: The Fire's concentration and improved play opened up the field on Friday, and they were able to maintain their slim mathematical chance at making the postseason.

It also has to be said that Chicago was facing a Crew team that has had a whopping six matches in 18 days, most recently coming off a Tuesday loss to Seattle Sounders FC in the Lamar Hunt U.S. Open Cup finale. The Crew hardly created an attack of substance in the first half, with a few crosses and corner kicks being the only outside threats.

Fire head coach Carlos de los Cobos had to burn an early substitution in the 15th minute when Dasan Robinson injured his quad. Rookie Kwame Watson-Siriboe replaced him, and Watson-Siriboe had some low and high moments, but collectively the Fire defense held the Crew at bay.

Similar to the victory over the San Jose Earthquakes, this match falls in the too-little-too-late category looking at the grand scheme of things. But a home victory was a welcome sight for the Fire.
August, 19, 2010
8/19/10
11:01
PM CT
By
Charlie Corr
| ESPNChicago.com
BRIDGEVIEW, Ill. -- It is relatively easy to jump on the Freddie Ljungberg bandwagon considering his immediate impact in only three matches with the Chicago Fire.

Ljungberg rapidly is becoming a welcome addition to the organization, and his most recent efforts helped Chicago top the New England Revolution, 2-1, on Wednesday. The 33-year-old designated player had a falling out with Seattle Sounders FC. But whatever went wrong on the west coast, Ljungberg appears to have found his stride already in Chicago.

Ljungberg's work rate, vision, offensive push and overall soccer experience were sorely needed. And the sense of admiration for the former Arsenal midfielder is evident in the locker room and on the pitch.

"He's got kind of a fiery personality, and it's good. It's what we need," Fire midfielder Peter Lowry said shortly after Ljungberg's arrival. "We kind of need a kick in the [butt]. I used to watch the old Arsenal teams on TV, and it was fun to watch him play. You try to learn from what he does and soak in as much as possible."

Wednesday was Ljungberg's most defining moment in the few games he has with Chicago. He had the initial attack that eventually turned into Baggio Husidic's game-tying goal. He had the assist for Calen Carr's game winning goal. And quite simply he was the clear-cut workhorse of everyone on the pitch.

"He's been great as far as talking to me on the side and helping me with some runs and what to look for," Carr said Wednesday. "And so I just try and move off him. On that play, it definitely paid off."

For much of this Fire season, the team's various lineups and formations have been regular topics of discussion. Having a player such as Ljungberg brings some flexibility into the attacking third.

"Freddie is not a forward, but he's a player that can shadow a striker," Fire head coach Carlos de los Cobos said. "He's a player that any coach in the league would have wanted, and he is a player that can create a lot of situations. Although he's not a striker, he's a player that always gets to the box."

The Fire are preparing for back-to-back road matches, starting with the Houston Dynamo on Saturday. But without question the Fire's Aug. 28 match at Seattle's Qwest Field is one to circle on the calendar.

It will be another fitting barometer of Ljungberg's worth when he takes on his former squad in one of MLS's loudest venues.

Segares has modest return: Fire defender Gonzalo Segares returned to left defensive back on Wednesday, and for the most part he did pretty well in his first game back with the club since the 2009 season.

On the defensive side, Segares was relatively steady. New England's Sainey Nyassi was not much of a weapon offensively. The only glaring mishap from Segares came in the 73rd minute when Nyassi easily got past him into the offensive third. But Fire defender Wilman Conde deflected the ball out, and the subsequent corner kick resulted in a Shalrie Joseph header that went wide left of the goal.

The moments where Segares pushed up into the offensive third, there are some kinks that need to be worked out as far as the timing and communication. Part of it simply has to do with meshing with the new personnel.

There were sequences where Segares pushed up and no one was looking in his direction. There also was one sub-par moment where Segares elected to take a shot in the 47th minute, when the smarter option would have been to dish the ball off to Ljungberg who was making a direct run to the goal. Instead, Segares' shot sailed to the left of Ljungberg and left of the goal for a Revs goal kick.

But for a first game back, Segares looked comfortable out there.

"He's a great player and he has personality," De los Cobos said. "Like Nery [Castillo], he needs time to get used to it. But he did a great job."
April, 28, 2010
4/28/10
7:12
PM CT
By
Charlie Corr
| ESPNChicago.com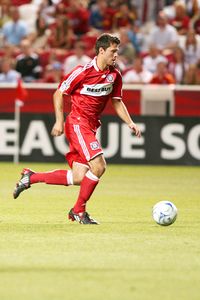 Melissa Majchrzak/Getty ImagesPeter Lowry is playing a pivotal role for the Fire midfield as a regular starter.
BRIDGEVIEW, Ill. -- Just last season, Chicago Fire midfielder Peter Lowry played in less than one third of his team's games and logged less than 700 minutes while taking in a minuscule $20,100 salary.

Through five matches, Lowry is playing a pivotal role for the Fire midfield as a regular starter. And with key components such as Cuauhtemoc Blanco and Chris Rolfe out of the Fire's picture entering this year, that opened the door for some new blood in the team's starting midfield core.

"I didn't get many opportunities the first couple of years," Lowry said. "And so when I step on the field, I want to let everyone know that I can play. The last coach [Denis Hamlett], I didn't get many chances, and so I wanted to show in preseason and this year that I'm an impact player to help the team win. It's been a different role this year."

Lowry's opportunity also arose when the midfield was struck with some key injuries to John Thorrington and Logan Pause in the early going. Combine that with Fire head coach Carlos de los Cobos going with a heavy midfield formation (4-5-1) these past two matches, and the 24-year-old is seizing the moment every time he gets the call.

Last Saturday, Lowry delivered a goal during the Fire's 2-0 victory over the Houston Dynamo. Lowry chested the ball into the net past Dynamo goalkeeper Pat Onstad, earning an MLS Goal of the Week nomination.

"I've had to work hard for my opportunities here," Lowry said. "I know that they're few and far between sometimes, and you have to make the most of your time on the field and not take it too lightly."

The Fire midfield took the spotlight in this past match with Lowry and Baggio Husidic providing the tallies. Possession-wise, it also was one of the Fire's best performances of the young season as they earned their second straight win to improve to 2-2-1.

"The first half was probably our best half that we've put together so far this year," Lowry said. "We had the wind and [Houston] had a few injuries. Not to take anything away from us. I thought it was a very good half. That's the style that we want to play, creating a lot of chances, and hopefully finishing some of those chances and winning games. It certainly is a lot of fun to play."

De los Cobos' possession-heavy style was something that Lowry latched on to. It has taken some time for all of the pieces to fall into place with the Fire's new scheme this year, but if these last two games are any indication, Chicago has turned a corner.

With the likes of Lowry taking on an increased workload and now reaping some winning benefits of late, the team has shown improved fluidity on the ball, with a confident moxie in their step.

Lowry certainly exudes that demeanor.

"I want to have the ball. I want to try to make the play that wins the game," Lowry said. "I think if you don't want that, maybe you shouldn't be playing."