Chicago Fire:

Peter Nowak
August, 2, 2011
8/02/11
4:17
PM CT
By
Charlie Corr
| ESPNChicago.com
BRIDGEVIEW, Ill. -- The Chicago Fire face four Eastern Conference foes over their next five matches. Four of their six regular-season matches in August are on the home pitch at Toyota Park.

It goes without saying that this is crunch time for the last-place Fire (2-6-12, 18 points).

Chicago hosts the Philadelphia Union (8-5-7, 31 points) on Wednesday at Toyota Park, and the Fire need to achieve maximum points to try to salvage their season.

The entire Fire organization truly had an All-Star break, with no Chicago players taking part in the midseason match between the MLS All-Stars and Manchester United last week. Fire interim head coach Frank Klopas sees an energized group heading into this stretch.

"The team has come back with a very good attitude and is eager to get things going again," Klopas said. "We all understand what's at stake right now. Mentally and physically, we have to put everything into these next 14 games."

All eyes will be on the Fire midfield to see if their new signings play prominent roles in this second half of the season. Sebastian Grazzini got some minutes during the Fire's 3-1 loss to Man U on July 23, and Klopas plans to roll with the Argentine midfielder the rest of the way.

"He's worked very hard and we've worked on different things with him," Klopas said. "It is my intention to put him in for these last 14 games. Grazzini's job is to get the ball into the final third, closer to the goal, and create the final pass. That's where he's dangerous."

Defensive midfielder Pavel Pardo signed with Chicago last week. While Klopas did not pinpoint how much time Pardo could see right off the bat, the Fire head coach wants to get him onto the pitch as soon as possible.

"He has a lot of experience and has played for many years, so it doesn't take a lot for him to find a rhythm," Klopas said. "He might not be 100 percent, but he's looked good in this short week."

The Fire face a Union team that will have a different look up front. Philadelphia head coach Peter Nowak announced publicly that scoring leader Carlos Ruiz no longer is part of the team. That puts the offensive focus on Sebastien Le Toux, who has not found his form of a year ago, and 2010's top draft pick Danny Mwanga.

"Le Toux is always a threat," Klopas said. "He has a great work rate and is a very busy player -- someone you have to be aware of. That kid Mwanga has a lot of good qualities. He's strong, fast, and when he has open space he can beat you. It's going to be a different look for them. Ruiz was more of an inside-the-box threat."

Philadelphia dropped to second in the East standings with a 2-1 home loss to the Colorado Rapids on Friday and sits three points behind the East-leading Columbus Crew (9-6-7, 34 points)

The Fire will be without defender Yamith Cuesta, who is suspended for Wednesday's match. Cuesta picked up two yellow cards in a six-minute span during a 1-0 home loss against the Portland Timbers on July 17. That means Josip Mikulic should be the fill-in to team up with Cory Gibbs at center back.

The Union is in a similar boat on defense with Sheanon Williams also suspended for the match after receiving two yellow cards during Philadelphia's loss to Colorado.

The Fire hold the league's worst home record, posting a 1-2-6 mark at Toyota Park. That lone win was their home opener on March 26.

Klopas will need to manage his players accordingly this week with two games in a five-day stretch. The Fire travel to Vancouver to take on the expansion Whitecaps on Sunday.

"We're looking at this one because it's important to make sure we take care of this game first," Klopas said of the Philadelphia match. "We'll see where the guys are physically Sunday because it's a long trip [to Vancouver]."
June, 4, 2010
6/04/10
8:56
AM CT
By
Charlie Corr
| ESPNChicago.com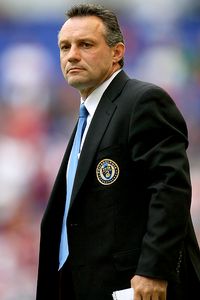 Mike Stobe/Getty ImagesPhiladelphia Union coach Peter Nowak hopes his team finds the work ethic he and other original Fire players displayed.
Anyone who has been inducted into the Chicago Fire's Ring of Fire simply got it. They understood the game and were passionate about their role in building the Fire organization. Their work ethic and drive jelled from the get-go, and Fire supporters have every reason to put this group on a pedestal.


So when Fire original and current Philadelphia Union head coach Peter Nowak took some time Thursday to chat, you cannot help but think about the start of the Fire days and a man who was integral in establishing the Fire. Now he is establishing a new team in the passionate city of Philadelphia.


Nowak will be on the Toyota Park sidelines this Saturday when the Fire host the Union in Bridgeview, Ill.


Here are some excerpts from Nowak's discussion on Thursday:


On the work ethic of the early Fire years:

"Everybody being in the sports business, you want to win. You want to be first. And that requires work. That requires the work ethic, the understanding, and every piece must be in place. … Even going to Michael Jordan in Chicago, I don't think the teammates loved to play with him or they want to train with him because he demands a lot of stuff from them, and he demands the best. And I think being in the position we were in '98 -- that we have a new team, we built a team with Bob [Bradley] as a coach, with me and Lubos [Kubik], and Roman [Kosecki] and Jerzy Podbrozny, where we demand the best. Because we saw it firsthand, we wanted to show the guys with the potential like C.J. [Brown] and Chris Armas and even Zach [Thornton] and Ante Razov, Josh Wolff, Frankie Klopas -- all these guys -- Frankie was in Europe, as well. But if you want to win something, it requires work every single day, every single week. If you want to win at the end of the day, at the end of the season, you want to win the trophy, then you have to win the small games, the small balls. So that was more like philosophy as a team."


On his coaching methods:

"The coaching methods are just the middle part -- how the players will execute, understand. It's not easy to train and play for me, but I recognize that, as well. But to achieve what you want to achieve, you have to have a great relationship with the players and I believe that over the years, the last 13 years, I've had a great relationship with the players I've played with and the players I've coached."


On his role with the expansion Union:

"It's never about me, and I believe that it's never going to be about me. As I said, sometimes people try to attach this stuff like who's a rival, you've been there, you've been with these guys, you've done that ... it doesn't really matter. It doesn't affect anybody except the guys playing the game. Those guys need to understand that they're playing the game to fill the concept of teamwork, to fill the concept of our philosophy, our vision as a team. It's never going to be about Peter Nowak. Peter Nowak is just here to help this team to build the right structure, to show them the way, show them the door. But I'm not the one who's going to go through the door."


On his team's growth in the early going:

"The last couple of weeks we recognized the mistakes, we spent a lot of time watching film and discussing it. Real discussion. Not my monologue and demands and stuff. They need to understand the concept and philosophy and the roles of the player on the field, regardless of who we play. They need to know what to do on the field when we're winning, what to do on the field when we're losing, what is the team concept going forward, what is the minute we're playing. The guys on the bench need to recognize that, as well. For me, the last two games when we scored goals and the whole bench is almost on the middle of the field, it says a lot. The guys stay together, keep working together. As a team we are evolving in the right direction right now."

June, 2, 2010
6/02/10
8:58
PM CT
By
Charlie Corr
| ESPNChicago.com
BRIDGEVIEW, Ill. -- Chicago Fire defender
C.J. Brown
knows all about Peter Nowak's demeanor and accomplishments within the game of soccer. Brown is the only Fire Original on the 2010 squad, and he had the pleasure of playing on the same pitch as the current Philadelphia Union head coach.
On Wednesday, Brown reflected on the Fire's early years alongside Nowak, who brought his game at whatever the cost.
"He was always a hard-nosed guy," Brown said. "Obviously he was our playmaker, but he was also our enforcer at times. When it came down to games that needed to get dug out, he was the guy digging. He was fighting. He was an attacking player. He was a defensive player. From one 18[-yard box] to the other 18. If our sweeper went down, he would play sweeper. He would do whatever it takes to win games."
If Nowak can remotely feed that same playing ability within his own players, the Union have every reason to feel hopeful that they are headed in the right direction. Philadelphia is Chicago's next assignment this Saturday when the Fire (2-4-3) host the Union (2-5-1) at Toyota Park. The expansion squad has had some growing pains, but the Union made a big stride this past weekend with a road victory over the Houston Dynamo.
"They've had their ups and downs throughout this year, but that's expected for a new team," Brown said. "They're still jelling. They're coming off a very good win against Houston, which is very difficult. So I think their confidence is high. If I know Peter, they're going to feed off that and try to bring it in here."
The Union sit toward the bottom of the Eastern Conference, but they also have played the second-fewest matches among MLS teams. And under the leadership of Nowak, Brown is taking this Philadelphia team quite seriously.
"It's going to be a hard-nosed team that won't give up," Brown said. "They're going to be solid when it comes to trying to tackle and make plays. And they're going to be mentally strong.
"Peter knows how to get into those guys' heads," Brown said. "It's not going to be easy for us."
Fire add exhibition:
Chicago will play an exhibition match against the NSC Minnesota Stars at 5 p.m. Sunday, June 20 at NSC Stadium in Blaine, Minn. The Stars play in the USSF Division 2 Pro League and are coached by former Fire midfielder
Manny Lagos
.