Chicago Fire:

Philadelphia Union
August, 3, 2011
8/03/11
11:18
PM CT
By
Charlie Corr
| ESPNChicago.com
BRIDGEVIEW, Ill. -- The Chicago Fire dominated on the attack and had one of their best stretches of passing and movement of the season.

But the Philadelphia Union capitalized on its one half-chance and the two sides played to a 1-1 draw in front of 10,557 at Toyota Park on Wednesday.

Fire defensive midfielder Pavel Pardo tallied a game-tying goal in his Chicago debut to salvage the draw. But it was Veljko Paunovic's 34th-minute tally for the Union that was a bitter pill to swallow from the Fire's standpoint.

Chicago (2-6-13, 19 points) showcased strong control at the start of the match, only to see the Union (8-5-8, 32 points) gain the upper hand.

"It's disappointing because time is running out, for sure," Fire interim head coach Frank Klopas said of the team's current last-place stance in the Eastern Conference. "That's why with the break, I think we felt good coming into this game. The urgency was there, the desire, so I'm happy about that."

Pardo netted a goal in the 54th minute to tie the score at 1-1. Patrick Nyarko crossed the ball into the box, trying to find Dominic Oduro. It was partially cleared by the Union defense, but Pardo was right there to clean up for the unassisted goal. Union goalkeeper Faryd Mondragon was not in position to stop the shot toward the left post.

Because of a leg injury to defender Cory Gibbs in the opening minutes, Pardo had to play the full 90 minutes in his first Fire match.

"The last game was two months ago. It was hard," Pardo said. "I didn't do a bad job. It was a surprise for me because I was on the field [for 90 minutes]."

Midfielder Sebastian Grazzini made his MLS debut for the Fire, and he was an energetic presence on the pitch.

"We knew the qualities that he has," Klopas said. "He has the ability to create and beat players and make the final pass. The whole idea today, we wanted to make sure we got the ball forward so he didn't come back much, where he can get the ball and have his energy in the final third."

But Grazzini's night was cut short. Klopas brought in forward Cristian Nazarit in the 66th minute to replace him.

"He got tired," Klopas said. "He even looked at me on the sideline that he wanted to come out."

The Fire held the upper hand on just about every front. They out-shot the Union, 14-7. They had a lopsided 8-1 shots on goal advantage.

But Philadelphia capitalized on its one chance to thwart what was a promising start to the match for Chicago.

Analysis: The Fire played one of their better matches of the season, but for a league-leading 13th time, Chicago only came away with a point.

Chicago's first 30 minutes showcased a sense of confidence that the team had been lacking. As usual, the final touch wasn't there.

Oduro did have two great scoring chances in the 61st and 66th minutes, but Union goalkeeper Faryd Mondragon came up with two clutch saves on both occasions at the near right post.

The one chance that Oduro needed to finish was in the 31st minute, when Pardo dished the ball forward and Oduro timed his run perfectly to free up space behind Philadelphia's defense. Unfortunately for the Fire, Oduro had a poor touch on the ball and Mondragon collected it out of harm's way.
August, 3, 2011
8/03/11
10:00
PM CT
By
Charlie Corr
| ESPNChicago.com
BRIDGEVIEW, Ill. -- Here is a quick look at the Chicago Fire's 1-1 draw to the Philadelphia Union on Wednesday at Toyota Park:

How it happened: Union forward Veljko Paunovic tallied an unassisted goal at the 34th minute to swing the momentum of a match that was clearly in the Fire's favor during the first half hour. But recent signing Pavel Pardo tallied a goal in his debut to tie the match at 1-1 in the 54th minute.

What it means: With their league-leading 13th draw, the Fire are tied for last in the East with Toronto FC with 19 points and a 2-6-13 record. The Union moves to 8-5-8 and 32 points -- two points behind the East-leading Columbus Crew.

Outside the box: Fire defender Jalil Anibaba, who spent his collegiate career as a center back, was brought into the match in the sixth minute for center back Cory Gibbs. Gibbs left the match with a lower leg injury. Anibaba had been at right back all season for the Fire, and with the addition of Pardo, captain Logan Pause took over Anibaba's customary right back slot entering Wednesday's game.

Up next: The Fire don't have much time to rest up as they travel to the Pacific Northwest to face the expansion Vancouver Whitecaps on Sunday. The game kicks off at 6 p.m. CT at Empire Field.
August, 2, 2011
8/02/11
4:17
PM CT
By
Charlie Corr
| ESPNChicago.com
BRIDGEVIEW, Ill. -- The Chicago Fire face four Eastern Conference foes over their next five matches. Four of their six regular-season matches in August are on the home pitch at Toyota Park.

It goes without saying that this is crunch time for the last-place Fire (2-6-12, 18 points).

Chicago hosts the Philadelphia Union (8-5-7, 31 points) on Wednesday at Toyota Park, and the Fire need to achieve maximum points to try to salvage their season.

The entire Fire organization truly had an All-Star break, with no Chicago players taking part in the midseason match between the MLS All-Stars and Manchester United last week. Fire interim head coach Frank Klopas sees an energized group heading into this stretch.

"The team has come back with a very good attitude and is eager to get things going again," Klopas said. "We all understand what's at stake right now. Mentally and physically, we have to put everything into these next 14 games."

All eyes will be on the Fire midfield to see if their new signings play prominent roles in this second half of the season. Sebastian Grazzini got some minutes during the Fire's 3-1 loss to Man U on July 23, and Klopas plans to roll with the Argentine midfielder the rest of the way.

"He's worked very hard and we've worked on different things with him," Klopas said. "It is my intention to put him in for these last 14 games. Grazzini's job is to get the ball into the final third, closer to the goal, and create the final pass. That's where he's dangerous."

Defensive midfielder Pavel Pardo signed with Chicago last week. While Klopas did not pinpoint how much time Pardo could see right off the bat, the Fire head coach wants to get him onto the pitch as soon as possible.

"He has a lot of experience and has played for many years, so it doesn't take a lot for him to find a rhythm," Klopas said. "He might not be 100 percent, but he's looked good in this short week."

The Fire face a Union team that will have a different look up front. Philadelphia head coach Peter Nowak announced publicly that scoring leader Carlos Ruiz no longer is part of the team. That puts the offensive focus on Sebastien Le Toux, who has not found his form of a year ago, and 2010's top draft pick Danny Mwanga.

"Le Toux is always a threat," Klopas said. "He has a great work rate and is a very busy player -- someone you have to be aware of. That kid Mwanga has a lot of good qualities. He's strong, fast, and when he has open space he can beat you. It's going to be a different look for them. Ruiz was more of an inside-the-box threat."

Philadelphia dropped to second in the East standings with a 2-1 home loss to the Colorado Rapids on Friday and sits three points behind the East-leading Columbus Crew (9-6-7, 34 points)

The Fire will be without defender Yamith Cuesta, who is suspended for Wednesday's match. Cuesta picked up two yellow cards in a six-minute span during a 1-0 home loss against the Portland Timbers on July 17. That means Josip Mikulic should be the fill-in to team up with Cory Gibbs at center back.

The Union is in a similar boat on defense with Sheanon Williams also suspended for the match after receiving two yellow cards during Philadelphia's loss to Colorado.

The Fire hold the league's worst home record, posting a 1-2-6 mark at Toyota Park. That lone win was their home opener on March 26.

Klopas will need to manage his players accordingly this week with two games in a five-day stretch. The Fire travel to Vancouver to take on the expansion Whitecaps on Sunday.

"We're looking at this one because it's important to make sure we take care of this game first," Klopas said of the Philadelphia match. "We'll see where the guys are physically Sunday because it's a long trip [to Vancouver]."
May, 21, 2011
5/21/11
10:47
PM CT
By
Charlie Corr
| ESPNChicago.com
Philadelphia Union forward
Carlos Ruiz
simply had one of those goals where you just tip your cap and try to move on.
Ruiz's long-distance strike in the 75th minute was the difference in a 2-1 win over the Chicago Fire on Saturday at PPL Park in Chester, Pa.
Ruiz's game-winner came shortly after his free-kick chip was cleared out of the box by Fire second-half sub
Logan Pause
. From about 30 yards out, Ruiz took a left-footed shot that went over Fire goalkeeper
Jon Conway
, skimmed off the bottom of the crossbar and went into the goal for a 2-1 lead.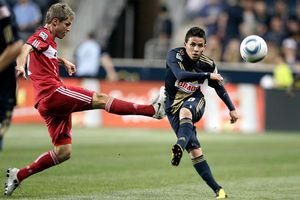 Chris Gardner/Getty ImagesPhiladelphia's Roger Torres drives the ball upfield as Chicago's Logan Pause moves in on Friday night.
The winning tally stretched Chicago's winless streak to eight games, after the Fire (1-4-5) had previously earned a draw in four consecutive matches heading into Saturday.

"He just hit it as hard as he could," Conway said of Ruiz's strike. "I'm not sure if he was even trying to get it on frame. I felt I was in a good spot, but it just dropped into the goal."

Michael Farfan had a 64th-minute goal for Philadelphia (5-3-2), which moved into first place in the Eastern Conference after the previously first-place New York Red Bulls played to a 2-2 draw against the Houston Dynamo. Farfan's goal took a slight deflection off of a Fire defender, and Conway could not react to the late change in trajectory.

Dominic Oduro scored the Fire's lone goal in the 67th minute to tie the score at 1-1. Oduro got past Farfan and slotted the ball just inside the near right post past Union goalkeeper Faryd Mondragon.

Ruiz's game-winning goal came only a few minutes after Gaston Puerari nearly tallied a go-ahead goal for Chicago. Puerari, who came off the bench as Baggio Husidic was given the start, stayed even with the Union's back line in the 72nd minute and found an opening as he drove toward Mondragon. Puerari's shot got past Mondragon, but Union defender Sheanon Williams bailed out his goalkeeper with a huge goal-line stop to keep the match level.

The Fire's struggles have certainly taken a toll on the team this year. Conway noted that the Fire's tendency is to play better when their backs are against the wall -- not the type of habit or situation Chicago would prefer to face.

"To be honest with you, I think we're better off playing anxiously," Conway said. "There are times when we've taken goals and been slapped in the face, and then we come back out with vigor and we're moving the ball crisper to get back into the game."

This time around, however, Ruiz's tally proved to be the final word.

Analysis: Things just can't get much worse for the Fire, who have only two points to show for their efforts in May -- a month that in retrospect should have been one of the easiest stretches in Chicago's schedule.

The Union's defense has been steady for most of the season, but its offense was lacking heavily entering Saturday's match. Now the Fire are responsible for surrendering the Union's only multi-goal game of the season.

The Union was the front-runner in high-percentage scoring opportunities. Ruiz had some strong scoring moments in the 36th and 37th minutes, and Carlos Valdes just missed the frame in the 25th as the Fire somehow escaped the first half unscathed.

Among the Fire's few accomplishments, Chicago had a patient and composed start to the match for about 15 minutes, but the Fire did not sustain that composure. Oduro's goal was a nice piece of individual work, and Puerari probably deserved a goal to his name.

A big personnel question has to be directed toward head coach Carlos de los Cobos making two substitutions in the 60th minute, when the match was still level. Pause entered for midfielder Corben Bone, and Puerari subbed for Husidic. Puerari probably should have been the starter in the first place, but the move to bring in Pause was questionable considering what De los Cobos was saying about his midfield entering the match.

De los Cobos elected to go with a defense-focused substitution with a half hour left on the clock. Was he focused on bunkering at that stage? The Pause substitution would have been more appropriate with a Fire lead or a draw with less than 10 minutes left on the clock, not 30.

De los Cobos did not stick with his attack-focused central midfield, and there were no immediate signs that called for that switch in the 60th minute.