Chicago Fire:

Real Salt Lake
September, 28, 2011
9/28/11
11:31
PM CT
By
Charlie Corr
| ESPNChicago.com
The Chicago Fire garnered a signature win when they absolutely needed it. And most importantly for Chicago, the team now finds itself in a realistic position to catch a playoff spot with only four regular-season matches remaining.

The Fire won for the fifth time in their past six matches and were led by midfielder Marco Pappa's hat trick en route to a 3-0 victory against Real Salt Lake at Rio Tinto Stadium in front of 20,762 at Sandy, Utah.

Pappa had been in a significant scoring funk, having failed to find the back of the net since June 26 against the New York Red Bulls.

Now Chicago (7-8-15, 36 points) is within three points of those Red Bulls, who currently hold the final wild card position with 39 points.

"That was great to see," Fire defender Dan Gargan said of Pappa's performance. "He's a player that we need, and when he's sticking the ball into the back of the net, that's phenomenal for us because that's just another weapon that we have. It's been coming. He comes to training every day and puts in extra sessions. He's such a talented player."

Everything went right for the Fire in the first half, and especially in the first 15 minutes. Pappa tallied a ninth-minute goal with his right foot. Then in the 11th minute, Salt Lake captain and midfielder Kyle Beckerman leveled Chicago midfielder Daniel Paladini to the ground and was shown a straight red card.

Defensively, the back line did its job and kept Salt Lake (15-9-6, 51 points) off of the scoreboard as RSL clearly missed having the play of Beckerman in the midfield.

With Pappa zoned in, the Fire were in the driver's seat. In the 36th minute, Pavel Pardo set up Pappa by dribbling past RSL's Yordany Alvarez and passing the ball forward just past Salt Lake defender Nat Borchers. Pappa did the rest with a left-footed strike past RSL goalkeeper Nick Rimando for a 2-0 lead.

Pappa capped off the night with his third goal in the 75th minute, doing all of the work himself to get past Chris Schuler on the right sideline and then striking the ball inside the far left post for his eighth tally of the season.

The absence of Fire midfielder Sebastian Grazzini, out with a hamstring injury, completely took a back seat. Chicago maintained possession for large portions of the game and did all of the little things right to garner just their second road victory.

"We are on a bit of a roll," Gargan said. "It certainly feels good. I think it's something that we certainly believe in, that we're capable of these results. We want to keep going in that direction."

Salt Lake had its chances, but throughout the first half RSL struggled to put anything on frame. The most significant opportunity came in the 28th minute when Alvaro Saborio got behind the Fire's defense and pushed the ball wide left. Soborio was all alone as Fire defender Josip Mikulic was not on the same page as Fire defender Cory Gibbs and Mikulic decided to push up for an offside call. Saborio was several yards onside.

The only uplifting moment for RSL's 20,000-plus crowd was seeing Salt Lake's Javier Morales make his first appearance since May 7, when he suffered a fractured and dislocated ankle.

Analysis: The Beckerman red unquestionably changed every aspect of the match. But the Fire deserve some props for enduring the moments when RSL was trying draw something in the infraction department.

Gargan's matchup against Fabian Espindola could have gotten out of hand, but Gargan played an intelligent and effective game after both players were shown yellows in the 16th. RSL fans were shouting for a 20th-minute foul in the box on Gibbs, but official Baldomero Toledo was not buying Will Johnson's effort to try and draw a penalty kick. When Chris Wingert fouled Pappa harshly on the sideline in the 33rd and probably deserved a yellow, there was no aftermath or retaliation.

"You don't have to be dirty to be a good player," Gargan said. "I certainly think that they have a couple of them that could have handled themselves better. We had to be smart, to not even up the score, because they certainly were looking to do it and do everything they could to get one of us tossed."

The cooler Fire heads prevailed on Wednesday. The big challenge of course is maintaining this confident and composed play on short rest in Houston this Saturday.
September, 27, 2011
9/27/11
10:06
PM CT
By
Charlie Corr
| ESPNChicago.com
The Chicago Fire have won four of their five past matches, but they will likely have to continue pushing on without midfielder
Sebastian Grazzini
.
Grazzini, who injured his hamstring during the first half of Chicago's 3-2 win over the New England Revolution, is expected to miss Wednesday's match at Real Salt Lake.
The midseason acquisition had a goal and an assist before his departure. Fire interim head coach Frank Klopas told MLSSoccer.com this week that Grazzini would not play against Salt Lake, which is coming off its worst loss of the season, a 4-1 defeat at D.C. United. Grazzini is listed as questionable on the MLS Injury Report.
Klopas likely will return to
Baggio Husidic
in the midfield for the Fire (6-8-15, 33 points). Husidic replaced Grazzini during Sunday's win over the Revs, and it will be a tough task to match Grazzini's skill set and activity.
"Baggio came in and my message to him was he's got to get the ball and make those passes like Sebastian," Klopas said. "At first he was looking to get behind more and left a little bit of a gap."
Fire defender
Cory Gibbs
will return from his one-game suspension. For the first time since Chicago's Aug. 27 win over the Colorado Rapids, the Fire will have all of their available defensive options.
On offense, Chicago has tallied five goals and benefited from an own goal in its past two matches against Chivas USA and New England. And for the first time this season with the
Dominic Oduro
and
Patrick Nyarko
pairing up front, each forward netted a goal against New England. Oduro's rolling right along with a team-high 11 goals, and for Nyarko it was his first of the season.
Everyone already is familiar with Nyarko's ability to set up players, as evidenced by his team-leading seven assists. But Klopas wants to see Nyarko become more proactive in attacking the goal.
"I've told him at times that he needs to be more selfish, especially now that he's playing on top," Klopas said. "When he gets opportunities as a forward, he's always looking to make that pass. But sometimes he needs to be selfish and finish plays off himself. I was happy for him. Whether he gets assists or getting a goal, that's great for his confidence."
"As a striker you've got to do that," Nyarko said. "But that's not my personality. That's not how I play. I look to play, I look to find people -- the easiest spot to get us a goal and to help the team win. Maybe sometimes I could be [more selfish], but I don't look at it from that standpoint. Especially like I missed a goal [Sunday] that I could have passed to Dom. But I think he was offside. If he wasn't, I would have passed it. That's my game. That's unselfish."
RSL's offense is lead by
Alvaro Saborio
, who has 10 goals and has scored in Salt Lake's past two matches.
Salt Lake (15-8-6, 51 points) has stamped a playoff spot, and it will take a dominating run and a Los Angeles Galaxy collapse for RSL to think about earning the Supporters' Shield. The Galaxy has a 10-point lead on Salt Lake and a seven-point lead on Seattle Sounders FC.
The pressure is all on the Fire this Wednesday. Chicago sits six points behind the New York Red Bulls who own the final wild card spot at the moment.
The Fire and Salt Lake played to a scoreless draw on June 22 at Toyota Park.
June, 22, 2011
6/22/11
10:41
PM CT
By
Charlie Corr
| ESPNChicago.com
BRIDGEVIEW, Ill. -- The Chicago Fire and Real Salt Lake played Wednesday's match as though each side was waiting for one mistake to pounce on. But that never came to fruition for either side as the Fire and Salt Lake wound up in a scoreless draw in front of 14,972 at Toyota Park.

Chicago and RSL grinded out the match, which had some moments of back-and-forth play, but featured very little on either offensive third. Chicago had a 4-2 shots on goal advantage, and Salt Lake did not post a shot on goal in the second half.

"It was tough at first for us," Fire interim head coach Frank Klopas said. They're a team where their strength is in the middle of the field. I think we had a little bit of a hard time in the beginning. And I think when things settled a bit, we found the game a little bit better."

For the Fire, it was their 10th draw of the season, which leads MLS. Chicago moved to 2-4-10, and Salt Lake to 6-3-5. Chicago remains unbeaten with Klopas at the helm (1-0-4).

Fire goalkeeper Sean Johnson had two saves for the clean sheet -- his fourth shutout in the Fire's past five matches.

"He's kept us in the game and gives us an opportunity to win," Klopas said of Johnson. "That position has a lot to do with confidence. He's young, and I think he's got tremendous upside. It's good that he's gaining confidence, because that's very important."

Johnson came up with a huge save in the 28th minute, turning away a Collen Warner shot. RSL's Robbie Russell crossed the ball in from the right side, and Fire defender Yamith Cuesta attempted to break up the rolling cross. When Cuesta missed, that gave Warner space from point-blank range. But Johnson reacted quickly to the shot and deflected it away for a Salt Lake corner kick.

Fire rookie forward Orr Barouch made his first start of the season as Cristian Nazarit served the first of his two-game suspension. Barouch has played in 14 of the Fire's 16 matches, but all 13 previous outings were off the bench.

"Orr is what I expected," Klopas said. "He's got very good qualities -- technical qualities. ... He doesn't get rattled and he looks for opportunities and moments like this."

The Fire offense found some life in the second half, posting three shots on goal in the final 45. In the 78th minute, RSL goalkeeper Nick Rimando came off of his line to stop a Marco Pappa attempt. The Guatemalan returned from national team duty in the CONCACAF Gold Cup, and Klopas brought Pappa off the bench for the final 20 minutes.

"He was fatigued a little bit," Klopas said. "I knew he wasn't going to be able to provide 90 minutes. Going into this game, with Dominic [Oduro] and Patrick [Nyarko], with their transition and pace out wide, we would be able to get at them."

Following Wednesday's match, the Fire honored former Fire defender C.J. Brown, who is an assistant coach for Salt Lake. Brown wrapped up his 13-year MLS playing career in 2010.

"You've been supporting us through thick and thin," Brown said to the fans who remained post-game. "It was an honor to play in front of you and play for you."

Analysis: The Fire and Salt Lake did not exactly light up the pitch and the scoreboard on Wednesday. RSL was content to get at least a road point, and Chicago did not find its form for most of the match.

Johnson continues to be a bright spot for the Fire. While he was not heavily tested, Johnson gets more and more comfortable in goal as the entire defensive group keeps limiting opposing offenses to a bare minimum.

The Fire struggled in the central midfield with Baggio Husidic and Daniel Paladini. Klopas admitted following the match that it took a while for them to find some sort of rhythm. Logan Pause was not available (hamstring strain/concussion).

Chicago is in the midst of a tough two-game homestand, with the New York Red Bulls next on the docket this Sunday. Unfortunately for the Fire, they hold a 1-1-5 record at Toyota Park. Chicago and Sporting Kansas City are the remaining MLS teams with one home win, and K.C. does not exactly count considering it has played only a pair of home matches thus far.
June, 21, 2011
6/21/11
7:14
PM CT
By
Charlie Corr
| ESPNChicago.com
The Chicago Fire begin one of their toughest two-game stretches of the season on Wednesday when they host Real Salt Lake at Toyota Park. The Fire then have a short rest before hosting the Eastern Conference-leading New York Red Bulls on Sunday.
"We're at home and we're going to try to impose our will," Fire captain
Logan Pause
said. "It's going to be a great challenge."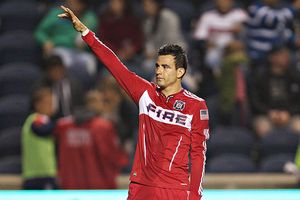 Jonathan Daniel/Getty ImagesMarco Pappa returns to the Fire on Wednesday after playing for Guatemala in the CONCACAF Gold Cup.
Midfielder Marco Pappa returns to the Fire (2-4-9) after playing for Guatemala in the CONCACAF Gold Cup. How much of an impact he will have right away remains to be seen.

While Pappa was away, Patrick Nyarko and Dominic Oduro anchored the flanks and were responsible for Chicago's lone goal against New England.

"Patrick and Dom have been playing well in their roles," Pause said. "Marco is a very important player, and we'll see how Frank will incorporate him into [Wednesday's game]. He's had to play a lot of games. We want him back and want his services back. He's a great player and a great guy in the locker room."

Pause is not certain to go for the midweek match. He is listed as questionable on this week's injury report with both a hamstring strain and a concussion.

Making noteworthy, and at times necessary, lineup adjustments have been the nature of the business for Fire interim head coach Frank Klopas. In his four-game tenure after replacing Carlos de los Cobos, Klopas' squad has not posted a loss, and he has made some needed personnel adjustments along the way.

Klopas made four starting lineup changes heading into the Fire's road win against the Columbus Crew. Klopas also showed that he is quick to go with his youth up front, inserting forwards Orr Barouch and Gabriel Ferrari during the second half of last week's 1-1 draw against the New England Revolution.

On Tuesday, the MLS Disciplinary Committee handed a one-game suspension to forward Jean Alexandre of Salt Lake (6-3-4). Alexandre's reckless tackle in the 49th minute (he did not receive a booking) of RSL's June 18 match against D.C. United led to the committee suspending him for Wednesday's match.

RSL is in the midst of a three-game winless stretch and a 1-2-3 record over its past six matches. Salt Lake has had its ups and downs ever since the CONCACAF Champions League run to the finals, seeing its unbeaten home run come to a close three days later against the Portland Timbers. RSL also blew an early lead against Columbus on June 8, posting a 2-1 loss.

Salt Lake touts MLS's top defense, allowing a league-low eight goals so far this year. Four of those goals have come during RSL's current three-game winless stretch.
June, 20, 2011
6/20/11
8:33
PM CT
By
Charlie Corr
| ESPNChicago.com
The path leading up to former Chicago Fire defender C.J. Brown's MLS coaching debut came together quickly.
Following his retirement announcement toward the end of the 2010 season, Brown made it clear that he wanted to move on to the coaching side. Within a matter of months, he became an assistant coach for Real Salt Lake -- the team that ousted Chicago from the 2009 playoffs and went on to win its first MLS Cup under head coach Jason Kreis.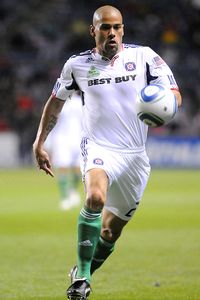 David Banks/Getty ImagesFormer Fire defender C.J. Brown is now coaching the MLS's top defense, Real Salt Lake.
"This team has already been going in the right direction," said Brown, whose RSL team faces the Fire this Wednesday at Toyota Park. "By me coming in, I'm not making them better. It's my job to keep something flowing. Jason and the entire program have done it the right way. Our back line is a pretty comfortable group, working with each other."

Brown attended the MLS Combine earlier this year, and his intentions were to possibly start his coaching career alongside former Fire goalkeeper coach Daryl Shore, the head coach of the Fort Lauderdale Strikers of the North American Soccer League.

Plans changed in a flash.

"I was going to go there and look at the [Fort Lauderdale] program because Daryl was looking for an assistant," Brown said. "I attended the combine and ran into the Real Salt Lake coaching staff, and they asked what I was doing there."

Brown and the RSL folks started talking, and they flew him in for the 2011 MLS SuperDraft.

"A week and a half later, they called me with an offer," Brown said.

Since joining Salt Lake (6-3-4) in mid-January, Brown has helped guide an RSL defense that has allowed fewer goals than any MLS team (8). Salt Lake's plus-7 goal differential ranks third heading into this week. And the spotlight also shone on Salt Lake for the better part of two months as RSL's CONCACAF Champions League run moved all the way to the final against Monterrey.

"These guys were working for this for the last year, building themselves for this," Brown said. "I popped into the end of it and walked into a great role. They worked hard in the offseason -- the best shape I've ever seen."

Brown spent all 13 of his MLS seasons with the Fire, and moving into the coaching realm has given him a different perspective.

"I'm so used to, as a player, going out and trying to make it happen myself," Brown said. "As a coach, I tell the guys what will happen, how I can help, give information on how everything works. When you see it on the field, you know how it's going to happen and adapt to the situation. As a player, you react to the flow of things. As a coach, I can think things through, so it's different."

While Brown has only been at RSL for a short time, the deep MLS backgrounds of Kreis and Brown are something that the Salt Lake players can latch onto during the rigors of an expanded season.

"In some sense, I'm asked how I feel about situations and how to play against certain players," Brown said. "You appreciate that. For me, these guys are here for a reason. They're good players who work hard, are good defenders, and I serve as a reminder for them to stay sharp."

Heading into Wednesday's match against the Fire (2-4-9), Brown notices some significant differences from his final season with Chicago in 2010.

"There is a lot of energy on that team," Brown said. "They have great pace and like to counter attack. They get after it really quick. They're more of a team [than last year's squad]. They're fighting for each other. That is not to say that we didn't do that last year, but you see more of it now."
January, 18, 2011
1/18/11
11:17
AM CT
By
Charlie Corr
| ESPNChicago.com
C.J. Brown, who has been the face of Chicago Fire soccer and was a member of the inaugural team in 1998, will have another MLS team affiliation stamped to his name.

Real Salt Lake named Brown its assistant coach on Tuesday as he replaces Robin Fraser, who took over the head coach role with Chivas USA.

"C.J. has been a highly respected defender in MLS for a long time," RSL head coach Jason Kreis said. "He has shown what loyalty, professionalism, hard work and dedication can get you in MLS as a player, and I'm certain he will bring those same qualities to his coaching. We are pleased to be adding not only a terrific soccer mind to our staff, but also a terrific man that truly wants to succeed at this new challenge in his life."

Brown's first contact with Salt Lake first started at the MLS Combine, and talks progressed from there.

"I'm glad that they gave me the opportunity," Brown said on the Bill and Spence Show on ESPN 700 in Salt Lake City. "It's a very good coaching staff, a great coaching staff. They have a good club and everybody I've spoken with has been very good to me. I'm excited to get started. I really want to keep pushing this program in the right direction."

Brown was coaching the Fire Juniors program and expressed toward the end of the 2010 season his desire to become an assistant coach in MLS once he retired -- preferably assisting with the Fire.

But when the Fire did have an opening following the departure of Naperville native and U.S. U-18 men's national team head coach Mike Matkovich, Chicago instead went with former Toronto FC assistant Leo Percovich.

"This is a great opportunity for C.J., and everyone at the Fire is very happy for him," Fire technical director Frank Klopas said in a statement. "We are grateful for all of his contributions to the club, and we wish C.J. and his wife, Kim, and their two girls the very best."

While the Fire have not publicly expressed the reasons for passing up on Brown to work his way into an assistant role with the Fire, two factors weighed heavily in Percovich's favor: Percovich is bilingual, so the Uruguayan native's communication among the players and predominantly Spanish-speaking Fire head coach Carlos de los Cobos will not get lost in translation, and Percovich has MLS coaching experience as an assistant for two years with Toronto and as a goalkeeper coach with the Colorado Rapids and Chivas USA.