Chicago Fire:

Steven Kinney
October, 19, 2011
10/19/11
4:12
PM CT
By
Charlie Corr
| ESPNChicago.com
BRIDGEVIEW, Ill. -- Chicago Fire midfielder Sebastian Grazzini's hamstring problems continue to persist. Heading into the Fire's home finale against the Columbus Crew on Saturday at Toyota Park, Grazzini's status could change day by day.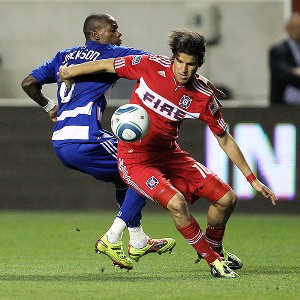 Jonathan Daniel/Getty ImagesSebastian Grazzini's hamstring could impact the Fire's playoff chances.
Grazzini netted a stoppage-time equalizer during the Fire's dramatic 2-1 come-from-behind win over D.C. United on Saturday. But on Wednesday he cut his training short because of the left hamstring injury that has plagued him off and on for nearly a month.
"He was out here earlier running, jogging, but when he tries to open up a little bit, he still feels it," Fire interim head coach Frank Klopas said following Wednesday's training. "We'll see how he feels. He's day-to-day."
The Fire are in wait-and-see mode regarding the importance of Saturday's match, which will include a sold-out fan base at Toyota Park. Three other teams are involved in the hunt for the last remaining wild card spot, though the odds of Chicago sneaking in are incredibly small. The New York Red Bulls currently hold the final postseason position with 43 points, and the Fire need them to lose Thursday's match to the Philadelphia Union, among many other factors.
"Obviously we're going to watch and see what happens," Klopas said. "But what I talked about with the group is just the things that we can control. It's great if some things go our way. The most important thing is our focus on Saturday, making sure we finish the season strong."
The Fire are coming off a victory over D.C. that seemed improbable after Dwayne De Rosario's penalty kick in the 90th minute. Grazzini's equalizer and Diego Chaves' winner created a moment that still is buzzing among the Fire locker room.
"I've never been in games like that, ever," Klopas said. "It's great when you're at the end of something like that because there's so much for team spirit, for morale, for the guys who put so much into it. The game's never over until the final whistle. It's great when you're on the winning side of that."
"We were absolutely in shock," Fire forward Patrick Nyarko said. "I didn't know what the hell was going on those last couple of minutes, but it shows the character of this team. We didn't keep our heads down. We just kept fighting till the end. It was one of the most incredible games and comebacks I've been a part of, and it was amazing to be on that side and not on the other side."
Kinney undergoes surgery: Fire right back Steven Kinney underwent sports hernia surgery on Wednesday. Though Kinney had performed some light training in recent months, the team was not expecting him to return for the end of the season. Kinney has not played in an MLS game in the past year, rupturing his right Achilles tendon on Oct. 23, 2010, against Chivas USA. He had surgery in the offseason, but then a groin strain set Kinney back during his return.
Expansion draft on Nov. 23: Major League Soccer announced Wednesday that it is holding the 2012 MLS Expansion Draft on Nov. 23 of this year. The league's 19th team, the Montreal Impact, will select 10 players during the 10-round draft. Former Fire midfielder Jesse Marsch is the Impact's head coach.
August, 25, 2011
8/25/11
5:25
PM CT
By
Charlie Corr
| ESPNChicago.com
BRIDGEVIEW, Ill. -- Chicago Fire interim head coach Frank Klopas made it clear following the team's 2-0 win over Toronto FC on Sunday where he prefers to play rookie defender Jalil Anibaba.
"I like him better as a center back," Klopas said of Anibaba, who opened the season as the Fire's regular right back. "He reads the game better there. For me, I think he can play both. But I see him as a better center back than on the right."
Anibaba's move to center back has been a smooth one, and that was evident when out of the blue he had to replace an injured Cory Gibbs in the opening minutes of a 1-1 draw against the Philadelphia Union on Aug. 3.
"In college, I was able to grow in that position more," Anibaba said. "When I made the transition to center back from attacking mid (where he played in his first two games at Santa Clara), it wasn't easy for me just because it takes time to get used to a new position. It's just a matter of me having more games underneath my belt at center back, and I've been able to transfer my experiences from college at center back to this level."
Anibaba had quite a bit on his plate to open the year. The Fire (3-7-15) lost most of their back line during the offseason and Anibaba was selected as the ninth overall pick in the 2011 MLS SuperDraft. Anibaba then was thrust into a right back slot that he had not played before. Aside from a short stint in the midfield, Anibaba's entire collegiate career at Santa Clara and North Carolina was anchored at center back.
"Right back was a great experience because I got to see the game from different angles and a different perspective than I was used to," Anibaba said. "It definitely helped me grow as a player, fast. I felt like as far as catching up to the curve, it was one challenge I had to take on very seriously because I was also adjusting to the [MLS] level and adjusting to a new position. So it was a definite challenge. But I think I applied myself and did all right."
The Fire's depth at center back is extensive, especially with Gibbs healthy again from a groin injury. Yamith Cuesta was a backup during the Toronto match, and Josip Mikulic did not even make the available 18-player roster after opening the 2011 campaign as a starter.
The back four of Gonzalo Segares, Gibbs, Anibaba and Dan Gargan had a shutout against the Reds over the weekend, and it would be surprising if Klopas decided to change the back line after posting a rare victory.
"The cohesion was there, and the understanding was there from not only Cory and myself, but also Dan and Gonzalo. We definitely had a great understanding, and I think it's a good moment for us as far as getting the win and getting the shutout. But it's pretty obvious that we have a lot of work to do. We have to remain humble and remain steadfast in our endeavors to make the playoffs."
Timetable for Kinney's return unknown:
Fire defender Steven Kinney was supposed to be back by now after rupturing his right Achilles tendon on Oct. 23 last year against Chivas USA. He had a successful surgery and was showing some successful signs in training. But a groin strain has kept Kinney on the shelf all season, and he is not sure when he will return.
"I do not know, and every time I try to put a timetable on it, it seems like I get another setback," Kinney said. "I was pushing kind of hard. When you're out for seven, eight months, your body isn't really used to that. I expected injuries and I expected some setbacks along the way. This is one I've just got to take in stride."
Because of the groin strain, Kinney has been limited to riding the bike. Meanwhile, midseason acquisition Gargan has solidified the right back slot in recent weeks. For Kinney, seeing the Fire's season from a distance has been a difficult experience.
"It's tough watching all these ties and stuff, because you feel like you could be out there helping them," Kinney said. "It gives me that hunger to get back out there to help the team. I'm just waiting for that day to get back out there."
Bocanegra nets goal, joins U.S. roster:
Former Fire defender Carlos Bocanegra
tallied a goal
in his Rangers debut on Thursday en route to a 1-1 draw against Maribor. Despite Bocanegra's game-tying goal in the 75th minute, Rangers bowed out of the Europa League with a 3-2 aggregate defeat.
U.S. head coach Jurgen Klinsmann
named his 24-player roster
on Thursday ahead of the team's friendlies against Costa Rica and Belgium, and Bocanegra is part of the squad. The U.S. hosts Costa Rica at The Home Depot Center in Carson, Calif., at 10 p.m. CT on Sept. 2 (ESPN2), then faces Belgium at King Baudouin Stadium in Brussels at 1:30 p.m. CT on Sept. 6 (ESPN).
June, 30, 2011
6/30/11
9:29
PM CT
By
Charlie Corr
| ESPNChicago.com
BRIDGEVIEW, Ill. -- The Chicago Fire are only three draws away from matching FC Dallas' MLS record of 14 last season, and only half of the 2011 campaign is in the books.

Considering the parity of MLS and the league-wide pattern of regular stalemates across the board, the Fire likely will establish a new ties mark when all is said and done. But clearly this team wants -- and needs -- to start penciling extra points in the win column.

The Fire open the second half of their season when they travel west to take on Chivas USA. But there is this gray area lingering within the club. Is Chicago on the cusp of turning those draws into occasional wins, or will this be an ongoing issue that will place them out of the running for a postseason?

"The decisions have to be better when we do create," Fire interim head coach Frank Klopas said. "We've got to be better in those moments. In the last game against New York, we had our chances, whether they were 3v2s, 6v5s -- we have to finish our plays better. The attitude has been good. We're working on our patterns. It's just the finishing in the final third."

It will be interesting to see how the Fire approach further personnel additions, especially in the central midfield. Argentine midfielder Sebastian Grazzini has been linked to the Fire, with Klopas confirming in mid-June that the team has been looking at him.

Pending any additions, the Fire in the immediate future need to work with what they already have in place. And as the Fire (2-4-11) enter the weekend, they have a fairly steep hill to climb as they currently are tied with Sporting Kansas City for seventh place in the Eastern Conference.

In league play, the Fire had a quiet June on the scoreboard, outscoring their opponents by a 3-2 margin in six games, posting a 1-0-5 record. Diego Chaves netted a goal in Lamar Hunt U.S. Open Cup action on Tuesday against the USL Pro's Rochester Rhinos. He has not scored an MLS goal since a 1-1 draw against the Houston Dynamo on April 23.

The Fire are healing up a bit, and every available option will be important. One focal point heading into this Saturday's game is the absence of midfielder Daniel Paladini, whose accumulation of yellow cards will force him to miss the Chivas match. But defensive midfielder Logan Pause (concussion) comes back just in time. Pause trained Thursday and is traveling with the Fire to California.

Also improving on the health front are midfielder Mike Banner (Achilles tendinitis) and defender Steven Kinney (Achilles tendinitis). Both were training with the full team on Thursday. However, Klopas did not have a definitive answer as to when either player is returning.

"It was good," Klopas said. "They were involved in the technical aspect of training, so they are starting to get some touches with the ball and go through exercises. It was great to see them out there. But it's going to be a while. They need some time and training to make up for the time they've missed. They're one step closer, so that's a positive sign."
October, 5, 2010
10/05/10
5:50
PM CT
By
Charlie Corr
| ESPNChicago.com
BRIDGEVIEW, Ill. -- It was not the original intention for the Chicago Fire to start their 2010 MLS SuperDraft second- through fourth-round selections in back-to-back matches with a month remaining in the regular season.

But with the Fire's playoff situation nearly in the dust, this team needs to look toward its future. There is no better place to start than the defense that anchors this squad.

Fourth-round selection Sean Johnson has become a fixture in the goal for the past 12 matches. Third-round pick and right defensive back Steven Kinney has shown some improved consistency through 10 games and seven starts, netting his first MLS goal against the San Jose Earthquakes last Wednesday. And second-rounder Kwame Watson-Siriboe has played with aggressive muscle at center back, earning five starts this year.

It wasn't the smoothest of two-game stretches as the rookie class garnered some reps, but the past week was invaluable experience. The Fire had a 3-0 win over San Jose last week, then were dealt a 3-0 loss to a strong FC Dallas side on Saturday.

"It's definitely a great learning experience," Kinney said following Tuesday's training. "In San Jose we came out with a different energy, and then the next game it was just the other end of the spectrum. You've got to take it in stride and hopefully finish the rest of the season strong."

When the Fire host the Columbus Crew on Friday, it would be surprising to see the full rookie trio back out there together. But head coach Carlos de los Cobos has thrown various lineups into the fray all season.

"It's very important to get reps going into next year," Watson-Siriboe said. "Carlos and the coaching staff have tried to get us more playing time to help us develop our game. As a rookie, you never expect to get as much playing time as the coaches have given us. It's still a learning process. There are a lot of veterans -- a lot of experienced players -- on our team helping to carry us through."

There were multiple situations throughout the Dallas match where both youth and veterans alike on the Fire side had their shortcomings. Watson-Siriboe had a moment in the first half that he would like to have back -- FC Dallas' first goal, in which his incorrect read eventually led to Milton Rodriguez's 19th-minute goal and game-winning tally.

"I actually anticipated Dasan [Robinson] getting it," Watson-Siriboe said. "I should have dropped behind him a little bit more just to give him that space. On that day it was my mistake. I should have read it a lot better. I wasn't able to react, and [Rodriguez] was able to get by."

But on the flip side, the San Jose match included a clean sheet and Kinney's first goal off of Freddie Ljungberg's corner kick from the right side. Both Kinney and Watson-Siriboe were in the heart of that attack.

"Freddie put in a perfect ball, and Kwame kind of set a little pick for me and I got to run off him," Kinney said. " Freddie put it right on the spot, and I was just fortunate to be in the right place."

"If I'm able to be used as a diversion so that Steven can get goals or other people on my team can get goals, that's amazing," Watson-Siriboe said. "Hopefully one of these days, Steven will pay me back and be used as a diversion so I can get my head on a goal, as well."

Veteran Fire center back C.J. Brown likes the potential in Kinney's and Watson-Siriboe's body of work thus far.

"I think they've done well when they've had their opportunities," Brown said. "They have a lot of potential for the next few years to be mainstays, if not starters in this group."

Brown thinks their raw talent is definitely there, and it is just a matter of Kinney and Watson-Siriboe going through the process of refining their talent with game-situational repetition.

"Kwame in the center is a beast," Brown said. "He's a good kid, he loves to win balls in the air and he's hard to beat. If he continues being a monster in the back, starts to read and communicate, he's going to be very solid. Steve, he can drive the ball well and he likes to get up and down the flanks. He's starting to get comfortable on the outside.

"There's a lot of potential," he said. "What you like about them is that they have an exciting attitude for their first year."
October, 2, 2010
10/02/10
11:46
PM CT
By
Charlie Corr
| ESPNChicago.com
The Chicago Fire and FC Dallas showcased a fitting example of two teams performing at the complete opposite ends of the spectrum this season.

Playoff-bound Dallas's movement and flow were strides ahead of Chicago's defensive gaffes and lack of scoring during FCD's 3-0 win over the Fire on Saturday at Pizza Hut Park in Frisco, Texas.

The Brimstone Cup remains with Dallas, which has held the trophy every year, with the exception of the Brimstone's inception in 2001.

Several days after posting a convincing 3-0 victory against the San Jose Earthquakes, Chicago was put in its place as Dallas orchestrated a dominating performance capped off by Jeff Cunningham's penalty kick tally in the 67th minute to tie an MLS record with his 132nd career goal.

Fire head coach Carlos de los Cobos went with the same defensive combination that ended the team's seven-match winless streak. But no matter how the back line looked during Saturday's match, the Fire (7-11-8) could not halt Dallas (12-2-13), which extended its unbeaten run to a staggering 18 matches -- tying an MLS mark set by the Columbus Crew in 2004.

Dallas forward Milton Rodriguez netted a 1-0 lead in the 19th minute. Rookie Fire defender Kwame Watson-Siriboe wanted to play Dallas goalkeeper Dario Sala's send on a hop. The ball just went over FCD midfielder David Ferreira's head and Watson-Siriboe was caught off-guard, knowing that the ball was going to sail past him. Rodriguez took advantage and snuck his shot past Fire goalkeeper Sean Johnson at the near left post.

The start of the second half went the complete opposite of how the Fire wanted to get things started. Ferreira sent the ball to Marvin Chavez who easily got behind Fire right back Steven Kinney. After tracking down the ball, Chavez cut back inside and took a shot that deflected a bit off of Kinney and got past Johnson only 20 seconds into the second half (46th minute).

Cunningham, who was a second-half substitution, was awarded a PK when Fire defender Dasan Robinson took him down in the box, trying to make up for Cunningham losing Chicago defender Wilman Conde. On the PK, Johnson guessed correctly to his right, not taken aback by Cunningham's hesitation. But the ball was just out of the rookie goalkeeper's reach.

The Fire had their usual scoring opportunities, here and there, but came up empty.

In the 14th minute, Patrick Nyarko made a run behind the defense as Freddie Ljungberg set him up. Nyarko could not finish the play, however. He tried a quick touch to his right to try to get around Dallas goalkeeper Dario Sala, but Sala converged to get his glove on the ball.

In the 33rd minute, Brazilian Dallas defender Jackson intercepted a high scoring opportunity for the Fire. Bratislav Ristic had the cross from the right side, looking for Calen Carr on the far left post. But Jackson retreated to the defensive third and slid feet first into the low cross. If he did not intercept, Carr would have had an easy chance to tap in the equalizer.

In the 85th minute, Carr sent a solid cross in from the right side to second-half substitution Brian McBride. But McBride could not handle the pass and his scoring chance went wide left.

Analysis: For the numerous personnel changes, injuries and other setbacks that have slowed down the Fire during this topsy-turvy season, those talking points are moot when facing a Dallas team that has absolutely shined despite those identical setbacks. FCD has everything put together from front to back and side to side on the pitch.

The Fire's midweek high was short-lived, and the same problems that have plagued this team were at the forefront once again.

There were some questionable personnel decisions by De los Cobos. Probably the most confusing during the match -- if Chicago truly was looking to maximize on the attack -- was leaving midfielder Logan Pause in the match while he sat on his 28th-minute yellow card.

Unlike the San Jose match, the Fire's young back line was burned by several mistakes. At this stage of the season, it's a benefit to let them work through this and look toward the future. The postseason mathematics still state that Chicago is in it, but reality is setting in that the Fire will miss the playoffs for only the second time in their 13-year history.
September, 30, 2010
9/30/10
12:49
AM CT
By
Charlie Corr
| ESPNChicago.com
After 401 scoreless minutes, the Chicago Fire unearthed their hidden offense as they tallied three goals and blanked the San Jose Earthquakes, 3-0, late Wednesday night at Buck Shaw Stadium in Santa Clara, Calif.

Freddie Ljungberg tallied a goal and two assists to lead the way as Chicago (7-10-8) erased a seven-match winless streak and mathematically kept itself in the playoff picture.

"I think we knew that the goals would come," Fire goalkeeper Sean Johnson said. "Tonight was a complete game on both sides of the ball, defensively and offensively -- finished our chances and held it tight for 90 minutes."

Chicago defender Steven Kinney ended the Fire's all-time longest scoreless drought with a 39th-minute tally off of a Ljungberg corner kick to take a 1-0 lead. Ljungberg crossed the ball from the right side, hooking up with Kinney who made a strong run to lose the Quakes' Brandon McDonald. The cross went just over the head of San Jose's Chris Wondolowski, and Kinney's header went toward the upper left of the goal past former Fire goalkeeper Jon Busch.

Ljungberg notched his first goal in a Fire jersey in the 72nd minute. Patrick Nyarko sent the ball to Ljungberg who made a run up the middle to lose San Jose's Christopher Leitch. Ljungberg made one touch with the ball to lead himself forward and get past the Quakes' Jason Hernandez, then chipped the ball with his left foot over Busch and into the right side netting for a 2-0 advantage.

Nyarko tallied his first goal of the season in second-half stoppage time to take a 3-0 lead. Brian McBride dished to Ljungberg who made an overlapping right toward the right side. Ljungberg crossed to Nyarko who shot the ball toward the right side of the net for the match's final goal.

A young Fire lineup maintained the clean sheet. Rookie goalkeeper Johnson made four saves, and the back line consisted of first-year players Kinney and Kwame Watson-Siriboe, Dasan Robinson and Krzysztof Krol -- a vastly different back line in comparison to the normal lineup of Gonzalo Segares, C.J. Brown, Wilman Conde and Robinson.

San Jose (11-8-6) held a 13-8 advantage in shots, and they had their scoring chances. Probably the biggest scare from Chicago's standpoint came in the 23rd minute, when Watson-Siriboe could have been called for a hand ball in the box, but referee Abeey Okulaja did not award a Quakes penalty kick.

During the sequence, San Jose midfielder Bobby Convey crossed the ball in from the right side and had some space because Krol had to decide between covering Convey or marking another Quakes player on the outside. Convey sent the ball toward the far left post to try and find Wondolowski. As Wondolowski tried to direct the ball, Watson-Siriboe's right arm did connect with the ball, but Okulaja either felt it was incidental contact or simply did not see the contact.

The Quakes' Ryan Johnson also created a 35th-minute chance with a header from the left side as Kinney lost his man. But Johnson's header went just wide right.

Busch made four saves for San Jose during his first in-game action against his former Chicago squad.

"I think we lacked that killer mentality that we showed last Saturday in Toronto," Busch said, referencing a 3-2 victory at Toronto FC. "I think we may have just thought we were going to show up and get our points. And maybe this is good. Sometimes you need a wake-up call."

Analysis: The smaller pitch at Buck Shaw always lends itself to some good back-and-forth play. For a Fire team that has not generated much from the run of play, Wednesday's second half was one of the most exciting stretches for Chicago in quite some time.

The team hustled, was chippy, aggressive and moved much better away from the ball compared to some recent efforts.

The Fire's young back line was a pleasure to see, as well. There were a few shaky moments in there, but they maintained their composure and kept pressing, rather than sitting back with the lead. Kinney had the goal and also made a nice little move to lose Convey to get a shot on goal in the 70th minute. Watson-Siriboe plugged up the center of the pitch with some decisive marking and clearances.

Ljungberg performed the way he was advertised when the organization brought him in two months ago, showcasing an energetic effort that led to his involvement in every goal against San Jose.

The only major question following the Fire's match is this -- where has this Chicago team been over the past month and a half?