June, 26, 2010
6/26/10
12:02
AM CT
By
Charlie Corr
| ESPNChicago.com
The United States has some veteran experience and a collective group. Ghana has talented youth, some speed up front and a home-field-like advantage being the only African nation remaining in the 2010 FIFA World Cup.

However you slice and dice the elements, the possibilities are endless in the knockout round.

The U.S. faces Ghana on Saturday in the Round of 16, and U.S. head coach Bob Bradley, his staff and players think they have a good grasp of who they are facing this weekend.

"We all know the types of players that Ghana has produced, the great youth teams they've had and the fact that they've been able to, I think, do a very good job of turning very good teams at the U-17 and U-20 level into very good teams at the full national team level," Bradley said. "We know some of their guys pretty well, we've watched them a lot and we expect a really good game."

The U.S. won Group C to get to this stage, but the journey was far from picture-perfect. The Americans had a pair of draws against England and Slovenia, then capped off group play with a second-half stoppage-time goal from Landon Donovan to edge Algeria.

Ghana managed a runner-up finish in Group D behind Germany. The Black Stars topped Serbia, had a 1-1 draw against Australia, then fell to Germany, 1-0.

If you want to nitpick Ghana's group play, the Black Stars scored two goals in the three games, and neither was in the run of play.

"There's cause for a little concern," Ghana native and Chicago Fire midfielder Patrick Nyarko said earlier this week at Fire training. "I think we've created very good chances, and hopefully we can finish and our defense can hold up. The U.S. attack is very strong and very dangerous right now. Hopefully we can come out Saturday and stop them."

From an expectations standpoint, suffice it to say that the Americans have met them. Most people were hoping they would advance through the group stage and they did so at the very last minute against Algeria.

After the Americans wiped their brow and avoided a devastating early exit, a letdown in the knockout stage would be a huge disappointment from the U.S. camp. Which is why this U.S.-Ghana match carries far more importance. There also is a redemption factor heading into Saturday's match because the Americans fell to Ghana, 2-1, in the 2006 World Cup and were eliminated.

"I think there are six players on each team that were in that match, so there's some element of [avenging that loss]," Bradley said. "But nonetheless, four years later things change. In the moment and speaking for ourselves, the excitement to be at this point and the understanding that you get this opportunity to give what you have and try to continue to move along. You take nothing for granted, and get excited for putting it on the line again."

From a tactical standpoint, it will be interesting to see what Bradley decides to do with the defensive line on Saturday. Bradley decided to sit center back Oguchi Onyewu against Algeria, while teaming Carlos Bocanegra and Jay DeMerit as the center combo.

However Bradley puts together the pieces, the Americans are being watched closely, and they should be. They are the highest-ranked team in their quadrant at No. 14 in the FIFA Rankings. The U.S. is followed by Uruguay (16), Ghana (32) and South Korea (47).
June, 24, 2010
6/24/10
4:58
PM CT
By
Charlie Corr
| ESPNChicago.com
BRIDGEVIEW, Ill. -- Chicago Fire target forward and Arlington Heights, Ill., native Brian McBride and midfielder Patrick Nyarko have some added interest in the 2010 FIFA World Cup when the U.S. takes on Ghana this Saturday.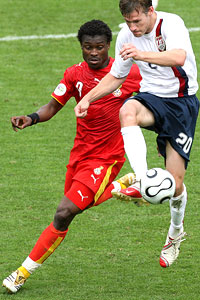 Valery Hache/AFP/Getty ImagesBrian McBride was on the pitch the last time the U.S. faced Ghana in the World Cup.
McBride was on the 2006 U.S. squad that fell to Ghana, 2-1, and was eliminated from the Cup. He played in the full match and had a diving header that hit the post. Nyarko is a native of Ghana, and he knows he is in the minority among the fandom surrounding him in the Fire clubhouse.

"I'm remaining quiet right now because there are a lot of Americans in the locker room," Nyarko said. "I'm not talking that much. Come Saturday ... I don't know if we're going to watch it either because we're traveling. But I'll be cheering for Ghana."

McBride was on the wrong end of the last World Cup result against Ghana, but this year's rematch is much different. Both teams have advanced past the group stage, with the U.S. winning Group C and Ghana taking the runner-up position behind Germany in Group D.

"When you play in an elimination round, anything can happen," McBride said. "So you have that extra bit of excitement. I think there's a bit more tension, knowing that every possible mistake you could make could affect the outcome. It gets you more focused, and you get more excited because of the possibilities."

On Wednesday, Landon Donovan had a storybook ending during the U.S.'s 1-0 win over Algeria -- a second-half stoppage time tally that sent U.S. fans, area sports pubs, workplaces and households into a frenzy. The Americans went from nearly going home to winning their group in an instant classic finish.

"My wife and I were sitting on the couch, I raced home from [Fire] training of course and got there late," McBride said. "So I had to catch up through the tape. Finally at the 70th-minute mark I was fully caught up. We were just sitting on the edge of our seats. When [Donovan's shot] went in, I jumped up, ran around the couch yelling, my wife screaming."

Nyarko's satisfaction with Ghana was much more subdued. He believes his homeland has more room for improvement.

"I think we're better than that," Nyarko said. "We had a chance to win the group and had a chance of winning all three games, actually. In the Australia game, we just couldn't put it away, and we had a couple chances against Germany [on Wednesday] and just couldn't finish. Hopefully we start fresh. There is no room for error in the knockout round, and hopefully the boys can respond."

Nyarko predicts a 2-1 Ghana victory over the U.S.

One person Nyarko particularly is tracking is a buddy of his -- Kwadwo Asamoah. They played club ball together about five years ago before Nyarko headed to the U.S. to play for Virginia Tech.

"They've been using him on the left wing, but I think he's more dangerous behind the striker," Nyarko said of Asamoah. "I think he's a very good player. He can open up any defense. ... I'm just proud of him for the jump he's made the past couple of years. I hope he'll continue doing well. Hopefully I'll have a chance to play with him again.""

On the flip side of the ball, Nyarko has been impressed with Ghana's defense.

"I think our back line is our strength, all though qualifiers and up to this point," Nyarko said. "We can turn defense into offense any time we want. Hopefully we'll have our mentality right for Saturday. The Americans have the strongest mentality I've seen in this tournament. We've got to match that."

For as many missed chances as the U.S. has had through these three matches, the Americans' mental focus and team unity have been the resounding characteristics thus far as they hope to continue the growth of this sport in the U.S. at so many levels.

"It speaks volumes for them and how much work they've put in," McBride said. "I'm just like you guys. In fact, I'm probably further away from it. You guys are writing about it and have to see the ins and outs. The great thing about it now is I can be a fan. I'm not analyzing certain situations. We're not in team talks. The bad thing is the nerves are 100 times more because you can't do anything about it.

"It's the World Cup -- everything's magnified," McBride said. "When you do well, that magnification probably overextends what actually is the value of it. But when you don't do well, it goes the opposite [direction]. People start talking about how it hurts U.S. soccer, blah, blah, blah. ... As far as soccer growing and what [Wednesday's win] does for soccer in a general sense, I think it does immense things."
June, 23, 2010
6/23/10
6:17
PM CT
By
Charlie Corr
| ESPNChicago.com
Emotions built as the clock ticked away Wednesday during the United States' final Group C match against Algeria in the 2010 FIFA World Cup. Which way would the tide flow for the U.S.? Would the Americans fall short once again from advancing through the group stage, or could they pull off the miracle goal?

In the 91st minute, the U.S. found that long-awaited clutch strike as Landon Donovan's second-half stoppage time goal carried the Americans to a 1-0 victory over Algeria and first place in Group C.

The U.S. could not afford a draw, because also on Wednesday, England advanced through the group stage with a 1-0 win over Slovenia.

"It's a match where both teams need to win, so it turns into a very wide open game," former Chicago Fire and current U.S. head coach Bob Bradley said in the postmatch news conference. "Algeria is a very good team, skillful and well-organized, but the game now takes on a different tone just because of the need for both teams to win."

If you were attempting to watch the two Group C matches simultaneously, there were some key sequences to pay attention to on both screens.

In the 20th minute of the U.S.-Algeria match, the Americans were involved yet again with another disallowed goal. Clint Dempsey was called for offside before striking the ball into the back of the net. But replays showed that he was level with Algeria's back line.

Flip over to England-Slovenia, and in the 23rd minute England garnered a much-needed goal from Jermain Defoe to take a 1-0 lead. If things stood that way, with England topping Slovenia and the U.S. level with Algeria, that meant England and Slovenia would advance.

Back to the split-screen, in the U.S. match in the 57th minute, Dempsey hit the post off of Jozy Altidore's cross. While that was going on, England's Wayne Rooney had the ball one-on-one against Slovenia goalkeeper Samir Handanovic in the 58th minute. But Rooney's strike hit the left post after the ball ever-so-slightly deflected off of Handanovic's finger tips.

Aside from a near disaster at the start of the match -- almost allowing a 6th-minute goal to Algeria -- the U.S. created the better chances of the two teams. But the Americans were unable to finish.

From the U.S. viewers' standpoint, they were grasping for any advantage, whether it was the U.S.'s match or Slovenia hoping to find an equalizer against England. Even if it meant an Algerian booking -- Dempsey took a knock to the face from Antar Yahia in the 81st minute and Altidore was fouled from behind by Medhi Lacen in the 82nd, but neither foul (Yahia's was not even called by the official) had any bearing on the match. Around the 90th minute of the England-Slovenia match, Slovenia had a few attacking moments to try and level things up.

But that little bit of assistance would not come. The Americans had to overcome this obstacle on their own, and Donovan came through with the tally.

After making a save off of an Algerian header, U.S. goalkeeper Tim Howard made a phenomenal distribution deep to Donovan. Donovan dribbled the ball upfield and found Altidore to his right. Altidore then sent the ball in trying to hook up with Dempsey. Algeria goalkeeper Rais Bolhi and Dempsey converged on the ball and Dempsey's attempt popped out to an open space in the box, where Donovan slammed home the winner.

"When the ball came I wanted to take a good touch forward and be aggressive right away, and I had a lot of options," Donovan said of the play. "At the moment I chose Jozy, and he did a good job of putting a dangerous ball in to Clint, who did a great job of making an effort to get in front of the goalie, and then it just bounced there."

The U.S. next plays Group D runner-up Ghana this Saturday as the Americans advance to the final 16 along with England. Both teams were the Group C favorites to advance, and they pulled it off.

It only took the final minutes of group play to make it a reality.

June, 22, 2010
6/22/10
11:01
PM CT
By
Charlie Corr
| ESPNChicago.com
So the big day is here Wednesday morning when the United States faces Algeria in Group C play in the 2010 FIFA World Cup. It is the U.S.'s final match of group play, and a lot is obviously on the line (coverage starts at 8:30 a.m., ESPN).

In the 2006 World Cup, the U.S. fell to Ghana, 2-1, to wrap up the group stage as the Americans were sent home packing. The American players don't want a repeat of that episode.

"Obviously we had a bad outing in 2006, and we're not happy with how things worked out," former Chicago Fire defender and U.S. defender Carlos Bocanegra said at Tuesday's press conference. "We have a great chance [Wednesday] to get a win and advance on to the second round. It's important for us because we had that disappointment in '06. It's not really extra motivation, but it's in the back of our minds."

Here is a quick five-point list of why the U.S. better have a victorious Wednesday:

1. Win, and they're in. It simplifies things and avoids all of the other scenarios. As long as the Americans post a victory, they advance. A draw can work if England loses or posts a draw against Slovenia and the U.S. maintains a goal differential lead (currently a 3-1 U.S. advantage). Just get the victory.

2. It's a confidence booster. Look at these past two matches for the U.S. The draw against England looks adequate on paper, but based on the team's play against England and Slovenia, there simply were too many key lapses for American fans to feel confident about a deep run in the Cup. Start strong, hold a possession edge and maintain a high level of energy.

3. We can forget that referee. Are you sick of that highlight of Maurice Edu's disallowed goal against Slovenia? Tried of seeing that blank look on referee Koman Coulibaly's face and the lack of a response as to what exactly he called? Post a win on Wednesday and Coulibaly will be forgotten ... until FIFA feels the need to schedule him for a U.S. match again.

4. Algeria's supposed to be the weak link. Remember all that talk before the Cup about how the U.S. was fortunate to get a good group draw? It hasn't looked that way so far. The U.S. and England were supposed to be the clear-cut favorites since both squads are ranked in the top 15 of the world rankings. Algeria has the lowest ranking among the group at 30th. However, this year's Cup has had its share of upsets, so these FIFA rankings have lost some value.

5. It's for the good of the U.S. game. I am not going to be one of those detractors who thinks that if the U.S. does not advance past group play that it is going to hurt the state of the game of soccer in this country. That's not true, and the people attempting to make that argument simply are the ones who have not followed the sport in the first place. Soccer participation and the attention the Cup is getting are quite high. But ... an extended run into the World Cup would be a huge benefit for certain. The U.S. thinks it has the cohesive group to accomplish a good run, so the time is right for a global impact. We're just waiting to see it at the highest level.