December, 9, 2011
12/09/11
7:03
PM CT
Some people relax by mediating. Some find a comfy couch and a good book.
Bartlett senior
Haley Videckis
grabs a basketball and gets to the nearest court. Whether she's stressed about school, home or anything else, basketball releases her of it.
"I have a lot of stresses to balance in my life," Videckis said. "Once you step on the court, all the chains break loose. I just love the feeling."
[+] Enlarge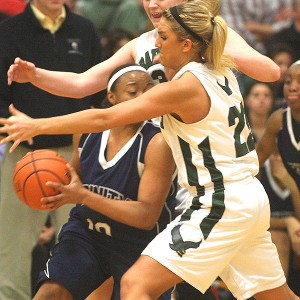 Scott Powers for ESPNChicago.comHaley Videckis has helped Bartlett jump out to a 9-0 start this season.
It doesn't hurt that the Indiana-bound Videckis is pretty good at basketball, too. She's emerged as one of the area's premier players and is among the reasons why Bartlett is hopeful of a trip downstate this state.
Videckis is the ESPNChicago.com Player of the Week.
"She always has been a scorer for our team," Bartlett coach Denise Sarna said. "I think she was a little overshadowed by the kids we had. We had quite a few seniors who contributed last year, especially [Wisconsin recruit] Jacki [Gulczynski].
"We certainly knew how good she was, but she just wasn't the high point scorer. Last year, we had a good player who would be the other team's focus. This year that's been Haley's job."
Videckis may be Bartlett's go-to player and its leading scorer, averaging 18.8 points, but she doesn't feel as if the pressure's on her to succeed. She believed Bartlett is 9-0 and ranked No. 6 in the area because it's a true team.
"Every time somebody tries shut one of us down the other four pick it up," Videckis said. "It's proven that it's tough to stop us all."
Opponents have focused on Videckis more than anyone else. She's already seen her share of box-and ones. But despite the extra concentration, Videckis has still gotten hers, and that can be contributed to her offseason work on shooting.
Videckis has always been a threat to get to the basket, but she looked to diversify her game more this offseason. Through nine games, she's shown the hard work has paid dividends. She's shot 43 percent from 3-point range, making 24-of-53 attempts.
"She's worked her tail off on her shooting," Sarna said. 'I'll tell you what -- she can shoot. It's been so helpful to our team. She has such range that it really stretches the defense."
Putting in that extra effort has never been difficult for Videckis, who is also averaging 4.4 rebounds, 2.6 assists, 2.4 steals and one block.
"She's a perfectionist," Sarna said. "She's very self-motivated. She puts in a lot of time. It's been fun to watch her grow. She's become quite a player."
Videckis' motivation goes back to her love for the game.
"I've just seen myself progress so much from my freshman year to now," she said. "I've basically committed my soul to play basketball. It's what makes me free. I love the things I get out there."
November, 18, 2011
11/18/11
9:10
PM CT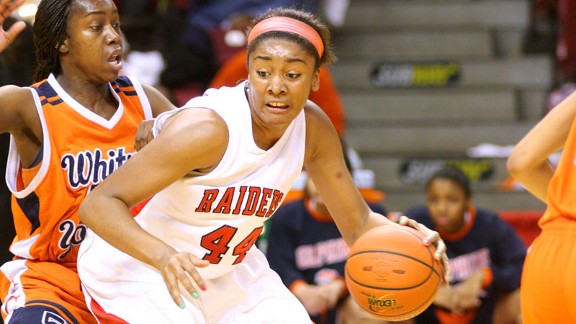 Scott Powers / ESPNChicago.comtbd
1. Bolingbrook:
The Raiders are shooting for their fourth consecutive state title this season, but they also are seeking something even bigger. They want to be the No. 1 team in the country. "That's the kids' goal," Bolingbrook coach Anthony Smith said. "They want to finish off the season No. 1." From top to bottom, Bolingbrook is as talented as ever. It had eight players sign recently with Division I programs. That list is led by senior forward
Morgan Tuck
, who is headed to Connecticut. She averaged 21 points last season. Forward
Cabriana Capers
(Auburn), forward
Nia Moore
(Illinois), forward Annaya Moore (UAB), forward ChaRosese Williams (Stetson), guard Keiera Ray (Pennsylvania), guard Allie Hill (Texas-Pan American) and guard DeLacy Anderson (George Washington) are also signed. Bolingbrook will have to replace ESPNChicago.com 2010 player of the year
Ariel Massengale
, who now plays at Tennessee, and hope to do so with junior
Kennedy Cattenhead
.
2. Whitney Young:
The Dolphins haven't been able to get past Bolingbrook the past three seasons. Last year's Class 4A semifinal game was an instant classic with Bolingbrook pulling out a 50-49 win. They'll be the favorites to get another shot at the defending champs. Whitney Young will be led by its backcourt of
Linnae Harper
, one of the country's top juniors, and
Janee Thompson
, a nationally-ranked senior and Kentucky recruit. Whitney Young will also look to sophomores Khaalia Hillsman and Taylor Brame and seniors Tessa Haldes and
Alexis Lloyd
.
3. Trinity:
The Blazers are looking to make that jump into the state's elite teams this season and appear to have the talent and experience to do so. They went 29-4 last season and return DePaul recruit and all-area selection
Megan Podkowa
, who averaged 17 points and nine rebounds last season, junior guard Taylor Nazon, who averaged 11 points, senior guard
Alyssa Dengler
, junior forward Shannon McGinnis and senior center Vickie Harris. Lauren Prochaska and Mikayla Leyden should also contribute.
4. Maine South:
The Hawks pulled off one of last season's biggest upsets when they knocked off Whitney Young in the Class 4A third-place game. Whitney Young may not have been as motivated after losing in the semifinals to Bolingbrook, but it still was a big win for Maine South and could propel it this season. The Hawks return all five starters and their top six players from last year's team. Senior guard
Michelle Maher
, who has signed with Western Illinois, and junior forward Jacqui Grant, who has an offer from DePaul, both averaged around 12 points last season.
5. Marist:
The RedHawks look to be a state contender this season with all five starters back from last year's squad that went 27-6 and lost to Marian Catholic in a Class 4A sectional championship game. Among Marist's returnees is junior guard JeTaun Rouse, who was the lone sophomore on last year's ESPNChicago.com all-area team. The other returning starters are seniors
Randyll Butler
, a Colgate recruit, and
Asianna Bey
, a Memphis recruit, and juniors Leah Bolton and
Claire Ryan
. All five starters will likely play Division I basketball.
6. Hillcrest:
The Hawks have finished second in Class 3A the last two years. The goal this season is finally to win the title. They return four starters and four key reserves from last year's 29-3 team. The group is led by Seton Hall recruit and all-area selection Shanise Heady and Southern Mississippi recruit
Samirah Ali
. Seniors
Jasmine Sanders
and
Jahmia Phillips
also are returning starters.
7. Morgan Park:
The Mustangs return three of their top players from last season's 27-5 team. Morgan Park will be led by small forward
Kendyl Nunn
, a Toledo recruit, center
Gabrielle Richmond
, a St. Bonaventure recruit, and point guard Debra Jenkins, the glue of the team. Sophomore guard Shami Goodman and freshman Marsha Howard are also expected to receive major minutes. Morgan Park's sophomore team won the city championship last year.
8. Montini:
The Broncos graduated four starters, including three Division I players, from last year's Class 3A state championship team. This is a program that reloads, though. Senior forward Tianna Brown is the lone returning starter, and she averaged eight points last season. Center
Diamond Thompson
was just a contributor on last year's team, but recently committed to Notre Dame.
Nikia Edom
, a versatile 5-6 junior, and forward
Malayna Johnson
will also contribute this season. Some of the newcomers to watch will be sophomores
Jasmine Lumpkin
,
Kelly Karlis
,
Kateri Stone
and Sara Ross and freshmen Kelsey Bogdan and
Rainey Kuykendall
.
9. Bartlett:
The Hawks lost all-area selection
Jacki Gulczynski
to graduation, but still return plenty of talent and depth from last year's 28-2 team. The group is led by
Haley Videckis
, an Indiana recruit, who averaged 10 points last year. Senior Kristin Conniff also averaged 10 points last season. Bartlett also returns forward Lisa Palmer and guard Janessa Baker. Seniors Ashley Johnson, Nicole Gobbo, Natalia Grodzki and Kate Gutzwiller will also be looked to this season. Videckis' sister Kendra, a sophomore, will also play on varsity this season.
10. Waubonsie Valley:
The Warriors return five starters from last year's 24-5 team. Senior guard Tami Morice leads the returnees after averaging 13 points last season.
Becky Williford
, Eric Jordan,
Rachael Ross
and Gratia Brooks are also back. Williford will be back from ACL surgery in December. Waubonsie Valley will also look to a sophomore and three freshmen to contribute this season.
11. Niles West:
The Wolves only have two returning starters, but one of them is
Jewell Loyd
, and that's all that matters. Loyd, a Notre Dame recruit, is one of the nation's most electrifying players. She averaged 30 points, 15 rebounds, four assists, four steals and three blocks last season. She gives Niles West a chance in every game. For it to truly compete for a state title, it'll need junior guard Molly Kleppin, the other returning starter, senior Jackie Cardena, sophomores Dashae Shumate and Alex Galanopoulous and others to contribute as much as they can.
12. Lincoln-Way East:
The Griffins should again be one of the area's top teams this season after going 25-6 last year. They return Loyola recruit
Taylor Johnson
, who averaged 13 points last season, and senior center Caitlin McMahan, who had 10 double-doubles last year. Senior Amy Jacobsen and juniors Meaghan McMahon and Natalie Hill should be key contributors this season as well.
13 Zion-Benton:
The Zee-Bees are coming off their second-place finish in Class 4A. They return all-area selection Octavia Crump, who averaged a near double-double last season, sophomore guard Samantha Rodriguez, who started as a freshman, senior Aaliyan Smith, senior guard Morgan Franklin, and junior guard Kaitlyn Stabenow, the team's best shooter. Senior Jessica Williams didn't play basketball last season, but was the sophomore team's MVP two years ago. She'll be heavily relied on this season.
14. Fremd:
The Vikings should possess one of the state's best backcourts with senior shooting guard Jessi Wiedemann, a Valparaiso commitment, and junior point Ashley McConnell returning and the arrival of highly-touted freshman point guard
Haley Gorecki
. Fremd is coming off a 25-7 season and lost just one game this summer.
15. Fenwick:
The Friars could be the most entertaining team to watch this season. Coach Dave Power is going full run-and-gun this year. His goal every game is to take almost 80 shots, including 40 3-pointers. Fenwick will be led by senior forward and Yale recruit
Meredith Boardman
, sophomore point guard Jade Owens, junior guard Maggie Reilly and senior guard Marek Burchett.
16. Geneva:
Sarah Meadows replaces longtime coach Gina Nolan this season. Meadows will have a lot to work with this season.
Ashley Santos
, a Marquette recruit, will be the Vikings' go-to player. She averaged 15.8 points, 5.7 rebounds, 3.2 steals and 1.1 blocks last season. Geneva also returns starting guard Rachel Hinchman and junior forward Sami Pawlak from last year's 25-7 team. Sophomores
Michaela Loebel
and
Morgan Seberger
should also contribute this year.
17. Homewood-Flossmoor:
After winning 22 games in coach Dana Noble's first year, the Vikings are out for more this year. They'll be led by 5-10 guard
Charnelle Reed
, who averaged 13 points, 3.6 rebounds, three assists and 2.4 steals last season. They also return junior guards Syndi Johnson and
Lauren Parker
and senior forward
Amena Brent
.
18. New Trier:
The Trevians were a bit of a rollercoaster last season. With nine seniors and 12 returnees back this season, they hope to be up more than down. The group is led by 6-1 guard
Maggie Lyon
, a Northwestern recruit, who averaged 17 points, eight rebounds and four assists last season. Senior forward Jessica Blackwell also averaged eight points and six rebounds last year.
19. Marian Catholic:
The Spartans graduated a bulk of their talent, but this won't be a rebuilding season. Their roster is full of young and talented players. Among those upcoming stars are sophomore guard Ashton Millender, sophomore guard Brianna Morrison and freshman guard Teniya Page. Seniors
Alanna Ferry
,
Amber Williams
and
Sarafina Handy
and junior Megan Walsh are back from last season, and their leadership will be key.
20. Cary-Grove:
The Trojans hope to carry over the momentum of last year's playoff run, which ended in a narrow sectional loss to Geneva. Cary-Grove returns three starters -- senior versatile guard Paige Lincicum, junior forward
Olivia Jakubicek
and junior guard Joslyn Nicholson -- from that 27-4 team.
October, 28, 2011
10/28/11
12:01
AM CT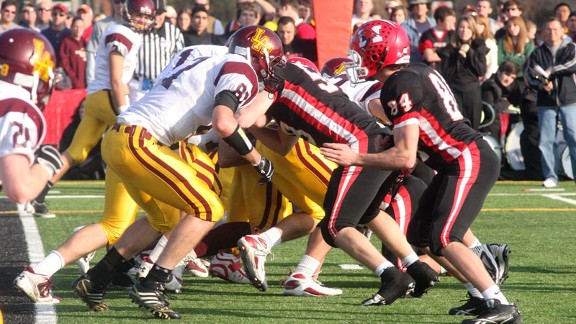 Scott Powers/ESPNChicago.comTo get that elusive 8A title, Loyola will need to get past Maine South.
Within minutes of Loyola defeating St. Rita last week, Ramblers quarterback Malcolm Weaver began dealing with questions about the Class 8A playoffs and the possibility of facing Maine South again.
Weaver and the Ramblers have been eliminated by Maine South the last two years in the 8A semifinals and watched as the Hawks continued onto consecutive state championships.
On the one hand, it'd be understandable if Loyola would rather not see Maine South again. The Hawks may just have their number. But on the other hand, the Ramblers could believe if they're going to win their first state championship since 1993 the proper way for it to come is by pushing Maine South off the mountain.
Weaver thought the latter.
"That's who we want to see," Weaver said. "That's the goal right now. We've competed against them greatly. Great competition. We want to play the best competition. We want to play Maine South."
Of course, Maine South doesn't care who it plays. For the last three years, the Hawks have set up the Class 8A dominoes and knocked them down one by one on their way to three consecutive state championships.
Best opening round game
No. 12 Homewood-Flossmoor at No. 5 Marist:
Whatever the over is for this game, take it. Both teams have put up plenty of points this season. Homewood-Flossmoor is averaging 43.2 points a game. Marist is averaging 37.9 points and has scored 120 points in its last two games.
Top 10 Class 8A teams
1. Maine South (9-0):
The Hawks are shooting for their fourth consecutive state championship. They've been ranked No. 1 in the area from the opening poll.
2. Loyola (9-0):
The Ramblers have come close to dethroning Maine South. Is this finally the year? Their offense and defense have been impressive.
3. Bolingbrook (8-1):
The Raiders' lone loss came to Lincoln-Way East, and they were leading that game the entire first half. They're not too far off Loyola and Maine South.
4. Palatine (8-1):
The Pirates responded from their season-opening loss to Montini with eight consecutive wins.
5. Marist (7-2):
The RedHawks are as hot as anyone right now with back-to-back wins over Carmel and Joliet Catholic.
6. Downers Grove South (8-1):
The Mustangs took a step back with their Week 9 loss to Addison Trail, but they were among the state's top teams throughout the rest of the season.
7. Bartlett (7-2):
The Hawks' losses came early in the season to Batavia and Wheaton North. They rallied to win the Upstate Eight Valley title.
8. Waubonsie Valley (8-1):
The Warriors' lone regular-season loss came to Bartlett and was the difference for the Upstate Eight Valley title. Waubonsie Valley is a No. 1 seed.
9. Stevenson (7-2):
The Patriots have played six games decided by seven points or less. They won four of them.
10. Mount Carmel (6-3):
The Caravan ended the regular season on a low note, losing to Providence. They were in the area's top 10 for most of the year.
Top 5 players to watch
1. Simeon offensive lineman Jordan Diamond:
Diamond is one of only two Illinois players in ESPNU's 150. He's not committed yet.
2. Maine South quarterback Matt Alviti:
Alviti already has offers from Illinois, Northwestern and Notre Dame. He's still only a junior.
3. Bolingbrook linebacker Antonio Morrison:
Morrison is one of the state's top defensive players. He's committed to Florida.
4. Downers Grove South running back Josh Williams:
Williams is in contention for ESPNChicago.com Offensive Player of the Year.
5. Loyola quarterback Malcolm Weaver:
Weaver is one of the area's premier dual-threat quarterbacks.
Sleeper team
Simeon (7-2):
It's hard to tell what the Wolverines are going to do in the playoffs. They lost early games to Mount Carmel and an out-of-state team, then cruised through their Public League competition. They have the pieces to make a run.
Coaches' thoughts
Maine South coach David Inserra:
"Class 8A looks to be fair throughout with even competition in each of the four quads. The key to success for us is continue to do what we do best and make slight adjustments based on the opponent at hand. This time of year can be a grind. so it's important to stay healthy physically and sickness-wise, plan accordingly, be able to shift 'mid-stream' if that's what's called for and stay the course. Everyone is good at this time. Should be a great playoff with some interesting and exciting games right off the bat."
Loyola coach John Holecek:
"I know there's one team that's really, really good out there that we're going to have to play eventually. But there are a bunch of North Side teams that could cause us a lot of trouble. There's a bunch of good teams, unknowns in the playoffs. We're not going to look ahead. We're just going to talk about the next game."
The road for the defending Class 8A state champions:
If the seeds play out, Maine South would face Stevenson in the second round and Palatine in the quarterfinals. Because the IHSA doesn't seed 1-32 in the playoffs, Maine South and Loyola would meet in the semifinals. It would be at Loyola, which is the top seed.
Fun fact:
Thirty of the 32 teams in the Class 8A playoffs also reached the playoffs last season. Only Hinsdale Central and Naperville Central missed the playoffs last year. Mount Carmel is making its 26th consecutive appearance.
State championship prediction:
Maine South over Bolingbrook
October, 23, 2011
10/23/11
3:18
AM CT
Maine South is shooting for its fourth consecutive Class 8A state championship. Who are the other contenders?
Bracket and analysis.
October, 29, 2010
10/29/10
12:26
AM CT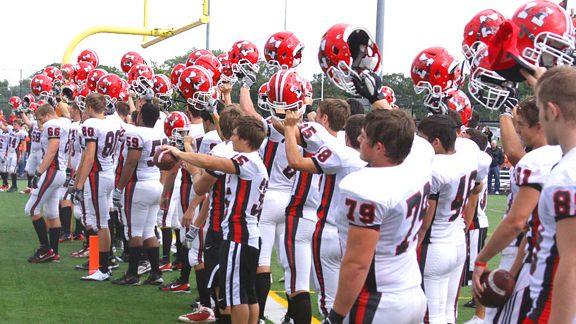 Scott Powers/ESPNChicago.com Maine South has won seven straight since dropping their first two games of the season.
There was little hope of winning the Class 8A state championship the past two years if your team name wasn't Maine South.
The Hawks possessed the state's best offensive weapon in 2008 (quarterback Charlie Goro) and 2009 (running back Matt Perez) and had plenty of talent around them to roll through their competition. Maine South went undefeated both years and won the state title in 2008 with a 41-21 win over Hinsdale Central and in 2009 with a 41-17 win over Marist.
In 2010, there's finally hope for everyone else. While Maine South is still a state contender, the Hawks aren't the same dominating team they were the past two seasons.
So who steps into the Hawks' place? It's up in the air. There are nearly a dozen teams capable of going all the way.
Here's a deeper look at Class 8A.
Best opening round game
No. 9 Naperville North at No. 8 Marist:
Both teams experienced similar seasons. They come from elite conferences. Both finished third behind highly-ranked teams. Both lost two close games. For Naperville North, it lost by seven points each to Glenbard North and Wheaton North and ended up third in the DuPage Valley. For Marist, it lost to Carmel and Joliet Catholic by a combined 11 points to take third in the East Suburban Catholic.
Top 10 Class 8A teams
1. Loyola (8-1):
Earned a share of the Catholic League title with upset of St. Rita
2. Glenbard North (8-1):
Only loss to Wheaton Warrenville South
3. Stevenson (9-0):
Finished regular season undefeated for second consecutive season
4. Lyons (8-1):
Earned a lot of respect with Week 9 win over Glenbard West
5. Mount Carmel (7-2):
Caravan roll into 25th consecutive playoff appearance
6. York (8-1):
Defeated Lyons during the regular season
7. Maine South (7-2):
Has won seven straight since rough start
8. Marist (6-3):
Experienced a few tough breaks this season
9. Naperville North (6-3):
One of the best defensive teams in the area
10. Downers Grove South (7-2):
Playing well after losing first two games of the season
Top 5 players to watch
1. Nick Lifka, SR, LB, Naperville North:
A Boston College recruit, he may be the state's best defensive player. He had 18 tackles against Glenbard North this season.
2. Malcolm Weaver, JR, QB, Loyola:
He has flourished in his first year starting for the Ramblers, throwing for almost 30 touchdowns.
3. Chris Sujka, SR, QB, Mount Carmel:
He operates the Caravan's option to perfection, breaking off runs of 50-plus yards nearly every game.
4. Stephen Salata, SR, WR, Stevenson:
He has been one of the area's top receivers this season with 100 yards receiving in almost every game.
5. Brian Bobek, SR, OL, Fremd:
At 6 foot 3 and 275 pounds, he is considered one of the nation's top offensive linemen and is committed to Ohio State.
Sleeper team
Fremd (5-4):
After being highly ranked to start the season, the Vikings dropped four of their first five games. With their backs against the wall, Fremd won its last four games, including a 26-12 victory over Barrington, and reached the playoffs for the 16th consecutive season. No one wants to face them right now.
Road for defending champions
Maine South began the season No. 1 in ESPNChicago.com's rankings. Young and inexperienced, the Hawks probably didn't deserve that ranking. There was an assumption that because they had won 28 consecutive games and back-to-back state titles that they would continue winning this season. They lost their first two games -- including a lopsided one to Wheaton Warrenville South -- and fell out of the rankings. Since then, Maine South has gained that needed experience and turned itself into a quality team. Led by sophomore quarterback Matt Alviti, the Hawks have won their last seven games all by 21 points or more and are heading into the playoffs with some momentum. They have the highest scoring average of all 8A teams with 40.4 points a game. Being a No. 4 seed, the road isn't easy, but it isn't impossible.
Fun fact
The Class 8A playoffs would like to welcome back Barrington, Bartlett, Brother Rice, Dunbar, Evanston, Homewood-Flossmoor, Neuqua Valley, Vocational, Whitney Young and York. All 10 teams missed the playoffs last season. Homewood-Flossmoor made the biggest turnaround from last year. After a 1-8 season in 2009, the Vikings were 7-2 this year.
Coaches' thoughts
Maine South coach David Inserra: "We must continue to take care of the ball offensively and generate the big play. Defensively, we must be able to defend the pass and provide field position for the offense. Mainly, we must keep doing what we have been doing for the last seven games -- play Hawk football and take care of ourselves. Hopefully, two years and 10 games of playoff experience for these seniors will help in the big picture of the playoffs -- high energy, intensity, focus -- that it takes to compete and survive."
Stevenson coach Bill McNamara:"Honestly, I think this can be a wide-open class. There are a lot of great football teams in 8A this year. You always have to take a close look at Maine South as the defending 8A champs. Their 7-2 record is very deceiving. Also, Loyola has had a very strong season. They are always a team that is very talented and well-coached. The Stevenson Patriots are looking forward to the IHSA state football playoffs. This is by far the best time of the year in high school athletics. Good luck to all the qualifying teams. Enjoy every moment."
Loyola coach John Holecek:"A Lyons-Mount Carmel quarterfinal likely will decide the South bracket. Stevenson-Maine South decides the semis with Glenbard North and us also as contenders. Fremd is playing extremely well and will be a good underdog."

State championship prediction: Loyola defeats Mount Carmel
October, 19, 2010
10/19/10
3:20
AM CT
Another week of prep football is in the books. Here's a quick look at some of the Week 8 stars.

Powers' playmakers:

1) Joliet Catholic senior Josh Ferguson rushed for 257 yards and four touchdowns on 17 carries in the Hilltoppers' win over Marist.

2) Travis Kern was Wheaton Warrenville South's go-to receiver in the Tigers' 49-6 win over Glenbard North. Kern had eight receptions for 137 yards and two touchdowns.

3) Elk Grove fell to Prospect 42-41 in overtime, but the loss wasn't for Nick Meyer's effort. He was 26-for-41 passing for 288 yards and ran for 148 yards and six touchdowns.

4) Mount Carmel quarterback Chris Sujka has been carrying the Caravan the last couple of weeks. He had touchdown runs of 17 and 81 yards and threw a touchdown pass in Mount Carmel's 52-7 win over St. Laurence on Friday.

5) Glenbrook North's Grant Rushing lived up to his name in the Spartans' 48-0 win over Maine East on Friday. Rushing rushed for a game-high 149 yards and three touchdowns.

Defensive delights:

1) In a spin on things, Lake Forest's defense shut out Vernon Hills 21-0 on Friday, snapping Vernon Hills' shutout streak at seven games. The Cougars had outscored opponents 310-0 before Friday's loss.

2) Glenbard West's Mike Laning intercepted two passes in the Hilltoppers' 47-7 win over Downers Grove North.

3) Bartlett's Demetrius Coleman recovered two fumbles in the Hawks' 25-23 win over Neuqua Valley.

4) Wheaton North's Andy Dietz had two interceptions in his team's 14-7 win over Naperville North.

5) Lemont's Clayton Fejedelem intercepted a pass and returned a punt for an 80-yard touchdown in the Indians' 44-0 win over Thornton Fractional North.

Five-star football:

1) Crystal Lake South 28, Cary-Grove 14: The Gators won their first Fox Valley Conference division title since 1993, and they were able to do it by knocking off rival Cary-Grove.

2) Joliet Catholic 49, Marist 42: Playing in the memory of teacher and basketball coach Jeremy Izzo, who recently passed away, the Hilltoppers pulled out an emotional win over Marist. Quarterback Breshion Tucker, who also played basketball for Izzo, threw three touchdowns in the victory.

3) Schaumburg 35, Palatine 27: Mark Iannotti and Shepard Little combined for 357 rushing yards and four touchdowns to propel the Saxons.

4) Fremd 26, Barrington 12: The Vikings kept themselves alive for the postseason with their upset win over previously-unbeaten Barrington. Fremd has made 15 consecutive playoff appearances and needs to still win one more game to keep that streak alive.

5) Marian Catholic 29, Nazareth 28: John Rhode hooked up with Randall Wells for a 40-yard touchdown pass as time expired to give the Spartans the win.


October, 5, 2010
10/05/10
2:16
AM CT
There certainly isn't an ESPNChicago.com Prep Athlete of the Week jinx.

Just days after receiving the honor, Plainfield North's Kapri Bibbs rushed for a state-record 520 yards and seven touchdowns in a win over Oswego on Friday.

Bibbs' performance tops another highlight-filled week.

Powers' playmakers:

1) Bibbs could fill all five top-playmaker slots with the game he had Friday. Colorado State is probably feeling pretty good about its future running back.

2) Maine South sophomore Matt Alviti has the makings of another star quarterback for the Hawks. He threw for 307 yards and four touchdowns and rushed for two more in Maine South's 49-8 win over Evanston.

3) Plainfield South wide receiver Alex Flores caught four passes for 191 yards and three touchdowns in his team's 59-20 win over Plainfield Central.

4) Loyola junior quarterback Malcolm Weaver was 18 for 29 for 396 yards and six touchdowns in Loyola's 49-27 win over Brother Rice.

5) Lincoln-Way East wide receiver J.J. Robertson had touchdown catches of 60 and 77 yards in the Griffins' 30-14 win over Sandburg on Friday.

Defensive delights:

1) Glenbrook South's John Strickland intercepted two passes in the Titans' 30-0 win over Waukegan. He also ran for 161 yards.

2) Vernon Hills' defense shut out its sixth consecutive opponent Saturday with a 48-0 win over Wauconda. The Cougars have outscored opponents 288-0 this season.

3) Fenwick's Joe Kelly had three interceptions in the Friars' 17-7 win over Providence on Saturday.

4) Bartlett picked off five passes in its 42-23 upset win over South Elgin.

5) Crystal Lake South had two sacks and two interceptions in its 28-14 win over Jacobs. The Gators have allowed 58 points this season.

Five-star football:

1) York 26, Lyons 16: York is off to its best start in school history after the Dukes knocked off previously-unbeaten Lyons. York running back Ryan Kent rushed for 140 of his 195 yards in the second half.

2) Lemont 37, Tinley Park 33: Lemont's Clayton Fejedelem returned a punt for a 67-yard touchdown with 11 seconds remaining to defeat Tinley Park.

3) Stevenson 24, Lake Zurich 23: Stevenson drove down the field and scored with three seconds remaining to upset Lake Zurich on the road.

4) Hubbard 24, Amundsen 14: Hubbard rallied from a 6-0 halftime deficit for the win. The undefeated Greyhounds were led by Jonathan McClellan's 236 rushing yards and three touchdowns.

5) Barrington 34, Schaumburg 32: The Broncos stopped Schaumburg on a two-point conversion with 46 seconds left to pull out the Mid-Suburban West win. Quarterback Matt LeMire threw four touchdowns in the victory.