November, 18, 2011
11/18/11
9:10
PM CT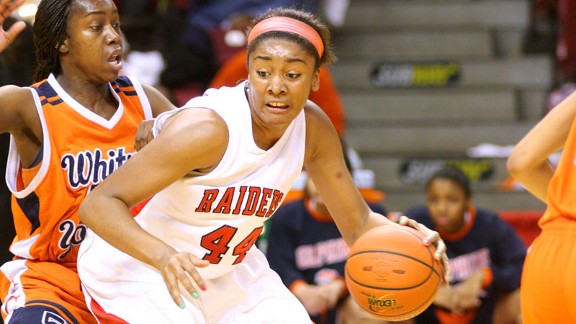 Scott Powers / ESPNChicago.comtbd
1. Bolingbrook:
The Raiders are shooting for their fourth consecutive state title this season, but they also are seeking something even bigger. They want to be the No. 1 team in the country. "That's the kids' goal," Bolingbrook coach Anthony Smith said. "They want to finish off the season No. 1." From top to bottom, Bolingbrook is as talented as ever. It had eight players sign recently with Division I programs. That list is led by senior forward
Morgan Tuck
, who is headed to Connecticut. She averaged 21 points last season. Forward
Cabriana Capers
(Auburn), forward
Nia Moore
(Illinois), forward Annaya Moore (UAB), forward ChaRosese Williams (Stetson), guard Keiera Ray (Pennsylvania), guard Allie Hill (Texas-Pan American) and guard DeLacy Anderson (George Washington) are also signed. Bolingbrook will have to replace ESPNChicago.com 2010 player of the year
Ariel Massengale
, who now plays at Tennessee, and hope to do so with junior
Kennedy Cattenhead
.
2. Whitney Young:
The Dolphins haven't been able to get past Bolingbrook the past three seasons. Last year's Class 4A semifinal game was an instant classic with Bolingbrook pulling out a 50-49 win. They'll be the favorites to get another shot at the defending champs. Whitney Young will be led by its backcourt of
Linnae Harper
, one of the country's top juniors, and
Janee Thompson
, a nationally-ranked senior and Kentucky recruit. Whitney Young will also look to sophomores Khaalia Hillsman and Taylor Brame and seniors Tessa Haldes and
Alexis Lloyd
.
3. Trinity:
The Blazers are looking to make that jump into the state's elite teams this season and appear to have the talent and experience to do so. They went 29-4 last season and return DePaul recruit and all-area selection
Megan Podkowa
, who averaged 17 points and nine rebounds last season, junior guard Taylor Nazon, who averaged 11 points, senior guard
Alyssa Dengler
, junior forward Shannon McGinnis and senior center Vickie Harris. Lauren Prochaska and Mikayla Leyden should also contribute.
4. Maine South:
The Hawks pulled off one of last season's biggest upsets when they knocked off Whitney Young in the Class 4A third-place game. Whitney Young may not have been as motivated after losing in the semifinals to Bolingbrook, but it still was a big win for Maine South and could propel it this season. The Hawks return all five starters and their top six players from last year's team. Senior guard
Michelle Maher
, who has signed with Western Illinois, and junior forward Jacqui Grant, who has an offer from DePaul, both averaged around 12 points last season.
5. Marist:
The RedHawks look to be a state contender this season with all five starters back from last year's squad that went 27-6 and lost to Marian Catholic in a Class 4A sectional championship game. Among Marist's returnees is junior guard JeTaun Rouse, who was the lone sophomore on last year's ESPNChicago.com all-area team. The other returning starters are seniors
Randyll Butler
, a Colgate recruit, and
Asianna Bey
, a Memphis recruit, and juniors Leah Bolton and
Claire Ryan
. All five starters will likely play Division I basketball.
6. Hillcrest:
The Hawks have finished second in Class 3A the last two years. The goal this season is finally to win the title. They return four starters and four key reserves from last year's 29-3 team. The group is led by Seton Hall recruit and all-area selection Shanise Heady and Southern Mississippi recruit
Samirah Ali
. Seniors
Jasmine Sanders
and
Jahmia Phillips
also are returning starters.
7. Morgan Park:
The Mustangs return three of their top players from last season's 27-5 team. Morgan Park will be led by small forward
Kendyl Nunn
, a Toledo recruit, center
Gabrielle Richmond
, a St. Bonaventure recruit, and point guard Debra Jenkins, the glue of the team. Sophomore guard Shami Goodman and freshman Marsha Howard are also expected to receive major minutes. Morgan Park's sophomore team won the city championship last year.
8. Montini:
The Broncos graduated four starters, including three Division I players, from last year's Class 3A state championship team. This is a program that reloads, though. Senior forward Tianna Brown is the lone returning starter, and she averaged eight points last season. Center
Diamond Thompson
was just a contributor on last year's team, but recently committed to Notre Dame.
Nikia Edom
, a versatile 5-6 junior, and forward
Malayna Johnson
will also contribute this season. Some of the newcomers to watch will be sophomores
Jasmine Lumpkin
,
Kelly Karlis
,
Kateri Stone
and Sara Ross and freshmen Kelsey Bogdan and
Rainey Kuykendall
.
9. Bartlett:
The Hawks lost all-area selection
Jacki Gulczynski
to graduation, but still return plenty of talent and depth from last year's 28-2 team. The group is led by
Haley Videckis
, an Indiana recruit, who averaged 10 points last year. Senior Kristin Conniff also averaged 10 points last season. Bartlett also returns forward Lisa Palmer and guard Janessa Baker. Seniors Ashley Johnson, Nicole Gobbo, Natalia Grodzki and Kate Gutzwiller will also be looked to this season. Videckis' sister Kendra, a sophomore, will also play on varsity this season.
10. Waubonsie Valley:
The Warriors return five starters from last year's 24-5 team. Senior guard Tami Morice leads the returnees after averaging 13 points last season.
Becky Williford
, Eric Jordan,
Rachael Ross
and Gratia Brooks are also back. Williford will be back from ACL surgery in December. Waubonsie Valley will also look to a sophomore and three freshmen to contribute this season.
11. Niles West:
The Wolves only have two returning starters, but one of them is
Jewell Loyd
, and that's all that matters. Loyd, a Notre Dame recruit, is one of the nation's most electrifying players. She averaged 30 points, 15 rebounds, four assists, four steals and three blocks last season. She gives Niles West a chance in every game. For it to truly compete for a state title, it'll need junior guard Molly Kleppin, the other returning starter, senior Jackie Cardena, sophomores Dashae Shumate and Alex Galanopoulous and others to contribute as much as they can.
12. Lincoln-Way East:
The Griffins should again be one of the area's top teams this season after going 25-6 last year. They return Loyola recruit
Taylor Johnson
, who averaged 13 points last season, and senior center Caitlin McMahan, who had 10 double-doubles last year. Senior Amy Jacobsen and juniors Meaghan McMahon and Natalie Hill should be key contributors this season as well.
13 Zion-Benton:
The Zee-Bees are coming off their second-place finish in Class 4A. They return all-area selection Octavia Crump, who averaged a near double-double last season, sophomore guard Samantha Rodriguez, who started as a freshman, senior Aaliyan Smith, senior guard Morgan Franklin, and junior guard Kaitlyn Stabenow, the team's best shooter. Senior Jessica Williams didn't play basketball last season, but was the sophomore team's MVP two years ago. She'll be heavily relied on this season.
14. Fremd:
The Vikings should possess one of the state's best backcourts with senior shooting guard Jessi Wiedemann, a Valparaiso commitment, and junior point Ashley McConnell returning and the arrival of highly-touted freshman point guard
Haley Gorecki
. Fremd is coming off a 25-7 season and lost just one game this summer.
15. Fenwick:
The Friars could be the most entertaining team to watch this season. Coach Dave Power is going full run-and-gun this year. His goal every game is to take almost 80 shots, including 40 3-pointers. Fenwick will be led by senior forward and Yale recruit
Meredith Boardman
, sophomore point guard Jade Owens, junior guard Maggie Reilly and senior guard Marek Burchett.
16. Geneva:
Sarah Meadows replaces longtime coach Gina Nolan this season. Meadows will have a lot to work with this season.
Ashley Santos
, a Marquette recruit, will be the Vikings' go-to player. She averaged 15.8 points, 5.7 rebounds, 3.2 steals and 1.1 blocks last season. Geneva also returns starting guard Rachel Hinchman and junior forward Sami Pawlak from last year's 25-7 team. Sophomores
Michaela Loebel
and
Morgan Seberger
should also contribute this year.
17. Homewood-Flossmoor:
After winning 22 games in coach Dana Noble's first year, the Vikings are out for more this year. They'll be led by 5-10 guard
Charnelle Reed
, who averaged 13 points, 3.6 rebounds, three assists and 2.4 steals last season. They also return junior guards Syndi Johnson and
Lauren Parker
and senior forward
Amena Brent
.
18. New Trier:
The Trevians were a bit of a rollercoaster last season. With nine seniors and 12 returnees back this season, they hope to be up more than down. The group is led by 6-1 guard
Maggie Lyon
, a Northwestern recruit, who averaged 17 points, eight rebounds and four assists last season. Senior forward Jessica Blackwell also averaged eight points and six rebounds last year.
19. Marian Catholic:
The Spartans graduated a bulk of their talent, but this won't be a rebuilding season. Their roster is full of young and talented players. Among those upcoming stars are sophomore guard Ashton Millender, sophomore guard Brianna Morrison and freshman guard Teniya Page. Seniors
Alanna Ferry
,
Amber Williams
and
Sarafina Handy
and junior Megan Walsh are back from last season, and their leadership will be key.
20. Cary-Grove:
The Trojans hope to carry over the momentum of last year's playoff run, which ended in a narrow sectional loss to Geneva. Cary-Grove returns three starters -- senior versatile guard Paige Lincicum, junior forward
Olivia Jakubicek
and junior guard Joslyn Nicholson -- from that 27-4 team.
August, 27, 2011
8/27/11
4:01
AM CT
By
Andrew Braverman
| ESPNChicago.com
Both the 2009 and 2010 season openers between Fremd and Lake Zurich went down to the wire; Friday's 2011 edition in Palatine did not follow suit.
Coming off of a second-place finish in Class 7A, the visiting Bears and a running back-by-committee offense did their best
Jacob Brinlee
impression and ran away with a 35-3 victory at Fremd's Hale Hildebrandt Field.
"The effort they gave is what we expect -- it was the same effort we gave in the previous years of close games," Lake Zurich head coach, Bryan Stortz said. "They went out fighting and batting and the difference was that our kids executed a little better."
[+] Enlarge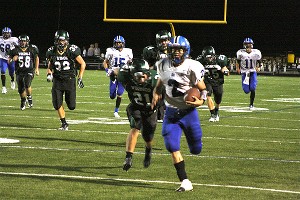 Will Shih for ESPNChicago.comLake Zurich's Mike Shield scores on a 66-yard TD run in the 3rd quarter.
Brinlee, who graduated this past spring as Lake Zurich's all-time leading rusher, was replaced by senior Mike Shield and junior Connor Schrader, who finished with a combined 246 rushing yards and a pair of second-half touchdowns (both by Shield).
Quarterback Zach Till, who started last season as a junior, was all set to go again, but a rolled ankle caused the Bears to call on senior backup Steven Kuhn, who looked like a seasoned veteran under center against the Vikes.
The 6-foot-4 hurler first got Lake Zurich rolling with his legs, scoring on a first-quarter 6-yard keeper over the left side. After Fremd's Andrew Stark drilled a 23-yard field goal to cut the Bears' lead to 7-3, Kuhn led Lake Zurich to another scoring drive in the second; he capped off the six-play drive with a near identical run, this time from three yards out.
After a series of three-and-outs from both sides, Lake Zurich's Minnesota-bound linebacker,
Jack Lynn
, picked off Fremd sophomore quarterback Sam Beutler with 1:06 remaining in the first half. The Bears then recorded another touchdown three plays later on a 6-yard TD pass from Kuhn to Grant Soucy.
"I got an unfortunate notification that I was starting last week and I really had to step up big in this game," Kuhn said. "My teammates, my coaches and the community got me ready and gave me all of the confidence in the world and I just went out and tried to give them my all tonight."
Fremd's Beutler, who took charge of the Vikings' offense midway through last season, struggled mightily against the Bears' defense, finishing 10-of-26 for 161 yards and three interceptions. He was credited with a fumble as well.
"We threw interceptions, we weren't able to establish the run, and in order for Sam to be more successful throwing the ball, we need to be able to run," said Fremd head coach Mike Donatucci, who will step down at the conclusion of this season after 19 years at the helm. "We were also out there way too long defensively.
"But this is going to help our guys. They've been in the heat of the battle, they went up against a tough, physical team and we could hang. We'll figure it out."
Just as the Bears had to replace Brinlee, the Vikings need to replace Justin Wallace, who ran behind a pair of Division-I offensive lineman last season in Ohio State's Brian Bobek and Northwestern's
Jack Konopka
. Fremd freshman Darius Burchette, who only saw action in the second half Friday, finished with 28 yards on nine attempts while senior A.J. McGhee led the Vikes with 30 yards on eight attempts.
Stat of the game:
Lake Zurich's tandem running attack of Shield and Schrader combined to average more than 11 yards-per-carry against the Vikings.
It was over when:
Lynn intercepted a Vikings' pass late in the first half, leading to a Bears' touchdown three plays later. Lake Zurich had all of the momentum and a 21-3 halftime advantage.
Quote of the night:
"We want to be known for running the football and that is not going to change." -- Lake Zurich head coach Bryan Stortz
December, 28, 2010
12/28/10
11:05
PM CT
Fremd senior tight end Jack Konopka and Naperville North senior linebacker Nick Lifka were recently selected to the play for the U.S. under-19 national team in the Team USA vs. The World game in Austin, Texas on Feb. 2.
Lifka, who is 6-foot-2 and 240 pounds, was the ESPNChicago.com Defensive Player of the Year after recording 168 tackles this season. He is committed to Boston College.
Konopka, who is 6-foot-5 and 260 pounds, played tight end throughout his career at Fremd, but will likely move to offensive tackle next season at Northwestern.
"It's a real honor," Konopka said. "Not everybody gets to play in these postseason all-star games. I think the Midwest is renowned for its basketball, but we have very good football teams and players here. Me and Nick going to this game attests to that."
Notre Dame recruits George Atkinson, Josh Atkinson, Stephon Tuitt and Matt Hegarty were also among the players selected.
November, 25, 2010
11/25/10
12:35
AM CT
Here's a look at ESPNChicago.com's 2010 All-Area Football Team.
Curie senior defensive lineman James Adeyanju
Adeyanju was the premier defensive lineman in the Public League and one of the best in the state this season. He had 71 tackles, 19 tackles for a loss, 12 sacks, four forced fumbles and one fumble recovery. He will play at Wisconsin next season.
"He was able to go out and control football games despite being double- and triple-teamed every week," Curie coach Tyson LeBlanc said. "He's got a motor. He would fight through the first guy, fight through the second guy and go find the ball."
St. Rita senior running back Jahwon Akui
Akui capped of his career by becoming St. Rita's all-time leading rusher. As a senior, he ran for 1,650 yards and 22 touchdowns. He was co-Catholic League Offensive Player of the Year. He is being recruited by a number of schools for football and wrestling.
"He was the most physical running back that I have ever coached and was as sound a blocker as he was a runner," St. Rita coach Todd Kuska said. "Jahwon was as competitive a player as I have seen and will definitely be hard to replace"
Hinsdale Central senior offensive lineman Jack Allen
In his third year starting for Hinsdale Central, the 6-foot-2, 260-pound Allen continued to be a menace for defensive linemen. Also a star wrestler, Allen possesses a perfect mix of strength and speed. He is committed to Michigan State.
"Jack Allen is one of the most intense players that I have had the pleasure to coach," Hinsdale Central coach Mike DiMatteo said. "He brings a relentless attitude to practice each and every day. It's one thing to be a great player, but Jack also has the ability to make those players around him better, thereby making his team better. He is one of a kind."
Wheaton Warrenville South senior defensive back Caleb Bednarz
A four-year varsity player, Bednarz has been a consistent fixture in the Tigers' secondary and in their return game. He will play in third state championship game this weekend. He had a team-leading seven interceptions this season. He picked off two passes in the state quarterfinals against Glenbard West.
"Defensively, I think he's a great playmaker," Wheaton Warrenville South coach Ron Muhitch said. "He has natural instincts to read and move athletically and jump on passes. He's very cunning in that regard."
Plainfield North senior running back Kapri Bibbs
The area possessed a number of quality running backs this season, but Bibbs was at another level. He rushed for 2,654 yards and 38 touchdowns on 300 carries. He also passed for two touchdowns. In his biggest game this season, he rushed for a state-record 520 yards and seven touchdowns against Oswego. He was the ESPNChicago.com Offensive Player of the Year. He is committed to Colorado State.
"Kapri had an outstanding year … the type of year that should put him on anyone's all-state list and player of the year ballot," Plainfield North coach Tim Kane said. "He is a well-rounded runner in that he runs between the tacklers for tough yards and has elite speed in the open field. He is ultra-competitive and did all he could to help us win games this year."
Fremd senior offensive/defensive lineman Brian Bobek
Bobek, who is 6-3 and 275 pounds, is considered one of the top offensive lineman in the country. He helped pave the way for much of Fremd's offensive attack this season while the Vikings reached the second round of the Class 8A playoffs. He is headed to Ohio State.
"Brian Bobek has lived up to his All-American status," Fremd coach Michael Donatucci said. "He dominated at center against some of the top teams in the state and was also a mainstay as a defensive tackle. A leader on and off the field, Brian has been a huge part of our success as a program."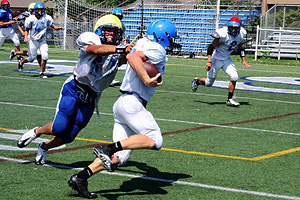 Scott Powers/ESPNChicago.comJacob Brinlee became the all-time leading rusher in Lake Forest history this season.
Lake Zurich senior running back Jacob Brinlee
Brinlee became Lake Zurich's all-time leading rusher this season. He ran for 1,477 yards and 14 touchdowns this season while leading the Bears to the Class 7A state championship game. He also caught nine passes for 165 yards and a touchdown and returned a kickoff for a touchdown. He is uncommitted.
"He just continued to do the things we needed him to do," Lake Zurich coach Bryan Stortz said. "It's become harder and harder for him because people continue to focus on him. He didn't put up the big numbers as he did last year, but he continued to put up the performances that we needed."
Simeon senior offensive lineman Chris Bryant
The 6-foot-5, 330-pound Bryant was one of the state's biggest offensive linemen, but also one of the most talented. Bryant was the key piece on a line that led to the Wolverines scoring 40-plus points in 11 games this season. He is being recruited by a number of elite schools.
"He was incredible in the things he was doing out there," Simeon coach Dante Culbreath said. "He was dominant out there."

Wheaton North senior quarterback Reece Butler
Butler emerged as one of the area's top dualthreat quarterbacks this season. He led the Falcons in rushing and passing. He ran for 608 yards and six touchdowns. He was 187-of-275 passing for 1,956 yards and 17 touchdowns.
"I just think he's more confident," Wheaton North coach Joe Wardynski said. "Last year, he felt a lot of pressure trying to fill in for Taylor Graham, who was a Big Ten recruit. He now feels like this is his team. He's a senior. Guys look to him as a leader and not a fill-in guy. He's always been kind of level-headed, a cool character. He doesn't seem to get rattled too much."

Kaneland senior quarterback Joe Camiliere
Camiliere had high expectations leading up to the season and met them. He was 194-of-299 passing for 2,955 yards, 36 touchdowns and five interceptions. He also rushed for 687 yards and nine touchdowns while leading Kaneland to the state semifinals.

Vernon Hills senior wide receiver/defensive back DaVaris Daniels
Daniels did a lot of everything for the Cougars this season. He caught 23 passes for 513 yards and five touchdowns. He was 11-of-23 passing for 173 yards and one touchdown. He rushed for 637 yards and 10 touchdown on 59 carries. He returned two punts for touchdowns. He intercepted six passes with one for a touchdown. He also had 20 tackles. He will play at Notre Dame next season.
"He's the most gifted athlete I've coached and an even better person," Vernon Hills coach Tony Monken said. " We're going to miss him, but also can't wait to watch him on Saturdays."

Wheaton Warrenville South senior wide receiver Titus Davis
Davis emerged as the Tigers' No. 1 receiver in the season and continued to flourish throughout the year as Reilly O'Toole favorite target. He caught 52 passes for 1,135 yards and 16 touchdowns. He is being recruited by a number of Division I schools.
"He's unbelievable, just a great athlete," Wheaton Warrenville South senior Reilly O'Toole said. "He can always get open. He has great hands. He's just an unstoppable receiver. I want to get the ball in his hands."

Prospect senior quarterback Steve Dazzo
Dazzo stepped in perfectly in the shoes of Illinois-bound quarterback Miles Osei and was one of the area's top dual-threat quarterbacks this year. Dazzo threw for 1,263 yards and 12 touchdowns and rushed for 1,476 yards and 23 touchdown for one of the state's top offenses.
"It was his first year playing quarterback," Prospect coach Brent Pearlman said. "He led us not only with arm and his legs, but with his spirit."

Maine South junior linebacker Tyler Fahey
Fahey was a major reason behind Maine South's run to the Class 8A state championship game. After missing the first two games of the year – both losses – Fahey was an impact player on the defensive side the rest of the way. He had 81 tackles, 13 tackles for a loss, seven sacks, four interceptions, three fumble recoveries and two defensive touchdowns.
"He's very athletic," Maine South coach David Inserra said. "He probably studies more film than anyone I've coached. He's always so prepared for a game. Sometimes, he's coaching us. He hits. He's our second biggest hitter."

Marist senior kicker/punter Ben Falloon
Falloon was one of the area's most accurate kickers this season. He connected on 7-of-11 field goals this season with all seven coming from 30-plus yards. His longest was from 50, and all four of his misses were from 50 yards and beyond. He also made 32-of-33 extra points and punted for a 38.2-yard average on 43 punts.
"He is by far the most mentally tough player I've been around," Marist coach Pat Dunne said. "The kicks he's had in high-pressure situations, I've never seen anyone so mentally tough. He also has one of the best work ethics I've been around."

Lemont senior defensive back Clayton Fejedelem
Fejedelem was one of the area's biggest threats whenever he touched the ball. He returned three punts for touchdowns and one kickoff. He also had 69 tackles, five interceptions, two forced fumbles, one fumble recovery and blocked three kicks.
"He was the strongest player on the team," Lemont coach Eric Michaelsen said. "He has a nose for the ball and is physical and fast."

Joliet Catholic senior running back Josh Ferguson
Ferguson was good for a first down almost every time he touched the ball. He rushed for 1,886 yards on 144 carries, giving him a 13.1 average. He finished with 25 rushing touchdowns, two receiving touchdowns and one kickoff return touchdown. He will play at Illinois next season.
"I think he had to be one of the greatest running backs I've had a chance to see let alone to coach," Joliet Catholic coach Dan Sharp said.


[+] Enlarge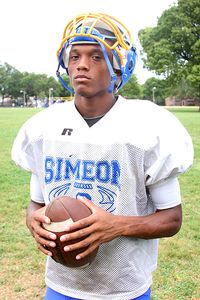 Scott Powers/ESPN.comRobert Gregory is equally effective with his legs and arms.
Simeon junior quarterback
Robert Gregory
Gregory was the motor for one of the state's most high-powered offenses. He completed 84-of-120 passes for 1,600 yards and 28 touchdowns. He also rushed for 919 yards and 16 touchdowns. He is being recruited by a number of big-time schools.
"I was impressed with the way he was able to pick up the offense and run the team," Simeon coach Dante Culbreath said. "He did a good job with the offense this year. He ran the team better. His decision-making got better. He got stronger. He got faster. I believe he got better overall."
Marmion senior linebacker/running back T.J. Lally
There were few in the state as good as Lally on both sides of the ball. He rushed for 1,264 yards and 16 touchdowns. Defensively, he had 130 tackles and six sacks while leading the Cadets to the Class 6A state title game. He is being recruited by a number of Division II programs.
"He's an old-school football player," Marmion coach Dan Thorpe said. "He's tough, physical and has a great heart. He's just a playmaker. He has a lot more speed than people give him credit for, and he's so physical."
Naperville North senior linebacker Nick Lifka
Lifka was the Brian Urlacher of Illinois high school football this season. Wherever the ball was, Lifka was. He had 168 tackles (113 solo), 13 tackles for a loss, four sacks, three forced fumbles, three fumble recoveries and two interceptions. He also had an offensive touchdown. He was the ESPNChicago.com Defensive Player of the Year. He is committed to Boston College.
"A throwback player who plays the game the way it was meant to be played," Naperville North coach Sean Drendel said. "The best player I have ever coached, and quite possibly as good as a person as he is a player. We will never be able to replace a Nick Lifka."
Schaumburg senior running back Shepard Little
Little made up for lost time after missing last season. He rushed for 1,897 yards and 24 touchdowns. He also caught two touchdown passes. Against Simeon in the playoffs, he rushed for three touchdowns and returned two kickoffs for touchdowns. He is uncommitted.
"I think his vision is good," Schaumburg coach Mark Stilling said. "I think he's sneaky powerful for his size. I don't think you expect someone of his size to hit you like he does. His ability to hit you and make you miss, that's the tough part. His speed is good, but it's not great. He's not going to run past everyone on Friday night, but he's going to make everyone miss."
Lincoln-Way East senior linebacker Pat Meehan
Meehan led one of the top defenses in the area. He had 123 total tackles with 79 solo. He had 14 tackles for a loss, two sacks, two quarterback hurries, two forced fumbles, three fumble recoveries, one interception and one touchdown. He is committed to Illinois State.
"Pat has set a new standard of linebacker play at Lincoln-Way East," Lincoln-Way East coach Rob Zvonar said. "He has every tool necessary to become a dominate college football player. A tremendous young man both on and off the field."
Elk Grove senior quarterback Nick Meyer
No player in the state may have meant as much to his team as Meyer did to Elk Grove. He was the Grenadiers' offense. Meyer was 180-of-293 passing for 2,258 yards and 20 touchdowns. He rushed 1,011 yards and 20 touchdowns. He also had 44 tackles and one interception on defense. He is uncommitted.
"Every time Nick touched the ball this season, you realized there was a chance he could do something very special," Elk Grove coach Brian Doll said. "His ability to change the game so quickly put him in a special class of football players. He broke almost every offensive Elk Grove High School record during his three seasons on varsity. He will be missed."
Wheaton Warrenville South senior quarterback Reilly O'Toole
Expectations were high for O'Toole this season after starting for last year's state championship team and committing to Illinois , and he surpassed everything people thought he was capable of this season. O'Toole was named the ESPNChicago.com High School Football Player of the Year after completing 172-of-229 passes for 3,005 touchdowns, 40 touchdowns and just two interceptions. He also rushed 393 yards and six touchdowns. He will play for the Illini next season.
"He's a special kid," Glenbard West coach Chad Hetlet.
Lake Zurich senior linebacker JJ Raffelson
Raffelson was the catalyst behind the state's top defense. He had 111 tackles and 23 tackles for a loss while helping the Bears to the Class 7A state championship game. He is being recruited by a handful of Division I schools.
"He spent a tremendous amount of time in the offseason working his speed development as well as in the film room," Lake Zurich coach Bryan Stortz said. "He has logged a lot of hours studying the opponent. He knows how they're going to act and what we're going to do."
Glenbard West junior defensive lineman
Tommy Schutt
The 6-foot-3, 300-pound Schutt is considered one of the top junior defensive lineman in the country. He had 67 tackles, 14 sacks, 13 tackles for a loss, four forced fumbles, three fumble recoveries and three blocked kicks this past season. He is being recruited by a number of high-profile schools.
Vernon Hills wide receiver/defensive back Evan Spencer
Spencer and DaVaris Daniels made for one exciting pair. Spencer had 23 catches for 410 yards and six touchdowns. He rushed for 266 yards and eight touchdowns. He returned two punts and one kickoff for touchdowns. He also had 25 tackles, two interceptions and two defensive touchdowns. He's committed to Ohio State.
"He's one of the best athletes I've ever been around, and his ability to play the ball high, run strong with the ball and pull away from defenders sets him apart from all others," Vernon Hills coach Tony Monken said. "He's been a tremendous leader and role model for our program, and they're going to love him at Ohio State."
Mount Carmel senior quarterback Chris Sujka
No one in the area ran the option offense better than Sujka. A two-year starter for the Caravan, Sujka rushed for 1,344 yards and 30 touchdowns this season. He also was 50-of-104 passing for 728 yards and four touchdowns. He was named the co-Catholic League Offensive Player of the Year.
"He told me right from the beginning of the season that the game had slowed down for him," Mount Carmel coach Frank Lenti said. "As a junior, he was always real frantic. He made me nervous out there watching him. This year when he runs the option, he's very confident and comfortable with what he does."
Loyola senior defensive lineman Mark Sullivan
Sullivan was the Catholic League Defensive Player of the Year. He had 88 tackles, 10 sacks and one forced fumbled for one of the area's top defenses. He is uncommitted.
"Mark is incredibly athletic for a defensive lineman," Loyola coach John Holecek said. "He has a great motor, good instincts and pursuits to the ball like no other defensive lineman I have coached. He has had a dominant senior year, ending the regular season as the total tackle, sack, and QB pressure leader for one of the best defenses in the area. While not yet the size of a D-I interior lineman, he has the height and frame to gain muscle and be a real force at the next level."
Carmel senior linebacker Luke Venegoni
Venegoni was the defensive leader for one of the best defenses in the state. He was a three-year starter. He had 120 tackles, 63 solo tackles, six tackles for a loss and two sacks this season. He is being recruited by a number of schools.
"Luke Venegoni is extremely fast and strong," Carmel coach Andy Bitto said. "He worked very hard in the offseason to position himself to be the defensive player of the year in the ESCC."
Barrington junior offensive lineman Dan Voltz
The 6-foot-5, 295-pound Voltz was a rock for this year's Barrington offensive line. He opened many holes for the Broncos' successful running game this season and helped Barrington turn last year's losing record until a winning one this season. He is being recruited by some of the country's top football programs.
"Dan is a relentless performer whose best attribute I believe is that he is a finisher," Barrington coach Joe Sanchez said. "He is very athletic for his size and is always looking to improve. He is a tremendous role model for our players both on and off the field. I firmly believe his best football is still front of him."
Glenbard West senior offensive lineman Jordan Walsh
The 6-foot-4, 290-pound Walsh is one of the top offensive linemen in the country. His blocking has been vital to the Hilltoppers' offensive success the past few seasons. He will play next season at Iowa.
"Jordan, he's an incredible player," Glenbard West coach Chad Hetlet said. "He goes 100 percent all the time. When he gets that helmet on, and he gets between the lines, he flips that switch and gets that attitude. He'll just bury people."
Montini junior wide receiver Jordan Westerkamp
Coming off a breakout sophomore season, Westerkamp took his game to another level this year and became the most dominant wide receiver in the area. He caught 82 passes for 1,485 yards and 18 touchdowns. He's being recruiting by a number of Big Ten schools.
"He is a special football player and the best I have ever had in my 32 years at Montini," Montini coach Chris Andriano said. "A 40-inch vertical jump with great hands and body control, he makes all the catches in traffic with defenders all around him. His toughness and strength are also seen in his yards after catch and his blocking. He is a complete receiver and a Division I player at the college level."
Glenbard North senior offensive lineman Paul Wisniewski
The 6-foot-4, 300-pound Wisniewski has been a dominant offensive lineman in the DuPage Valley the past three seasons as a starter for the Panthers. He's uncommitted, but has a number of schools recruiting him.
"He can run and pass block equally well for a player that is 6-4 and 300 pounds," Glenbard North coach Ryan Wilkens said. "He has exceptional feet and is a great blocker."
Richards senior defensive back/wide receiver Jarrell Williams
Williams was a jack of all trades for Richards this season. He had 65 tackles, three tackles for loss, five deflections, two caused fumbles and three interceptions. Offensively, he rushed for 402 yards and six touchdowns, caught 18 passes for 272 yards and four touchdowns and had one punt return touchdown and one kickoff return touchdown. He will play at Northwestern next season.
"Jarrell was asked to do a lot for us this year," Richards coach Tony Sheehan said. "He did a great job. He is so valuable, he can cover, hit, run the ball, throw the ball and catch the ball, and we asked him to do it all. He very rarely ever came off the field. He is a dangerous player with the ball in his hands."
Stevenson senior linebacker Brion Wood
Wood anchored one of the area's top defenses. He had 130 tackles, 17 tackles for a loss, eight sacks and four forced fumbles. He is committed to Penn.
"He does a lot for us," Stevenson coach Bill McNamara said. "He's basically another coach on the field. He's a very smart young man. He scored a 33 on the ACT. When we need to make adjustments or an opposition comes out with a unique formation, he has the ability to line us up correctly and be ready to play football. He's able to combine the physical and mental parts of the game."
Sandburg senior kicker/punter Taylor Zalewski
Zalewski is ranked among the top kickers in the nation by ESPN. He connected on 11-of-13 field goals this season with his longest coming from 48 yards. He also was 28 for 29 on extra points and sent 41 of 55 kickoffs in the end zone. He is being recruited by Michigan, Minnesota and other Division I schools.
"He was a huge offensive weapon for us because of his ability to score points for us," Sandburg coach Dave Wierzal said. "He also helped control field position because he also punts for us."
Honorable mention all-area
Minooka senior running back Kyle Banks
Mount Carmel senior running back
Michael Banks
Thornton senior running back Damien Bell
Crystal Lake South senior offensive lineman
Jake Bernstein
South Elgin senior running back Brad Birchfield
Prospect senior running back/defensive back Peter Bonahoom
Glenbard West senior running back
Nick Burrello
Minooka senior defensive lineman
Zach Colvin
Wheaton Warrenville senior defensive lineman Will Davis
St. Patrick junior wide receiver Guy DiBalsamo
Stevenson senior quarterback
Kevin Earl
Glenbrook North junior offensive lineman Brian Ermel
Montini senior defensive lineman Ross Ferraro
Mount Carmel senior linebacker Conor Flaherty
Bishop McNamara senior offensive lineman
Matt Frazier
Glenbard West senior wide receiver Mark Hiben
Morgan Park junior quarterback Dae'Shaun Hurley
Schaumburg senior quarterback
Mark Iannotti
Carmel junior running back
Jordan Kos
Naperville North senior quarterback
Matt LaCosse
Glenbard West senior defensive back Mike Laning
Warren senior running back
Tom Lindal
St. Rita senior offensive lineman
Brian Lurquin
Plainfield South senior quarterback Sheldon Magee
Thornridge senior running back Mik'ail McCall
Joliet Catholic senior linebacker Mike Mettille
Stevenson junior kicker Matt Micucci
Lincoln-Way East senior offensive lineman
Joe Mizera
Waubonsie Valley senior defensive lineman
Devon Morgan
St. Rita senior linebacker Matt Mullen
Maine South senior offensive lineman
Victor Nelson
Homewood-Flossmoor senior running back Malik Norman
Crystal Lake South senior quarterback
Drew Ormseth
Downers Grove South senior wide receiver
Ryan Oruche
York senior defensive back Joe Paparone
Marist senior wide receiver Alex Puhar
Neuqua Valley senior linebacker TJ Rhattigan
Joliet Catholic senior offensive lineman Kyle Rouse
Homewood-Flossmoor senior offensive lineman
Michael Rouse
Simeon senior defensive back
Darius Scott
Kaneland senior defensive lineman/running back
Blake Serpa
Lyons senior defensive back/wide receiver Mark Sewall
T.F. South senior linebacker Robert Sterling
Marian Catholic junior running back Jeruel Taylor
Prairie Ridge senior defensive back Devon Vance
Loyola junior quarterback Malcolm Weaver
Loyola senior wide receiver EJ Webb
Downers Grove South junior running back Josh Williams
Glenbard North senior defensive lineman Alex Wynn
October, 29, 2010
10/29/10
12:26
AM CT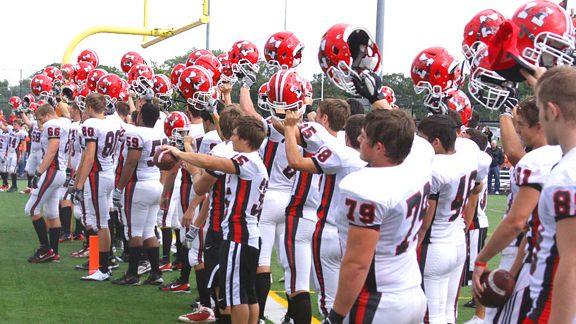 Scott Powers/ESPNChicago.com Maine South has won seven straight since dropping their first two games of the season.
There was little hope of winning the Class 8A state championship the past two years if your team name wasn't Maine South.
The Hawks possessed the state's best offensive weapon in 2008 (quarterback Charlie Goro) and 2009 (running back Matt Perez) and had plenty of talent around them to roll through their competition. Maine South went undefeated both years and won the state title in 2008 with a 41-21 win over Hinsdale Central and in 2009 with a 41-17 win over Marist.
In 2010, there's finally hope for everyone else. While Maine South is still a state contender, the Hawks aren't the same dominating team they were the past two seasons.
So who steps into the Hawks' place? It's up in the air. There are nearly a dozen teams capable of going all the way.
Here's a deeper look at Class 8A.
Best opening round game
No. 9 Naperville North at No. 8 Marist:
Both teams experienced similar seasons. They come from elite conferences. Both finished third behind highly-ranked teams. Both lost two close games. For Naperville North, it lost by seven points each to Glenbard North and Wheaton North and ended up third in the DuPage Valley. For Marist, it lost to Carmel and Joliet Catholic by a combined 11 points to take third in the East Suburban Catholic.
Top 10 Class 8A teams
1. Loyola (8-1):
Earned a share of the Catholic League title with upset of St. Rita
2. Glenbard North (8-1):
Only loss to Wheaton Warrenville South
3. Stevenson (9-0):
Finished regular season undefeated for second consecutive season
4. Lyons (8-1):
Earned a lot of respect with Week 9 win over Glenbard West
5. Mount Carmel (7-2):
Caravan roll into 25th consecutive playoff appearance
6. York (8-1):
Defeated Lyons during the regular season
7. Maine South (7-2):
Has won seven straight since rough start
8. Marist (6-3):
Experienced a few tough breaks this season
9. Naperville North (6-3):
One of the best defensive teams in the area
10. Downers Grove South (7-2):
Playing well after losing first two games of the season
Top 5 players to watch
1. Nick Lifka, SR, LB, Naperville North:
A Boston College recruit, he may be the state's best defensive player. He had 18 tackles against Glenbard North this season.
2. Malcolm Weaver, JR, QB, Loyola:
He has flourished in his first year starting for the Ramblers, throwing for almost 30 touchdowns.
3. Chris Sujka, SR, QB, Mount Carmel:
He operates the Caravan's option to perfection, breaking off runs of 50-plus yards nearly every game.
4. Stephen Salata, SR, WR, Stevenson:
He has been one of the area's top receivers this season with 100 yards receiving in almost every game.
5. Brian Bobek, SR, OL, Fremd:
At 6 foot 3 and 275 pounds, he is considered one of the nation's top offensive linemen and is committed to Ohio State.
Sleeper team
Fremd (5-4):
After being highly ranked to start the season, the Vikings dropped four of their first five games. With their backs against the wall, Fremd won its last four games, including a 26-12 victory over Barrington, and reached the playoffs for the 16th consecutive season. No one wants to face them right now.
Road for defending champions
Maine South began the season No. 1 in ESPNChicago.com's rankings. Young and inexperienced, the Hawks probably didn't deserve that ranking. There was an assumption that because they had won 28 consecutive games and back-to-back state titles that they would continue winning this season. They lost their first two games -- including a lopsided one to Wheaton Warrenville South -- and fell out of the rankings. Since then, Maine South has gained that needed experience and turned itself into a quality team. Led by sophomore quarterback Matt Alviti, the Hawks have won their last seven games all by 21 points or more and are heading into the playoffs with some momentum. They have the highest scoring average of all 8A teams with 40.4 points a game. Being a No. 4 seed, the road isn't easy, but it isn't impossible.
Fun fact
The Class 8A playoffs would like to welcome back Barrington, Bartlett, Brother Rice, Dunbar, Evanston, Homewood-Flossmoor, Neuqua Valley, Vocational, Whitney Young and York. All 10 teams missed the playoffs last season. Homewood-Flossmoor made the biggest turnaround from last year. After a 1-8 season in 2009, the Vikings were 7-2 this year.
Coaches' thoughts
Maine South coach David Inserra: "We must continue to take care of the ball offensively and generate the big play. Defensively, we must be able to defend the pass and provide field position for the offense. Mainly, we must keep doing what we have been doing for the last seven games -- play Hawk football and take care of ourselves. Hopefully, two years and 10 games of playoff experience for these seniors will help in the big picture of the playoffs -- high energy, intensity, focus -- that it takes to compete and survive."
Stevenson coach Bill McNamara:"Honestly, I think this can be a wide-open class. There are a lot of great football teams in 8A this year. You always have to take a close look at Maine South as the defending 8A champs. Their 7-2 record is very deceiving. Also, Loyola has had a very strong season. They are always a team that is very talented and well-coached. The Stevenson Patriots are looking forward to the IHSA state football playoffs. This is by far the best time of the year in high school athletics. Good luck to all the qualifying teams. Enjoy every moment."
Loyola coach John Holecek:"A Lyons-Mount Carmel quarterfinal likely will decide the South bracket. Stevenson-Maine South decides the semis with Glenbard North and us also as contenders. Fremd is playing extremely well and will be a good underdog."

State championship prediction: Loyola defeats Mount Carmel
October, 23, 2010
10/23/10
4:57
AM CT
By
Andrew Braverman
| ESPNChicago.com
PALATINE -- Everything was lined up for the Fremd Vikings as they hosted Conant in their regular-season finale.

Fresh off an upset of previously unbeaten Barrington, Fremd needed just one more win to ensure its streak of 15-consecutive playoff appearances continued, not to mention its streak of seven straight shared or outright MSL-West titles. The visiting Cougars were traveling to Palatine after having lost at home to rival Hoffman Estates one week earlier (a loss that snapped the Hawks' 23-game losing streak).

But even with its season on the line, Fremd head coach Mike Donatucci never viewed the Week 9 matchup against Conant as a trap. "It could very easily have been, but our kids knew what was at stake," Donatucci said. "This group of kids and these seniors are very special."

Hard work and resilience paid dividends Friday night as the Vikings beat Conant 31-10 on senior night, boosting their record to 5-4 (4-1 in conference) and securing a playoff contest.

Despite fumbling on its first drive of the game, Fremd was first to light the scoreboard as senior running back Justin Wallace ran in a 1-yard touchdown with the first quarter winding down.

In the second quarter, Fremd increased its lead to 10-0 as freshman Andrew Stark drilled a 31-yard field goal, but Conant would respond with a 24-yard field goal of its own, thanks to junior John Maevski, with just 24 seconds remaining in the half.

Fremd began the second half by recovering a Cougars' fumble on the kickoff, and from there, it was all Vikings. A third-quarter touchdown from Wallace (1-yard run) was followed by a pair of scores in the fourth quarter. Freshman quarterback Sam Beutler scrambled five yards to paydirt and senior Richie Concialdi capped the onslaught with a 4-yard touchdown pass to Jack Konopka. Conant (2-7, 0-5) scored its lone touchdown with just over three minutes remaining on a Jacobi Sims' 43-yard run.

"Even after starting 1-4, none of our goals were taken away from us," said senior running back Justin Wallace. "We still had a chance to win conference and make the playoffs so we focused one game at a time and we did it. It feels great."

So now it's a wait-and-see mentality for Donatucci and the Vikings. The IHSA state playoff pairings will be announced tomorrow night at 8, and before the hour's through, Fremd will know where it has to travel to begin the Class 8A tournament.

Until then, Donatucci plans to enjoy the victory.

"We've had a lot of success and this means a lot. This means a lot to our program," said the head coach. "To have your backs to the wall and still be able to perform and believe in the things that these kids have been taught is a great thing to see."

And as for the Vikings' 14-year-old signal caller, well, he's already begun speaking like a veteran. "We're going to have a great week of practice and whereever we have to go, we're going to go and play Fremd football." said Beutler. "I get jokes all the time about being young but the older guys on the team really make everything more comfortable."

Player of the game: Fremd senior running back, Justin Wallace: 24 carries, 165 yards, two TDs.

Stat of the game: Senior quarterback Richie Concialdi finished 1-for-1 passing -- a 4-yard touchdown to Jack Konopka.

It was over when: Fremd recovered a Conant fumble on the opening kickoff of the second half and scored 21 unanswered points.

Quote of the night: "It's fine with me. It's better than going home!" - Fremd head coach, Mike Donatucci, on having to play a first-round playoff game on the road.

October, 19, 2010
10/19/10
3:20
AM CT
Another week of prep football is in the books. Here's a quick look at some of the Week 8 stars.

Powers' playmakers:

1) Joliet Catholic senior Josh Ferguson rushed for 257 yards and four touchdowns on 17 carries in the Hilltoppers' win over Marist.

2) Travis Kern was Wheaton Warrenville South's go-to receiver in the Tigers' 49-6 win over Glenbard North. Kern had eight receptions for 137 yards and two touchdowns.

3) Elk Grove fell to Prospect 42-41 in overtime, but the loss wasn't for Nick Meyer's effort. He was 26-for-41 passing for 288 yards and ran for 148 yards and six touchdowns.

4) Mount Carmel quarterback Chris Sujka has been carrying the Caravan the last couple of weeks. He had touchdown runs of 17 and 81 yards and threw a touchdown pass in Mount Carmel's 52-7 win over St. Laurence on Friday.

5) Glenbrook North's Grant Rushing lived up to his name in the Spartans' 48-0 win over Maine East on Friday. Rushing rushed for a game-high 149 yards and three touchdowns.

Defensive delights:

1) In a spin on things, Lake Forest's defense shut out Vernon Hills 21-0 on Friday, snapping Vernon Hills' shutout streak at seven games. The Cougars had outscored opponents 310-0 before Friday's loss.

2) Glenbard West's Mike Laning intercepted two passes in the Hilltoppers' 47-7 win over Downers Grove North.

3) Bartlett's Demetrius Coleman recovered two fumbles in the Hawks' 25-23 win over Neuqua Valley.

4) Wheaton North's Andy Dietz had two interceptions in his team's 14-7 win over Naperville North.

5) Lemont's Clayton Fejedelem intercepted a pass and returned a punt for an 80-yard touchdown in the Indians' 44-0 win over Thornton Fractional North.

Five-star football:

1) Crystal Lake South 28, Cary-Grove 14: The Gators won their first Fox Valley Conference division title since 1993, and they were able to do it by knocking off rival Cary-Grove.

2) Joliet Catholic 49, Marist 42: Playing in the memory of teacher and basketball coach Jeremy Izzo, who recently passed away, the Hilltoppers pulled out an emotional win over Marist. Quarterback Breshion Tucker, who also played basketball for Izzo, threw three touchdowns in the victory.

3) Schaumburg 35, Palatine 27: Mark Iannotti and Shepard Little combined for 357 rushing yards and four touchdowns to propel the Saxons.

4) Fremd 26, Barrington 12: The Vikings kept themselves alive for the postseason with their upset win over previously-unbeaten Barrington. Fremd has made 15 consecutive playoff appearances and needs to still win one more game to keep that streak alive.

5) Marian Catholic 29, Nazareth 28: John Rhode hooked up with Randall Wells for a 40-yard touchdown pass as time expired to give the Spartans the win.


October, 16, 2010
10/16/10
4:14
AM CT
By
Andrew Braverman
| ESPNChicago.com
PALATINE, Ill. -- Take your pick: seven straight wins for Barrington or 15-straight post season appearances for Fremd; five straight losses to Fremd for the Broncos or seven straight MSL Championships for the Vikings.
One way or another, multiple streaks were bound to be snapped Friday night in Palatine, and fortunately for the host Vikings, not only did they hand Barrington its first loss of the season, but their playoff hopes stayed alive going into Week 9 with an impressive 26-12 upset.
The Vikings, who were ranked No. 6 on ESPNChicago.com's preseason poll, have now evened their record at 4-4, after starting the season 1-4.
"This was a playoff game for us," Fremd coach Mike Donatucci said. "It's win or go home and we had to win. We did the things that were necessary and I think we dominated in all facets of the game."
Behind the play of senior running back, Justin Wallace, and freshman quarterback, Sam Beutler, Fremd struck early and never trailed in the contest.
Beutler was first to light the scoreboard, running for a 29-yard keeper seven-minutes into the game. The point after was no good, and Fremd took a 6-0 lead into the second quarter. With just 37 seconds left until halftime, it was Buetler again, this time through the air as he found junior, Matt Metzen for a 15-yard touchdown pass. With that, Fremd would lead 12-0 at the intermission.
In the second half, it was all Wallace. In fact, it was so much of Wallace on the ground, that Beutler didn't attempt a pass the entire second half. Run up the middle after run up the middle, Wallace controlled the ball and the clock, crediting his offensive line the entire way.
Wallace would score on runs of 5 and 25-yards respectively, finishing the contest with 222-rushing yards on 31-carries.
"They did a hell of a job," Wallace said. "Between me and Sam, they didn't even know who had the ball, they just went out and blocked anyone in front of them."
For Barrington (7-1), junior running back, Chase Murdock, lead the way, totaling 165-yards on 30-carries, while backup quarterback, junior, Mark Bennett, would complete 5-of-6 passes for 72-yards and Barrington's first touchdown; Murdock's 1-yard run with 12 seconds remaining would cap off the scoring for the Broncos.
Player of the game:
Fremd Sr. RB Justin Wallace: 31-car, 222-yds, 2 TD.
Stat of the game:
Barrington's QB Matt LeMire completed just two of his nine pass attempts for six yards.
It was over when:
Wallace ran for a 25-yard touchdown with 1:36 remaining in the 4th, increasing the Vikings' lead to 26-6 following the successful PAT.
Quote of the night:
"We'll enjoy this for about two hours. It's not like we're in the playoffs because we have another playoff game next week." - Fremd Head Coach, Mike Donatucci on handing Barrington its first loss of the season.
October, 12, 2010
10/12/10
2:30
AM CT
Defensive standouts Joe Zolper of Schaumburg and J.J. Raffelson of Lake Zurich headlined Week 7 in Illinois high school football. The two went on a rampage this past week.

Powers' playmakers:

1) Prospect quarterback Steve Dazzo ran for four touchdowns and threw for two more in the Knights' 62-24 win over Wheeling. Between Dazzo and Elk Grove quarterback Nick Meyer, this week's meeting between the two Mid-Suburban East teams should be interesting.

2) Homewood-Flossmoor's Malik Norman rushed for 244 yards and three touchdowns on 29 carries in the Vikings' 28-21 win over Lockport.

3) Glenbrook South's Max Pompilus caught five passes for 104 yards and three touchdowns in the Titans' 56-7 win over Niles West.

4) Cody Gillard rushed for two touchdowns and caught another to help Senn remain undefeated with a 34-6 win over Schurz.

5) Crystal Lake South quarterback Drew Ormseth was 5-of-6 passing for 112 yards and two touchdowns and rushed for 122 yards and three touchdowns in the Gators' 48-14 win over Huntley.

Defensive delights:

1) Vernon Hills' defense is playing out of its mind. The Cougars forced seven turnovers in their 20-0 win over Grant on Friday. The Cougars have outscored their opponents 310-0 this season.

2) Schaumburg defensive tackle Joe Zolper had 5 ½ sacks in the Saxons' 42-21 win over Conant.

3) Lake Zurich linebacker J.J. Raffelson had five sacks and a forced fumble in the Bears' 14-0 win over Warren.

4) Plainfield South's Ryan West intercepted three passes in his team's 57-30 win over Oswego.

5) Kaneland's Quinn Buschbacher and Tyler Callaghan each had an offensive touchdown and a defensive interception in the team's 34-13 win over Yorkville.

Five-star football:

1) Thornton 32, Lincoln-Way West 27: Wildcats quarterback Charles Knowles connected with Jamel Frazier for an eight-yard touchdown pass in the game's final seconds for the win.

2) Bishop McNamara 28, St. Laurence 21: Theo Bradley intercepted a pass in overtime and threw the game-winning touchdown pass for the Fightin' Irish.

3) Minooka 35, Plainfield North 34 OT: Minooka fullback Taylor Salazar scored on a two-yard run, and Jason Lizalek made the extra point to give the Indians the narrow victory.

4) Wheaton North 23, Naperville Central 21: Reece Butler hit Johnny Daniels for a 19-yard touchdown pass as time expired.

5) Fremd 17, Palatine 16: Freshman quarterback Sam Beutler threw a 37-yard touchdown pass and ran in for a two-point conversion in the second half to lift the Vikings to the victory.

September, 21, 2010
9/21/10
4:49
PM CT
Here are the best of the best from Week 4.
Powers' playmakers


1) Mount Carmel running back Michael Banks is hard to catch when he gets going. He ran for 199 yards and two touchdowns in the Caravan's overtime win over Loyola. He had runs of 33, 57 and 82 yards against the Ramblers.

2) Plainfield North running back Kapri Bibbs has to be in the running for ESPNChicago.com's Player of the Year. He ran for another 306 yards and four touchdowns in the Tigers' win over Plainfield Central.

3) Minooka's 1-2 backfield punch was too much for Plainfield East. Running backs Kalvin Hill and Kyle Banks combined for 308 yards and six touchdowns in the Indians' win.

4) Prospect's Peter Bonahoom showed again why he's one of the area's most dynamic players. He ran for 206 yards and three touchdowns and returned a kickoff for a 97-yard touchdown in the Knights' win over Palatine.

5) Taft's Omar Ramirez, who is 5-4 and 145 pounds, ran for 148 yards and scored three touchdowns in the Eagles' win over Steinmetz.


Defensive delights

1) Lincoln-Way West's Kevin Kintzel had 11 tackles and one interception in the team's win over Thornridge. He also had two touchdown catches.
2) Glenbard North's defense held its fourth consecutive opponent to 14 points or less in Friday's 17-14 win over Wheaton North, which had scored 30-plus points heading into the game.
3) Notre Dame's Nick Bascom blocked a Benet punt, and Conner Gavin recovered the ball and scored for a key touchdown in the Dons' 35-31 win.
4) Stevenson's defense had seven sacks and forced three turnovers in the Patriots' shutout win over Mundelein.
5) Pat Foley recovered two Hinsdale Central fumbles, which both later lead to Lyons' touchdowns, in the Lions' conference win.


Five-star football

1) St. Rita 14, Fenwick 13: Mustangs defensive lineman Joe Filomeno stopped Fenwick quarterback Patrick Hart from entering the end zone for a 2-point conversion with 28.7 seconds remaining to give St. Rita the win.
2) Crystal Lake South 24, Prairie Ridge 20: Gators quarterback Drew Ormseth connected with Brad Walovitch for an 80-yard touchdown pass in the fourth quarter to provide the difference in the game.
3) Carmel 31, Joliet Catholic 28: The Corsairs' defense held Joliet Catholic scoreless for nearly three quarters after a rough start in the all-important East Suburban Catholic game.
4) Elk Grove 36, Schaumburg 34: Quarterback Nick Meyer threw for 231 yard and three touchdowns and ran for 142 yards and two touchdowns to lead the Grenadiers to the Mid-Suburban League upset win.
5) Richards 13, Shepard 12: Richards fought back from a 9-0 fourth-quarter deficit and pulled out the win when Andre Gallion dove for a 16-yard touchdown catch with 1:12 left in the game.

August, 28, 2010
8/28/10
5:20
AM CT
By
Andrew Braverman
| ESPNChicago.com
LAKE ZURICH, Ill. --"Strictly Business." Not only was it the theme of the Lake Zurich student section tonight at Mel Eide Field, but it proved to be the Bears' winning mentality, as Lake Zurich scored all of its points in the final seven minutes to defeat the visiting Fremd Vikings 20-10.
[+] Enlarge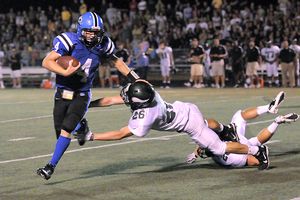 Sulaiman RoyLake Zurich and Zach Till uesd a late rally to get past Fremd.
After trailing 3-0 at halftime, and 10-0 with only 7:46 remaining, Senior quarterback, Zach Till, led the Lake Zurich comeback on the ground, as well as through the air. After Fremd increased its lead on a Justin Wallace 3-yard touchdown run, Till began the ensuing drive by connecting on a 34-yard strike to tight-end, Mitch Dudek. Less than thirty-seconds later, Junior Mike Shield put the Bears on the board, bursting through the line on a third and goal effort from the Vikings'three-yard line. Fremd responded with a four and a half minute, 10-play drive that reached the Bears' 27-yard line, but Quarterback Rich Concialdi's fourth down pass fell short, giving the Bears the ball with more than enough time to work.
Lake Zurich then needed just 8 plays over 85 seconds to take the lead, as Till found pay-dirt on a 4-yard option keeper with a minute showing on the clock. The Bears missed the extra point, but any hope of a Fremd tie or win was squashed when linebacker Tim Sayre picked off Concialdi and ran the interception back 24-yards for the final touchdown. As the Dark Side cleared the visiting bleachers, the Strictly Business-clad students of Lake Zurich celebrated their series-tying win over the Vikings, and a successful start to the 2010 campaign. Next week both teams are on the road as Fremd travels to Prospect and Lake Zurich plays at Cary-Grove.
Player of the game:
Lake Zurich Sr. Quarterback Zach Till, whose 4-yard touchdown run with 1:00 to go put the Bears on top.
Stat of the game:
Till only carried the ball four times for 23 yards; Lake Zurich running back Jacob Brinlee totaled 135-yards on the ground. For Fremd, Concialdi completed 19 of 30 passes for 263-yards and an interception. Justin Wallace ran for 116-yards and a touchdown.
It was over when:
Tim Sayre picked off a Concialdi pass for a 24-yard pick-six with 43-seconds left on the clock.
Quote of the night:
"Our kids, as frustrating as it was, just never gave up, so they kept fighting and kept fighting, and all it was, was one or two big plays to get us the confidence I think that we needed to get things rolling and have momentum swing our way." - Lake Zurich Head Coach Bryan Stortz.
August, 24, 2010
8/24/10
4:22
AM CT
No. 6 Fremd
Last season:
11-1 overall, 5-0 Mid-Suburban West, lost in the 8A quarterfinals, ranked 13th in final 2009 poll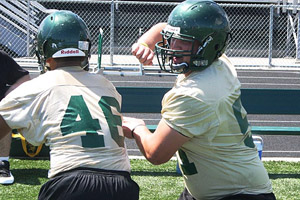 Scott Powers/ESPNChicago.comFremd offensive lineman Brian Bobek, at right, is an Ohio State recruit.
Season ahead:
In Fremd coach Michael Donatucci's 18 seasons, he's had three Division I offensive linemen, all of who happened to come in the past two years. Last season he had Christian Lombard, now at Notre Dame, and this season he has Brian Bobek, who is committed to Ohio State, and Jack Konopka, who is a Northwestern recruit.
"We've had good ballplayers come through over the years, but having three big guys together at one time, that's once in a career," Donatucci said.
Donatucci and the Vikings benefitted from that rarity last season and are likely to do so again this year. With Bobek, Konopka and Evan Schaeffer back on the O-line, Fremd's offense has high expectations again. The Vikings also return starting quarterback Richard Concialdi and senior running backs Isaiah Coleman and Justin Wallace. Leading rusher Evan Wright, who graduated, will need to be replaced.
"We'll be more two-backs than we were last year," Donatucci said. "Justin Wallace and Isaiah Coleman are both downhill runners. They're not the shifty type of runner that Evan was, but both are legit 4.6 [seconds in the 40-yard dash] and both can run."
Wallace also could make an impact on the defense as a linebacker and defensive end. The Vikings also return defensive linemen Dan Muehfeldt, Levi Jorgensen, Konopka and Bobek, linebackers Michael Sahli and Alex Van Duch and defensive backs Tyler Mundt and Mike Risher.
"We have an opportunity to be as good as we were last year," Donatucci said.
Player to watch:
Senior center Brian Bobek (6-2, 280 pounds) is considered one of the best centers in the country. He's headed to Ohio State next season.
Newcomer to watch:
The Vikings have a number of young guys who will be given an opportunity to shine.
Key game:
Aug. 27 at Lake Zurich – This is a matchup of two top-10 teams. Both teams have experienced offensive lines and love to run the ball. Fremd won 10-7 in last year's season-opener.
What they're saying:
"On paper, this is the toughest schedule we've had," Fremd coach Michael Donatucci said. "It doesn't make you sleep easy at night for sure."