November, 18, 2011
11/18/11
9:10
PM CT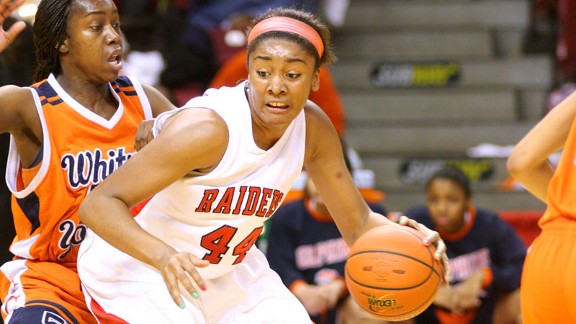 Scott Powers / ESPNChicago.comtbd
1. Bolingbrook:
The Raiders are shooting for their fourth consecutive state title this season, but they also are seeking something even bigger. They want to be the No. 1 team in the country. "That's the kids' goal," Bolingbrook coach Anthony Smith said. "They want to finish off the season No. 1." From top to bottom, Bolingbrook is as talented as ever. It had eight players sign recently with Division I programs. That list is led by senior forward
Morgan Tuck
, who is headed to Connecticut. She averaged 21 points last season. Forward
Cabriana Capers
(Auburn), forward
Nia Moore
(Illinois), forward Annaya Moore (UAB), forward ChaRosese Williams (Stetson), guard Keiera Ray (Pennsylvania), guard Allie Hill (Texas-Pan American) and guard DeLacy Anderson (George Washington) are also signed. Bolingbrook will have to replace ESPNChicago.com 2010 player of the year
Ariel Massengale
, who now plays at Tennessee, and hope to do so with junior
Kennedy Cattenhead
.
2. Whitney Young:
The Dolphins haven't been able to get past Bolingbrook the past three seasons. Last year's Class 4A semifinal game was an instant classic with Bolingbrook pulling out a 50-49 win. They'll be the favorites to get another shot at the defending champs. Whitney Young will be led by its backcourt of
Linnae Harper
, one of the country's top juniors, and
Janee Thompson
, a nationally-ranked senior and Kentucky recruit. Whitney Young will also look to sophomores Khaalia Hillsman and Taylor Brame and seniors Tessa Haldes and
Alexis Lloyd
.
3. Trinity:
The Blazers are looking to make that jump into the state's elite teams this season and appear to have the talent and experience to do so. They went 29-4 last season and return DePaul recruit and all-area selection
Megan Podkowa
, who averaged 17 points and nine rebounds last season, junior guard Taylor Nazon, who averaged 11 points, senior guard
Alyssa Dengler
, junior forward Shannon McGinnis and senior center Vickie Harris. Lauren Prochaska and Mikayla Leyden should also contribute.
4. Maine South:
The Hawks pulled off one of last season's biggest upsets when they knocked off Whitney Young in the Class 4A third-place game. Whitney Young may not have been as motivated after losing in the semifinals to Bolingbrook, but it still was a big win for Maine South and could propel it this season. The Hawks return all five starters and their top six players from last year's team. Senior guard
Michelle Maher
, who has signed with Western Illinois, and junior forward Jacqui Grant, who has an offer from DePaul, both averaged around 12 points last season.
5. Marist:
The RedHawks look to be a state contender this season with all five starters back from last year's squad that went 27-6 and lost to Marian Catholic in a Class 4A sectional championship game. Among Marist's returnees is junior guard JeTaun Rouse, who was the lone sophomore on last year's ESPNChicago.com all-area team. The other returning starters are seniors
Randyll Butler
, a Colgate recruit, and
Asianna Bey
, a Memphis recruit, and juniors Leah Bolton and
Claire Ryan
. All five starters will likely play Division I basketball.
6. Hillcrest:
The Hawks have finished second in Class 3A the last two years. The goal this season is finally to win the title. They return four starters and four key reserves from last year's 29-3 team. The group is led by Seton Hall recruit and all-area selection Shanise Heady and Southern Mississippi recruit
Samirah Ali
. Seniors
Jasmine Sanders
and
Jahmia Phillips
also are returning starters.
7. Morgan Park:
The Mustangs return three of their top players from last season's 27-5 team. Morgan Park will be led by small forward
Kendyl Nunn
, a Toledo recruit, center
Gabrielle Richmond
, a St. Bonaventure recruit, and point guard Debra Jenkins, the glue of the team. Sophomore guard Shami Goodman and freshman Marsha Howard are also expected to receive major minutes. Morgan Park's sophomore team won the city championship last year.
8. Montini:
The Broncos graduated four starters, including three Division I players, from last year's Class 3A state championship team. This is a program that reloads, though. Senior forward Tianna Brown is the lone returning starter, and she averaged eight points last season. Center
Diamond Thompson
was just a contributor on last year's team, but recently committed to Notre Dame.
Nikia Edom
, a versatile 5-6 junior, and forward
Malayna Johnson
will also contribute this season. Some of the newcomers to watch will be sophomores
Jasmine Lumpkin
,
Kelly Karlis
,
Kateri Stone
and Sara Ross and freshmen Kelsey Bogdan and
Rainey Kuykendall
.
9. Bartlett:
The Hawks lost all-area selection
Jacki Gulczynski
to graduation, but still return plenty of talent and depth from last year's 28-2 team. The group is led by
Haley Videckis
, an Indiana recruit, who averaged 10 points last year. Senior Kristin Conniff also averaged 10 points last season. Bartlett also returns forward Lisa Palmer and guard Janessa Baker. Seniors Ashley Johnson, Nicole Gobbo, Natalia Grodzki and Kate Gutzwiller will also be looked to this season. Videckis' sister Kendra, a sophomore, will also play on varsity this season.
10. Waubonsie Valley:
The Warriors return five starters from last year's 24-5 team. Senior guard Tami Morice leads the returnees after averaging 13 points last season.
Becky Williford
, Eric Jordan,
Rachael Ross
and Gratia Brooks are also back. Williford will be back from ACL surgery in December. Waubonsie Valley will also look to a sophomore and three freshmen to contribute this season.
11. Niles West:
The Wolves only have two returning starters, but one of them is
Jewell Loyd
, and that's all that matters. Loyd, a Notre Dame recruit, is one of the nation's most electrifying players. She averaged 30 points, 15 rebounds, four assists, four steals and three blocks last season. She gives Niles West a chance in every game. For it to truly compete for a state title, it'll need junior guard Molly Kleppin, the other returning starter, senior Jackie Cardena, sophomores Dashae Shumate and Alex Galanopoulous and others to contribute as much as they can.
12. Lincoln-Way East:
The Griffins should again be one of the area's top teams this season after going 25-6 last year. They return Loyola recruit
Taylor Johnson
, who averaged 13 points last season, and senior center Caitlin McMahan, who had 10 double-doubles last year. Senior Amy Jacobsen and juniors Meaghan McMahon and Natalie Hill should be key contributors this season as well.
13 Zion-Benton:
The Zee-Bees are coming off their second-place finish in Class 4A. They return all-area selection Octavia Crump, who averaged a near double-double last season, sophomore guard Samantha Rodriguez, who started as a freshman, senior Aaliyan Smith, senior guard Morgan Franklin, and junior guard Kaitlyn Stabenow, the team's best shooter. Senior Jessica Williams didn't play basketball last season, but was the sophomore team's MVP two years ago. She'll be heavily relied on this season.
14. Fremd:
The Vikings should possess one of the state's best backcourts with senior shooting guard Jessi Wiedemann, a Valparaiso commitment, and junior point Ashley McConnell returning and the arrival of highly-touted freshman point guard
Haley Gorecki
. Fremd is coming off a 25-7 season and lost just one game this summer.
15. Fenwick:
The Friars could be the most entertaining team to watch this season. Coach Dave Power is going full run-and-gun this year. His goal every game is to take almost 80 shots, including 40 3-pointers. Fenwick will be led by senior forward and Yale recruit
Meredith Boardman
, sophomore point guard Jade Owens, junior guard Maggie Reilly and senior guard Marek Burchett.
16. Geneva:
Sarah Meadows replaces longtime coach Gina Nolan this season. Meadows will have a lot to work with this season.
Ashley Santos
, a Marquette recruit, will be the Vikings' go-to player. She averaged 15.8 points, 5.7 rebounds, 3.2 steals and 1.1 blocks last season. Geneva also returns starting guard Rachel Hinchman and junior forward Sami Pawlak from last year's 25-7 team. Sophomores
Michaela Loebel
and
Morgan Seberger
should also contribute this year.
17. Homewood-Flossmoor:
After winning 22 games in coach Dana Noble's first year, the Vikings are out for more this year. They'll be led by 5-10 guard
Charnelle Reed
, who averaged 13 points, 3.6 rebounds, three assists and 2.4 steals last season. They also return junior guards Syndi Johnson and
Lauren Parker
and senior forward
Amena Brent
.
18. New Trier:
The Trevians were a bit of a rollercoaster last season. With nine seniors and 12 returnees back this season, they hope to be up more than down. The group is led by 6-1 guard
Maggie Lyon
, a Northwestern recruit, who averaged 17 points, eight rebounds and four assists last season. Senior forward Jessica Blackwell also averaged eight points and six rebounds last year.
19. Marian Catholic:
The Spartans graduated a bulk of their talent, but this won't be a rebuilding season. Their roster is full of young and talented players. Among those upcoming stars are sophomore guard Ashton Millender, sophomore guard Brianna Morrison and freshman guard Teniya Page. Seniors
Alanna Ferry
,
Amber Williams
and
Sarafina Handy
and junior Megan Walsh are back from last season, and their leadership will be key.
20. Cary-Grove:
The Trojans hope to carry over the momentum of last year's playoff run, which ended in a narrow sectional loss to Geneva. Cary-Grove returns three starters -- senior versatile guard Paige Lincicum, junior forward
Olivia Jakubicek
and junior guard Joslyn Nicholson -- from that 27-4 team.
October, 23, 2011
10/23/11
3:15
AM CT
Wheaton Warrenville South doesn't have a stranglehold on Class 7A this season as it has had the past two years on its way to back-to-state championships. Who else could contend?
Bracket and analysis.
October, 9, 2011
10/09/11
6:12
PM CT
October, 1, 2011
10/01/11
4:24
AM CT
By
Andy Frye
| ESPNChicago.com
GENEVA, Ill. -- Undefeated neighbors Batavia and Geneva met in a furious football matchup Friday that made the old Hatfield and McCoy rivalry seem tame by comparison.


The score only told half the tale as Batavia handed host Geneva its first loss 46-34.
Geneva got on the scoreboard early taking a 7-0 lead. Vikings' Ben Rogers returned Batavia's first punt 65 yards to put them at Batavia's 4-yard line. Quarterback Matt Williams slipped in two plays later for a touchdown on a 1-yard sneak.
Tides turned in the second quarter when Batavia struck back on an Alec Lyons touchdown run, heeling in, 7-6 after missing the extra point. Later, Williams returned the favor, with a short TD pass to Rogers, making it 14-6 for Geneva.
But Geneva's risky behavior on offense eventually cost it. After Batavia scored a field goal to make it 14-9, Williams fumbled a snap at Geneva's 23-yard line. The Bulldogs' defensive lineman, Austin Lewis, recovered the Vikings' fumble in the endzone, putting at 17-14 to Batavia before halftime.
Geneva returned to the second half on a roll, with running back Parker Woodworth's touchdown, regaining the lead at 20-17. Woodworth carried the ball 12 times and caught one pass for a total of 93 yards.
Still, the Bulldogs lived up to their name. After regaining the lead, Batavia QB Noel Gaspari stuck to the running game, driving the score to 24-20 on Dom Guzaldo's first touchdown rush.
Throughout the game Batavia's defense pressed Williams and the Vikings' offensive line hard. With 3 minutes left in the 3rd quarter, Batavia's D held Geneva at its own 23-yard line for three consecutive plays then capitalized on Geneva's risky 4th-and-10 conversion attempt. The Bulldogs linemen chased Williams on 4th down, sacking him for a 19 yard loss at the 4 yard line.
"That's a pretty tough offense, and the game got a little bit crazy at times." said Batavia coach Dennis Piron.
"But we were able to match their scores which is something special this year."
Batavia made it 32 -20 with another Guzaldo touchdown followed by a two-point conversion by receiver Zach Strittmatter, who also had 90 yards on 5 catches before the two-pointer.
Keeping things exciting, Bobby Hess returned Batavia's next kickoff for 94 yards and a touchdown to make it 32-27. But the Bulldogs came right back on an 88 yard scoring drive to pad their lead, 39-27 with Guzaldo's third touchdown at the start of the 4th.
Geneva rallied to make it 39-34 with another Williams sneak with 4:33 left and a touchdown after the Vikings' 16-play, 88-yard drive.
Then after a string penalties committed by both sides, Batavia scored again on an Alec Lyons rush to make it 46-34.
Geneva's errors then sealed its fate with a minute and a half left, fumbling the kickoff at the 4 yard line, to let Batavia close it out.
Speaking about his defense, Piron said, "Our defense did a pretty good job. Maybe we're too aggressive at times. Yet you can't take that out of us, that's how we play."
Player of the game: Batavia's Dom Guzaldo had a breakout night with 93 yards and three touchdowns.

It was over when: Geneva, down 46-34 fumbled Batavia's kickoff with 1:37 in the game.
Quote of the night: Dom Guzaldo: "We're not going to lose any of our fire. We're still going to come out every game as strong as we did [tonight]."
September, 30, 2011
9/30/11
10:05
PM CT
Each week we present a specific question to all of the coaches in ESPNChicago.com's top 20 poll.
This week's coaches roundtable question: What coach had the biggest impact on you wanting to become a coach?
Crystal Lake South's Chuck Ahsmann: Bill Mack was my high school football coach. The way he coached had a big influence on my decision to go into coaching and the way I try to coach my teams. Coach Mack is a hall of fame coach because of his achievements, but I believe he has had a lot of influence on coaches he has coached as well.
Maine South's David Inserra: Three coaches for this one. Phil Hopkins was my high school coach and an Illinois Hall of Fame coach. He brought passion, intensity, an urge to win at any competition and a great knowledge of the whole game of football. He was extremely personable and so easy to talk with. Glen Van Proyen was a teacher of mine. I never got to play for him, but was the consummate "teaching life through a game" coach. The last one is Bobby Knight. As a young kid I loved how he broke everything down, expected 100 percent out of his players at all times and played by the rules. He was stubborn to a fault, but he was so far ahead of his time with X's and O's and use of film.
Batavia's Dennis Piron: In high school -- I went to Batavia -- Mike Gaspari was an assistant coach who spent time with me before and after practice to become a better player. He was a new coach at Batavia and went on to become the head coach and develop a very highly respected program at Batavia. I also went on to North Central College and ran track and played football for four years there. Mike invited me back to Batavia after graduation to coach with him, and I have been coaching ever since. Mike is the reason I am doing what I do today.
Antioch's Brian Glashagel: Although all of the coaches I had at Conant High School were great (Dave Pendergast for football, Tom McCormick for basketball) and the coaches I had at Knox College (Randy Oberembt for football and Bob Prout for track), the coach that most impacted me wanting to become a coach and most impacted my life was Ron Gummerson from Conant. He was my track coach. The reason being is that he didn't only transform me physically from a football and basketball player into a track sprinter/hurdler, but made me mentally tougher. He taught me that you don't always have to perform your best every competition, but just compete every time. If you wait to compete in perfect conditions, you will never compete. He emphasized this every day. He never yelled. Not once. But he had a look. He could just look at you, and you knew you messed up, and it made you like you were letting down a parent. He passed away this past summer. and he obviously impacted the lives of many as the line was out the door, and it was filled with coaches he worked with and against and athletes from over the past four decades.
Geneva's Rob Wincinski: My college coach Bill Mallory, loved his intensity. I wanted to be him. My old Ottawa High School coach Gary Vancil also influenced me to go into high school coaching. It looked like he was having a blast.
Lake Zurich's Bryan Stortz: I've been so fortunate to have so many great coaches influence how and why I coach, including my high school coaches Don Tanney, Randy Bouris, Jack Esterdahl and Tom Wooden and college coaches John Furlong and Tom Schmulbach. My father Barry Stortz was a high school football and wrestling coach in the 1970's. We learned the foundation for sports and life from him – work ethic, attitude, commitment and the "little things." It seemed like every day during the summer he would take my older brother and I out in the yard and hit fly balls and grounders to us. If we did a good job fielding, he would then pitch and let us bat. We learned that defense comes first! He coached many of our youth baseball and football teams. He always seemed to purely love being out there coaching and teaching all of us. He taught us fundamental after fundamental, demanded a great effort and inspired us all. I grew up seeing firsthand how being a teacher/educator and coach was a great profession. People would walk up to my dad in a store or restaurant and say, "Hi coach, remember when…. thanks!" I thought that was the greatest thing, I couldn't believe the impact that he was able to have on someone's life. He's definitely had the biggest impact on why I became a coach.
Crete-Monee's Jerry Verde: Marian Catholic's Dave Mattio was my coach in high school and later hired me as his defensive coordinator. He has been a mentor and a friend. Much of what I know about coaching high school football has been just trying to emulate him. His ability to win with class, get the best out of his players and yet still be personable is an example for any coach.
Lemont's Eric Michaelsen: My high school football coach Marv Gonsiorowski. He helped me to develop a love and respect for the game. He also treated people the right way. He never acted too important to talk to anyone and was always willing to help. An all time great person.

September, 25, 2011
9/25/11
7:55
PM CT
Maine South escaped a close contest with New Trier but retained its No. 1 spot in the prep football rankings. The top seven in the rankings remained unchanged, and a pair of new teams -- Antioch and Jacobs -- moved in.
Check out the complete rankings.
September, 22, 2011
9/22/11
3:34
AM CT
Here's a look at the fifth week of action in ESPNChicago.com's top 20.
No. 1 Maine South (4-0) at New Trier (3-1)


When:
Friday at 7:30 p.m.
The story:
Maine South hasn't lost in the Central Suburban South since 2000. New Trier has proven it's a good team this season with three consecutive wins since losing its season opener to Schaumburg, but the question is if it's a good enough team to dethrone Maine South. The Hawks haven't allowed more than 12 points in a game this season and have scored 40 or more points in three of their wins. It'll take a special game for the Trevians to defeat Maine South.
Maine South player to watch:
Pat Barrett, a two-year starter, is one of the team's quiet leaders and hardest workers.
New Trier player to watch:
Quarterback Jack Nykaza has the Trevians' offense running smoothly. Maine South's defense will be another challenge for him.
Quote:
Maine South coach David Inserra – "I like how we are progressing, but we still need more consistency from the receiving core. The O-line, with five juniors getting significant time, is doing very well. Paul Preston is as explosive as advertised, and Matt Alviti can only get better with the wide receivers improving. Defense is solid and will have a good match this week with New Trier. Specials are improving after a poor showing early."
Prediction:
Maine South 31, New Trier 14
---
No. 2 Glenbard West (4-0) at Oak Park (2-2)


When:
Saturday at 1 p.m.
The story:
Glenbard West has to be considered right with Maine South as the area's best team. The Hilltoppers have dominated on both sides of the ball and their defense has been remarkable. They've allowed an average of six points a game this season. That isn't likely to change this week. Oak Park has been an up-and-down team under first-year coach John Hoerster. After two consecutive wins, the Huskies lost 35-7 to York last week.
Glenbard West player to watch:
Kicker/punter Dan Cavazos has been the Hilltoppers' unsung hero. All of his kickoffs this season have been touchbacks. His punt hang time hasn't allowed a return yard. He has not missed an extra point or field goal.
Oak Park player to watch:
Jakari Cammon rushed for 178 yards on 25 carries in last week's game against York.
Quote:
Glenbard West coach Chad Hetlet - "We're shaping up to be a solid team, great group of young men to coach."
Prediction:
Glenbard West 35, Oak Park 7
---
Sandburg (4-0) at No. 3 Lincoln-Way East (4-0)


When:
Friday at 7:30 p.m.
The story:
Lincoln-Way East took care of its first conference obstacle last week with a 38-21 win over Homewood-Flossmoor. Now comes the Griffins' second test with undefeated Sandburg. The Eagles have gotten by all of their opponents, but just barely. They've won three of their games by seven points or less. Their defense will have to step up to contain Lincoln-Way East.
Sandburg player to watch:
Anthony Adams completed 10-of-14 passes, including the game-winner with 1:52 left, to defeat Lincoln-Way Central last week.
Lincoln-Way East player to watch:
Griffins fullback Nick Colangelo rushed for 102 yards and one touchdown on nine carries in the second half last week.
Prediction:
Lincoln-Way East 45, Sandburg 20
---
Brother Rice (3-1) at No. 4 Mount Carmel (4-0)


When:
Friday at 7 p.m. at Gately Stadium
The story:
A week after Brother Rice and St. Rita hooked up on the South Side, it's now time for Brother Rice and Mount Carmel to do the same. The Caravan have been running away with their wins for most of the season. This should be a good test for them. Brother Rice stuck right with St. Rita before losing last week. Brother Rice has proven it's a quality team, but it still needs to knock off one of the conference's powers to be move up the ladder. Both these teams will want to keep the ball on ground.
Brother Rice player to watch:
Running back Martez Walker was limited last week. He'll look to make up for it against Mount Carmel.
Mount Carmel player to watch:
Defensive lineman Vontrell Williams committed to Illinois last week.
Prediction:
Mount Carmel 38, Brother Rice 27
---
No. 5 Joliet Catholic (4-0) at Benet (0-4)


When:
Saturday at 7:30 p.m.
The story:
Joliet Catholic is one of seven teams in the state to score 200 or more points this season. The Hilltoppers are averaging 50 points a game. Benet hasn't won a game, but its defense has been sharp. It hasn't allowed more than 27 points. The problem is the offense hasn't scored more than 14 points.
Joliet Catholic player to watch:
Running back Ty Isaac was one of five players to make ESPNU's Class of 2013 watch list.
Benet player to watch:
Jack Euritt had four receptions and a touchdown against Marist last week.
Prediction:
Joliet Catholic 42, Benet 7
---
Gordon Tech (3-1) at No. 6 Loyola (4-0)


When:
Saturday at 1:30 p.m.
The story:
Loyola crosses over into the Catholic League Red to host Gordon Tech this week. The Rams are coming off a 45-44 win over Hales. Loyola's offense will be even more of a challenge for them. The Ramblers have been averaging a little over 40 points a game.
Gordon Tech player to watch:
Quarterback Julian Russell threw for four touchdowns and rushed for two in last week's win.
Loyola player to watch:
Loyola's unsung hero has been long snapper Dan Rafferty. He's been accurate all season.
Prediction:
Loyola 49, Gordon Tech 14
---
Providence (3-1) at No. 7 St. Rita (3-1)


When:
Friday at 7:30 p.m.
The story:
St. Rita pulled out a narrow win over Brother Rice last week and will have another challenging game this week. The Mustangs' defense has been their strength all season. Providence struggled in last week's 32-6 loss against Loyola. The Celtics have a chance to redeem themselves against another top-10 team this week, but their offensive will have to be more consistent.
Providence player to watch:
Running back Andy Hoffmeister scored Providence's lone touchdown in last week's loss to Loyola.
St. Rita player to watch:
Charles Elmore was last week's MVP on both sides of the ball.
Prediction:
St. Rita 28, Providence 14
---
No. 8 Carmel(3-1) at Wayzata, MN (3-0)


When:
Friday at 6:30 p.m. at the University of Dubuque
The story:
Carmel's lone non-conference game this season is against Wayzata, a Minnesota team. Carmel has won three straight since losing to Joliet Catholic. Its running game has been among the best in the area, but its defense has been good, too. The Corsairs' last three opponents scored a total of 30 points. Wayzata is undefeated on the season and has been in control of every game. No opponent has scored more than 21 points against them.
Carmel player to watch:
Running back Mike Panico has been picking up big yards every time he touches the ball.
Wayzata player to watch:
Eric Roti has rushed for a team-best five touchdowns this season.
Prediction:
Carmel 35, Wayzata 31
---
Downers Grove North (1-3) at No. 9 Downers Grove South (4-0)


When:
Friday at 7:30 p.m.
The story:
Downers Grove South's offense and its star running back Josh Williams have been getting a lot of the headlines, but the Mustangs' defense has been stellar, too. They've allowed seven points all season and have out-scored their opponents 161-7. Despite their records, this still has a chance to be a good one. Downers Grove South squeaked out a 17-14 win over North last year. Despite having three losses, the Trojans have been in every game this season.
Downers Grove North player to watch:
Quarterback Riley McGinnis has been airing it out for the Trojans.
Downers Grove South player to watch:
Senior linebacker Korey Higgins is one of the players making a difference on defense.
Prediction:
Downers Grove South 41, Downers Grove North 27
---
West Aurora (2-2) at No. 11 Glenbard North (4-0)


When:
Friday at 7:30 p.m.
The story:
Glenbard North has plenty of tough games coming up, but it's the team to beat in the DuPage Valley for now. The Rams have outscored their opponents 179-20 through four games. West Aurora has lost its last two contests. The Blackhawks scored a total of 20 points in their losses.
West Aurora player to watch:
Sophomore quarterback Quintez Jones looks better each week.
Glenbard North player to watch:
Justin Jackson has given Glenbard North a quality backup running back.
Prediction:
Glenbard North 31, West Aurora 7
---
Crystal Lake Central (3-1) at No. 11 Prairie Ridge (4-0)


When:
Friday at 7:15 p.m.
The story:
Prairie Ridge has been as impressive as anyone in the state. It's out-scored its opponents 195-14. This week begins the tougher part of the Wolves' schedule. Crystal Lake Central marks the first winning team they've faced this season. Their previous opponents have a combined record of 1-15. Crystal Lake Central has a chance to prove itself in this game. The Tigers haven't allowed more than nine points to an opponent, and their only loss was a 9-0 one to Crystal Lake South.
Crystal Lake Central player to watch:
Running back Gage Harrah is a threat whenever he touches the ball.
Prairie Ridge player to watch:
Running back Jordan Getzelman can run with the ball or catch it out of the backfield.
Prediction:
Prairie Ridge 24, Crystal Lake Central 14
---
No. 12 Lake Zurich (3-1) at Mundelein (0-4)


When:
Friday at 7:30 p.m.
The story:
Lake Zurich should be able to cruise for one more week before the Bears' schedule becomes difficult. They've won their last two games by a combined score of 61-14 after losing to Cary-Grove. Mundelein has scored just seven points over the last three weeks.
Lake Zurich player to watch:
John Orlando had a 54-yard touchdown reception in last week's win.
Mundelein player to watch:
Drew Malcolm caught a touchdown pass against Libertyville last week.
Prediction:
Lake Zurich 35, Mundelein 7
---
No. 13 Bolingbrook (4-0) at No. 14 Homewood-Flossmoor (3-1)


When:
Friday at 7:30 p.m.
The story:
This has the makings of the game of the week. Bolingbrook is undefeated, but it still needs to prove itself in the conference. Homewood-Flossmoor wants to rebound from last week's tough loss to Lincoln-Way East, and there would be no better way of doing that than beating Bolingbrook. Both teams' numbers are similar. Bolingbrook has outscored its opponents 188-47. Homewood-Flossmoor has outscored its opponents 186-51.
Bolingbrook player to watch:
Aaron Bailey has been as good as any quarterback in the area. This will be another chance to prove himself.
Homewood-Flossmoor player to watch:
Sheldon Jones does a little bit of everything for the Vikings' offense. He had two touchdowns last week.
Prediction:
Homewood-Flossmoor 35, Bolingbrook 28
---
No. 15 Geneva (4-0) at St. Charles North (0-4)


When:
Friday at 7:30 p.m.
The story:
Geneva can't overlook St. Charles North, but it can start peaking at next week's game against Batavia. Both teams face winless teams this week and should be undefeated going into next week. St. Charles North was defeated soundly by Neuqua Valley and Streamwood, two quality teams, the past two weeks.
Geneva player to watch:
Offensive lineman Bobby Byker has worked his way up the depth chart the last few seasons.
St. Charles North player to watch:
Kicker Michael Schroeder has accounted for all of the team's 12 points on field goals the last two games.
Quote:
Geneva coach Rob Wicinski – "There are always parts of the game to improve on ... but, we have few complaints here at Geneva and the team seems to be making normal progress as past Viking teams have done."
Prediction:
Geneva 35, St. Charles North 10
---
No. 16 Crete-Monee (4-0) at Kankakee (0-4)


When:
Friday at 6 p.m.
The story:
Crete-Monee has put itself in the driver's seat in the Southland Conference. The Warriors have been playing at a different level than everybody else. They defeated Glenbard South 63-14 last week. Kankakee has had a rough season so far, losing all four games by 16 or more points.
Crete-Monee player to watch:
Wide receiver Lance Lenior has been the Warriors' unsung hero. He has a team-high 25 receptions and is the team's punt returner.
Kankakee player to watch:
Chris Jackson can make an impact on the offensive and defensive line.
Quote:
Crete-Monee coach Jerry Verde – "We are pleased with where we are after four weeks, but we still need to improve each week leading up to week 10."
Prediction:
Crete-Monee 49, Kankakee 7
---
No. 17 Crystal Lake South (4-0) at McHenry (2-2)


When:
Friday at 7:15 p.m.
The story:
Crystal Lake South's defense has continued to lead the way. The Gators allowed a season-high 12 points in a win over Huntley last week. They should be able to contain McHenry before next week's test against Prairie Ridge. McHenry already has more wins than it did last season. The Warriors haven't been blowout this season and will look to continue to play solid football against Crystal Lake South.
Crystal Lake South player to watch:
Defensive end Josh Beveridge leads the Gators in tackles, sacks and tackles for loss.
McHenry player to watch:
Quarterback Robert Tonyan has put up some impressive numbers this season.
Quote:
Crystal Lake South coach Chuck Ahsmann – "We are very happy with where we are at. We had a tough schedule to start our season. We feel our toughest games are yet to come, so we will need to continue to prepare well."
Prediction:
Crystal Lake South 34, Huntley 14
---
No. 18 Cary-Grove (3-1) at Jacobs (4-0)


When:
Friday at 7:15 p.m.
The story:
This is another game that will help decide the Fox Valley. Jacobs is undefeated at home, but it will still be the underdog against Cary-Grove. Jacobs has won all its games this season by 15 points or more. Cary-Grove bounced back from its narrow loss to Crystal Lake South with a win last week over Hampshire. The Trojans' defense should be tested in this one.
Cary-Grove player to watch:
Quinn Baker rushed for four touchdowns, including a 90-yarder, in last week's win.
Jacobs player to watch:
Quarterback Jason Judson threw two touchdowns and ran for one in last week's win.
Prediction:
Cary-Grove 21, Jacobs 17
---
Tinley Park (4-0) at No. 19 Lemont (4-0)


When:
Friday at 7 p.m.
The story:
Lemont's defense is tied for first in the state in points allowed. The Indians have given up just six points this year. They have shut out three opponents and allowed six points against Richards. Tinley Park's game is its offense. The Titans have scored 40 points in all their games and gone over 50 twice. One of these trends will have to change this week.
Tinley Park player to watch:
Running back Preston Thompson has been helping the Titans put up a lot of points this season.
Lemont player to watch:
Defensive lineman John Tomala has been one of the bright spots on the defensive line.
Quote:
Lemont coach Erich Michaelsen – "We are a work in progress. We have many areas to improve on."
---
St. Charles East (0-4) at Batavia (4-0)


When:
Friday at 7:30 p.m.
The story:
Batavia has been one of the season's bigger surprises. The Bulldogs have been overwhelming on both sides of the ball, including in quality wins over Bartlett and Marmion. They haven't allowed a first-half touchdown this year. St. Charles East has faced some good teams, but just hasn't been able to stop them offensively for a whole game.
St. Charles East player to watch:
Carter Reading rushed for 178 yards last week.
Batavia players to watch:
Defensive tackles Mackenzie Brown and Austin Lewis have been providing pressure all season.
Quote:
Batavia coach Dennis Piron – "I'm very pleased with how the team has come together and the relationships developing between the classes and the players. We had a great offseason and feel that has spilled over into our year. The challenge now is to improve as much in season."
Prediction:
Batavia 31, St. Charles East 13