January, 9, 2012
1/09/12
4:00
PM CT
Lamont Bryant has resigned as Hyde Park's varsity boys basketball coach, according to a Chicago Public Schools spokesperson.

"We can confirm that the coach has submitted a resignation and we respect his decision," spokesperson Frank Shuftan said in a statement on Monday. "We do not have any further comment regarding this matter."

Bryant did not coach the Thunderbirds in their 58-52 loss to Mount Carmel on Sunday. Hyde Park was ranked in the area and had gone 6-4 under Bryant this season.

Bryant replaced Donnie Kirksey, who is now a UIC assistant coach, as Hyde Park's coach in 2010. Bryant previously coached at Whitney Young, Marshall and South Shore.

Bryant was fired from Marshall in 2007. He filed a wrongful-termination lawsuit and reached a $500,000 settlement with the Chicago Public Schools.

A message left for Bryant was not immediately returned on Monday.

January, 1, 2012
1/01/12
3:52
PM CT
How good is Chicago basketball right now?
From an individual player's standpoint, there's no denying Chicago is the premier hotbed for underclassmen right now. Simeon's
Jabari Parker
is the No. 1 junior in the country. Whitney Young sophomore
Jahlil Okafor
and Curie sophomore
Cliff Alexander
are two of the most desirable big men in the country.
There are plenty of other high-major prospects in the 2013, 2014 and 2015 classes.
But from a team perspective, how is Chicago matching up with the country? The best way to measure that is when Chicago teams match up against out-of-state opponents.
Simeon is the No. 1 team in the country, and no one has been able to prove otherwise in or out of state. The undefeated Wolverines have played one out-of-state opponent and have a few more upcoming national games.
Outside of Simeon, though, Chicago hasn't fared well against teams from outside Illinois, and that was especially true during the holidays. Six Chicago teams traveled to different parts of the country for tournaments, and only two of them returned with a winning record.
Whitney Young coach Tyrone Slaughter continued his massive national schedule, taking the Dolphins to the Beach Ball Classic in South Carolina. The Dolphins had the most impressive win of the six teams, defeating nationally-ranked No. 5 Prestonwood Christian from Texas, but finished 2-2 in the tournament. They ended up in sixth place after losing by 33 points to Bishop Gorman, another nationally-ranked team. Their other win was against Lexington from South Carolina and their other loss was against Lone Peak from Utah. Lexington is not ranked nationally or regionally by ESPN, and Lone Peak is ranked No. 5 in the West Region.


St. Rita coach Gary DeCesare took the Mustangs, who were ranked No. 18 in the area last week, to his old New York stomping grounds and went 1-2 against East Coast competition. They lost to New York's Mount Vernon and Christ the King. Mount Vernon is ranked No. 21 nationally, and Christ the King is No. 13 in the East Region. Their lone win was over Dixie Heights, which is not ranked.


Hyde Park, which was ranked No. 9 in the area last week, went to the Detroit Roundball Classic and finished 1-2. The Thunderbirds lost to Detroit Consortium, which is ranked No. 10 in the Midwest, and Romulus, which is not ranked. They defeated Lansing Eastern, which is also not ranked.


Orr also played in the Detroit Roundball Classic and went 3-0. It defeated Detroit Country Day, Detroit Central Catholic and Ottawa Hills. None of the teams were ranked regionally.


Marshall traveled to Normandy, Mo. for a tournament. Marshall lost in the semifinals to Memphis Ridgeway by 30 points and finished in fourth place with a 2-2 record. Ridgeway is ranked No. 19 in the country. The Commandos defeated Ridgeway Tech and Cardinal Ritter and also lost to Memphis Melrose. None of those teams are regionally ranked.


Foreman also competed at Normandy. The Hornets lost in the quarterfinals to Memphis Melrose, which finished in third place, and went on to take fifth place with a 3-1 record. There three wins were over Missouri teams, none of which are ranked regionally.

Overall, Chicago's teams played respectably in each out-of-state tournament, but it's hard to say Chicago deserves numerous nationally-ranked teams right now outside of Simeon and possibly Curie. From the suburbs, Proviso East deserves to be nationally ranked and currently is at No. 47.
December, 13, 2011
12/13/11
11:02
PM CT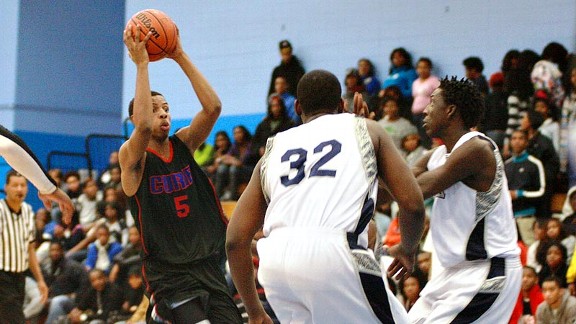 Scott Powers/ESPNChicago.comCurie's Devin Foster led the Condors with 23 points in a win over Hyde Park on Tuesday.
CHICAGO -- All eyes weren't on Curie guard
Devin Foster
when Tuesday's game between the No. 4 Condors and No. 9 Hyde Park tipped off.
With notable names like Curie's
Cliff Alexander
and Hyde Park's Moshawn Thomas and
Kyle Davis
on the floor, it was easy to see why the full house at Hyde Park could overlook Foster.
By the end, though, Foster got everyone's attention.
Foster scored 23 points, including seven points during the decisive stretch of the fourth quarter, to lead Curie to a 65-61 win over the Thunderbirds in a Red-Central matchup.
[+] Enlarge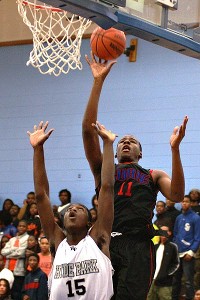 Scott Powers/ESPNChicago.comCurie center Cliff Alexander is a mobile big with tremendous upside.
"I tell people all the time if someone were to offer him a scholarship they wouldn't regret it," Curie coach Mike Oliver said. "For him not to be one of the top 50 players in the city is a joke."
Foster showed off an ability to score inside and outside with the game on the line Tuesday. With Hyde Park leading 53-52 with 3:53 remaining, Foster grabbed an offensive rebound and scored to put the Condors ahead. Two possessions later, Foster drained a 3-pointer to extend Curie's lead to 59-53.
From there, Curie (5-0) held off the Thunderbirds (2-2) the rest of the way.
"I knew it was a big game," Foster said. "I kept my focus on the game. I blocked everything else out."
Despite Foster's heroics, Davis nearly stole the show in the end. Davis scored six of his 22 points in the final minutes and made Curie sweat it out. He also had six steals.
Oliver expected nothing less from the game.
"It was a good test," Oliver said. "This is the type of game that will help us if we're going to make a run for it all this year."
Curie junior guard Malcolm Hill-Bey appeared as if he was starting to adjust to his new team after transferring from Mount Carmel. He scored 15 points.
"Malcolm's going to be fine," Oliver said. "He's still learning our system."
Alexander finished with four points, 12 rebounds and three blocks. Thomas had eight points and six blocks.
November, 21, 2011
11/21/11
3:38
PM CT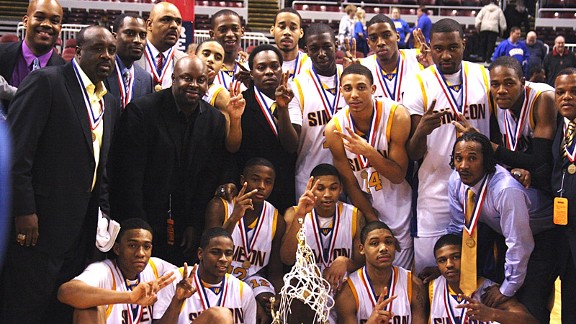 Scott Powers/ESPNChicago.comAfter 2 straight Class 4 titles, it should be no surprise to see Simeon ranked No. 1.
1. Simeon:
Expectations have never been higher at Simeon. The Wolverines are the two-time defending Class 4A state champions. They are ranked No. 1 in country by ESPN.
Jabari Parker
is considered the No. 1 junior in the country. They have a roster of full of other Division I prospects, including Marquette recruit and senior forward
Steve Taylor
, shooting guard
Kendrick Nunn
, point guard
Jaylon Tate
, point guard
Jelani Neely
and forward
Kendall Pollard
. They also have a couple star-studded freshmen.
2. Warren:
The Blue Devils lost to Simeon by eight points in the Pontiac holiday tournament championship and by nine points in the state championship game. They could very well meet Simeon in both places again this season. Warren returns three starters -- Western Michigan recruit
Darius Paul
, Toledo recruit
Nathan Boothe
and senior guard JoVaughn Gaines -- from that team. They'll also look to Jameris Smith, Jon Geske and Mitch Munda. This will be coach Chuck Ramsey's final season.
3. Whitney Young:
There aren't even many college teams in the country that have as much size and skill in the front court as the Dolphins do. Six-foot-11 center
Jahlil Okafor
is ranked No. 3 in the Class of 2014.
Paul White
, who is a 6-8 swingman, is ranked No. 17 in the Class of 2014. Tommy Hamilton Jr., who is 6-9, is ranked No. 23 in the Class of 2013. There's also 6-8
Jermaine Morgan
, who is a Colorado State recruit. The big question for Whitney Young is who will bring the ball up the court. If the Dolphins can figure out their backcourt, they should be among the state's and nation's best teams.
4. Proviso East:
First-year coach Donnie Boyce has plenty to work with this season. The Pirates return senior point guard
Keith Carter
, who recently committed to Saint Louis, junior guard
Sterling Brown
, who is becoming a national recruit, senior forward Trashaun Carroll and juniors
Paris Lee
,
Paris Burns
and Mike Nicholas.
5. Downers Grove South:
The Mustangs will possess one of the state's top backcourts with 6-2 senior Jamall Millison and 6-3 senior
Jerron Wilbut
. Wilbut is considered one of the top players in the state's Class of 2012. Downers Grove South also returns 6-5 forward Kevin Honn, a two-year starter. The question for the Mustangs will be rebounding and interior defense.
6. Curie:
The Condors have the pieces to compete for the Public League and state championship. They're as deep as anyone and will be led by 6-8 sophomore
Cliff Alexander
, who is ranked No. 13 in the country. Transfer
Malcolm Hill
-Bey should be an asset in the backcourt with the loss of
Greg Travis
to graduation.
7. De La Salle:
The Meteors could be a state contender if everything clicks for them. They have some of the state's most highly-ranked players, but the question is whether those players can adjust to bigger roles this season with the graduation of Dre Henley and
Mike Shaw
. De La Salle will be depending on 6-8 Gavin Schilling, 6-7
Alex Foster
and 6-4
Alvin Ellis
.
8. Homewood-Flossmoor:
The Vikings may be the most experienced team in the state -- it seems Tim Williams, a 6-8 forward, and 6-5
Delvon Rencher
have been around forever. Homewood-Flossmoor also returns Antonio Bishop, Marius Hill, Tyrone Sherman and Lamar Wofford-Humphrey. Will this be the season they finally take that next step?
9. St. Rita:
This looks to be the year coach Gary DeCesare turns St. Rita's program completely around. After going 12-14 last season, the Mustangs return 6-7 senior forward AJ Avery, a Western Michigan recruit, 6-2 guard
Tony Hicks
, a Penn recruit, senior point guard Cullen Foulks, sophomore forward
Victor Law
and sophomore guard
Dominique Matthews
. There also will be a couple freshmen who will contribute immediately. St. Rita will be the team to beat in the Catholic League.
10. Farragut:
The Admirals should be among the best teams in Chicago again. Six-foot-7 forward Rashaun Stimage is a jack of all trades and is among the state's best seniors. Senior twins Deonte and Alante Terrell are eligible this season after trasferring and sitting out last year. Both should be among the team's major contributors this season. Returning guard Lavell Boyd and senior John Carter, a transfer from Oak Park, should bring stability to the backcourt.
11. Andrew:
The Thunderbolts are ready to emerge as one of the area's best this season. They'll be led by 6-5 forward Jubril Adekoya, who does a bit of everything for them. Jawad Adekoya and Glorinda Lisha are also key returnees.
12. Hyde Park:
The Thunderbirds could be among the elite group of teams if all their transfers are eligible. They have eight transfers, including former Bogan forward Moshawn Thomas. Regardless of whether everyone is eligible, Hyde Park should still be pretty good. Point guard
Kyle Davis
is among the state's best juniors.
13. New Trier:
The Trevians have plenty of talent and experience back this season.
Connor Boehm
, a 6-7 Dartmouth recruit, and 6-4 guard Austin Angel will be the team's go-to players. They also return David Bragiel, Reid Bermnan and Jordan Thomas.
14. Crane:
Chris Head takes over a talented group this season at Crane. The Cougars are headed by Willie Connor, who can fill up the basket, and Kalen Shane. They've also added
Markee Williams
, who was formerly at Morgan Park.
15. Crete-Monee:
Former legendary Hillcrest coach Tom Cappel is now at Crete-Monee. He'll be led by Illinois recruit and senior point guard
Michael Orris
. Marvie Keith, a 3-pointer shooter, and LaQuan Treadwell, a big-time football recruit, should also contribute.
16. Morgan Park:
The Mustangs are handing the reins off to junior guard Billy Garrett Jr. after the graduation of
Wayne Blackshear
. While Garrett Jr. will be a point guard at the next level, he's proven he can be a big-time scorer and passer at the high school level. He'll be assisted by 6-9 center
Xzavier Taylor
, 6-5 forward Adrian Jefferies, 6-2 guard
Terrance Quinn
and 6-3 Dominique Lee and a number of freshman and sophomore newcomers.
17. St. Joseph:
The Chargers endured a rare losing season under coach Gene Pingatore last season. That shouldn't be the case again this year. They'll be led by 6-1 Reggie Johnson, 6-8 junior A.J. Patty, 6-5 sophomore
Karriem Simmons
and 6-4 sophomore
Paul Turner
.
18. Bloom:
The Blazing Trojans should be able to build on last year's 16 wins with the talent they have returning. They'll be led by three-year starter Donald Moore, who led them in scoring and assists last season. He'll have help from LeJavius Johnson, Henry Hicks, Johnny Griffin, Dejahown Freeman and Nhyree Mitchell.
19. Oak Park:
The Huskies had a rough season a year ago, but should be one of the area's best teams this year. They have seven returnees, a group led by Bradley recruit and senior guard Ka'Darryl Bell, who averaged 15 points last year. Senior forward Gave Levin, who averaged 11 points and nine rebounds, senior forward Alex Nesnidal and junior guard Jakari Cammon also return.
20. Waukegan:
The Bulldogs will rely heavily on their guards this season.
Akeem Springs
, a 6-4 combo guard, averaged 19 points and nine rebounds last season. Waukegan also returns Devonte Taylor,
Jordan Johnson
and Dijon Ross. Sophomore power forward Jerome Davis could make an impact this season.