October, 26, 2010
10/26/10
11:41
PM CT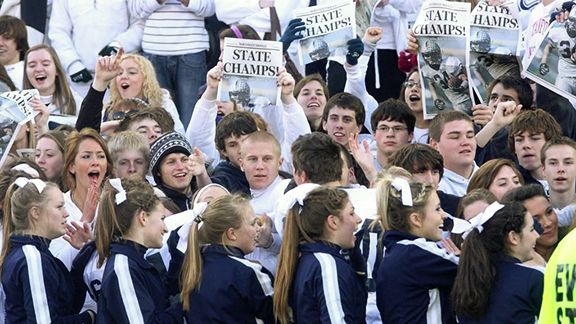 Scott Powers for ESPN.comLast season, Cary-Grove celebrated a Class 6A state championship.
The Fox Valley took a major step as a conference last season when Cary-Grove won the Class 6A state championship. Although the Trojans are a long shot to repeat, another Fox Valley school is carrying the torch.
Crystal Lake South has put together its best season in school history. The Gators went undefeated in the regular season, which included knocking off rival Cary-Grove, and looks to add to that by winning their first state football championship.
Here's a closer look at the Class 6A playoffs.
Best opening-round game
No. 11 Cary-Grove at No. 6 Hubbard:
Cary-Grove, the defending 6A champs, will have its hands full in the first round with Hubbard. Cary-Grove has won six of its last seven games. Hubbard could gain a lot of respect for itself and the Public League with a win.
Top 10 Class 6A teams
1. Crystal Lake South (9-0) – First undefeated regular season in school history
2. Danville (9-0) – Fell in semifinals to state runner-up Providence last season
3. Morgan Park (8-1) – Mustangs have won in and out of the Public League
4. Lemont (9-0) – Indians lost to Danville in the playoffs last season
5. Marmion (8-1) – Only loss this season came to Montini
6. Boylan (9-0) – Has outscored opponents by 38.9 points
7. Richards (7-2) -- Playing well at the right time
8. Thornton Fractional South (8-1) – Played six playoff teams and defeated five of them
9. Prairie Ridge (8-1) – Allowed 5.4 points per game
10. Lake Forest (6-3) – Defeated Vernon Hills and pushed Lake Zurich to the brink
Top 5 players to watch
1.
Mik'ail McCall
, SR, RB, Thornridge: The Michigan State recruit doesn't get as much attention as some players because of his team's lack of success, but he's as good as anyone in the state.
2.
Jarrell Williams
, SR, DB, Richards: The Northwestern recruit is one of the best lockdown defenders in the state. He also is a threat on offense and in returning kicks.
3.
Dae'Shaun Hurley
, JR, QB, Morgan Park: Hurley is one of the state's best dual threat quarterbacks. His ability and unselfishness has made the Mustangs a contender this season.
4.
Drew Ormseth
, SR, QB, Crystal Lake South: Ormseth has been beating teams on the ground and in the air all season.
5.
Clayton Fejedelem
, SR, DB, Lemont: Fejedelem can affect a game in a number of ways. He's one of the area's top safeties and kick returners.
Sleeper team
Fenwick (5-4):
The Friars have played one of the toughest schedules of any Class 6A team thanks to being in the Catholic League. While Loyola and Mount Carmel defeated them soundly, they showed they can play with the best when they hung with St. Rita in a 14-13 loss. Their defense has kept them in most games, allowing 14 points or less in six contests.
Road for defending Class 6A state champions
There was a real fear that Cary-Grove wouldn't even qualify for the playoffs this season. After winning last year's state championship with an experienced group, the Trojans brought only a few starters back and struggled in the opening weeks of this season. They began the year 0-2, but bounced back to win six out of their last seven games. As the No. 11 seed, Cary-Grove faces an uphill battle if it is going to repeat.
Fun fact
Only three teams in the Class 6A playoffs have won a state championship before. Richards has won two, and Cary-Grove and Normal Community have won one each.
Coaches' thoughts
Cary-Grove coach Bruce Kay:
"I think it's great that the Fox Valley Conference has a number of teams in different classes and brackets for the most part. This way we are competing against other teams in the state rather than knocking each other out in the early rounds."
Richards coach Tony Sheehan:
"I thought the pairings were great and we are very happy where we were placed. To get a No. 7 seed at 7-2 is great. Our road is not easy with having to possibly play the No. 2 seed Rockford Boylan, but then again nothing great comes easy. I think this is going to be a great playoff season. The matchups that can happen are just exciting, and I can't wait to see what happens.
State championship prediction:
Crystal Lake South defeats Danville
October, 19, 2010
10/19/10
3:20
AM CT
Another week of prep football is in the books. Here's a quick look at some of the Week 8 stars.

Powers' playmakers:

1) Joliet Catholic senior Josh Ferguson rushed for 257 yards and four touchdowns on 17 carries in the Hilltoppers' win over Marist.

2) Travis Kern was Wheaton Warrenville South's go-to receiver in the Tigers' 49-6 win over Glenbard North. Kern had eight receptions for 137 yards and two touchdowns.

3) Elk Grove fell to Prospect 42-41 in overtime, but the loss wasn't for Nick Meyer's effort. He was 26-for-41 passing for 288 yards and ran for 148 yards and six touchdowns.

4) Mount Carmel quarterback Chris Sujka has been carrying the Caravan the last couple of weeks. He had touchdown runs of 17 and 81 yards and threw a touchdown pass in Mount Carmel's 52-7 win over St. Laurence on Friday.

5) Glenbrook North's Grant Rushing lived up to his name in the Spartans' 48-0 win over Maine East on Friday. Rushing rushed for a game-high 149 yards and three touchdowns.

Defensive delights:

1) In a spin on things, Lake Forest's defense shut out Vernon Hills 21-0 on Friday, snapping Vernon Hills' shutout streak at seven games. The Cougars had outscored opponents 310-0 before Friday's loss.

2) Glenbard West's Mike Laning intercepted two passes in the Hilltoppers' 47-7 win over Downers Grove North.

3) Bartlett's Demetrius Coleman recovered two fumbles in the Hawks' 25-23 win over Neuqua Valley.

4) Wheaton North's Andy Dietz had two interceptions in his team's 14-7 win over Naperville North.

5) Lemont's Clayton Fejedelem intercepted a pass and returned a punt for an 80-yard touchdown in the Indians' 44-0 win over Thornton Fractional North.

Five-star football:

1) Crystal Lake South 28, Cary-Grove 14: The Gators won their first Fox Valley Conference division title since 1993, and they were able to do it by knocking off rival Cary-Grove.

2) Joliet Catholic 49, Marist 42: Playing in the memory of teacher and basketball coach Jeremy Izzo, who recently passed away, the Hilltoppers pulled out an emotional win over Marist. Quarterback Breshion Tucker, who also played basketball for Izzo, threw three touchdowns in the victory.

3) Schaumburg 35, Palatine 27: Mark Iannotti and Shepard Little combined for 357 rushing yards and four touchdowns to propel the Saxons.

4) Fremd 26, Barrington 12: The Vikings kept themselves alive for the postseason with their upset win over previously-unbeaten Barrington. Fremd has made 15 consecutive playoff appearances and needs to still win one more game to keep that streak alive.

5) Marian Catholic 29, Nazareth 28: John Rhode hooked up with Randall Wells for a 40-yard touchdown pass as time expired to give the Spartans the win.


October, 15, 2010
10/15/10
2:02
AM CT
No. 6 Glenbard North (7-0) at No. 1 Wheaton Warrenville South (7-0) on Friday
The story: Wheaton Warrenville South has faced four ranked teams this season and has defeated them by a combined score of 155-40. Now, the Tigers will meet possibly their greatest challenge of the season in Glenbard North. The Panthers have remained undefeated thanks to a versatile running game and one of the area's best defenses. They've allowed 73 points this season and have also defeated three ranked teams. Quarterback Reilly O'Toole and Wheaton Warrenville South's offense will be unlike anything Glenbard North has seen this season. ESPN 1000 will be in attendance.
Glenbard North player to watch: Offensive right tackle Paul Wisniewski has been a major reason for the Panthers' running success. He recently received an offer from Wyoming.
Wheaton Warrenville South player to watch: The Tigers' passing game receives a lot of attention, but running back Matt Rogers has also done his part. He's burned plenty of opponents this season.
Quotes: Glenbard North coach Ryan Wilkens – " Offensively, they do everything. They run the ball from under center and the gun with Rogers and O'Toole. They use play-action pass, sprint outs and straight drop backs using multiple receivers. Defensively, they rally to the football, they fight the pressure well and take down double-teams."
Wheaton Warrenville South coach Ron Muhitch – "Glenbard North is a very good power-running team. Their offensive line is very big and good at the run game. [Phil] Jackson and [Evin] Natick are very solid
runners and can break a long run anytime. Their defense is a solid unit that has been very good at keeping people out of the end zone with less than 10 points a game. Their defensive backs match up well with our offensive skills. It's going to be a tough game for the Tigers."
Prediction: Wheaton Warrenville South 35, Glenbard North 20

St. Ignatius (5-2) at No. 2 St. Rita (7-0) on Friday
The story: St. Rita won't be overlooking crossover opponent St. Ignatius, but the Mustangs are fully aware that they close out the regular season with Loyola next week. The Ramblers are the only team keeping them from an outright Catholic League championship.
Prediction: St. Rita 41, St. Ignatius 10

Downers Grove North (1-6) at No. 3 Glenbard West (7-0) on Saturday
The story: Glenbard West will be looking to put together a clean game from opening kick to final whistle this week. They had their share of miscues in last week's win over York. The Hilltoppers have another test in Lyons next week.
Prediction: Glenbard West 40, Downers Grove North 14

Notre Dame (5-2) at No. 4 Carmel (7-0) on Friday
The story: If someone's looking for a possible upset this week, this could be one. Notre Dame has hung with everyone it has played this season. The Dons lost by 12 to Marist and by one to Marian Catholic. The Corsairs have shown, though, not to be a team that overlooks opponents. They would win the East Suburban Catholic title outright with a victory.
Prediction: Carmel 31, Notre Dame 20

Lane (3-4) vs. No. 5 Simeon (7-0) at Gately on Thursday
The story: Simeon hasn't been tested since the opening week. That might not change until the playoffs either. The Wolverines look as if they can make a real run this season.
Prediction: Simeon 50, Lane 20

Marist (5-2) at No. 7 Joliet Catholic (6-1) on Friday
The story: These two teams created a great one last year with Marist pulling out a 24-17 win. The RedHawks went on to the Class 8A state championship game while Joliet Catholic advanced to the Class 5A one. That could happen again this season with both being contenders in their respective classes. Joliet Catholic has been putting up a whole lot of points all season. The Hilltoppers scored 73 of them in last week's win over St. Patrick. Marist has only one in-state loss and is on the verge of being in the top 20 again.
Marist player to watch: RedHawks quarterback Luke Oosterbaan displayed his running ability in last week's win over St. Viator. He scored three rushing touchdowns.
Joliet Catholic player to watch: Josh Ferguson is one of 11 remaining players in the running for the ESPNChicago.com Player of the Year award. He had three touchdowns in last week's win.
Prediction: Joliet Catholic 38, Marist 34

Cary-Grove (5-2) at No. 8 Crystal Lake South (7-0) on Friday
The story: Crystal Lake South has won't the Fox Valley Conference title since 1992. With two games remaining, the Gators are nearing that achievement, but they have to go through Cary-Grove as always for it. After winning the Class 6A state championship last season, the Trojans had a rough start to this season, losing their first two games. They've since won their last five, including a 23-20 overtime win over McHenry last week. On paper, Crystal Lake South may be the better team, but this is one of those games where anything can happen.
Cary-Grove player to watch: Quarterback Corey Latkas has continued to improve as the season has unfolded. He's been consistent in running the team's option attack and completing key passes when needed.
Crystal Lake South player to watch: Quarterback Drew Ormseth has been one of the area's best this season. He's a threat to run and pass the ball.
Quotes: Cary-Grove coach Bruce Kay – "The key to the game is ball control and turnovers. Their defense is very talented, and it will be difficult to make big plays. We need to keep the South QB on the sideline. Our kicking game has been very good all year, and we will need to make South play on long fields."
Prediction: Crystal Lake South 28, Cary-Grove 27

Lincoln-Way Central (1-6) at No. 9 Lincoln-Way East (6-1) on Friday
The story: Lincoln-Way East is on the verge of winning the Southwest Suburban Blue. The Griffins' next two opponents have a combined record of 1-13.
Prediction: Lincoln-Way East 49, Lincoln-Way Central 7

No. 10 Barrington (7-0) at Fremd (3-4) on Friday
The story: Fremd's season hasn't gone as expected. The Vikings were thought to be a state contender before the season, but now they must defeat highly-ranked Barrington just to keep their playoff hopes alive. Fremd has made 15 consecutive playoff appearances. As for Barrington, it has been one of the season's bigger surprises. Just a year ago, the Broncos missed the playoffs after going 3-6.
Barrington player to watch: Running back Nico Martinez is returning to his old form after breaking his hand and missing the season's first four games. He and Chase Murdock make up a tough backfield.
Fremd player to watch: Offensive lineman Brian Bobek is considered one of the best in the country. He's headed to Ohio State.
Quote: Barrington coach Joe Sanchez – "As for keys for both teams, it will come down to which group can sustain and finish drives. I also believe special teams will play a key part in the game with regards to field position for both teams. Turnovers, which team can create extra opportunities and take advantage of them, will be big."
Prediction: Barrington 24, Fremd 17

No. 11 Stevenson (7-0) at Libertyville (3-4) on Friday
The story: Stevenson looks to remain undefeated while Libertyville hopes to stay in the playoff hunt. Stevenson is known for its offense, but the Patriots have only allowed 83 points this season.
Prediction: Stevenson 35, Libertyville 17

Lake Forest (5-2) at No. 12 Vernon Hills (7-0) on Friday
The story: Can Vernon Hills shut out an opponent for the eighth consecutive week? This is will be its toughest challenge. Lake Forest has scored 256 points this season, which ranks second in the North Suburban Lake, and hasn't been held to less than 13 points all season. The Cougars should be happy with just a win against Lake Forest.
Lake Forest player to watch: Junior running back Owen Williams can be tough to stop. He had 272 yards on 18 carries against Libertyville earlier this season.
Vernon Hills player to watch: Do-everything senior DaVaris Daniels has scored in almost every way possible this season. It'll be interesting to see if he can find another way against Lake Forest.
Quote: Vernon Hills coach Tony Monken – "The difference in Lake Forest is they have a better balanced offense than we've played this year. When we crossover over to the big-school North Suburban division, we only play them once every seven years. It's an uphill battle for us because they have more numbers than our program. When we have a crossover game, we try to sneak up on them. I don't think we can sneak up on anyone this year. I think it's going to be a heck of a ballgame."
Prediction: Vernon Hills 34, Lake Forest 21

No. 20 Prospect (6-1) at No. 13 Elk Grove (6-1) on Friday
The story: The winner of this clinches at least a share of the Mid-Suburban East title. Prospect lost its season-opener, but has been winning big ever since. The Knights have one of the state's most potent offenses with 292 points this season. Elk Grove's offense isn't too shabby itself. Led by quarterback Nick Meyer, the Grenadiers have scored 212 points a game. Prospect has won the last five meetings between the two teams.
Prospect player to watch: Quarterback Steve Dazzo threw for two touchdowns and ran for four in last week's win over Wheeling. This will be a chance to really make a name for himself.
Elk Grove player to watch: Joey Bishoff has been Meyer's favorite target this season. He has 33 catches for 455 yards and three touchdowns.
Quote: Elk Grove coach Brian Doll – "Prospect is very sound on offense. With great offensive line play and two strong running backs in Steve Dazzo and Peter Bonahoom, they force you to defend both of them on every play."
Prediction: Elk Grove 42, Prospect 38

Mundelein (0-7) at No. 14 Lake Zurich (6-1) on Friday
The story: Lake Zurich's defense has held opponents to 59 points this season. Outside of Libertyville and Stevenson, the Bears' opponents have only scored 13 points.
Prediction: Lake Zurich 31, Mundelein 0


Naperville North (5-2) at No. 15 Wheaton North (5-2) on Friday
The story: Neither team may still be in the running for the DuPage Valley title, but there are playoff points to still be earned. Neither team wants to fall to 5-3 either. Both have lost to Glenbard North and Wheaton Warrenville South this season.
Naperville North player to watch: Antonio Owens can score in a variety of ways. He caught a touchdown pass and rushed for one last week.
Wheaton North player to watch: Wide receiver Johnny Daniels was the hero last week. He caught a game-winning touchdown as time expired.
Quote: Wheaton North coach Joe Wardynski – "We don't have the big-name players that Naperville North does, but I do feel that we're coming together well as a team right now. I'm hoping that the kids are starting to see that it takes offense, defense and special teams to win close ball games. In addition, it takes solid backups at several positions for a team to get good results on Friday nights."
Prediction: Naperville North 27, Wheaton North 20

No. 16 Mount Carmel (5-2) at St. Laurence (4-3) on Friday
The story: The Caravan still have an outside hope of earning a share of the Catholic League title. The Corsairs have defeated Loyola and fell to St. Rita this season.
Prediction: Mount Carmel 35, St. Laurence 13

Gordon Tech (1-6) at No. 17 Loyola (6-1) on Saturday
The story: Like St. Rita, Loyola has taken Gordon Tech seriously this week, but also has taken a peak at next week's all-important Catholic League game.
Prediction: Loyola 42, Gordon Tech 6

Plainfield East (1-6) at No. 18 Plainfield South (7-0) on Friday
The story: Plainfield South is tied for third in the state with 342 points this season. The Cougars have scored 50 or more points three times this year.
Prediction: Plainfield South 52, Plainfield East 10

No. 19 Schaumburg (5-2) at Palatine (4-3) on Friday
The story: Palatine may not have the record to show for it, but it's been a handful for every one of its opponents this season. The Pirates' losses have included a 28-21 to Lake Forest, 41-27 to Prospect and 17-16 to Fremd. They close out the season with Schaumburg and Barrington.
Prediction: Schaumburg 35, Palatine 17

September, 25, 2010
9/25/10
5:55
AM CT
By
Andrew Braverman
| ESPNChicago.com
LINCOLNSHIRE, Ill. -- The 2010 football season can no longer be described as "young." While some area teams continue searching for identities, Stevenson is rolling through the competition en route to the playoffs.

The Patriots are 5-0 (and playoff eligible) after defeating Lake Forest 41-20 in front of a capacity homecoming crowd tonight

The Stevenson defense continues to impress, forcing five Lake Forest turnovers on the evening.

"Our defense is the backbone of this team," coach Bill McNamara said. "There's no doubt about it. It's a bunch of quality kids and great players that play with a lot of intensity."

With the passing game struggling and Lake Forest's defense keying on Stephen Salata (one catch, 32 yards), Joe Cassata carried the bulk of the load, rushing for 113 yards on 21 carries and two touchdowns. Junior Kevin Foley added a pair of first-half touchdowns and another junior, Nathan Kahn, capped the victory on a 5-yard draw with 45 seconds left in the contest.

"Taking away Salata is a tough thing to do. He's a good player but they did a nice job," McNamara added. "And that's what our running game is for."

Despite trailing 34-7 at halftime, Lake Forest reeled off 13 straight points to open the second half. Junior quarterback Jordan Beck completed his first five passes and ran for an 8-yard score and Owen Williams added a touchdown run late in the third quarter. After running for 274 yards last week against Libertyville, Williams was held to just 48 against the Patriots, but did total 95 receiving yards, including a 57-yard scoring strike from Paul Carollo.

The Patriots swept their regular-season home schedule for the second straight year, and will now finish with four conference road games (at Lake Zurich, Zion Benton, Libertyville and Antioch). Lake Forest (4-1), which came into the North Suburban Lake matchup averaging over 41 points-per-game, will look to get back on track next Friday at Warren.

Player of the game: Stevenson RB Joe Cassata; 21 carries, 113 yards, 2 TDs.

Stat of the game: The Stevenson defense forced five Lake Forest turnovers (3 INTs, fumble, blocked punt).

It was over when… Patriots' junior defensive back Troy Radtke picked off a Lake Forest pass in the endzone with 9:55 left in the game.

Quote of the night: Joe Cassata on winning homecoming: "It's the best feeling. I remember last year's seniors talking about how important this game is, and being a senior this year, I understand completely what they meant and how it feels to win."