High School:

Marian Catholic
August, 16, 2013
8/16/13
7:40
PM CT
Marian Catholic senior point guard
Tyler Ulis
received an offer from
Kentucky
while on an unofficial visit on Friday, according to his father.
Ulis, a 5-foot-9 point guard from Matteson, Ill., recently named
Iowa
Kentucky,
Michigan State
and
USC
his four finalists. He had previously received offers from the other three other schools, but not from Kentucky.
"[Kentucky made the list because] of the success they have had there recently," Ulis' father, James Ulis, recently said when his son cut his list. "John Calipari has produced the most point guards in recent years and has taken them right to the NBA. He obviously knows how to coach point guards. He knows how to put them in positions to lead the team. He's a tough coach. There's accountability from Day 1 to win and win at a high level."
Ulis is ranked No. 38 overall and the No. 8 point guard in the Class of 2014 by ESPN.
August, 8, 2013
8/08/13
9:24
PM CT
Marian Catholic senior point guard
Tyler Ulis
named Iowa, Kentucky, Michigan State and USC as his four finalists on Thursday, according to his father.
Ulis, a 5-foot-9 point guard from Matteson, Ill., is ranked No. 38 overall and the No. 8 point guard in the Class of 2014 by ESPN. He eliminated DePaul, Florida State, Northwestern and Purdue from the schools he was considering.
[+] Enlarge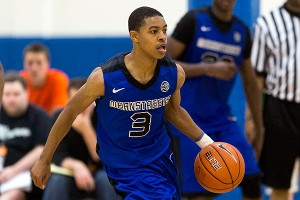 AP Photo/Damen Jackson/Triple Play New Media
DePaul, Florida State, Northwestern and Purdue are out for point guard Tyler Ulis, who has narrowed his prospective college choices to Iowa, Kentucky, Michigan State and USC.
"It's been a long time coming for him," Ulis' father, James Ulis, said in a phone interview on Thursday night. "He always felt like he could play at this level. It's nice for him to be rewarded and people can see it."
Ulis holds offers from Iowa, Michigan State and USC, but not from Kentucky. James said Kentucky coach John Calipari has expressed interest in Ulis and believes an offer could be coming.
"There's mutual interest," James said. "We've had the opportunity to talk to Coach Calipari, and they basically said Tyler is a great point guard, great leader and they would love to give him an opportunity to run their program. Coach Cal wants to get to know Tyler and us to get to know him."
Kentucky made the list because of its recent successes, James Ulis said.
"John Calipari has produced the most point guards in recent years and has taken them right to the NBA," he said. "He obviously knows how to coach point guards. He knows how to put them in positions to lead the team. He's a tough coach. There's accountability from Day 1 to win and win at a high level."
While Kentucky is the newest suitor of Ulis, Iowa has been on him the longest.
"What I love about [Iowa coach Fran McCaffery] is from the beginning he clearly stated Tyler was the point guard to lead his team," James said. "What is being said about Ty now is what Fran said about him last year. We also like the offense that Fran runs, and Fran is just a great guy. Tyler will get an opportunity to play the style he wants to play."
Style also factored in Ulis' decision to keep USC on his list. Ulis was attracted by the fast-paced game USC coach Andy Enfield used while previously at Florida Gulf Coast.
"Tyler really loves his offense, that open style of game -- pass, run-and-gun and open space," James said. "They get up and down the court. They get after it. He's coached in the NBA and obviously has some shooting videos out. He's a great shooting coach. I think for Ty to go to the next level he has to knock down the 3 consistently."
Michigan State also made the cut for a variety of reasons.
"Michigan State, obviously the tradition at point guard; I'm a big Magic Johnson fan," James said. "They've won. They're had success. You want your kid to play for Coach [Tom] Izzo. They always get some really good players. Obviously the family tie, [Tyler's cousin] Travis Walton played there."
James said no in-state schools made his son's final list because the other schools were better fits. DePaul and Northwestern had been recruiting Ulis, and his family created relationships with DePaul coach Oliver Purnell and Northwestern coach Chris Collins. The family also recently heard from Illinois, but James said it was too late in the process to consider Illinois.
"Illinois recently reached out to us concerning Tyler," James said. "It would be tough to go that direction because they were going another direction before. We respect that. I didn't know the reason they hadn't approached Tyler [previously]. We were told they weren't going to recruit another point guard in 2014. Once Tyler did what he did [on the club travel scene], Coach [John] Groce reached out."
James said his son plans to set up official visits in September and decide on a school before the early signing period in November.
November, 18, 2011
11/18/11
9:10
PM CT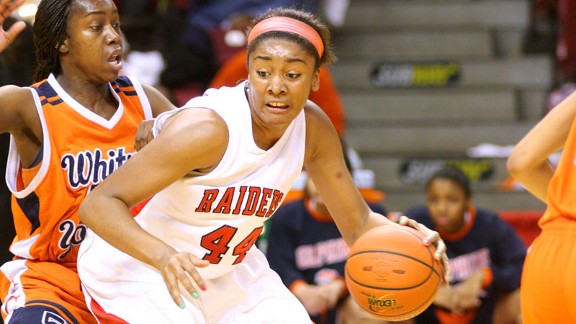 Scott Powers / ESPNChicago.comtbd
1. Bolingbrook:
The Raiders are shooting for their fourth consecutive state title this season, but they also are seeking something even bigger. They want to be the No. 1 team in the country. "That's the kids' goal," Bolingbrook coach Anthony Smith said. "They want to finish off the season No. 1." From top to bottom, Bolingbrook is as talented as ever. It had eight players sign recently with Division I programs. That list is led by senior forward
Morgan Tuck
, who is headed to Connecticut. She averaged 21 points last season. Forward
Cabriana Capers
(Auburn), forward
Nia Moore
(Illinois), forward Annaya Moore (UAB), forward ChaRosese Williams (Stetson), guard Keiera Ray (Pennsylvania), guard Allie Hill (Texas-Pan American) and guard DeLacy Anderson (George Washington) are also signed. Bolingbrook will have to replace ESPNChicago.com 2010 player of the year
Ariel Massengale
, who now plays at Tennessee, and hope to do so with junior
Kennedy Cattenhead
.
2. Whitney Young:
The Dolphins haven't been able to get past Bolingbrook the past three seasons. Last year's Class 4A semifinal game was an instant classic with Bolingbrook pulling out a 50-49 win. They'll be the favorites to get another shot at the defending champs. Whitney Young will be led by its backcourt of
Linnae Harper
, one of the country's top juniors, and
Janee Thompson
, a nationally-ranked senior and Kentucky recruit. Whitney Young will also look to sophomores Khaalia Hillsman and Taylor Brame and seniors Tessa Haldes and
Alexis Lloyd
.
3. Trinity:
The Blazers are looking to make that jump into the state's elite teams this season and appear to have the talent and experience to do so. They went 29-4 last season and return DePaul recruit and all-area selection
Megan Podkowa
, who averaged 17 points and nine rebounds last season, junior guard Taylor Nazon, who averaged 11 points, senior guard
Alyssa Dengler
, junior forward Shannon McGinnis and senior center Vickie Harris. Lauren Prochaska and Mikayla Leyden should also contribute.
4. Maine South:
The Hawks pulled off one of last season's biggest upsets when they knocked off Whitney Young in the Class 4A third-place game. Whitney Young may not have been as motivated after losing in the semifinals to Bolingbrook, but it still was a big win for Maine South and could propel it this season. The Hawks return all five starters and their top six players from last year's team. Senior guard
Michelle Maher
, who has signed with Western Illinois, and junior forward Jacqui Grant, who has an offer from DePaul, both averaged around 12 points last season.
5. Marist:
The RedHawks look to be a state contender this season with all five starters back from last year's squad that went 27-6 and lost to Marian Catholic in a Class 4A sectional championship game. Among Marist's returnees is junior guard JeTaun Rouse, who was the lone sophomore on last year's ESPNChicago.com all-area team. The other returning starters are seniors
Randyll Butler
, a Colgate recruit, and
Asianna Bey
, a Memphis recruit, and juniors Leah Bolton and
Claire Ryan
. All five starters will likely play Division I basketball.
6. Hillcrest:
The Hawks have finished second in Class 3A the last two years. The goal this season is finally to win the title. They return four starters and four key reserves from last year's 29-3 team. The group is led by Seton Hall recruit and all-area selection Shanise Heady and Southern Mississippi recruit
Samirah Ali
. Seniors
Jasmine Sanders
and
Jahmia Phillips
also are returning starters.
7. Morgan Park:
The Mustangs return three of their top players from last season's 27-5 team. Morgan Park will be led by small forward
Kendyl Nunn
, a Toledo recruit, center
Gabrielle Richmond
, a St. Bonaventure recruit, and point guard Debra Jenkins, the glue of the team. Sophomore guard Shami Goodman and freshman Marsha Howard are also expected to receive major minutes. Morgan Park's sophomore team won the city championship last year.
8. Montini:
The Broncos graduated four starters, including three Division I players, from last year's Class 3A state championship team. This is a program that reloads, though. Senior forward Tianna Brown is the lone returning starter, and she averaged eight points last season. Center
Diamond Thompson
was just a contributor on last year's team, but recently committed to Notre Dame.
Nikia Edom
, a versatile 5-6 junior, and forward
Malayna Johnson
will also contribute this season. Some of the newcomers to watch will be sophomores
Jasmine Lumpkin
,
Kelly Karlis
,
Kateri Stone
and Sara Ross and freshmen Kelsey Bogdan and
Rainey Kuykendall
.
9. Bartlett:
The Hawks lost all-area selection
Jacki Gulczynski
to graduation, but still return plenty of talent and depth from last year's 28-2 team. The group is led by
Haley Videckis
, an Indiana recruit, who averaged 10 points last year. Senior Kristin Conniff also averaged 10 points last season. Bartlett also returns forward Lisa Palmer and guard Janessa Baker. Seniors Ashley Johnson, Nicole Gobbo, Natalia Grodzki and Kate Gutzwiller will also be looked to this season. Videckis' sister Kendra, a sophomore, will also play on varsity this season.
10. Waubonsie Valley:
The Warriors return five starters from last year's 24-5 team. Senior guard Tami Morice leads the returnees after averaging 13 points last season.
Becky Williford
, Eric Jordan,
Rachael Ross
and Gratia Brooks are also back. Williford will be back from ACL surgery in December. Waubonsie Valley will also look to a sophomore and three freshmen to contribute this season.
11. Niles West:
The Wolves only have two returning starters, but one of them is
Jewell Loyd
, and that's all that matters. Loyd, a Notre Dame recruit, is one of the nation's most electrifying players. She averaged 30 points, 15 rebounds, four assists, four steals and three blocks last season. She gives Niles West a chance in every game. For it to truly compete for a state title, it'll need junior guard Molly Kleppin, the other returning starter, senior Jackie Cardena, sophomores Dashae Shumate and Alex Galanopoulous and others to contribute as much as they can.
12. Lincoln-Way East:
The Griffins should again be one of the area's top teams this season after going 25-6 last year. They return Loyola recruit
Taylor Johnson
, who averaged 13 points last season, and senior center Caitlin McMahan, who had 10 double-doubles last year. Senior Amy Jacobsen and juniors Meaghan McMahon and Natalie Hill should be key contributors this season as well.
13 Zion-Benton:
The Zee-Bees are coming off their second-place finish in Class 4A. They return all-area selection Octavia Crump, who averaged a near double-double last season, sophomore guard Samantha Rodriguez, who started as a freshman, senior Aaliyan Smith, senior guard Morgan Franklin, and junior guard Kaitlyn Stabenow, the team's best shooter. Senior Jessica Williams didn't play basketball last season, but was the sophomore team's MVP two years ago. She'll be heavily relied on this season.
14. Fremd:
The Vikings should possess one of the state's best backcourts with senior shooting guard Jessi Wiedemann, a Valparaiso commitment, and junior point Ashley McConnell returning and the arrival of highly-touted freshman point guard
Haley Gorecki
. Fremd is coming off a 25-7 season and lost just one game this summer.
15. Fenwick:
The Friars could be the most entertaining team to watch this season. Coach Dave Power is going full run-and-gun this year. His goal every game is to take almost 80 shots, including 40 3-pointers. Fenwick will be led by senior forward and Yale recruit
Meredith Boardman
, sophomore point guard Jade Owens, junior guard Maggie Reilly and senior guard Marek Burchett.
16. Geneva:
Sarah Meadows replaces longtime coach Gina Nolan this season. Meadows will have a lot to work with this season.
Ashley Santos
, a Marquette recruit, will be the Vikings' go-to player. She averaged 15.8 points, 5.7 rebounds, 3.2 steals and 1.1 blocks last season. Geneva also returns starting guard Rachel Hinchman and junior forward Sami Pawlak from last year's 25-7 team. Sophomores
Michaela Loebel
and
Morgan Seberger
should also contribute this year.
17. Homewood-Flossmoor:
After winning 22 games in coach Dana Noble's first year, the Vikings are out for more this year. They'll be led by 5-10 guard
Charnelle Reed
, who averaged 13 points, 3.6 rebounds, three assists and 2.4 steals last season. They also return junior guards Syndi Johnson and
Lauren Parker
and senior forward
Amena Brent
.
18. New Trier:
The Trevians were a bit of a rollercoaster last season. With nine seniors and 12 returnees back this season, they hope to be up more than down. The group is led by 6-1 guard
Maggie Lyon
, a Northwestern recruit, who averaged 17 points, eight rebounds and four assists last season. Senior forward Jessica Blackwell also averaged eight points and six rebounds last year.
19. Marian Catholic:
The Spartans graduated a bulk of their talent, but this won't be a rebuilding season. Their roster is full of young and talented players. Among those upcoming stars are sophomore guard Ashton Millender, sophomore guard Brianna Morrison and freshman guard Teniya Page. Seniors
Alanna Ferry
,
Amber Williams
and
Sarafina Handy
and junior Megan Walsh are back from last season, and their leadership will be key.
20. Cary-Grove:
The Trojans hope to carry over the momentum of last year's playoff run, which ended in a narrow sectional loss to Geneva. Cary-Grove returns three starters -- senior versatile guard Paige Lincicum, junior forward
Olivia Jakubicek
and junior guard Joslyn Nicholson -- from that 27-4 team.
July, 18, 2011
7/18/11
9:55
PM CT
Montini coach Chris Andriano was prepared for another offseason quarterback competition heading into this summer.
After winning their second consecutive Class 5A state championship last season, starting quarterback Matt Westerkamp graduated. The Broncos were in the same position after winning the 2009 title when they had to replace graduating quarterback
Brandon Pechloff
.
Just as Andriano was getting ready to begin his evaluation of his early candidates, unexpected news changed Montini's situation.
[+] Enlarge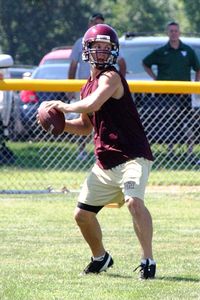 Scott Powers for ESPN.comMontini filled its quarterback job this summer with former Marian Catholic starter John Rhode.
John Rhode, who had been Marian Catholic's starting quarterback the past two seasons, transferred to Montini in June for his senior year after his family moved into the area. Like that, Montini had found its starting quarterback, and for the past month, Rhode and the Broncos' talented wide receivers have quickly found their groove.
Throughout July, Montini's 7-on-7 offense has proven to be one of the area's most potent while competing in some of the state's premier events, including at Bolingbrook, Downers Grove South and Wheaton Warrenville South. At last week's Red Grange Classic at Wheaton Warrenville South, the Broncos went 6-1 with their only loss coming to defending Class 8A state champion Maine South in the title game.
Montini's offensive success behind Rhode has arrived sooner than Andriano expected.
"He has in a short period of time come in and picked up our offense really quickly," Andriano said. "He's been awesome. Our pass offense is lights out right now. It's really good.
"He's got such a presence. He's smart. He's quiet, but he's smart. He's a playmaker. He's got touch. He's accurate. He knows the offense already and it's been three weeks."
Last season, Rhode completed 52 of 123 passes for 801 yards and threw nine touchdowns and three interceptions. He helped Marian Catholic to the Class 7A playoffs, where it lost to Wheaton North in the first round.
At Marian Catholic, the offense was dominated by the run. The Spartans ran the ball 381 times last year and passed it 124.
At Montini, Rhode will pass the ball more than he's ever done before. Last season, the Broncos threw the ball 228 times, and their quarterback led the team in rushing carries.
Rhode has enjoyed the extra responsibility already.
"It's real fun," Rhode said. "It's all about the quarterback and the receivers. They have to have a great relationship. I feel we have it. I fit in well with what they need. They needed a strong-arm quarterback, and I think I bring that to the table."
Montini senior wide receiver
Jordan Westerkamp
, a
Nebraska Cornhuskers
recruit, has been impressed so far with his new quarterback.
"We're glad to get him," said Westerkamp, who had 89 receptions for 1,631 yards and 21 touchdowns last season. "He's a great quarterback. He's got an unbelievable arm. He's already lighting it up.
"All of our receivers were starters last year, so we didn't have to restart everything and relearn everything. John is doing an unbelievable job coming in here and understanding it. It's great to have John."
With Rhode now slated to be the starter for the 2011 season, Montini will attempt to win its third consecutive state championship with its third different quarterback.
"It would be crazy to do it again," Westerkamp said. "I think we can."
Rhode was just as optimistic.
"It's an awesome possibility," Rhode said. "It's an opportunity I always wanted. Hopefully, we get it."
March, 1, 2011
3/01/11
4:54
AM CT
CHICAGO -- History repeated itself on Monday, which was good news for Whitney Young and bad news for Marian Catholic.
For the third consecutive season, Whitney Young ended Marian Catholic's season and advanced to the state semifinals by winning the Class 4A St. Xavier super-sectional title. The No. 2 Dolphins defeated No. 4 Marian Catholic 74-52 on Monday.
[+] Enlarge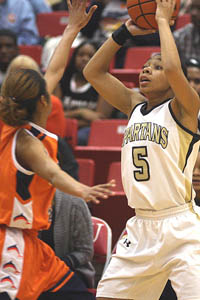 Scott Powers/ESPNChicago.comMarian Catholic's Brianna Morrison looks to pass during their loss to Whitney Young on Monday.
Whitney Young's victory sets up the game everyone has been waiting for the whole season. The Dolphins (31-4) will meet No. 1 Bolingbrook (26-2) in the Class 4A state semifinals at Illinois State on Friday. Bolingbrook defeated Edwardsville 59-45 in the Illinois Wesleyan super-sectional on Monday.
Whitney Young and Bolingbrook have met in the last three state championships. The Dolphins defeated Bolingbrook 54-45 in 2008. The Raiders won 53-29 in 2009 and 60-50 in 2010.
"We weren't looking past Marian Catholic," Whitney Young senior guard
Kiana Johnson
said. "We knew we had to beat them if we were going to go downstate.
"We definitely haven't met our goal. Marian Catholic was one more team we had to beat to get to our goal. Bolingbrook is up next. We have to beat them to get to the state championship."
Most of the questions Whitney Young's players and its coach Corry Irvin took following their win were about their upcoming rematch against Bolingbrook rather than the game they had just won.
"We have nothing to lose," Irvin said of Bolingbrook. "They're the defending champs."
"It's fun playing them three years in a row," Dolphins senior guard
Chanise Jenkins
said of Bolingbrook. "We know what we have to do. I'm just saying we have to play defense, defense, defense."
Defense was what keyed Monday's victory over Marian Catholic (30-5).
At first, it appeared as if Monday's game was going to be similar to the one where the Dolphins needed two overtimes to beat Marian Catholic two years ago. Whitney Young led 13-11 after one quarter and held just a four-point advantage with 5:25 remaining in the second quarter.
From that point, the game changed and became more like last year's 17-point Dolphins' win. With Whitney Young's defense pressuring Marian Catholic and its offense pushing the ball quickly, the Dolphins closed the half on a 16-4 run and took a 37-21 lead into halftime.
Whitney Young's Division I backcourt of Jenkins, a DePaul recruit, and Johnson, a Michigan State recruit, were the difference in the decisive second quarter. Jenkins scored eight of her team-high 19 points in the quarter, and Johnson had five points, three rebounds and four assists.
Johnson just missed a triple-double. She finished with 16 points, six rebounds and 10 assists.
"Whitney Young is a good team," Marian Catholic senior
Simone Law
said. "If we tried to stop the drive, they made jump shots. If we tried to stop the jump shot, they drove."
Law, Marian Catholic's star player, had a slow first half, but made up for it in the second half, scoring 19 of her 21 points in the final quarters. She also had 11 rebounds.
Jasmine Matthews
scored 21 points and grabbed seven rebounds for the Spartans.
Linnae Harper
(13 points, seven rebounds),
Alexis Lloyd
(nine points, six rebounds) and
Sinclair Cunningham
(seven points, six rebounds) contributed for the Dolphins.
October, 19, 2010
10/19/10
3:20
AM CT
Another week of prep football is in the books. Here's a quick look at some of the Week 8 stars.

Powers' playmakers:

1) Joliet Catholic senior Josh Ferguson rushed for 257 yards and four touchdowns on 17 carries in the Hilltoppers' win over Marist.

2) Travis Kern was Wheaton Warrenville South's go-to receiver in the Tigers' 49-6 win over Glenbard North. Kern had eight receptions for 137 yards and two touchdowns.

3) Elk Grove fell to Prospect 42-41 in overtime, but the loss wasn't for Nick Meyer's effort. He was 26-for-41 passing for 288 yards and ran for 148 yards and six touchdowns.

4) Mount Carmel quarterback Chris Sujka has been carrying the Caravan the last couple of weeks. He had touchdown runs of 17 and 81 yards and threw a touchdown pass in Mount Carmel's 52-7 win over St. Laurence on Friday.

5) Glenbrook North's Grant Rushing lived up to his name in the Spartans' 48-0 win over Maine East on Friday. Rushing rushed for a game-high 149 yards and three touchdowns.

Defensive delights:

1) In a spin on things, Lake Forest's defense shut out Vernon Hills 21-0 on Friday, snapping Vernon Hills' shutout streak at seven games. The Cougars had outscored opponents 310-0 before Friday's loss.

2) Glenbard West's Mike Laning intercepted two passes in the Hilltoppers' 47-7 win over Downers Grove North.

3) Bartlett's Demetrius Coleman recovered two fumbles in the Hawks' 25-23 win over Neuqua Valley.

4) Wheaton North's Andy Dietz had two interceptions in his team's 14-7 win over Naperville North.

5) Lemont's Clayton Fejedelem intercepted a pass and returned a punt for an 80-yard touchdown in the Indians' 44-0 win over Thornton Fractional North.

Five-star football:

1) Crystal Lake South 28, Cary-Grove 14: The Gators won their first Fox Valley Conference division title since 1993, and they were able to do it by knocking off rival Cary-Grove.

2) Joliet Catholic 49, Marist 42: Playing in the memory of teacher and basketball coach Jeremy Izzo, who recently passed away, the Hilltoppers pulled out an emotional win over Marist. Quarterback Breshion Tucker, who also played basketball for Izzo, threw three touchdowns in the victory.

3) Schaumburg 35, Palatine 27: Mark Iannotti and Shepard Little combined for 357 rushing yards and four touchdowns to propel the Saxons.

4) Fremd 26, Barrington 12: The Vikings kept themselves alive for the postseason with their upset win over previously-unbeaten Barrington. Fremd has made 15 consecutive playoff appearances and needs to still win one more game to keep that streak alive.

5) Marian Catholic 29, Nazareth 28: John Rhode hooked up with Randall Wells for a 40-yard touchdown pass as time expired to give the Spartans the win.


October, 8, 2010
10/08/10
12:02
AM CT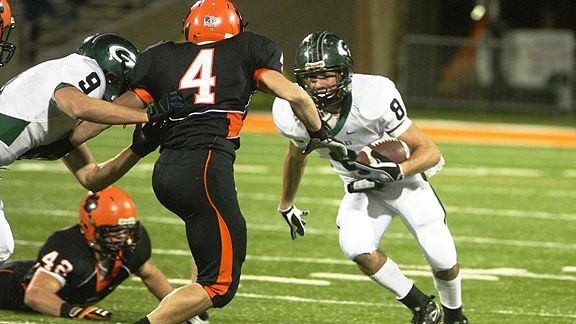 Scott Powers/ESPNChicago.com Glenbard West's Nick Burrello has more than 1,500 all-purpose yards this season.
No. 3 Glenbard West (6-0) at No. 20 York (6-0) on Friday
The story:
York has been one of the year's more surprising teams. After going 4-5 last year, the Dukes are off to their best start in school history and are coming off a big win over previously unbeaten Lyons. Despite their success, Glenbard West will still be a grand challenge. The Hilltoppers have been ranked in the top 5 all season and are dominant on both sides of the ball. York should benefit from being at home. ESPN 1000 will be in attendance.
Glenbard West player to watch:
Nick Burrello is in the running for the ESPNChicago.com Player of the Year award. He's dangerous in the running, passing and return game.
York player to watch:
Running back Ryan Kent leads York's offense. He ran for 180 yards and two touchdowns on 31 carries in last week's win.
Quotes:
"[Nick Burrello] has always had great speed, but now he has the vision to go along with it. He's played really confident and has had over 1,500 all-purpose yards." -- Glenbard West coach Chad Hetlet
"Ryan Kent is a kid who works hard, and he' s really matured over the years he has been at York. I think there is a solid cohesiveness within this group that makes them special." -- York coach Bill Lech
Prediction:
Glenbard West 34, York 21
No. 12 Vernon Hills (6-0) at Grant (3-3) on Friday
The story:
Vernon Hills has outscored its opponents 290-0. The 290 points scored was expected. The zero points allowed was not. The Cougars look to extend their unlikely shutout streak against Grant in a North Suburban Prairie game. The Bulldogs have put some points up this season. They've scored more than 40 twice and have 178 points on the season.
Vernon Hills player to watch:
DaVaris Daniels, who is committed to Notre Dame, is among the front-runners for the ESPNChicago.com Player of the Year award. He does a lot of everything for Vernon Hills.
Grant player to watch:
Fullback Steven Niewiedzial has been racking up yards and touchdowns all year. He ran for 244 yards and three touchdowns in a win two weeks ago.
Quote:
"Over the years our two programs have been the most consistent in the Prairie and [it] has kind of become our rivalry game. Everyone knows to win the Prairie you have to beat two teams, Grant and Vernon Hills. Two years ago, we beat them in the regular season and then they knocked us out in the playoffs in double overtime. We expect it to be a hard-hitting rivalry game Friday night with a playoff-type atmosphere." -- Vernon Hills coach Tony Monken
Prediction:
Vernon Hills 38, Grant 10
Waubonsie Valley (5-1) vs. Neuqua Valley (4-2) at North Central College on Friday
The story:
This is a key game in the Upstate Eight Valley. Waubonsie Valley is still undefeated in the conference, and Neuqua Valley is only a game back. Waubonsie Valley has been faced with a handful of injuries and illnesses over the past few weeks and have handled them well. Quarterback Matt Schapen has filled in for Tom Kolzow (concussion) the past three weeks and has kept the Warriors afloat. Neuqua Valley lost to South Elgin two weeks ago, but bounced back with a 42-0 win over Metea Valley last week. Both teams have quality defenses.
Waubonsie Valley player to watch:
Sophomore linebacker Austin Lacke is one to watch for the future. He's been among the Warriors' top defensive players this season.
Neuqua Valley player to watch:
Safety Sami Khalil is among the Wildcats' best defensive players. He had two interceptions, including one for a touchdown, in last week's win.
Quote:
"Our defense is averaging three turnovers per game. When they give the offense great field position, it is a lot easier to score. Our offense has also been able to get big plays during the games as well. So we basically can score from anywhere on the field, which makes it harder for the defenses to defend us." -- Waubonsie Valley coach Paul Murphy
"We have been playing well in all aspects of the game. Our defense has shown the ability to stop the run, and our offense has had success running the ball. When a team is able to do both of those things, it will have success." -- Neuqua Valley coach Bryan Wells
Prediction:
Waubonsie Valley 24, Neuqua Valley 21
Bolingbrook (4-2) at No. 9 Lincoln-Way East (5-1) on Friday
The story:
The Southwest Suburban Blue will likely be decided by this game. Lincoln-Way East has a one-game lead on Bolingbrook and Homewood-Flossmoor. The Griffins have already defeated Homewood-Flossmoor and will now host Bolingbrook. The Raiders will again be without quarterback Aaron Bailey, who also missed last week's loss to Homewood-Flossmoor with an ankle injury. Lincoln-Way East junior Blake Winkler is quickly becoming one of the area's better quarterbacks.
Bolingbrook player to watch:
Quarterback DJ Pruitt has been making strides since taking over for Bailey. He'll look to take another step in his progress against Lincoln-Way East.
Lincoln-Way East player to watch:
Wide receiver J.J. Robertson had two touchdown catches of 50-plus yards last week. He's one of the area's top wide receivers.
Quotes:
"Quarterback Blake Winkler has shown tremendous progress. He has stepped up time and time again in crucial situations and made the big plays. Most impressive is the way he responds to adversity or a negative play. He lets it go and usually makes a very positive play soon after." -- Lincoln-Way East coach Rob Zvonar
"No turnovers and being able to run the ball are the keys to the game." -- Bolingbrook coach John Ivlow
Prediction:
Lincoln-Way East 31, Bolingbrook 17
Minooka (5-1) at Plainfield North (5-1) on Friday
The story:
Two of the state's best running games will be on display in this Southwest Prairie matchup. Plainfield North running back Kapri Bibbs has ran for nearly 2,000 yards despite missing the season's first game and is coming off a state-record 520-yard performance. No one has been able to stop him this season. Minooka has a number of players capable of carrying the ball. Running backs Kalvin Hill and Kyle Banks and quarterback Mitch Brozovich have all been dangerous. Minooka's only loss was to undefeated Plainfield South. Plainfield North lost in its season-opener against West Chicago without Bibbs.
Minooka player to watch:
Indians running back Kalvin Hill rushed for 217 yards and two touchdowns in last week's win over Oswego East.
Plainfield North player to watch:
Kapri Bibbs is putting together an incredible season. He'll be playing at Colorado State next season.
Quotes:
"We won't stop Kapri, but we do hope to limit his touches. We also hope to limit his long plays. Our offense must put long scoring drives together that eats up clock. Special teams must play well. We are a much better football team than we have shown. We are still waiting to throw the ball consistently and kick the ball consistently. We need to improve our third-down defense and reduce the number of big plays on defense." -- Minooka coach Bert Kooi
"We need to find a way to stop their powerful running game. They have four very good weapons in the backfield. Their quarterback does an outstanding job faking and running the ball. Obviously, Minooka will be very aware of Kapri and have a game plan to stop him. We will need to make necessary in-game adjustments to be able to move the ball." -- Plainfield North coach Tim Kane
Prediction:
Plainfield North 55, Minooka 49
No. 4 Carmel (6-0) at Marian Catholic (5-1) on Friday
The story:
Carmel faces another difficult test as it travels to face Marian Catholic in the East Suburban Catholic matchup. Carmel is undefeated with a combination of strong offense and defense. The Corsairs lead the conference with 243 points scored and 78 points allowed. Marian Catholic enters the game on a five-game winning streak after losing to Homewood-Flossmoor in Week 1. Spartans coach Dave Mattio has been pleased with his team's effort, but said it has yet to put together a "signature" win, which he described as a "contest played with 48 minutes of intensity if all three phases of the game."
Carmel player to watch:
Running back Jordan Kos has been a nightmare for defenses for much of the season. He had 168 yards and two touchdowns last week.
Marian Catholic player to watch:
Junior running back Jeruel Taylor has a big reason for the Spartans' success. He had 221 yards in last week's 31-27 win over Crete-Monee.
Quotes:
"We need to run the ball well and prevent Marian from having big plays. We need to be sure their skilled backs do not have 20-yard-or-more plays. -- Carmel coach Andy Bitto
"Carmel plays with a great deal of energy and confidence. It is important for Marian Catholic to play with the same two attributes from the start of the contest. There have been a number of contests this year where the Spartans have shown a resiliency to come back from a deficit or to make big plays to change momentum of a contest." -- Marian Catholic coach Dave Mattio
Prediction:
Carmel 35, Marian Catholic 20