High School:

Northern Illinois Huskies
June, 11, 2012
6/11/12
6:20
PM CT
Northern Illinois
will host the Illinois state football finals in odd-numbered years from 2013 to 2021 the Illinois High School Association announced Monday.
Memorial Stadium in Champaign will continue to be the site of the championship games in even-numbered years. The schedule switch was necessitated by a change in the Big Ten Conference football schedule that will have
Illinois
playing home games on the IHSA state final weekend in odd years.
Southern Illinois
and
Illinois State
had also submitted bids to host the finals.
April, 18, 2012
4/18/12
12:03
AM CT
The Illinois High School Association board announced Tuesday it will decide at its June meeting between three sites to host the state football finals in odd years beginning in 2013.

The board will chose between bids for the football stadiums at Illinois State, Northern Illinois and Southern Illinois.

The state finals have been held at Memorial Stadium in Champaign since 1999, but the stadium will be required by the Illini football team every other year on the days of the state finals because of a change in the Big Ten's scheduling.

Sites specifications included having a minimum of 12,000 seats and artificial turf field.
April, 17, 2012
4/17/12
1:23
PM CT
Waukegan senior guard
Akeem Springs
has committed to Northern Illinois.
Springs, a 6-4 guard, chose the Huskies over UIC. Springs previously made commitments to Tennessee State and Mississippi Valley State and decommitted from both schools.
"It's a tiring process," Springs said of his recruitment on Tuesday. "I remember my first letter coming from Kentucky when Tracy Webster was there. I was excited at the start, but the process is tiring. You feel like you're being sold a car every day. I'm definitely happy to be over with it and move past it."
Springs averaged 17 points, eight rebounds and two assists for Waukegan this past season.
"I can give them a big guard who can play a bunch of positions, a guy who can play defense and score from different spots on the court," Springs said.
Springs is the sixth player to join Northern Illinois' Class of 2012.
Northern Illinois went 5-26 last season in Huskies coach Mark Montgomery's first year. The Huskies' roster included seven freshmen and sophomore last year.
January, 31, 2012
1/31/12
11:54
PM CT
Here's an in-depth look at Northern Illinois' 2012 football recruiting class:
Top prospect - Marian Central offensive guard Scott Taylor received the highest ESPN recruiting grade (79) of Northern Illinois' recruits. Taylor is 6-foot-3 and 270 pounds and has been described as "having a toughness about him" and being "well coached." Northern Illinois' offense was stellar this past season largely because of its offensive line. Taylor should be a key piece to the line in years to come.
Building the line - Northern Illinois also appears to have another key offensive line piece in Levon Myers, who is 6-5 and 260 pounds. Myers, an offensive tackle, received a late offer from Wisconsin, but he decided to stick with Northern Illinois.
[+] Enlarge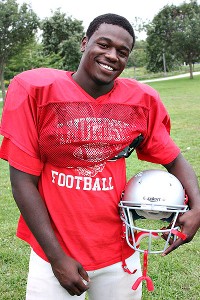 Scott Powers/ESPNChicago.comOriginally from Jamaica, Desroy Maxwell picked up the sport in high school and added three inches and 50 pounds during his four years at Amundsen.
Sleeper prospect - Amundsen's Desroy Maxwell has only played organized football for four years. Originally from Jamaica, he picked up the sport in high school and added three inches and 50 pounds during his four years at the Chicago-based school. He played wide receiver, linebacker and kicker for his high school team. He could be a special player down the road.
Defensive star - Northern Illinois has high hopes for Neuqua Valley defensive end Michael Ippolito. He drew rave reviews over the summer and had a strong high school season in Illinois.
Home-grown talent - Eleven of Northern Illinois' 18 recruits come from Illinois. Comparably, both Northwestern and Illinois have four in-state recruits.
Future quarterbacks - Northern Illinois feels good about both of the quarterback recruits it has coming in. Drew Hare is 6-2 and 190 pounds from Missouri. Matt Williams is 6-2 and 190 pounds from Illinois. Both could have a shot along with freshman Matt McIntosh at the starting position after Jordan Lynch graduates.
Late steal - O'Fallon linebacker Mike Cotton decommitted from Indiana and recently committed to Northern Illinois. Cotton, who is 6-4 and 220 pounds, has good size and tackling ability. He had a team-high 79 tackles, five sacks and a fumble recovery this past season. He could be a big-time player for the Huskies.
Running back tradition - Northern Illinois has produced its share of quality running backs, including Garrett Wolfe, Michael Turner and Chad Spann. The Huskies are hopeful Romeoville's Perez Ford could be another star in the making. Ford has size and speed. He's 6-2 and 225 pounds, and he's run the 100-yard dash in 10.5 seconds.
Scouts take - ESPN Midwest recruiting analyst Jared Shanker said, "The MAC champion Huskies are doing well on the recruiting front in coach Dave Doeren's first full recruiting class. Doeren was able to get a steal in three-star guard Scott Taylor, ranked No. 28 in the country at his position and No. 9 in Illinois. Taylor received interest from BCS schools and had an offer from Cincinnati. The biggest surprise is the Huskies found a way to hold on to Levon Myers, a Wisconsin native who received a late offer from the in-state Badgers.
November, 22, 2011
11/22/11
9:39
PM CT
Julian senior linebacker Ladell Fleming has committed to Northern Illinois.

Fleming, who is 6-foot-1 and 210 pounds, committed to the Huskies over interest from Ball State and Minnesota. He had a team-high 115 tackles, seven sacks and two interceptions for Julian this season.

"He's an aggressive, sideline-to-sideline type of linebacker," Julian coach Jason Richardson said. "He's just a smart player who makes plays. He was really flying under the radar. I think if he had got out earlier he would have got some really big offers. I think he's a steal.

"I think he's one of the best linebackers to come out of the city, and that includes Catholic and public schools."

Fleming was impressed by Northern Illinois as a whole.

"I just like the way they do things around there," Fleming said. "I think I fit in great there. I felt like I was part of a family up there."

Northern Illinois now has 12 Class of 2012 commitments.
September, 26, 2011
9/26/11
11:10
PM CT
Neuqua Valley senior defensive end
Michael Ippolito
has committed to
Northern Illinois
.
Ippolito, who is 6-4 and 240 pounds, chose the Huskies over
Central Michigan
,
Toledo
and
Western Michigan
.
"It's a good hour from home, so my parents can make it up," Ippolito said on Monday. "The coaching staff was huge in my decision. They were really big in my recruiting process. They just took me in as another part of their family."
Ippolito has often been schemed against this season, but he still has 29 tackles, four tackles for loss, three sacks and one fumble recovery for Neuqua Valley. He had 75 tackles and 10 sacks last season.
Ippolito is expected to play defensive end in college.
"With my length, my arms, I'm really good with my hands," Ippolito said. "Speed-wise, I'm really quick off the ball."
Northern Illinois has eight Class of 2012 commitments, including five from Illinois.
August, 1, 2011
8/01/11
3:27
PM CT
Romeoville senior running back
Perez Ford
has committed to Northern Illinois.
Ford, who is 6-2 and 220 pounds, chose the Huskies over Indiana and Western Michigan.
"I was attracted to their history of running backs," Ford said. "They've had
Michael Turner
and the last two years
Chad Spann
. They've been having great running backs. I see myself being the next one."
Ford qualified for Illinois track and field state meet in the 100-meter and 200-meter dashes last season. He also recently ran a 4.39-second 40-yard dash.
"I'm a hard runner," said Ford, whose goal is 1,000 rushing yards this upcoming season. "I like to lower my shoulder and stiff arm. People who haven't seen me run, I can get in the open field and break it."
Northern Illinois now has six Class of 2012 commitments.
July, 5, 2011
7/05/11
7:13
PM CT
Marian Central Catholic offensive lineman Scott Taylor has committed to Northern Illinois.
Taylor, who is 6-3 and 280 pounds, also considered Bowling Green and Toledo. He is ranked the No. 24 offensive guard in the Class of 2012 by ESPN Recruiting.
"It's just the right fit for me," Taylor said on Monday. "It's about 45 minutes down the road from my house. My mom graduated from NIU. Former players from our conference went there.
"I think [Northern Illinois first-year] coach [Dave] Doeren is a great coach. I think we'll continue winning up there. I'm looking forward to it. I'm extremely excited about it. I think NIU could be a killer team."
Taylor plays offensive tackle for Marian Central, but he expected to be a guard or center at Northern Illinois.
Northern Illinois now has five Class of 2012 commitments.
May, 24, 2011
5/24/11
11:34
PM CT
May, 21, 2011
5/21/11
1:23
AM CT
Niles North senior forward
Abdel Nader
has committed to
Northern Illinois
.
Nader, a 6-7 small forward, was one of Illinois' top Class of 2011 recruits. He had considered attending a prep school and reclassifying as a 2012 recruit. He had also been recruited by
Florida
,
Marquette
,
Memphis
,
Oklahoma State
,
Tennessee
and many Big Ten schools.
Nader was previously committed to
New Mexico
before re-opening his recruitment earlier this year.
"To me, it's not about the name," said Nader, who was recruited by assistant coach Todd Townsend. "It's about where I would rather go. It's a good location and close to home, and I really believe in the coaching staff. I saw the big picture going there and fit in really good."
Nader was an ESPNChicago.com all-area selection and averaged 23 points and 8.2 points during his senior season.
"He's had all the skills offensively, and he continues to develop more," Niles North coach Glenn Olson said. "This year he's become a great all-around player. He's improved in every facet of the game."
Northern Illinois first-year coach Mark Montgomery has quickly put together a high-profile recruiting class. Nader and De La Salle's Dre Henley were two of Illinois' elite players last season, and Brooks twin forwards
Keith Gray
and
Kevin Gray
were among the Chicago Public League's top players.
The Huskies' class also includes Glenbard East (IL) point guard
Zach Miller
, Liberty Tech (TN) shooting guard
DeAndre Barnette
and Saginaw (MI) shooting guard
Marquavis Ford
.
"I feel maybe next year or so we could be really good and contend for the NCAA tournament," Nader said.