March, 12, 2012
3/12/12
10:53
PM CT
Here's a look at Tuesday's Class 4A super-sectionals:
Simeon (30-1) vs. Evanston (21-10) at Chicago State at 7:30 p.m.

The story:
Evanston, a No. 5 seed, has made a nice story for itself with a run to the Chicago State super-sectional, but it's going to need to do something really special to knock off top-ranked Simeon. Simeon has shown few weaknesses throughout the regular season and playoffs. It's still the favorite to win its third consecutive Class 4A state championship. Evanston coach Mike Ellis is familiar with Simeon, having lost to
Derrick Rose
and company in the 2006 state championship when he was at Peoria Richwoods.
Players to watch:
Simeon's
Steve Taylor
is the state's top senior and is headed to
Marquette
next season. Evanston's Josh Irving had 23 points in his team's sectional championship win.
Pick:
Simeon
Bloom (27-3) vs. Edwardsville (24-5) at Illinois State at 7:30 p.m.

The story:
Bloom had some close calls in regional play, but opened up its sectional wins and won comfortably. Bloom has been one of the area's top teams throughout much of the season. Edwardsville rallied from a 12-point deficit to defeat Pekin in the Collinsville sectional. It was Edwardsville's first sectional title since 2006.
Players to watch:
Bloom's Donald Moore is one of the premier point guards in the area. Garrett Covington had 16 points in Friday's win.
Pick:
Bloom
[+] Enlarge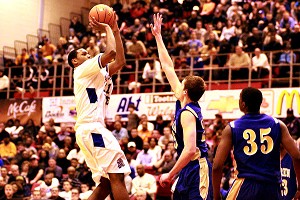 Scott Powers/ESPNChicago.comSterling Brown and Proviso East will take on West Aurora on Tuesday.
Proviso East (30-0) vs. West Aurora (25-5) at Hinsdale Central at 7:30 p.m.

The story:
Proviso East has clearly looked like the second best team in the state next to
Simeon all season. And the Pirates have rolled throughout the playoffs. Their guard play is what drives them and will likely give West Aurora trouble. West Aurora isn't to be overlooked, though. Coach Gordie Kerkman has won 11 sectionals and knows how to get his team ready for big games.
Players to watch:
Proviso East's
Keith Carter
is the team's top guard and is headed to
Saint Louis
.
Juwan Starks
is the school's all-time leading scorer.
Pick:
Proviso East
Warren (26-3) vs. Rockford Auburn (30-2) at Northern Illinois at 8 p.m.

The story:
This has a chance to be one of the better super-sectional games. Both teams have been dominant in their respective areas this season. Warren is led by its big men, and Auburn is carried by the play of point guard
Fred Van Vleet
. Both teams lost to Proviso East this season.
Players to watch:
Warren's
Darius Paul
can do it all at the power forward spot. Van Fleet is one of the top point guards in the state and is headed to
Wichita State
next season.
Pick:
Warren
February, 18, 2012
2/18/12
9:54
PM CT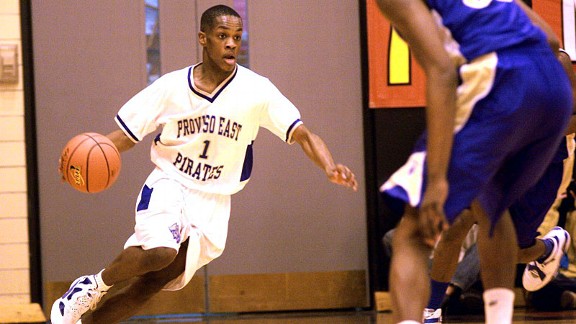 Scott Powers for ESPNChicago.comParis Lee helped Proviso East to a City-Suburban Showdown win over Warren on Saturday.
HILLSIDE, Ill. -- Proviso East coach Donnie Boyce would have taken blowouts over Downers Grove South and Warren this week, but he was hopeful for two close games.
Having been on Proviso East's 1991 championship team, a team which suffered one loss in 33 games, Boyce understands what it takes to win it all, and that includes the occasional test.
After pulling out a three-point win over Downers Grove South on Friday, the No. 2 Pirates persevered again in a tight contest Saturday, defeating No. 4 Warren 73-66 in the City-Suburban Showdown at Proviso West High School.
"These are the games I live for," said Boyce, whose team improved to 24-0 on the season. "These are the type of games you find out what kind of character you have, what kind of team you have. You're going to have to face some adversity throughout the state tournament."
Proviso East did look like it was going to run away with Saturday's game early on. The Pirates' pesky and speedy guards brought havoc onto Warren as it tried to get the ball up court. Proviso East forced the Blue Devils into six turnovers and raced out to a 23-12 advantage after one quarter.
Proviso East guards
Keith Carter
,
Paris Lee
and
Paris Burns
led the initial charge. They combined for 14 points and four steals in the first quarter.
"This is a big weekend," Carter said. "This is the weekend coach Donnie Boyce was looking forward to. This is a big statement for us. We just wanted to show him we were ready."
[+] Enlarge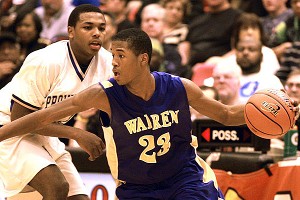 Scott Powers for ESPNChicago.comWarren's JoVaughn Gaines scored 13 points in a loss to Proviso East.
Warren wasn't going down without a fight, though. After trailing 43-29 at halftime, the Blue Devils began making a push midway through the quarter and continued it the rest of the game.
Warren pulled within 54-51 with 6:10 left in the game on a
Darius Paul
putback, but it was as close as the Blue Devils would get.
"We had a bunch of early turnovers," said Warren coach Chuck Ramsey, whose team fell to 21-3. "They turned them into points. We got behind. We made several runs, but it wasn't good enough."
Carter led the way for Proviso East with 17 points, five rebounds, four assists and three steals. Burns also had 17 points, and subs Michael Nicholas (10 points) and Branden Jenkins (eight points) contributed for the Pirates.
Paul (19 points, 13 rebounds), Mitch Munda (10 points), JoVaughn Gaines (13 points) and Jon Geske (13 points, eight rebounds) contributed for Warren.
No. 18 New Trier 59, No. 11 St. Rita 41:
New Trier outscored St. Rita 26-10 in the second and third quarters combined and won the early game of the City-Suburban Showdown.
Connor Boehm
(16 points, 11 rebounds),
Steven Cook
(10 points, eight rebounds) and David Bragiel (10 points) contributed for New Trier (20-5).
St. Rita's
Dominique Matthews
scored a team-high 12 points. New Trier held St. Rita's
Tony Hicks
to six points on 2-of-12 shooting. The Mustangs dropped to 14-10 overall.
January, 17, 2012
1/17/12
7:46
PM CT
The City-Suburban Showdown on Feb. 18 has been moved from the UIC Pavilion to Proviso West High School due to an NCAA bylaw, event promoter Bob Rylko said on Tuesday.

UIC recently informed Rylko that the event could not be held at UIC because of NCAA bylaw 13.11.1.8, which went into effect on April 28, 2011. The bylaw prohibits nonscholastic events from being conducted at facilities regularly used by Division I athletic programs. Despite the participants, the NCAA considers the event non-scholastic because it's hosted by a private organization.

Rylko and David Kaplan are co-owners of The Integrity Group, which hosts the City-Suburban Showdown. Rylko said the three games in this year's showdown (the 17th annual) will remain on Feb. 18 and at the same times. The three games are St. Rita versus New Trier at 4:30 p.m., Warren versus Proviso East at 6:30 p.m. and Simeon versus De La Salle at 8:30 p.m.

Rylko said customers who have already purchased tickets should return them for a refund to the locations where they were bought. Proviso West ticket information is expected to be released soon.

"We feel badly about it, but under the circumstances, there's not much we can do about it," Rylko said. "We're moving forward and going to put this behind us."

Last year's City-Suburban Showdown drew 8,184 fans at the UIC Pavilion. Proviso West holds about 2,400 fans, according to Rylko.


November, 21, 2011
11/21/11
3:38
PM CT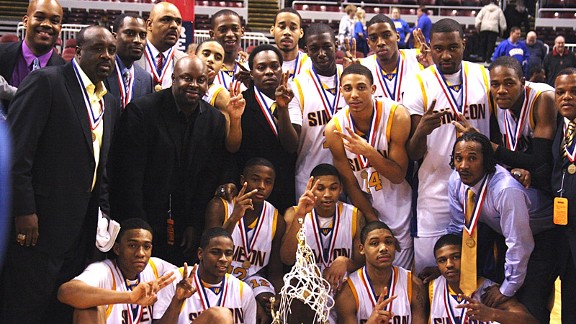 Scott Powers/ESPNChicago.comAfter 2 straight Class 4 titles, it should be no surprise to see Simeon ranked No. 1.
1. Simeon:
Expectations have never been higher at Simeon. The Wolverines are the two-time defending Class 4A state champions. They are ranked No. 1 in country by ESPN.
Jabari Parker
is considered the No. 1 junior in the country. They have a roster of full of other Division I prospects, including Marquette recruit and senior forward
Steve Taylor
, shooting guard
Kendrick Nunn
, point guard
Jaylon Tate
, point guard
Jelani Neely
and forward
Kendall Pollard
. They also have a couple star-studded freshmen.
2. Warren:
The Blue Devils lost to Simeon by eight points in the Pontiac holiday tournament championship and by nine points in the state championship game. They could very well meet Simeon in both places again this season. Warren returns three starters -- Western Michigan recruit
Darius Paul
, Toledo recruit
Nathan Boothe
and senior guard JoVaughn Gaines -- from that team. They'll also look to Jameris Smith, Jon Geske and Mitch Munda. This will be coach Chuck Ramsey's final season.
3. Whitney Young:
There aren't even many college teams in the country that have as much size and skill in the front court as the Dolphins do. Six-foot-11 center
Jahlil Okafor
is ranked No. 3 in the Class of 2014.
Paul White
, who is a 6-8 swingman, is ranked No. 17 in the Class of 2014. Tommy Hamilton Jr., who is 6-9, is ranked No. 23 in the Class of 2013. There's also 6-8
Jermaine Morgan
, who is a Colorado State recruit. The big question for Whitney Young is who will bring the ball up the court. If the Dolphins can figure out their backcourt, they should be among the state's and nation's best teams.
4. Proviso East:
First-year coach Donnie Boyce has plenty to work with this season. The Pirates return senior point guard
Keith Carter
, who recently committed to Saint Louis, junior guard
Sterling Brown
, who is becoming a national recruit, senior forward Trashaun Carroll and juniors
Paris Lee
,
Paris Burns
and Mike Nicholas.
5. Downers Grove South:
The Mustangs will possess one of the state's top backcourts with 6-2 senior Jamall Millison and 6-3 senior
Jerron Wilbut
. Wilbut is considered one of the top players in the state's Class of 2012. Downers Grove South also returns 6-5 forward Kevin Honn, a two-year starter. The question for the Mustangs will be rebounding and interior defense.
6. Curie:
The Condors have the pieces to compete for the Public League and state championship. They're as deep as anyone and will be led by 6-8 sophomore
Cliff Alexander
, who is ranked No. 13 in the country. Transfer
Malcolm Hill
-Bey should be an asset in the backcourt with the loss of
Greg Travis
to graduation.
7. De La Salle:
The Meteors could be a state contender if everything clicks for them. They have some of the state's most highly-ranked players, but the question is whether those players can adjust to bigger roles this season with the graduation of Dre Henley and
Mike Shaw
. De La Salle will be depending on 6-8 Gavin Schilling, 6-7
Alex Foster
and 6-4
Alvin Ellis
.
8. Homewood-Flossmoor:
The Vikings may be the most experienced team in the state -- it seems Tim Williams, a 6-8 forward, and 6-5
Delvon Rencher
have been around forever. Homewood-Flossmoor also returns Antonio Bishop, Marius Hill, Tyrone Sherman and Lamar Wofford-Humphrey. Will this be the season they finally take that next step?
9. St. Rita:
This looks to be the year coach Gary DeCesare turns St. Rita's program completely around. After going 12-14 last season, the Mustangs return 6-7 senior forward AJ Avery, a Western Michigan recruit, 6-2 guard
Tony Hicks
, a Penn recruit, senior point guard Cullen Foulks, sophomore forward
Victor Law
and sophomore guard
Dominique Matthews
. There also will be a couple freshmen who will contribute immediately. St. Rita will be the team to beat in the Catholic League.
10. Farragut:
The Admirals should be among the best teams in Chicago again. Six-foot-7 forward Rashaun Stimage is a jack of all trades and is among the state's best seniors. Senior twins Deonte and Alante Terrell are eligible this season after trasferring and sitting out last year. Both should be among the team's major contributors this season. Returning guard Lavell Boyd and senior John Carter, a transfer from Oak Park, should bring stability to the backcourt.
11. Andrew:
The Thunderbolts are ready to emerge as one of the area's best this season. They'll be led by 6-5 forward Jubril Adekoya, who does a bit of everything for them. Jawad Adekoya and Glorinda Lisha are also key returnees.
12. Hyde Park:
The Thunderbirds could be among the elite group of teams if all their transfers are eligible. They have eight transfers, including former Bogan forward Moshawn Thomas. Regardless of whether everyone is eligible, Hyde Park should still be pretty good. Point guard
Kyle Davis
is among the state's best juniors.
13. New Trier:
The Trevians have plenty of talent and experience back this season.
Connor Boehm
, a 6-7 Dartmouth recruit, and 6-4 guard Austin Angel will be the team's go-to players. They also return David Bragiel, Reid Bermnan and Jordan Thomas.
14. Crane:
Chris Head takes over a talented group this season at Crane. The Cougars are headed by Willie Connor, who can fill up the basket, and Kalen Shane. They've also added
Markee Williams
, who was formerly at Morgan Park.
15. Crete-Monee:
Former legendary Hillcrest coach Tom Cappel is now at Crete-Monee. He'll be led by Illinois recruit and senior point guard
Michael Orris
. Marvie Keith, a 3-pointer shooter, and LaQuan Treadwell, a big-time football recruit, should also contribute.
16. Morgan Park:
The Mustangs are handing the reins off to junior guard Billy Garrett Jr. after the graduation of
Wayne Blackshear
. While Garrett Jr. will be a point guard at the next level, he's proven he can be a big-time scorer and passer at the high school level. He'll be assisted by 6-9 center
Xzavier Taylor
, 6-5 forward Adrian Jefferies, 6-2 guard
Terrance Quinn
and 6-3 Dominique Lee and a number of freshman and sophomore newcomers.
17. St. Joseph:
The Chargers endured a rare losing season under coach Gene Pingatore last season. That shouldn't be the case again this year. They'll be led by 6-1 Reggie Johnson, 6-8 junior A.J. Patty, 6-5 sophomore
Karriem Simmons
and 6-4 sophomore
Paul Turner
.
18. Bloom:
The Blazing Trojans should be able to build on last year's 16 wins with the talent they have returning. They'll be led by three-year starter Donald Moore, who led them in scoring and assists last season. He'll have help from LeJavius Johnson, Henry Hicks, Johnny Griffin, Dejahown Freeman and Nhyree Mitchell.
19. Oak Park:
The Huskies had a rough season a year ago, but should be one of the area's best teams this year. They have seven returnees, a group led by Bradley recruit and senior guard Ka'Darryl Bell, who averaged 15 points last year. Senior forward Gave Levin, who averaged 11 points and nine rebounds, senior forward Alex Nesnidal and junior guard Jakari Cammon also return.
20. Waukegan:
The Bulldogs will rely heavily on their guards this season.
Akeem Springs
, a 6-4 combo guard, averaged 19 points and nine rebounds last season. Waukegan also returns Devonte Taylor,
Jordan Johnson
and Dijon Ross. Sophomore power forward Jerome Davis could make an impact this season.
October, 25, 2011
10/25/11
1:06
AM CT
Warren senior forward Darius Paul and Lake Forest Academy senior guard
Charles Harris
have committed to
Western Michigan
.
Paul and Harris were club basketball teammates on Full Package.
Paul, a 6-9 power forward, was also recruited by
Detroit
and
Northwestern
, among others. Paul committed to the Broncos on Monday.
Harris, a 6-4 shooting guard, was also recruited by Detroit and
Oregon State
, among others. He committed to Western Michigan on Sunday.
"They are very close," Full Package coach Billy Welcome said. "They've known each other for a long time and are friends. I don't think they said, 'We are going to commit to the same college.' It's huge for Western Michigan. To get them both is incredible."
Paul averaged 11.2 points and 7.2 rebounds last season while leading Warren to a second-place finish in Class 4A. He is the younger brother of
Illinois
junior guard
Brandon Paul
.
"He's an immensely skilled 6-9 guy," Welcome said. "I think his skills are off the charts at 6-9 as far as passing, shooting and ball handling. He has incredible hands."
Harris averaged 15 points and seven rebounds for Lake Forest Academy last season.
"He's just an incredible athlete," Welcome said. "He has high-major ability. He's a lockdown defender."
August, 25, 2011
8/25/11
10:45
PM CT
Here's a look at the first week of football action for the teams rated in ESPNChicago.com's top 20.
Warren (0-0) at No. 1 Maine South (0-0) on Friday


The story:
Maine South begins its quest to win a fourth consecutive Class 8A state championship with Warren. Maine South is widely considered the state's top team this season. Maine South coach David Inserra will miss the opener due a one-game suspension due to incidents at last year's state title game. Warren is looking for a stronger start to this season. The Blue Devils dropped two of their first three games last season. They're expected to pass the ball more this season.
Warren player to watch:
Linebacker Matt Goad should be a difference-maker for the Blue Devils this season.
Maine South player to watch:
With the departure of Reilly O'Toole, Matt Alviti is the state's next biggest star quarterback. He has already received offers from Illinois, Notre Dame and Northwestern.
Quote:
Maine South coach David Inserra -- "The kids have taken it on as a motivation to work that much harder. We talk about opportunities. This is an opportunity that not many kids get to win a fourth state championship."
Prediction:
Maine South 42, Warren 21
---
No. 3 Glenbard West (0-0) at No. 2 Wheaton Warrenville South (0-0) on Sunday


The story:
This will be one of the most highly-anticipated games of the season. The two teams have met in the playoffs last two seasons, and Wheaton Warrenville South won both times, including in the 2009 Class 7A state title game. Both teams are stacked with talent again and could very well meet up in the playoffs for a third consecutive season. To add to the excitement, the game will be televised on ESPN2.
Glenbard West player to watch:
Quarterback Justice Odom is not only making his starting debut, but he's also doing it against his former school. Odom previously attended Wheaton Warrenville South.
Wheaton Warrenville South player to watch:
Thaddeus Armstrong replaces Reilly O'Toole at quarterback. Armstrong isn't expected to be as dominant as last year's ESPNChicago.com player of the year, but he does have ability and is expected to excel in the Tigers' offense.
Quote:
Wheaton Warrenville South coach Ron Muhitch – "It's a great chance to show off Illinois football, which is in the intent of signing this game up."
Prediction:
Wheaton Warrenville South 28, Glenbard West 27
---
Palatine (0-0) at No. 4 Montini (0-0) on Friday
The story:
How Montini does against Palatine and Loyola in its opening two weeks likely won't determine whether it win another state championship, but it will show whether the Broncos can hang with the big boys and deserve to be ranked No. 4 in the area. The Broncos' offense was unstoppable during the summer. Palatine hopes to build on last season's success. After clawing into the playoffs, the Pirates made a run to the Class 8A state quarterfinals.
Palatine player to watch:
Jesse Bobbit is one of the area's biggest offensive threats. He was on the watch list for ESPNChicago.com offensive player of the year.
Montini player to watch:
No one may have looked more polished this summer than wide receiver Jordan Westerkamp. Defenses will have their hands full with the Nebraska recruit this season.
Quote:
Montini wide receiver Anthony Taylor – "Every team is gunning for the top and knock off Montini. We're gunning for another state championship. It won't be easy, but I think we can do it."
Prediction:
Montini 28, Palatine 21
---
No. 5 Lincoln-Way East (0-0) vs. Edwardsville (0-0) at Illinois State on Friday
The story:
Expectations haven't been this high at Lincoln-Way East since the Griffins won a state championship in 2005. They return a talented group of offensive players, including quarterback Blake Winkler and wide receiver Jason Robertson. Lincoln-Way East cruised past Edwardsville when they met last season.
Lincoln-Way East player to watch:
Quarterback Blake Winkler had a strong junior season. He has the potential to throw for some big numbers this season.
Quote:
Lincoln-Way East coach Rob Zvonar -- "I think this group without being arrogant just wants to put that target on our back and be the group that turns the tide again."
Prediction:
Lincoln-Way East 42, Edwardsville 17
---
No. 6 St. Rita (0-0) at Portage, Ind. (0-1) on Friday
The story:
St. Rita will play two out-of-state opponents this season. The Mustangs defeated Portage 22-0 in Chicago last season. Portage dropped its season opener last week.
St. Rita player to watch:
St. Rita relies on its running game, and junior Guerby Ministre becomes the Mustangs' featured back this season.
Prediction:
St. Rita 27, Portage 7
---
No. 7 Mount Carmel (0-0) vs. No. 10 Simeon (0-0) at Soldier Field on Friday
The story:
Mount Carmel and Simeon are quickly developing into a South Side rivalry. Mount Carmel had the Wolverines' number until last season when Simeon pulled off the upset at Soldier Field. This year's game should be another classic. Both teams return a number of Division I recruits.
Mount Carmel player to watch:
Mount Carmel's option offense requires a skilled quarterback, and the Caravan believe they have one in first-year starter Don Butkus. He will make his debut at Soldier Field, which is where his great uncle Dick Butkus used to star.
Simeon player to watch:
Wolverines quarterback Robert Gregory was one of the most entertaining players in the state last season. He ran and passed with the best of them.
Quote:
Simeon coach Dante Culbreath -- "It's Mount Carmel. It's the best of Illinois. You get an opportunity to play those guys, and you just got to play hard. It's been Mount Carmel for years. What those guys have done over there is legendary. We're just a small group out here working."
Prediction:
Mount Carmel 48, Simeon 42
---
No. 8 Carmel (0-0) at No. 11 Joliet Catholic (0-0) on Friday
The story:
Don't expect to see many passes thrown in this game. Carmel and Joliet Catholic possess the two best backfields in the state. Carmel's running game is led by three-year starters Jordan Kos, Michael Panico and Matt Maher. Joliet Catholic is powered by Division I running back recruits Malin Jones and Ty Issac. A Carmel-Joliet Catholic game hasn't been decided by more than three points the last two seasons. Carmel won 31-28 last season, and Joliet Catholic won 19-16 in 2009.
Carmel player to watch:
Jordan Kos rushed for more than 1,500 yards last season. He is on the verge of breaking the school's rushing record.
Joliet Catholic player to watch:
Malin Jones is the next in the long line of talented Hilltopper running backs. He's headed to Northwestern.
Quote:
Carmel coach Andy Bitto – "It's a good chance right away to go to their stadium and play in front of a huge crowd on TV. You get to know where you're at right away."
Prediction:
Carmel 41, Joliet Catholic 38
---
No. 9 Lake Zurich (0-0) at Fremd (0-0) on Friday
The story:
Lake Zurich is the favorite headed into this game, but Fremd should never be counted out. Last year, Lake Zurich pulled out a 20-10 win. Two seasons ago, Fremd won 10-7. With the game being at Fremd, don't be surprised if this comes down to the fourth quarter again.
Lake Zurich player to watch:
Jack Lynn is one of the area's top linebackers. He's headed to Minnesota.
Fremd player to watch:
Sophomore quarterback Sam Beutler stepped in as a freshman and helped the Vikings into the playoffs. He should be even better this season.
Prediction:
Lake Zurich 20, Fremd 14
---
No. 12 Loyola (0-0) at Evanston (0-0) on Friday
The story:
Loyola has reached the Class 8A semifinals the last two seasons and lost to Maine South. The Ramblers are hoping for more this season. They travel to nearby Evanston to open the season. The Ramblers defeated Evanston 35-0 in last year's meeting.
Loyola player to watch:
Quarterback Malcolm Weaver was impressive with his running and passing last season. He's primed for another big season.
Evanston player to watch:
Evanston linebacker Leonard Garron made ESPNChicago.com's defensive player of the year watch list.
Quote:
Loyola coach John Holecek – "Here, we play good defensive football. We expect that every year no matter who we play. We expect to be very tough on defense."
Prediction:
Loyola 31, Evanston 7
---
Senn (0-0) at No. 13 Homewood-Flossmoor (0-0) on Friday
The story:
Homewood-Flossmoor surprised a lot of people last season by going to the Class 8A semifinals after having only won one game the year before. With that, the Vikings won't be sneaking up on anybody this season. Senn went 9-1 last season, but all of its wins came against Chicago Public League opponents.
Homewood-Flossmoor player to watch:
Quarterback Tim Williams was a major reason for the Vikings' success last season. He may be the biggest and most athletic quarterback in the state.
Prediction:
Homewood-Flossmoor 42, Senn 10
---
No. 14 Barrington (0-0) at Libertyville (0-0) on Friday
The story:
This game should be entertaining from the start with Wayne Messmer singing the National Anthem and Libertyville wearing camouflage jerseys in tribute to it former players who have served in the military. Outside of that, the game should also be a good one. Barrington has an enormous offensive line and a talented running back in Chase Murdock. Libertyville is thought to be one of this season's sleepers.
Barrington player to watch:
Barrington have had some quality offensive linemen come through its program, but Dan Voltz may be the cream of the crop. He's committed to Wisconsin.
Libertyville player to watch:
Luke Mathewson is likely to make an impact on both sides of the ball at tight end and defensive end.
Quote:
Barrington coach Joe Sanchez – "We open with Libertyville, and it's a great opening game for both schools."
Prediction:
Barrington 27, Libertyville 21
---
South Elgin (0-0) at No. 15 Downers Grove South (0-0) on Friday
The story:
This is a good test for both teams. South Elgin was nearly ranked after coming a strong season last year. South Elgin lost 10-7 in the Class 8A second round to Stevenson and returns a number of quality players this season. Downers Grove South should be a state contender this season if it can remain healthy. That was the Mustangs' downfall last year.
South Elgin player to watch:
Joe Slania earned all-conference honors at offensive tackle last season. He's also play on the defensive line this season.
Downers Grove South player to watch:
When healthy, Josh Williams can be one of the state's best running backs. The Mustangs hope he can stay healthy for an entire season for the first time in three years.
Quote:
Downers Grove South coach John Belskis -- "I think there's enough kids back where we should be competitive in every game we play. That's all you can ask."
Prediction:
Downers Grove South 42, South Elgin 35
---
No. 16 Stevenson (0-0) at No. 20 Lyons (0-0) on Friday
The story:
This is one of four games between ranked teams in the opening week. Lyons and Stevenson each had its season ended in the Class 8A quarterfinals last season. Both look to replace some holes due to graduation, but are traditionally strong programs.
Stevenson player to watch:
Versatile quarterback Matt Miccuci takes over Stevenson's offense this season. He will also kick field goals.
Lyons player to watch:
Jaime Jones rushed for 866 yards and 11 touchdowns last season. He should be among the area's best this season.
Quote:
Stevenson coach William McNamara – "We have to come out of the shoot ready to go."
Prediction:
Stevenson 24, Lyons 20
---
Oak Park (0-0) at No. 17 Glenbard North (0-0) on Friday
The story:
Glenbard North had an impressive regular season last year, going 8-1, but were upset in the first round of the playoffs. The Panthers are hoping for better this season. Oak Park is looking to rebound from last year's 2-7 mark. This will be the debut for Oak Park first-year coach John Hoerster. He was previously an assistant at Mount Carmel.
Oak Park player to watch:
Returning senior quarterback John Phelan will be in charge of a new offense this season.
Glenbard North player to watch:
Running back Phil Jackson was among the area's best last season. He could have a huge season this year.
Prediction:
Glenbard North 24, Oak Park 14
---
No. 18 Prairie Ridge (0-0) at Glenbard South (0-0) on Friday
The story:
Prairie Ridge has high expectations heading into the season coming off back-to-back Class 6A state semifinal appearances. The Wolves return a number of players on both sides of the ball and should be led by returning running back Connor Greenwald and an experienced group of linebackers. Glenbard South joins the Metro Suburban Conference this season. It opened last season with four losses in its first five games, but bounced back to have a 4-5 record.
Prairie Ridge player to watch:
Running back Connor Greenwald rushed for 1,172 yards last season. He's added some speed this season.
Glenbard South players to watch:
Running back Wes Sanders and quarterback Tyler Padera should be able to provide the Raiders a number of points this season.
Quote:
Prairie Ridge coach Chris Schremp – "Our linebacker corp is the strongest we've had in the history of the school."
Prediction:
Prairie Ridge 33, Glenbard South 20
---
Bartlett (0-0) at No. 19 Wheaton North (0-0) on Friday
The story:
Wheaton North undoubtedly will put up points this season. The Falcons' offense is too potent not to. The question is whether their inexperienced defense will come through. Bartlett's offense will be a good first test. Led by quarterback AJ Bilyeu, Bartlett is coming off an 8-3 season and a second round playoff appearance.
Bartlett player to watch:
Quarterback AJ Bilyeu should one of the area's best this season. He completed 105-of-157 passes for 1,437 yards and 19 touchdowns last season. He's committed to Air Force.
Wheaton North player to watch:
Wide senior Johnny Daniels was impressive in 7 on 7 player this summer. If he continues to impress, more Division I schools are bound to come knocking.
Quote:
Wheaton North coach Joe Wardynski – "I think we've got quite a few kids coming back on offense. We knew where the pieces were going to fit on that side of the ball. Defensively, we're basically replacing everybody."
Prediction:
Wheaton North 37, Bartlett 31
March, 20, 2011
3/20/11
3:21
AM CT
Simeon-Warren GameCast

PEORIA, Ill. -- The state had its shot at Simeon and missed.

Simeon secured its second consecutive Class 4A state championship with a 48-39 win over Warren on Saturday, and it seems improbable the state's teams will keep the Wolverines from winning the next two state titles.

With plenty of talent returning, Simeon is only going to get better and that's crushing news for everyone else.



[+] Enlarge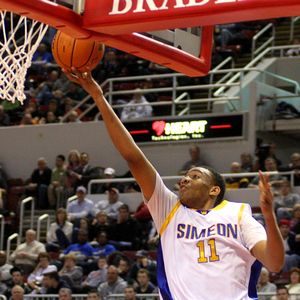 Scott Powers for ESPNChicago.comJabari Parker scored 12 points in Simeon's 4A title win over Warren on Saturday.

The Wolverines (30-2) began this season as the state's No. 1 team, hit a bump in the road with losses to Benet and Whitney Young, but -- in Simeon fashion -- put it back together in time to win another state title. It was the Wolverines' fourth championship in the last six seasons.

"This was probably the hardest one because everyone just picked us to win from day one," Simeon coach Robert Smith said. "[Derrick Rose's] senior year was the same way. Last year was fun because no one gave us a chance.

"We just keep our composure. We respect the game. That's basically what is. We respect the game because we know it can be taken away from us."

Rose set the standard at Simeon with his back-to-back titles in 2006 and 2007. On Saturday, sophomore Jabari Parker matched Rose. Parker obtained his second title in as many years, and he's the reason Simeon will be favored to win two more.

"It's very special to me because that's somebody I looked up to growing up," Parker said of tying Rose. "I'm very thankful to be among his ranks to be a state champion. I want another. I'm hungry for another one."

Parker started and averaged 9.3 points while helping Simeon to a state championship last year as a freshman. This year he led the Wolverines to the title while averaging a team-best 15.3 points. On Saturday, he scored a team-high 12 points and added five rebounds and three blocks.

What Parker could be next year and the year beyond is something Smith believes the state has never seen.

"I think he's going to be the best player that has ever played in the state of Illinois," Smith said.

Simeon's victory Saturday wasn't of the spectacular variety. The Wolverines did enough to get by.

Simeon opened the game strong, scoring 10 points in the first 4:04 and led 10-3 at one point. Warren battled back in the second quarter and cut the Wolverines' lead to two points late in the first half and again early in the second half.

After that, it was a struggle for both teams to score. Warren went for five points in the third quarter and 19 in the second half. Simeon scored 24 second-half points thanks to a handful of points late in the fourth quarter.

"We couldn't get into an offensive rhythm," said Warren's Jeremiah Jackson, who had eight points and seven rebounds. "There were a couple times where it looked like we going to, but we just couldn't pull it out. Simeon played harder than us."

Darius Paul (11 points), Brandon Ferguson (nine points) and JoVaughn Gaines (six points, seven rebounds) contributed for Warren (31-4).

Rashawn McElrath (nine points), Steve Taylor (eight points, 11 rebounds) and Darien Walker (10 points) contributed for Simeon.

Glenbard East third: Glenbard East (28-4) defeated Normal Community 53-50 in the third-place game.

Johnny Hill (16 points, nine rebounds), Dante Bailey (16 points) and Zach Miller (10 points, six assists) contributed for Glenbard East.

Parker Musselman (18 points, seven rebounds) led Normal Community.
August, 20, 2010
8/20/10
3:06
PM CT
No. 12 Warren
Last season: 8-3 overall, 4-2 North Suburban Lake, eliminated in 8A second round
Season ahead: Warren knows all too much about being knocked from the playoffs in the second round. It's where the Blue Devils' season has ended six times in the past 11 years.
The Blue Devils are setting their sights beyond the second round this season and will be looking to reach their first quarterfinals since 2001.
"We need to move on," Warren coach Dave Mohapp said.
On paper, Warren has the team to do just that. The Blue Devils return nearly half of their offense and defense from last year's 8-3 squad and welcome in a talented group of juniors.
Offensively, Warren should be one of the area's top running teams again. The Blue Devils did graduate all-area running back Greg Kennedy, but return seniors Tom Lindal and Nolan Sordyl. Lindal ran for 800 yards and 15 touchdowns last season.
"We try to get the ball in his hands as much as we can," Mohapp said. "He's been a mainstay in our offense. He's gotten a lot of yards in the last three years. He can run it inside, and he has the speed to go outside."
Warren also will look to wide receiver Kendall Harris and offensive linemen Josh Dust, Caleb Haley and Zak Lowe to produce. Athletic junior Robby Boesch takes over at quarterback as last year's starter Pat Kenney has decided to concentrate on baseball.
On defense, Warren's strength should be its linebackers with Luke Mueller and Gary Eppinger both back. Matt Goad, who led the team in tackles last season, is moving from linebacker to free safety. Mohapp said he believed junior defensive lineman Michael Perrin could be a special one down the road.
Player to watch: Lindal was given the ball his fair share last season, but Greg Kennedy was the dominant back. Lindal will now be given a chance to carry the spotlight and should have no trouble doing so.
Newcomer to watch: Junior defensive lineman Michael Perrin
Key game: Oct. 8 vs. Lake Zurich – Warren was coasting along with a 6-0 record last season when Lake Zurich knocked the Blue Devils around for a 38-14 win. The Bears are the favorites in the North Suburban Lake this season, but Warren can change that with this game.
What they're saying: "The nice thing is we have a lot of players back at a number of positions, and our young guys can fill in the other spots," Warren coach Dave Mohapp said. "I like the 11 players we're going to be putting out there on both sides of the ball."