October, 22, 2012
10/22/12
3:28
PM CT
By
Dave Telep
| ESPNChicago.com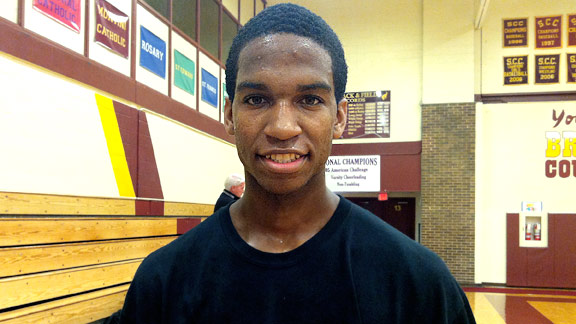 Dave Telep/ESPN.com
LOMBARD, Ill. -- This weekend's first-ever "Midwest Workout" highlighted 45 players selected from Illinois and the surrounding region. The concept was to bring in three groups of 15 players and put them through roughly an hour of drills, implement basic principles and then allow 30 minutes of controlled play using the concepts learned.
Mike Procopio, a former scout with the Boston Celtics and operator of Hoop Consultants, conducted the five-hour workout.
From an evaluation standpoint, the event allowed you to see how a prospect reacts to the implementation of concepts and gauge an overall skill level. There were players ranging from low to high major. In an era where exposure events are the rage, Procopio's workout was a welcomed change where real basketball concepts were taught and emphasized. In short, the 45 kids who were hand picked to attend were subject to improvement.
Read the entire story
.

June, 2, 2011
6/02/11
7:36
PM CT
Former DePaul star Tom Kleinschmidt was named the York boys basketball head coach on Thursday.

Kleinschmidt was a York assistant last season and was DePaul's director of men's basketball operations during the 2009-2010 season. He left DePaul after head coach Jerry Wainwright was fired.

Kleinschmidt replaces Dominic Cannon, who was the head coach for one season. UIC assistant coach Al Biancalana was York's head coach for five seasons prior to Cannon.

"To be honest, I was kind of in limbo after I left DePaul," Kleinschmidt said. "I was interested in the [York] job, but wasn't really thinking about applying because I thought they were looking for an educator first. I was asked to apply on Friday, and I was named today. It all happened quickly. It's a little bit of surprise, but good things happen when you don't expect them."

Following a 11-year playing career overseas, Kleinschmidt had been targeting a college coaching career, but he has since changed his mind. He's now set on creating a long, successful high school career.

"I figured out I wanted to take it to high school," Kleinschmidt said. "I want to be around kids and be around basketball. I'm committed to York, and York is committed to me."

Kleinschmidt was a McDonald's All-American out of Gordon Tech High School in Chicago. He starred at DePaul from 1991-1995 and was the only DePaul player to ever have 1,000 points, 500 rebounds, 300 assists, 100 steals and 100 3-pointers.

York went 20-9 and lost to De La Salle in the Oak Park regional championship game. The Dukes graduate nine seniors from that team and return 6-2 guard David Cohn, one of the state's top Class of 2013 prospects.
November, 6, 2010
11/06/10
3:51
AM CT
By
Willie Mullen
| ESPNChicago.com
NAPERVILLE, Ill. – Naperville North's 29-10 upset win over York in Friday night's Class 8A second-round playoff game started with offense.

The ninth-seeded Huskies opened the game with an 80-yard touchdown drive before the Dukes responded with scores on two of their first three possessions to take a 10-6 lead early in the second quarter.

From that point forward, however, the Naperville North defense took control of the game. Led by senior linebacker Nick Lifka, the Huskies forced three turnovers in the second half, turning a one-point deficit into a blowout win. While the defense held top-seeded York, the Huskies' offense scored 23 consecutive points.

"I was thinking about stopping [Ryan Kent] all week," Lifka said of the Dukes' leading rusher, who was held to 54 yards on 16 carries.

Lifka intercepted a Jim Nudera pass on the third play of the second half to set the Huskies up with a first-and-goal from the Dukes' 10, but the offense settled for a field goal after having two touchdowns called back because of penalties. After the Huskies forced another three-and-out, a theme throughout the night, they again had first-and-goal after a long punt return, but settled for a field goal to take a 15-10 lead.

It looked as though the Dukes (9-2) were poised to make a late charge, but Nudera was intercepted by Brandon Sharie, who returned it 38 yards for a touchdown to extend the Huskies' lead. The offense found the end zone late to cap off the victory.

"All we were trying to do was stop them on the first few downs, put them in passing situations and make a few plays," said Sharie.

The Huskies (8-3) will host No. 4 Homewood-Flossmoor next Friday night.

Player of the game: Naperville North's senior LB Nick Lifka

Stat of the game: 8. The number of plays the Dukes ran in the second quarter, as the Huskies' defense settled in.

It was over when… Brandon Sharie returned an interception 38 yards for a touchdown to increase Naperville North's lead to 23-10.

Quote of the night: "Our defense played phenomenal and it was just a great game." Naperville North quarterback Matt Lacosse

November, 4, 2010
11/04/10
9:44
PM CT
ESPNChicago.com previews all of the top-20 games.
No. 13 Wheaton North (8-2) at No. 1 Wheaton Warrenville South (10-0) on Saturday
The story:
This will be the second time these DuPage Valley foes meet this season. The first time around Wheaton Warrenville South ran away with a 42-14 win. Quarterback Reilly O'Toole threw only one incompletion in the win. Wheaton North was within seven points at half, but will need to put together a full game against the top-ranked Tigers.
Wheaton North player to watch:
Quarterback Reece Butler is the key to the Falcons flying. He needs to have another off-the-charts game for Wheaton North to have a chance.
Wheaton Warrenville South:
Wide receiver Travis Kern has emerged as a playmaker this season. He and Titus Davis have been major targets for O'Toole.
Prediction:
Wheaton Warrenville South 35, Wheaton North 17
No. 2 Simeon (10-0) at No. 16 Schaumburg (8-2) on Saturday
The story:
Simeon's path to the Chicago Public League's first state championship becomes more difficult starting with this game. The question is whether the Wolverines can turn it on again against another top team. They haven't been truly challenged since the season-opener against Mount Carmel. Schaumburg is coming off a big win over Elk Grove. The Saxons will have to contain Simeon's big-play offense to pull off the upset.
Simeon player to watch:
Offensive lineman Chris Bryant is a major reason the Wolverines have had so much offensive success. He's 6 foot 3, 330 pounds and is being recruited by a number of schools.
Schaumburg player to watch:
Shepard Little has been one of the state's top running backs this season. Schaumburg will need to score in this game, and Little is the man to do it.
Prediction:
Simeon 46, Schaumburg 42
Hononegah (9-1) at No. 3 Carmel (9-1) on Saturday
The story:
Carmel has been consistently good offensively and defensively this season. The Corsairs were especially impressive on the defensive side in last week's first-round win. Hononegah has put some points this season, and its only loss was to undefeated Boylan. Hononegah is coming off a 51-7 win over Taft.
Prediction:
Carmel 31, Hononegah 13
Sterling (8-2) at No. 4 Joliet Catholic (9-1) on Saturday
The story:
There are few teams in the state playing as well as Joliet Catholic right now. The Hilltoppers have scored 45-plus points in their last six games. Big Ten-bound running backs Malin Jones and Josh Ferguson have been piling on the yards. Sterling defeated Morton 28-21 last week.
Prediction:
Joliet Catholic 63, Sterling 10
No. 5 Loyola (9-1) at Fremd (6-4) on Saturday
The story:
If there's an upset this week, a lot of people are looking at this game as a possibility. It speaks nothing of Loyola's play, but rather what Fremd has been up to. The Vikings seem like that team of destiny this season. After starting out 1-4, Fremd has won its past five games. Loyola will be a tough match up for Fremd. The Ramblers have also been among the area's hottest teams.
Prediction:
Loyola 28, Fremd 17
No. 6 St. Rita (9-1) at Harlem (8-2) on Friday
The story:
St. Rita has to travel to Machesney Park on Friday after Harlem upset Glenbrook North in the first round. Harlem has scored 30-plus points in seven games this season. St. Rita escaped with a narrow win over Highland Park last week. Star running back Jahwon Akui is expected back after missing last week's game.
Prediction:
St. Rita 34, Harlem 17
Lake Forest (7-3) at No. 7 Crystal Lake South (10-0) on Saturday
The story:
Lake Forest is one of the sleeper teams in 6A. The Scouts have played well the last quarter of the season with a win over Vernon Hills and a narrow loss to Lake Zurich. As they showed in their 45-25 opening-round win over Shepard, their offense has big-play capabilities. Five of their touchdowns were scored on 50-yard-plus plays. Crystal Lake South is the team to beat in Class 6A and has played consistently.
Prediction:
Crystal Lake South 27, Lake Forest 21
No. 8 Lincoln-Way East (9-1) at No. 11 Glenbard West (9-1) on Saturday
The story:
There are so many potentially great games in the second round, but this one could be the best. Both teams were ranked in the top 10 for most of the season, and both have been among the state's best defensive teams. While Wheaton Warrenville South is still the favorite in Class 7A, both of these teams are capable of giving the Tigers a game.
Lincoln-Way East player to watch:
Wide receiver J.J. Robertson returned from injury last week and scored two touchdowns. He's among the area's best at his position.
Glenbard West player to watch:
Do-everything senior Nick Burrello is a threat to score whenever he touches the ball. He's coming off a big game.
Prediction:
Glenbard West 21, Lincoln-Way East 20
South Elgin (7-3) at No. 9 Stevenson (10-0) on Saturday
The story:
Stevenson continues to put it together on both sides of the ball. Defensively, the Patriots are led by ESPNChicago.com Prep Athlete of the Week Brion Wood. Offensively, they've used a balanced running and passing attack. South Elgin ended the regular season with back-to-back losses, but bounced back with a win over a tough Warren team last week.
Prediction:
Stevenson 24, South Elgin 13
Sandburg (8-2) at No. 10 Lyons (9-1) on Saturday
The story:
Lyons has been on a roll. It has out-scored its last three opponents, which included Glenbard West, 143-20. Sandburg's only losses this season were to Lincoln-Way East and Homewood-Flossmoor, two teams still alive in the playoffs. The Eagles are 3-1 this season in games decided by 10 points or less.
Prediction:
Lyons 28, Sandburg 14
No. 12 Lake Zurich (9-1) at No. 15 Prospect (9-1) on Saturday
The story:
Prospect puts up a lot of points; Lake Zurich doesn't allow many. Something will have to give in this game. The Knights have scored more than 40 points seven times this season. Lake Zurich has only given up more than 14 points twice.
Lake Zurich player to watch:
Senior Jacob Brinlee became the school's all-time leading rusher last week. He has more than 3,000 yards in his career.
Prospect player to watch:
Quarterback Steve Dazzo can burn a team in so many ways. He's been phenomenal the past few weeks.
Prediction:
Lake Zurich 31, Prospect 28
No. 14 Mount Carmel (8-2) at Neuqua Valley (7-3) on Friday
The story:
Mount Carmel's offense is relentless. The Caravan have scored 30-plus points in eight of their games this season. Only St. Rita was able to contain them. Neuqua Valley is better than its record. The Wildcats' three losses have come by a combined 10 points. They have an impressive 43-6 win over Waubonsie Valley on their resume.
Prediction:
Mount Carmel 38, Neuqua Valley 28
No. 17 Morgan Park (9-1) at Prairie Ridge (9-1) on Saturday
The story:
Like Simeon, Morgan Park is out to become the first Public League state champion. Prairie Ridge will have something to say about that. Its only loss came to Crystal Lake South and has been one of the area's best defensive teams. Morgan Park has scored 30 or more points in six games this season.
Prediction:
Morgan Park 33, Prairie Ridge 24
Geneva (8-2) at No. 18 Lemont (10-0) on Saturday
The story:
Geneva has been on a tear. The Vikings have scored 69 points in their last two games and are on an eight-game winning streak. Lemont is one of the favorites in Class 6A. The Indians have allowed one opponent more than 21 points this season.
Prediction:
Geneva 35, Lemont 27
No. 19 York (9-1) at Naperville North (7-3) on Friday
The story:
Naperville North put it all together in last week's win over Marist. If the Huskies can play a total game again, they have the talent to pull off an upset against York. The Dukes rallied to defeat a tough Lockport team last week 21-14. They'll need to play at a higher level this week.
Prediction:
Naperville North 21, York 17
Bartlett (8-2) at No. 20 Maine South (8-2) on Saturday
The story:
Maine South has won its last 11 playoff games, and the Hawks are shooting for their third consecutive state championship. Bartlett lost two close games early in the season and now has won seven in a row.
Prediction:
Maine South 38, Bartlett 28