Coaching carousel impacts seniors
March, 12, 2012
3/12/12
4:43
PM CT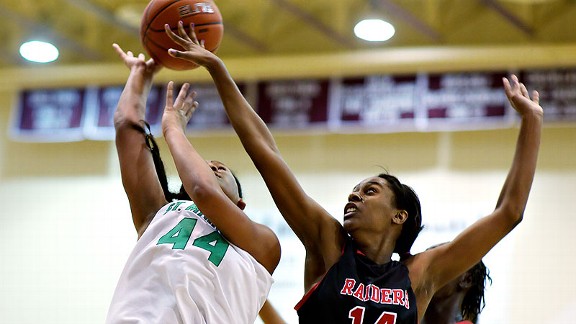 Glenn Nelson/ESPN.com Dalacy Anderson has signed with George Washington but has an uncertain future after coach Mike Bozeman was let go.
Bolingbrook (Ill.) senior teammates
Dalacy Anderson
,
Cabriana Capers
and
Nia Moore
have more in common than just their fourth-ranked Raider jerseys. Anderson, who signed with George Washington in the fall, Capers, who signed with Auburn, and Moore, who signed with Illinois, all find themselves committed to programs without head coaches.
"All of them picked the schools because of what the schools offered, but the coaches played a big part," Bolingbrook head coach Tony Smith said. "They were all a little bit down about it."
Auburn's Nell Fortner resigned as head coach of the Tigers after eight seasons at the helm, leaving Capers, a 6-foot-1 forward, coachless. Similarly, the terminations of Jolette Law at Illinois, after five seasons, and Mike Bozeman at George Washington, after four years, have left Moore, a 6-3 forward, and Anderson, a 6-2 forward, with uncertain futures.
"It's just difficult because they all built relationships with those coaches," Smith said. "That's tough to do over again."
Read the entire story
.
ESPNHS HoopGurlz
National director of prospects for HoopGurlz
Coached girls' high school and club basketball
Girls and women's basketball trainer, evaluator and reporter since 1998
ABOUT THIS BLOG

Scott Powers
Scott Powers is an award-winning journalist and has been reporting on preps, colleges and pros for publications throughout the Midwest since 1997.
2014 TOP ILLINOIS FOOTBALL RECRUITS
BLOG ARCHIVE:
CATEGORIES:
IHSAScoreZone IL High School Assn
#IHSA BKG/4A Chicago (Whitney Young) 60, Rolling Meadows 44
about 7 hours ago

IHSAScoreZone IL High School Assn
#IHSA BKB/1A Mooseheart 50, Deerfield (Chicagoland Jewish) 35
about 8 hours ago

IHSAScoreZone IL High School Assn
#IHSA BKG/4A Chicago Heights (Marian) 45, Geneva 34
about 9 hours ago

IHSAScoreZone IL High School Assn
#IHSA BKG/3A Lombard (Montini) 57, Joliet (Catholic Academy) 44
about 14 hours ago

IHSAScoreZone IL High School Assn
#IHSA BKG/3A Quincy (Notre Dame) 64, Burlington (Central) 40
about 16 hours ago

IHSAScoreZone IL High School Assn
#IHSA BKG/4A Chicago (Whitney Young) 39, Chicago Heights (Marian) 20
1 day ago

IHSAScoreZone IL High School Assn
#IHSA BKB/3A Peoria (Notre Dame) 70, Peoria (Richwoods) 46
1 day ago

IHSAScoreZone IL High School Assn
#IHSA BKB/3A Chicago (Morgan Park) 63, Country Club Hills (Hillcrest) 61
1 day ago

IHSAScoreZone IL High School Assn
#IHSA BKB/3A Rockford (Lutheran) 71, Belvidere (H.S.) 67
1 day ago

IHSAScoreZone IL High School Assn
#IHSA BKG/4A Chicago (Whitney Young) 60, Chicago Heights (Marian) 20
1 day ago

IHSAScoreZone IL High School Assn
#IHSA BKB/2A Chicago (Providence-St. Mel) 62, Chicago (Clark) 33
1 day ago

IHSAScoreZone IL High School Assn
#IHSA BKB/4A Chicago (King) 40, Chicago (DuSable) 37
1 day ago

IHSAScoreZone IL High School Assn
#IHSA BKB/3A Chicago (Harlan) 58, Chicago (Brooks) 57
1 day ago

IHSAScoreZone IL High School Assn
#IHSA BKB/3A Westchester (St. Joseph) 51, Elmhurst (Timothy Christian) 42
1 day ago

IHSAScoreZone IL High School Assn
#IHSA BKB/2A Bloomington (Central Catholic) 56, Taylor Ridge (Rockridge) 55
1 day ago

IHSAScoreZone IL High School Assn
#IHSA BKB/4A Berwyn-Cicero (Morton) 36, Hoffman Estates (Conant) 24
1 day ago

IHSAScoreZone IL High School Assn
#IHSA BKB/4A Arlington Heights (St. Viator) 81, Zion (Z.-Benton) 64
1 day ago

IHSAScoreZone IL High School Assn
#IHSA BKB/3A Sycamore (H.S.) 59, West Chicago (Wheaton Academy) 56
1 day ago

IHSAScoreZone IL High School Assn
#IHSA BKB/3A Joliet (Catholic Academy) 68, Plano 55
1 day ago

IHSAScoreZone IL High School Assn
#IHSA BKB/3A Springfield (Lanphier) 77, Springfield (Sacred Heart-Griffin) 67
1 day ago

IHSAScoreZone IL High School Assn
#IHSA BKB/3A Peoria (Notre Dame) 70, Peoria (Richwoods) 46
1 day ago

IHSAScoreZone IL High School Assn
#IHSA BKB/3A Chicago (Uplift) 64, Richmond (R.-Burton) 49
1 day ago

IHSAScoreZone IL High School Assn
#IHSA BKB/4A Flossmoor (Homewood-F.) 49, Harvey (Thornton) 45
1 day ago

IHSAScoreZone IL High School Assn
#IHSA BKB/3A Maple Park (Kaneland) 62, Aurora (Marmion Academy) 60
1 day ago

IHSAScoreZone IL High School Assn
#IHSA BKB/2A Chicago (Hales Franciscan) 68, Chicago (Leo) 57
1 day ago

IHSAScoreZone IL High School Assn
#IHSA BKB/4A Geneva 66, Bolingbrook 63
1 day ago

IHSAScoreZone IL High School Assn
#IHSA BKB/4A Algonquin (Jacobs) 43, Carpentersville (Dundee-Crown) 33
1 day ago

IHSAScoreZone IL High School Assn
#IHSA BKB/1A Waterloo (Gibault Catholic) 59, Springfield (Lutheran) 45
1 day ago

IHSAScoreZone IL High School Assn
#IHSA BKB/3A Chicago (Hyde Park) 49, Chicago (Phillips) 45
1 day ago

IHSAScoreZone IL High School Assn
#IHSA BKB/3A Champaign (Central) 50, Champaign (Centennial) 45
1 day ago

IHSAScoreZone IL High School Assn
#IHSA BKB/2A Petersburg (PORTA) [Coop] 56, Warrensburg (W.-Latham) 52
1 day ago

IHSAScoreZone IL High School Assn
#IHSA BKB/4A Edwardsville (H.S.) 65, Quincy (Sr.) 49
1 day ago

IHSAScoreZone IL High School Assn
#IHSA BKB/1A Champaign (St. Thomas More) 90, St. Anne 86 (2 OT)
1 day ago

IHSAScoreZone IL High School Assn
#IHSA BKB/3A Cahokia (H.S.) 59, Belleville (Althoff Catholic) 57
1 day ago

IHSAScoreZone IL High School Assn
#IHSA BKB/1A Sesser (S.-Valier) 58, Cairo 49
1 day ago

IHSAScoreZone IL High School Assn
#IHSA BKB/4A Lisle (Benet Academy) 57, Aurora (Waubonsie Valley) 33
1 day ago

IHSAScoreZone IL High School Assn
#IHSA BKB/3A Marion (H.S.) 54, Carbondale (H.S.) 53
1 day ago

IHSAScoreZone IL High School Assn
#IHSA BKB/3A Chicago (Orr) 70, LaGrange Park (Nazareth Academy) 46
1 day ago

IHSAScoreZone IL High School Assn
#IHSA BKB/3A Chicago (Bogan) 73, Chicago (Lindblom) 35
1 day ago

IHSAScoreZone IL High School Assn
#IHSA BKB/4A Huntley 77, Rockford (Jefferson) 29
1 day ago

IHSAScoreZone IL High School Assn
#IHSA BKB/4A Wilmette (Loyola Academy) 70, Des Plaines (Maine West) 64
1 day ago

IHSAScoreZone IL High School Assn
#IHSA BKB/3A Mundelein (Carmel) 49, Vernon Hills 43
1 day ago

IHSAScoreZone IL High School Assn
#IHSA BKB/3A Rockford (Lutheran) 71, Belvidere (H.S.) 67
1 day ago

IHSAScoreZone IL High School Assn
#IHSA BKB/2A Paris 60, Braidwood (Reed-Custer) 55
1 day ago

IHSAScoreZone IL High School Assn
#IHSA BKB/4A Chicago (St. Rita) 55, Chicago (Mt. Carmel) 35
1 day ago

IHSAScoreZone IL High School Assn
#IHSA BKB/2A Petersburg (PORTA) [Coop] 56, Warrensburg (W.-Latham) 52
1 day ago

IHSAScoreZone IL High School Assn
#IHSA BKB/3A Park Forest (Rich East) 61, Richton Park (Rich South) 51
1 day ago

IHSAScoreZone IL High School Assn
#IHSA BKB/3A Chicago (Morgan Park) 63, Country Club Hills (Hillcrest) 61
1 day ago

IHSAScoreZone IL High School Assn
#IHSA BKB/2A Nashville 63, Mt. Carmel 55
1 day ago

IHSAScoreZone IL High School Assn
#IHSA BKB/1A Waterloo (Gibault Catholic) 59, Springfield (Lutheran) 45
1 day ago

IHSAScoreZone IL High School Assn
#IHSA BKB/4A South Elgin 76, St. Charles (East) 62
1 day ago

IHSAScoreZone IL High School Assn
#IHSA BKB/1A Sesser (S.-Valier) 58, Cairo 49
1 day ago

IHSAScoreZone IL High School Assn
#IHSA BKB/3A Alton (Marquette) 61, Jerseyville (Jersey) 57
1 day ago

IHSAScoreZone IL High School Assn
#IHSA BKB/3A Woodstock (Marian) 72, Marengo 53
1 day ago

IHSAScoreZone IL High School Assn
#IHSA BKB/4A Chicago Heights (Bloom Twp.) 57, Joliet (Central) 47
1 day ago

IHSAScoreZone IL High School Assn
#IHSA BKB/4A Carol Stream (Glenbard North) 48, Roselle (Lake Park) 44
1 day ago

IHSAScoreZone IL High School Assn
#IHSA BKB/3A Dunlap 60, Galesburg (H.S.) 39
1 day ago

IHSAScoreZone IL High School Assn
#IHSA BKB/4A Berwyn-Cicero (Morton) 36, Hoffman Estates (Conant) 24
1 day ago

IHSAScoreZone IL High School Assn
#IHSA BKB/4A Winnetka (New Trier) 51, Glenview (Glenbrook South) 45
1 day ago

IHSAScoreZone IL High School Assn
#IHSA BKB/4A Normal (Community) 71, Danville (H.S.) 42
1 day ago

IHSAScoreZone IL High School Assn
#IHSA BKB/4A Chicago (Simeon) 47, Palos Hills (Stagg) 45
1 day ago

IHSAScoreZone IL High School Assn
#IHSA BKB/4A South Holland (Thornwood) 81, Oak Forest 58
1 day ago

IHSAScoreZone IL High School Assn
#IHSA BKB/3A Chicago (Marshall) 72, Chicago (Westinghouse College Prep) 58
1 day ago

IHSAScoreZone IL High School Assn
#IHSA BKB/3A Chatham (Glenwood) 63, Taylorville 45
1 day ago

IHSAScoreZone IL High School Assn
#IHSA BKB/1A Mendon (Unity) 68, Kewanee (Wethersfield) 51
1 day ago

IHSAScoreZone IL High School Assn
#IHSA BKB/4A Chicago (Whitney Young) 73, Chicago (De La Salle) 60
1 day ago

IHSAScoreZone IL High School Assn
#IHSA BKB/2A Bloomington (Central Catholic) 56, Taylor Ridge (Rockridge) 55
1 day ago

IHSAScoreZone IL High School Assn
#IHSA BKB/4A Rockford (Auburn) 73, Rockford (Boylan Catholic) 56
1 day ago

IHSAScoreZone IL High School Assn
#IHSA BKB/4A Lincolnshire (Stevenson) 79, Gurnee (Warren) 59
1 day ago

IHSAScoreZone IL High School Assn
#IHSA BKB/2A Sterling (Newman Central Catholic) 65, Elmhurst (IC Catholic) 59
1 day ago

IHSAScoreZone IL High School Assn
#IHSA BKB/3A Morton 44, Peoria (Manual) 43 (OT)
1 day ago

IHSAScoreZone IL High School Assn
#IHSA BKB/3A Chicago (University) 55, Chicago (C. Vocational) 53
1 day ago

IHSAScoreZone IL High School Assn
#IHSA BKB/4A Maywood (Proviso East) 72, Riverside (R.-Brookfield) 65
1 day ago

IHSAScoreZone IL High School Assn
#IHSA BKB/4A Rock Island (H.S.) 65, East Moline (United) 51
1 day ago

IHSAScoreZone IL High School Assn
#IHSA BKB/4A Aurora (West Aurora) 73, Plainfield (North) 59
1 day ago