Joliet Catholic to face Providence on ESPNU
July, 2, 2012
7/02/12
11:53
AM CT
By
Christopher Parish
| ESPNChicago.com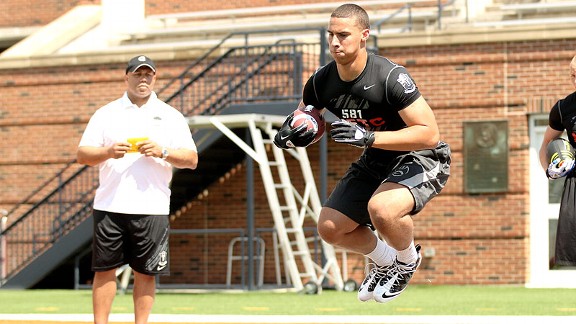 Tom Hauck/ESPNHSJoliet Catholic (Joliet, Ill.) running back and USC commit Ty Isaac will visit Providence Catholic on Opening Night of ESPN's High School Football Kickoff.
A showdown between two top teams in Illinois will kick off the high school football season in style as the third annual ESPN High School Football Kickoff gets underway in August.
In all, 26 teams from 15 states will play on ESPN's family of networks from Aug. 24-26, beginning with Joliet Catholic Academy (Joliet, Ill.) playing at Providence Catholic (New Lenox, Ill.) at 8 p.m. ET on ESPNU. That game features one of the nation's top recruits, rising senior Ty Isaac of Joliet Catholic. The USC commit is rated the nation's No. 70 player in the ESPN 150.
Other Friday games include Minnetonka (Minn.) at Arrowhead (Hartland, Wis.) at 8 p.m. on ESPN3. Good Counsel (Olney, Md.) will play at Bishop Gorman (Las Vegas) at 9 p.m. on ESPN2, and Mullen (Denver) will play at Valor Christian (Highlands Ranch, Colo.) at 10 p.m. on ESPN3.
Friday is the first of three days of coverage that also includes 18 teams appearing on ESPN for the first time as well as 11 athletes who are currently ranked in the ESPN 150. That list is headlined by Fork Union Military Academy (Fork Union, Va.) QB Christian Hackenberg, the nation's No. 1 quarterback and No. 10 recruit in the ESPN 150. His team will play Hermitage (Henrico, Va.) at Oscar Smith High School in Chesapeake, Va. on Saturday at 3 p.m. on ESPNU.
The slate of games includes 12 defending state champions, including two games which have dueling state champions – Good Counsel against Bishop Gorman as well as Byrnes (Duncan, S.C.) taking on Oscar Smith (Chesapeake, Va.) at 7 p.m. Saturday on ESPN.
2012 ESPN High School Football Showcase Schedule
Date
Time (ET)
Games
Location
Network
Friday,
Aug. 24
8 p.m.
Joliet Catholic Academy (Ill.) vs. Providence Catholic (Ill.)
Providence Catholic High School
ESPNU
8 p.m.
Minnetonka (Minn.) vs. Arrowhead (Wis.)
Arrowhead High School
ESPN3
9 p.m.
Good Counsel (Md.) vs. Bishop Gorman (Nev.)
Bishop Gorman High School
ESPN2
10 p.m.
Mullen (Colo.) vs. Valor Christian (Colo.)
Valor Christian High School
ESPN3
Saturday, Aug. 25
12 p.m.
American Heritage (Fla.) vs. Cocoa (Fla.)
Cocoa High School
ESPN
3 p.m.
Fork Union Military Academy (Va.) vs. Hermitage (Va.)
Oscar Smith High School
ESPNU
3:30 p.m.
Staley (Mo.) vs. Lee's Summit West
Lee's Summit West High School
ESPN
7 p.m.
Byrnes (S.C.) vs. Oscar Smith (Va.)
Oscar Smith High School
ESPN
9 p.m.
Ensworth (Tenn.) vs. Lexington Catholic (Ky.)
Lexington Catholic High School
ESPNU
10 p.m.
Santa Margarita (Calif.) vs. Brophy College Prep (Ariz.)
Phoenix College
ESPN2
Sunday,
Aug. 26
12 p.m.
Alcoa (Tenn.) vs. Maryville (Tenn.)
Maryville High School
ESPN2
3 p.m.
University School (Fla.) vs. Trotwood-Madison (Ohio)
King's High School
ESPN
7 p.m.
Gilman (Md.) vs. Moeller (Ohio)
King's High School
ESPNU
ABOUT THIS BLOG

Scott Powers
Scott Powers is an award-winning journalist and has been reporting on preps, colleges and pros for publications throughout the Midwest since 1997.
2014 TOP ILLINOIS FOOTBALL RECRUITS
BLOG ARCHIVE:
CATEGORIES:
IHSAScoreZone IL High School Assn
#IHSA BKW Peoria Wildcats 29, GLASA Wave 12
13 minutes ago

IHSAScoreZone IL High School Assn
#IHSA BKB/1A Mooseheart 63, Heyworth 47
51 minutes ago

IHSAScoreZone IL High School Assn
#IHSA BKW NEDSRA Jr. Bulls 33, GLASA Wave 14
about an hour ago

IHSAScoreZone IL High School Assn
#IHSA BKW Rockford Jr. Chariots 48, Chicago Skyhawks 26
about an hour ago

IHSAScoreZone IL High School Assn
#IHSA SCB/AA Lincolnshire (Stevenson) 450, Barrington 280
about 2 hours ago

IHSAScoreZone IL High School Assn
#IHSA SCB/AA Aurora (Illinois Math and Science Academy) 400, Wheaton (W. Warrenville South) 180
about 2 hours ago

IHSAScoreZone IL High School Assn
#IHSA SCB/AA Aurora (Metea Valley) 340, St. Charles (East) 240
about 2 hours ago

IHSAScoreZone IL High School Assn
#IHSA SCB/AA Aurora (Illinois Math and Science Academy) 460, Aurora (Metea Valley) 220
about 2 hours ago

IHSAScoreZone IL High School Assn
#IHSA SCB/AA Wheaton (W. Warrenville South) 320, St. Charles (East) 250
about 2 hours ago

IHSAScoreZone IL High School Assn
#IHSA SCB/AA Wheaton (W. Warrenville South) 230, Aurora (Metea Valley) 170
about 2 hours ago

IHSAScoreZone IL High School Assn
#IHSA SCB/AA Aurora (Illinois Math and Science Academy) 330, St. Charles (East) 190
about 2 hours ago

IHSAScoreZone IL High School Assn
#IHSA BKB/1A Mendon (Unity) 59, Sesser (S.-Valier) 43
about 2 hours ago

IHSAScoreZone IL High School Assn
#IHSA SCB/A Lisle (Sr.) 200, Gardner (G.-South Wilmington) 70
about 2 hours ago

IHSAScoreZone IL High School Assn
#IHSA SCB/A Westmont 170, Seneca 160
about 3 hours ago

IHSAScoreZone IL High School Assn
#IHSA SCB/A Seneca 260, Gardner (G.-South Wilmington) 110
about 3 hours ago

IHSAScoreZone IL High School Assn
#IHSA SCB/A Lisle (Sr.) 240, Westmont 140
about 3 hours ago

IHSAScoreZone IL High School Assn
#IHSA SCB/A Seneca 120, Lisle (Sr.) 100
about 3 hours ago

IHSAScoreZone IL High School Assn
#IHSA SCB/A Westmont 110, Gardner (G.-South Wilmington) 60
about 3 hours ago

IHSAScoreZone IL High School Assn
#IHSA SCB/A Peoria (P. Christian) 200, Aledo (Mercer County) 180
about 3 hours ago

IHSAScoreZone IL High School Assn
#IHSA SCB/A Elmwood 240, Port Byron (Riverdale) 140
about 3 hours ago

IHSAScoreZone IL High School Assn
#IHSA SCB/AA Chicago (University) 400, Flossmoor (Homewood-F.) 210
about 3 hours ago

IHSAScoreZone IL High School Assn
#IHSA SCB/AA Palos Heights (Chicago Christian) 260, Flossmoor (Homewood-F.) 220
about 3 hours ago

IHSAScoreZone IL High School Assn
#IHSA SCB/AA New Lenox (Providence Catholic) 250, Flossmoor (Homewood-F.) 220
about 3 hours ago

IHSAScoreZone IL High School Assn
#IHSA SCB/AA New Lenox (Providence Catholic) 300, Palos Heights (Chicago Christian) 280
about 3 hours ago

IHSAScoreZone IL High School Assn
#IHSA SCB/AA Chicago (University) 400, New Lenox (Providence Catholic) 180
about 3 hours ago

IHSAScoreZone IL High School Assn
#IHSA SCB/AA Chicago (University) 370, Palos Heights (Chicago Christian) 170
about 3 hours ago

IHSAScoreZone IL High School Assn
#IHSA SCB/A Sterling (Newman Central Catholic) 350, Galena (H.S.) 150
about 3 hours ago

IHSAScoreZone IL High School Assn
#IHSA SCB/AA Oak Park (O.P.-River Forest) 380, LaGrange (Lyons) 280
about 3 hours ago

IHSAScoreZone IL High School Assn
#IHSA SCB/A Rockford (Keith Country Day) 260, Morrison 110
about 3 hours ago

IHSAScoreZone IL High School Assn
#IHSA SCB/AA Hinsdale (Central) 380, Bensenville (Fenton) 290
about 3 hours ago

IHSAScoreZone IL High School Assn
#IHSA SCB/A Carterville 280, McLeansboro (Hamilton County) 140
about 3 hours ago

IHSAScoreZone IL High School Assn
#IHSA SCB/A Nashville 260, Belleville (Althoff Catholic) 190
about 3 hours ago

IHSAScoreZone IL High School Assn
#IHSA SCB/A Nashville 170, McLeansboro (Hamilton County) 90
about 3 hours ago

IHSAScoreZone IL High School Assn
#IHSA BKW Rolling Falcons 34, Peoria Wildcats 10
about 3 hours ago

IHSAScoreZone IL High School Assn
#IHSA SCB/A Carterville 340, Belleville (Althoff Catholic) 170
about 3 hours ago

IHSAScoreZone IL High School Assn
#IHSA SCB/A Carterville 360, Nashville 80
about 3 hours ago

IHSAScoreZone IL High School Assn
#IHSA SCB/A Belleville (Althoff Catholic) 260, McLeansboro (Hamilton County) 70
about 3 hours ago

IHSAScoreZone IL High School Assn
#IHSA SCB/A Carrollton 170, Breese (Mater Dei) 130
about 3 hours ago

IHSAScoreZone IL High School Assn
#IHSA SCB/A Litchfield 310, Piasa (Southwestern) 80
about 3 hours ago

IHSAScoreZone IL High School Assn
#IHSA SCB/A Carrollton 190, Piasa (Southwestern) 150
about 3 hours ago

IHSAScoreZone IL High School Assn
#IHSA SCB/A Litchfield 350, Breese (Mater Dei) 150
about 3 hours ago

IHSAScoreZone IL High School Assn
#IHSA SCB/A Piasa (Southwestern) 150, Breese (Mater Dei) 120
about 3 hours ago

IHSAScoreZone IL High School Assn
#IHSA SCB/A Litchfield 300, Carrollton 120
about 3 hours ago

IHSAScoreZone IL High School Assn
#IHSA SCB/AA Palatine (Fremd) 520, Grayslake (Central) 110
about 3 hours ago

IHSAScoreZone IL High School Assn
#IHSA SCB/A Sterling (Newman Central Catholic) 330, Morrison 90
about 3 hours ago

IHSAScoreZone IL High School Assn
#IHSA SCB/A Maroa (M.-Forsyth) 220, Warrensburg (W.-Latham) 170
about 3 hours ago

IHSAScoreZone IL High School Assn
#IHSA SCB/A Athens 160, Mendon (Unity) 120
about 3 hours ago

IHSAScoreZone IL High School Assn
#IHSA SCB/A Urbana (University) 330, Downs (Tri-Valley) 170
about 3 hours ago

IHSAScoreZone IL High School Assn
#IHSA SCB/AA Springfield (H.S.) 380, Macomb 190
about 3 hours ago

IHSAScoreZone IL High School Assn
#IHSA SCB/AA Woodstock (Marian) 210, Cary (C.-Grove) 200
about 4 hours ago

IHSAScoreZone IL High School Assn
#IHSA SCB/AA Macomb 370, Rock Island (H.S.) 210
about 4 hours ago

IHSAScoreZone IL High School Assn
#IHSA SCB/AA Rockford (Auburn) 590, Maple Park (Kaneland) 90
about 4 hours ago

IHSAScoreZone IL High School Assn
#IHSA SCB/AA Dunlap 240, Macomb 230
about 4 hours ago

IHSAScoreZone IL High School Assn
#IHSA SCB/AA Maple Park (Kaneland) 270, Cary (C.-Grove) 250
about 4 hours ago

IHSAScoreZone IL High School Assn
#IHSA SCB/AA Rockford (Auburn) 370, Woodstock (Marian) 200
about 4 hours ago

IHSAScoreZone IL High School Assn
#IHSA SCB/A Fairfield 220, Newton 100
about 4 hours ago

IHSAScoreZone IL High School Assn
#IHSA SCB/AA Maple Park (Kaneland) 200, Woodstock (Marian) 130
about 4 hours ago

IHSAScoreZone IL High School Assn
#IHSA SCB/AA Normal (Community) 250, Normal (University) 140
about 4 hours ago

IHSAScoreZone IL High School Assn
#IHSA SCB/AA Rockford (Auburn) 380, Cary (C.-Grove) 110
about 4 hours ago

IHSAScoreZone IL High School Assn
#IHSA SCB/AA Bloomington (H.S.) 470, Champaign (Centennial) 100
about 4 hours ago

IHSAScoreZone IL High School Assn
#IHSA SCB/A Toledo (Cumberland) 280, Marshall 170
about 4 hours ago

IHSAScoreZone IL High School Assn
#IHSA SCB/AA Dunlap 220, Rock Island (H.S.) 210
about 4 hours ago

IHSAScoreZone IL High School Assn
#IHSA SCB/AA LaGrange (Lyons) 380, Bensenville (Fenton) 290
about 4 hours ago

IHSAScoreZone IL High School Assn
#IHSA SCB/AA Oak Park (O.P.-River Forest) 440, Hinsdale (Central) 200
about 4 hours ago

IHSAScoreZone IL High School Assn
#IHSA SCB/A Sterling (Newman Central Catholic) 330, Galena (H.S.) 90
about 4 hours ago

IHSAScoreZone IL High School Assn
#IHSA SCB/A Peoria (P. Christian) 270, Port Byron (Riverdale) 210
about 4 hours ago

IHSAScoreZone IL High School Assn
#IHSA SCB/AA Barrington 370, Grayslake (Central) 130
about 4 hours ago

IHSAScoreZone IL High School Assn
#IHSA SCB/AA Lincolnshire (Stevenson) 440, Palatine (Fremd) 210
about 4 hours ago

IHSAScoreZone IL High School Assn
#IHSA SCB/A Sterling (Newman Central Catholic) 180, Rockford (Keith Country Day) 160
about 4 hours ago

IHSAScoreZone IL High School Assn
#IHSA SCB/A Rockford (Keith Country Day) 290, Galena (H.S.) 110
about 4 hours ago

IHSAScoreZone IL High School Assn
#IHSA SCB/A Elmwood 330, Aledo (Mercer County) 50
about 4 hours ago

IHSAScoreZone IL High School Assn
#IHSA BKW NEDSRA Jr. Bulls 40, Chicago Skyhawks 16
about 4 hours ago

IHSAScoreZone IL High School Assn
#IHSA BKW Rockford Jr. Chariots 38, GLASA Wave 20
about 4 hours ago

IHSAScoreZone IL High School Assn
#IHSA SCB/A Athens 160, Mendon (Unity) 120
about 4 hours ago

IHSAScoreZone IL High School Assn
#IHSA SCB/A Williamsville 290, Riverton 150
about 4 hours ago