Midwest Workout features Illinois stars
October, 22, 2012
10/22/12
3:28
PM CT
By
Dave Telep
| ESPNChicago.com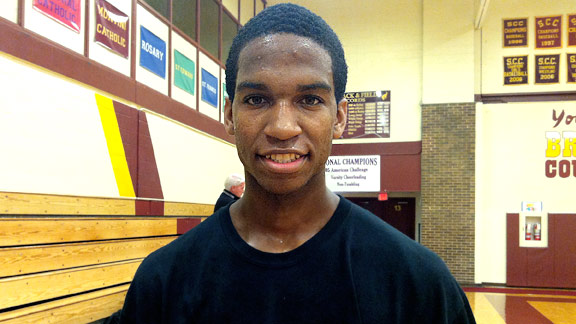 Dave Telep/ESPN.com
LOMBARD, Ill. -- This weekend's first-ever "Midwest Workout" highlighted 45 players selected from Illinois and the surrounding region. The concept was to bring in three groups of 15 players and put them through roughly an hour of drills, implement basic principles and then allow 30 minutes of controlled play using the concepts learned.
Mike Procopio, a former scout with the Boston Celtics and operator of Hoop Consultants, conducted the five-hour workout.
From an evaluation standpoint, the event allowed you to see how a prospect reacts to the implementation of concepts and gauge an overall skill level. There were players ranging from low to high major. In an era where exposure events are the rage, Procopio's workout was a welcomed change where real basketball concepts were taught and emphasized. In short, the 45 kids who were hand picked to attend were subject to improvement.
Read the entire story
.

Tags:
Boys Basketball, St. Rita, Recruiting, York, Simeon, St. Joseph, Dave Telep, Palatine, Kendall Pollard, Victor Law, Michael Finke, David Cohn, Roosevelt Smart, Jordan Ash
ABOUT THIS BLOG

Scott Powers
Scott Powers is an award-winning journalist and has been reporting on preps, colleges and pros for publications throughout the Midwest since 1997.
2014 TOP ILLINOIS FOOTBALL RECRUITS
BLOG ARCHIVE:
CATEGORIES:
IHSAScoreZone IL High School Assn
#IHSA SOB/2A Ottawa (Twp.) 1, Kankakee (Sr.) 0
1 day ago

IHSAScoreZone IL High School Assn
#IHSA FB Belleville (East) 16, O'Fallon (H.S.) 13
1 day ago

IHSAScoreZone IL High School Assn
#IHSA FB Lake Forest (L.F. Academy) 2, Chicago (St. Francis de Sales) 0
1 day ago

IHSAScoreZone IL High School Assn
#IHSA FB Vernon Hills 20, Fox Lake (Grant) 6
1 day ago

IHSAScoreZone IL High School Assn
#IHSA FB Ottawa (Marquette) 38, Chicago (Luther North) [Coop] 20
1 day ago

IHSAScoreZone IL High School Assn
#IHSA FB Chicago (Fenger) 52, Chicago (Farragut) 0
1 day ago

IHSAScoreZone IL High School Assn
#IHSA FB Chicago (Noble/Pritzker) 27, Chicago (Noble Street Charter) 0
1 day ago

IHSAScoreZone IL High School Assn
#IHSA FB Chicago (South Shore International College Prep) 12, Chicago (Hirsch) 0
1 day ago

IHSAScoreZone IL High School Assn
#IHSA FB Chicago (C. Military Academy-Bronzeville) 2, Chicago (Gage Park) 0
1 day ago

IHSAScoreZone IL High School Assn
#IHSA FB Chicago (Agricultural Science) 20, Chicago (TEAM Englewood) 0
1 day ago

IHSAScoreZone IL High School Assn
#IHSA FB Chicago (King) 46, Chicago (Brooks) 0
1 day ago

IHSAScoreZone IL High School Assn
#IHSA FB Chicago (Noble/UIC) 15, Chicago (Noble/Muchin) 6
1 day ago

IHSAScoreZone IL High School Assn
#IHSA FB Chicago (Mt. Carmel) 42, Chicago (Hales Franciscan) 8
1 day ago

IHSAScoreZone IL High School Assn
#IHSA FB Chicago (Schurz) 26, Chicago (Steinmetz) 12
1 day ago

IHSAScoreZone IL High School Assn
#IHSA FB Chicago (Marine Military Academy) 52, Chicago (Little Village) 0
1 day ago

IHSAScoreZone IL High School Assn
#IHSA SOB/2A Champaign (Centennial) 1, Mahomet (M.-Seymour) 0
1 day ago

IHSAScoreZone IL High School Assn
#IHSA FB Chicago (Noble/Rowe-Clark) 38, Chicago (Noble/Rauner) 32
1 day ago

IHSAScoreZone IL High School Assn
#IHSA SOB/1A Wood River (East Alton-W.R.) 1, Greenville 0
1 day ago

IHSAScoreZone IL High School Assn
#IHSA SOB/1A Princeton 1, Mendota 0
1 day ago

IHSAScoreZone IL High School Assn
#IHSA SOB/1A Columbia 2, Freeburg 0
1 day ago

IHSAScoreZone IL High School Assn
#IHSA SOB/2A Effingham (H.S.) 1, Decatur (Eisenhower) 0
1 day ago

IHSAScoreZone IL High School Assn
#IHSA FB Chicago (CICS/Ellison) 28, Chicago (Noble/DRW Trading) 0
1 day ago

IHSAScoreZone IL High School Assn
#IHSA SOB/1A Lisle (Sr.) 5, Lombard (Montini) 0
1 day ago

IHSAScoreZone IL High School Assn
#IHSA SOB/3A Villa Park (Willowbrook) 3, Bartlett 1
1 day ago

IHSAScoreZone IL High School Assn
#IHSA FB Joliet (West) 41, Joliet (Central) 0
1 day ago

IHSAScoreZone IL High School Assn
#IHSA FB El Paso (E.P.-Gridley) 34, Carlyle 31
1 day ago

IHSAScoreZone IL High School Assn
#IHSA SOB/1A Anna (A.-Jonesboro) [Coop] 5, Harrisburg 1
1 day ago

IHSAScoreZone IL High School Assn
#IHSA FB Breese (Mater Dei) 50, Macomb 29
1 day ago

IHSAScoreZone IL High School Assn
It's a race to the finish in 5 simultaneous #IHSA golf state finals! http://t.co/MV8OwtT2HH
1 day ago

IHSAScoreZone IL High School Assn
#IHSA SOB/3A Elgin (H.S.) 2, South Elgin 0
1 day ago

IHSAScoreZone IL High School Assn
#IHSA SOB/3A Flossmoor (Homewood-F.) 1, Chicago (Brother Rice) 0 (2 OT)
1 day ago

IHSAScoreZone IL High School Assn
#IHSA SOB/2A Crystal Lake (Central) 6, Marengo 0
1 day ago

IHSAScoreZone IL High School Assn
#IHSA SOB/1A Stillman Valley 3, Rockford (Keith Country Day) 1
1 day ago

IHSAScoreZone IL High School Assn
#IHSA SOB/1A Monmouth (M.-Roseville) 5, Macomb 2
1 day ago

IHSAScoreZone IL High School Assn
#IHSA SOB/1A Springfield (Lutheran) 2, Virden (North Mac) 0
1 day ago

IHSAScoreZone IL High School Assn
#IHSA SOB/1A Catlin [Coop] 1, Bismarck (B.-Henning) 0
1 day ago

IHSAScoreZone IL High School Assn
#IHSA SOB/1A Carlinville 1, Staunton 0
1 day ago

IHSAScoreZone IL High School Assn
#IHSA SOB/1A Chicago (Latin) 2, Chicago (Rickover Naval Academy) 0
1 day ago

IHSAScoreZone IL High School Assn
#IHSA SOB/1A Farmer City (Blue Ridge) [Coop] 1, Bloomington (Central Catholic) 0
1 day ago

IHSAScoreZone IL High School Assn
#IHSA FB Chicago Heights (Bloom Twp.) 48, Richton Park (Rich South) 0
1 day ago

IHSAScoreZone IL High School Assn
#IHSA SOB/1A Trenton (Wesclin) 3, Breese (Central) 2
1 day ago

IHSAScoreZone IL High School Assn
#IHSA SOB/2A Park Forest (Rich East) 8, Olympia Fields (Rich Central) 1
1 day ago

IHSAScoreZone IL High School Assn
#IHSA SOB/1A Williamsville 3, Athens [Coop] 0
1 day ago

IHSAScoreZone IL High School Assn
For live results of today's #IHSA golf tournaments on your mobile phone: http://t.co/Ea0CxBC3sz
1 day ago

IHSAScoreZone IL High School Assn
#IHSA FB Elgin (St. Edward) 45, Palos Heights (Chicago Christian) 6
2 days ago

IHSAScoreZone IL High School Assn
#IHSA FB Plainfield (South) 14, Plainfield (Central) 13
2 days ago

IHSAScoreZone IL High School Assn
#IHSA FB St. Charles (North) 42, St. Charles (East) 0
2 days ago

IHSAScoreZone IL High School Assn
#IHSA FB West Chicago (Wheaton Academy) 24, Bensenville (Fenton) 14
2 days ago

IHSAScoreZone IL High School Assn
#IHSA FB Aurora (Waubonsie Valley) 35, Naperville (Neuqua Valley) 28
2 days ago

IHSAScoreZone IL High School Assn
#IHSA FB Chicago Heights (Marian) 28, Niles (Notre Dame) 14
2 days ago

IHSAScoreZone IL High School Assn
#IHSA FB Mundelein (Carmel) 42, Woodstock (Marian) 14
2 days ago

IHSAScoreZone IL High School Assn
#IHSA FB Grayslake (North) 61, Grayslake (Central) 13
2 days ago

IHSAScoreZone IL High School Assn
#IHSA FB Elgin (H.S.) 31, Elgin (Larkin) 13
2 days ago

IHSAScoreZone IL High School Assn
#IHSA FB Minooka 41, Oswego (East) 14
2 days ago

IHSAScoreZone IL High School Assn
#IHSA FB Joliet (Catholic Academy) 27, Lisle (Benet Academy) 0
2 days ago

IHSAScoreZone IL High School Assn
#IHSA FB LaGrange (Lyons) 21, Elmhurst (York) 10
2 days ago

IHSAScoreZone IL High School Assn
#IHSA FB Elmwood Park 35, Melrose Park (Walther Christian) 14
2 days ago

IHSAScoreZone IL High School Assn
#IHSA FB Elgin (St. Edward) 45, Palos Heights (Chicago Christian) 6
2 days ago

IHSAScoreZone IL High School Assn
#IHSA FB Aurora (West Aurora) 55, Aurora (East) 14
2 days ago

IHSAScoreZone IL High School Assn
#IHSA FB Darien (Hinsdale South) 55, Berwyn-Cicero (Morton) 10
2 days ago

IHSAScoreZone IL High School Assn
#IHSA FB Batavia 26, Geneva 20
2 days ago

IHSAScoreZone IL High School Assn
#IHSA FB Rock Island (H.S.) 21, Moline (H.S.) 20
2 days ago

IHSAScoreZone IL High School Assn
#IHSA FB Galesburg (H.S.) 35, Quincy (Sr.) 28
2 days ago

IHSAScoreZone IL High School Assn
#IHSA FB Pleasant Hill [Coop] 30, Mendon (Unity) [Coop] 6
2 days ago

IHSAScoreZone IL High School Assn
#IHSA FB Greenfield [G.-Northwestern Coop] 26, Jacksonville (Routt) [Coop] 0
2 days ago

IHSAScoreZone IL High School Assn
#IHSA FB Carthage (Illini West) 44, Hamilton [West Hancock Coop] 8
2 days ago

IHSAScoreZone IL High School Assn
#IHSA FB Kewanee (Wethersfield) [A.-Wethersfield Coop] 61, Cambridge [Ridgewood Coop] 46
2 days ago

IHSAScoreZone IL High School Assn
#IHSA FB Palos Heights (Shepard) 18, Blue Island (Eisenhower) 8
2 days ago

IHSAScoreZone IL High School Assn
#IHSA FB Summit (Argo) 31, Oak Lawn (Community) 10
2 days ago

IHSAScoreZone IL High School Assn
#IHSA FB Flossmoor (Homewood-F.) 68, Lockport (Twp.) 21
2 days ago

IHSAScoreZone IL High School Assn
#IHSA FB Crete (C.-Monee) 25, Olympia Fields (Rich Central) 12
2 days ago

IHSAScoreZone IL High School Assn
#IHSA FB Troy (Triad) 28, Waterloo (H.S.) 14
2 days ago

IHSAScoreZone IL High School Assn
#IHSA FB Nashville 60, DuQuoin (H.S.) [Coop] 42
2 days ago

IHSAScoreZone IL High School Assn
#IHSA FB Carmi (C.-White County) 43, Sesser (S.-Valier) [Coop] 24
2 days ago

IHSAScoreZone IL High School Assn
#IHSA FB West Frankfort (Frankfort) 28, Metropolis (Massac County) 22
2 days ago