ESPN 25 Power Rankings: Week 13
February, 19, 2013
2/19/13
11:50
AM CT
By
Staff
| ESPNChicago.com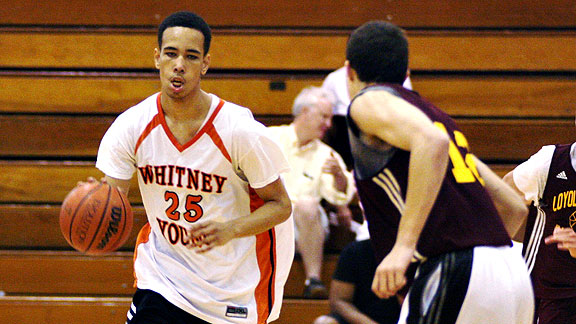 Scott Powers/ESPNChicago.com
Whitney Young is back on top of Chicago hoops after capturing the Public School tourney crown. The title moved the Dolphins past city rival Simeon and on the edge of cracking the top 5. Plus, preseason top-10 squads Chester and Oak Hill Academy are creeping back into the top 20.
See the rankings here
.
ABOUT THIS BLOG

Scott Powers
Scott Powers is an award-winning journalist and has been reporting on preps, colleges and pros for publications throughout the Midwest since 1997.
2014 TOP ILLINOIS FOOTBALL RECRUITS
BLOG ARCHIVE:
CATEGORIES:
IHSAScoreZone IL High School Assn
#IHSA FB Chicago (Noble/Bulls) 8, Chicago (Noble/Pritzker) 0
2 days ago

IHSAScoreZone IL High School Assn
#IHSA FB Woodstock (Marian) 32, Crystal Lake (South) 0
2 days ago

IHSAScoreZone IL High School Assn
#IHSA FB Roselle (Lake Park) 17, Hoffman Estates (Conant) 0
2 days ago

IHSAScoreZone IL High School Assn
#IHSA FB New Lenox (Lincoln-Way West) 14, Sycamore (H.S.) 13
2 days ago

IHSAScoreZone IL High School Assn
#IHSA FB Cary (C.-Grove) 38, Wheaton (North) 28
2 days ago

IHSAScoreZone IL High School Assn
#IHSA FB Toulon (Stark County) 48, Knoxville 0
2 days ago

IHSAScoreZone IL High School Assn
#IHSA FB Palos Hills (Stagg) 35, Country Club Hills (Hillcrest) 6
2 days ago

IHSAScoreZone IL High School Assn
#IHSA FB Canton 34, Chillicothe (Illinois Valley Central) 9
2 days ago

IHSAScoreZone IL High School Assn
#IHSA FB Carrollton 40, Fithian (Oakwood) [O.-Armstrong-Potomac Coop] 6
2 days ago

IHSAScoreZone IL High School Assn
#IHSA FB Wilmette (Loyola Academy) 44, Milwaukee (Marquette), WI 0
2 days ago

IHSAScoreZone IL High School Assn
#IHSA FB Chicago (Noble/UIC) 47, Chicago (Sullivan) 0
2 days ago

IHSAScoreZone IL High School Assn
#IHSA FB Aurora (Waubonsie Valley) 20, Naperville (Central) 6
2 days ago

IHSAScoreZone IL High School Assn
#IHSA FB Centerville, OH 33, Carol Stream (Glenbard North) 28
2 days ago

IHSAScoreZone IL High School Assn
#IHSA FB Kirkland (Hiawatha) 18, Mooseheart 12
2 days ago

IHSAScoreZone IL High School Assn
#IHSA FB Champaign (Centennial) 62, Morton 12
2 days ago

IHSAScoreZone IL High School Assn
#IHSA FB Addison (A. Trail) 22, Glen Ellyn (Glenbard South) 7
2 days ago

IHSAScoreZone IL High School Assn
#IHSA FB Huntley 17, Bartlett 7
2 days ago

IHSAScoreZone IL High School Assn
#IHSA FB Carpentersville (Dundee-Crown) 36, Elgin (H.S.) 22
2 days ago

IHSAScoreZone IL High School Assn
#IHSA FB Aurora (Metea Valley) 45, Plainfield (North) 28
2 days ago

IHSAScoreZone IL High School Assn
#IHSA FB Round Lake 21, Chicago (DePaul College Prep) 14
3 days ago

IHSAScoreZone IL High School Assn
#IHSA FB Chicago (Bowen) 32, Chicago (Goode STEM Academy) 6
3 days ago

IHSAScoreZone IL High School Assn
#IHSA FB Roselle (Lake Park) 17, Hoffman Estates (Conant) 0
3 days ago

IHSAScoreZone IL High School Assn
#IHSA FB New Lenox (Lincoln-Way West) 14, Sycamore (H.S.) 13
3 days ago

IHSAScoreZone IL High School Assn
#IHSA FB Downers Grove (North) 31, Lockport (Twp.) 20
3 days ago

IHSAScoreZone IL High School Assn
#IHSA FB Chicago (C. Hope Academy) 6, Winnetka (North Shore Country Day) 0
3 days ago

IHSAScoreZone IL High School Assn
#IHSA FB Oswego (East) 18, Woodstock (H.S.) 0
3 days ago

IHSAScoreZone IL High School Assn
#IHSA FB Princeton [Coop] 35, Morrison 7
3 days ago

IHSAScoreZone IL High School Assn
#IHSA FB Chicago (Schurz) 7, Park Ridge (Maine East) 0
3 days ago

IHSAScoreZone IL High School Assn
#IHSA FB Lombard (Glenbard East) 41, Villa Park (Willowbrook) 14
3 days ago

IHSAScoreZone IL High School Assn
#IHSA FB Bloomfield Hills (Brother Rice), MI 40, Chicago (Brother Rice) 34
3 days ago

IHSAScoreZone IL High School Assn
#IHSA FB Round Lake 21, Chicago (DePaul College Prep) 14
3 days ago

IHSAScoreZone IL High School Assn
#IHSA FB Chicago (Lincoln Park) 44, Chicago (Noble/Rowe-Clark) 22
3 days ago

IHSAScoreZone IL High School Assn
#IHSA FB Hebron (Alden-H.) [Coop] 43, Arlington Heights (Christian Liberty Academy) [Coop] 7
3 days ago

IHSAScoreZone IL High School Assn
#IHSA FB McHenry 61, Elgin (Larkin) 12
3 days ago

IHSAScoreZone IL High School Assn
#IHSA FB Chicago (Luther North) [Coop] 54, Elgin (Westminster Christian) 30
3 days ago

IHSAScoreZone IL High School Assn
#IHSA FB Bismarck (B.-Henning) 34, Carmi (C.-White County) 12
3 days ago

IHSAScoreZone IL High School Assn
#IHSA FB Crystal Lake (Central) 42, Fox Lake (Grant) 6
3 days ago

IHSAScoreZone IL High School Assn
#IHSA FB South Elgin 49, St. Charles (East) 14
3 days ago

IHSAScoreZone IL High School Assn
#IHSA FB Chicago (Orr) 32, Chicago (Noble/Rauner) 16
3 days ago

IHSAScoreZone IL High School Assn
#IHSA FB Chicago (CICS/Longwood) 14, Chicago (Douglass) 6
3 days ago

IHSAScoreZone IL High School Assn
#IHSA FB River Grove (Guerin) 36, Chicago (CICS/Ellison) 8
3 days ago

IHSAScoreZone IL High School Assn
#IHSA FB Milford [Coop] 54, Moweaqua (Central A & M) 13
3 days ago

IHSAScoreZone IL High School Assn
#IHSA FB Chicago (North Lawndale Charter) 20, Chicago (Lindblom) 7
3 days ago

IHSAScoreZone IL High School Assn
#IHSA FB Hebron (Alden-H.) [Coop] 43, Arlington Heights (Christian Liberty Academy) [Coop] 7
3 days ago

IHSAScoreZone IL High School Assn
#IHSA FB Glen Ellyn (Glenbard West) 21, Wheaton (W. Warrenville South) 10
3 days ago

IHSAScoreZone IL High School Assn
#IHSA FB Canton 34, Chillicothe (Illinois Valley Central) 9
3 days ago

IHSAScoreZone IL High School Assn
#IHSA FB Pittsfield [Coop] 28, Varna (Midland) [River Valley Coop] 6
3 days ago

IHSAScoreZone IL High School Assn
#IHSA FB Woodstock (North) 14, Wauconda 6
3 days ago

IHSAScoreZone IL High School Assn
#IHSA FB LaGrange Park (Nazareth Academy) 42, Bloomington (H.S.) 7
3 days ago

IHSAScoreZone IL High School Assn
#IHSA FB Rochelle 43, Chicago (Corliss) 6
3 days ago

IHSAScoreZone IL High School Assn
#IHSA FB Geneva 41, Aurora (West Aurora) 23
3 days ago

IHSAScoreZone IL High School Assn
#IHSA FB Elmhurst (York) 50, Chicago (Clark) 0
3 days ago

IHSAScoreZone IL High School Assn
#IHSA FB Hampshire 28, Burlington (Central) 18
3 days ago

IHSAScoreZone IL High School Assn
#IHSA FB Chicago (Fenger) 18, Chicago (Juarez) 14
3 days ago

IHSAScoreZone IL High School Assn
#IHSA FB Evergreen Park 55, Lake Station (Edison), IN 13
3 days ago

IHSAScoreZone IL High School Assn
#IHSA FB Arlington Heights (St. Viator) 0, Rolling Meadows 0
3 days ago

IHSAScoreZone IL High School Assn
#IHSA FB Havana 45, Rushville (R.-Industry) 42
3 days ago

IHSAScoreZone IL High School Assn
#IHSA FB Morton 6, Champaign (Centennial) 6
3 days ago