Deep Simeon squad quiets Morgan Park
January, 23, 2011
1/23/11
3:46
AM CT
CHICAGO -- Simeon is going to let Morgan Park keep on doing the talking, and it'll keep on doing the winning.
Despite Morgan Park coach Nick Irvin's comments carrying much of the pregame headlines, No. 1 Simeon took care of business on the court Saturday, defeating the No. 5 Mustangs, 60-51, in a Red South matchup before a packed crowd at Chicago State.
"You'll never be able to quiet Nick Irvin," Simeon coach Robert Smith joked after the game. "You'll never be able to quiet him. He still thinks he's going to be able to get there. He's got a good team. He's got a great shot at winning city, great shot at winning 3A state."
[+] Enlarge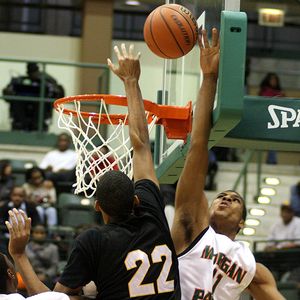 Scott Powers, ESPN.comMorgan Park's Wayne Blackshear attempts to block Simeon's Raswhan McElrath's shot attempt.
While Simeon may have a good team, Simeon still is the great one. The undefeated Wolverines wore down Morgan Park and its star
Wayne Blackshear
throughout the course of Saturday's game and showed why they're ranked the No. 8 team in the country by ESPN RISE.
Simeon's great asset is its depth. Smith has gone with a rotation of 10 players for almost the entire season. Aside from slowing opponents down, the depth allows the Wolverines to have someone step up on any given night.
On Saturday, the dice fell in sophomore Kendrick Nunn's hands. Coming off the bench, Nunn, a highly-ranked sophomore guard, went scoreless in the opening quarter, but he made up for it the remainder of the game. He finished with a game-high 19 points and grabbed five rebounds.
"The thing is his playing time," Smith said of Nunn. "He's only playing 15 minutes, 16 minutes. You don't get see it when other kids are playing 28, 30 minutes. Today when he got the minutes, he showed it."
Nunn earned his minutes Saturday with his play during the second quarter. Morgan Park held a 19-11 advantage after the first quarter thanks to five 3-pointers. Simeon needed someone to emerge, and Nunn stepped up. In the second quarter he was 3-of-3 from the field, scored seven points, grabbed three rebounds and dished out one assist to cut Simeon's deficit to three points at halftime.
In the third quarter, junior
Steve Taylor
joined Nunn in his party, and the Wolverines began to overtake Morgan Park. Taylor hit back-to-back 3-pointers in the early minutes of the third quarter during an 11-4 run, and the Wolverines went ahead 41-37. They wouldn't relinquish the lead the rest of the night.
Taylor finished with four 3-pointers and 14 points. He also had six rebounds.
"Steve Taylor, honestly, is probably the best player in his class," Irvin said. "He just killed us."
Free-throw shooting had the same effect on the Mustangs. Morgan Park shot 9 of 18 from the free-throw line.
It's where Irvin thought the game was decided.
"I think we lost the game ourselves," Irvin said. "It wasn't what they did or nothing. We missed a lot of free throws. We had our chance. We had them down. We just didn't finish the game. They didn't do anything special. If we play them again, I think it's going to be a better outcome."
Blackshear, a Louisville recruit, came out on a tear with 14 points in the first half, but slowed down as the game progressed. He picked up his third foul in the final seconds of the first half, was called for his fourth in the third quarter and wasn't the same player the rest of the way. He scored just two points in the second half and finished the game shooting 6 of 19 from the field.
Markee Williams
(nine points, five assists) and
Billy Garrett
Jr. (13 points) contributed for Morgan Park.
Jabari Parker
had 10 points and six rebounds for Simeon.
Chicago mayoral candidates Rahm Emanuel and Gery Chico, Antoine Walker and Bobby Simmons were among those in attendance at Saturday's game.