High School:

2011 Week 1 recaps
August, 28, 2011
8/28/11
10:12
PM CT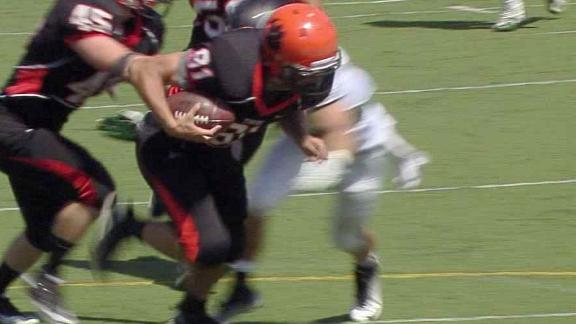 WHEATON, Ill. – Glenbard West's
Tommy Schutt
delivered a message on the opening play of Sunday's game against Wheaton Warrenville South.
With the snap, Schutt, a
Penn State
recruit, ran over Wheaton Warrenville South's offensive tackle and quickly came up on Tigers quarterback Thaddeus Armstrong. From Armstrong's blind side, Schutt flew into him and sent him crashing to the ground.
"That was one of the biggest hits I've ever seen," Glenbard West linebacker Andrew Larkin said.
Schutt and his defensive mates were relentless from the start, leading No. 3 Glenbard West to a 21-7 road win over No. 2 Wheaton Warrenville South on national television on Sunday.
[+] Enlarge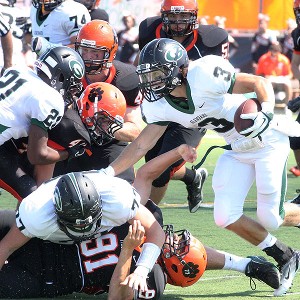 Scott Powers/ESPNChicago.comGlenbard West's Avery Balogh rushed for 108 yards and a touchdown on Sunday.
The loss snapped Wheaton Warrenville South's 27-game winning streak. It was also the Tigers' first home loss since Oct. 31, 2008.
Wheaton Warrenville South had been a thorn in Glenbard West's side the past few years. The Tigers ended Glenbard West's season in 2009 in the Class 7A state title game and in the 7A quarterfinals in 2010.
Glenbard West coach Chad Hetlet didn't downplay the significance of his team's victory.
"This is Wheaton South at Red Grange (Field)," Hetlet said. "You don't beat them here. You just don't beat them here. I don't care what you say. It's one of the best programs in the country year in and year out, great coaching staff. You just don't beat them here."
Wheaton Warrenville South had plenty of chances to continue its winning streak. The Tigers recovered four Glenbard West fumbles and began in the Hilltoppers' territory on three of those instances. But only once was Wheaton Warrenville South able to capitalize.
With Glenbard West leading 7-0, the Tigers were given a gift to open the second half. Glenbard West quarterback
Justice Odom
lost his grip on the ball, and Wheaton Warrenville South defensive end Mark Rooney recovered it on the Hilltoppers' five-yard line.
On four consecutive running plays, Glenbard West stopped Wheaton Warrenville South from reaching the end zone and kept its lead.
"That's something we preach a lot throughout the week of practice is facing adversity," said Schutt, who missed most of the fourth quarterback with cramps. "The offense turns the ball over; the defense has to step up. We did. That was a great stand."
Glenbard West had its own share of offensive struggles until the fourth quarter, when senior Avery Balogh began to find his groove. Balogh rushed for a 31-yard gain that led to a 2-yard touchdown run by Joe Zito with 9:07 left in the fourth quarter, and later scored himself with 1:45 remaining on an 18-yard scamper.
The game featured nine plays of 10 or more yards, and Balogh accounted for three of them. He finished with 108 yards and one touchdown on 11 carries.
"It felt great to get the ball after I blocked for a great running back last year in
Nick Burrello
, who is at
Harvard
now," Balogh said. "It just felt great to finally get my chance and take advantage of it."
Wheaton Warrenville South pulled within 14-7 with 6:31 left when Dan Vitale, a
Northwestern
recruit, found a hole up the middle and rushed for a 22-yard touchdown. The Tigers were stopped on their next two possessions.
Vitale was one of the few bright spots for the Tigers' offense, rushing for 45 yards on 12 carries and catching six passes for 25 yards.
Wheaton Warrenville South coach Ron Muhitch thought the game came down to Glenbard West's dominant defense and his own team's lack of experience.
"Credit to Glenbard," Muhitch said. "They played tough defense. They played aggressive, tough defense. Chad told me, 'We're not going to back off because you got a new quarterback,' and that's exactly what he should have done. That's exactly what they're good at.
"I struggled to call a play today. I really did. Because every play that we called, somebody had a run-through or a scheme mistake. We practiced it, but I'll be honest with you, you can't practice lack of experience. All junior line, new quarterback, basically new offense, and I thought it showed."
Odom connected with Max Bruere for a 12-yard touchdown in the first quarter to give Glenbard West a 7-0 advantage.
Michael Marston and Larkin had interceptions for Glenbard West.
August, 27, 2011
8/27/11
4:42
AM CT
JOLIET, Ill. -- For Joliet Catholic senior
Malin Jones
to say teammate Ty Isaac's 75-yard game-winning touchdown with 35.3 seconds left to defeat Carmel, 32-31, on Friday was the greatest play he ever witnessed carries some weight.
For Joliet Catholic coach Dan Sharp to make the same remark with 34 years of coaching experience, you understand just how grand it actually was.
Trailing 31-25 in the game's final minute, Isaac ran a fade route, had to slow down to catch the ball over his right shoulder, avoided Carmel's defensive back and tiptoed around the sideline, then gathered himself and sprinted the remaining 50 yards for the touchdown.
Isaac Grashoff connected on the extra point, and No. 11 Joliet Catholic defeated visiting No. 8 Carmel in the East Suburban Catholic season opener.
"Honest to God, my heart jumped out of my chest," Sharp said of Isaac's heroics. "It was one of the most exciting moments I've had in my professional career in 34 years coaching."
Isaac had no trouble labeling the catch his greatest high school football moment.
"You can't even explain it," Isaac said. "It's the best feeling getting the game-winning touchdown. Ah … overwhelmed."
Isaac's touchdown reception was only a percentage of the drama that occurred during the second half.
The third quarter began with Joliet Catholic scoring two quick touchdowns and building a 25-10 lead. Carmel wasn't going away, though. The Corsairs scored a touchdown on a 17-yard run by Michael Panico in the third quarter to pull within 25-17.
The Hilltoppers held that eight-point advantage until Carmel's offense answered again with a five-yard touchdown run by
Jordan Kos
with 4:28 remaining in the game. Carmel failed on its two-point conversion attempt, and Joliet Catholic led 25-23.
Carmel's defense held Joliet Catholic on three consecutive plays and forced it to punt. The Corsairs took from their 26-yard line with 2:55 remaining. After moving the ball forward 18 yards, Panico provided the game's first dramatic play by breaking a 56-yard touchdown run with one minute remaining. Carmel quarterback Brian Brennan ran the ball in for the two-point conversion, and the Corsairs led 31-25.
Minutes later, the tables would turn.
After the game, Sharp and Carmel coach Andy Bitto walked across to each other and embraced in a hug.
"As soon as the game ended, I thought of Andy," Sharp said. "I know how that feels. He's a great friend."
Bitto would have loved to win the game, but he took the positives from it.
"I'm proud of our kids," Bitto said. "We could have folded it in the third quarter; we came back. We could have folded it in the two-minute drills, and we score. It just wasn't to be."
Isaac finished with 221 yards on 17 carries. He rushed for touchdowns of 46 and 70 yards. Of course, he also had a 75-yard touchdown reception.
"I think Isaac might be the best back in the state," Bitto said. "We couldn't stop that kid."
It was the third consecutive year a Carmel-Joliet Catholic contest came down to three points or less. Joliet Catholic won 19-16 in 2009. Carmel won 31-28 last season.
"It's great to come out with a winning record against Carmel," said Jones, who faced Carmel three times in his varsity career. "They're just an amazing team. Their defense is crazy. They're hard hitters. They're not the biggest team, but they all play like they're on a college team."
Grashoff connected on two 36-yard field goals for Joliet Catholic. Jones also scored a touchdown for the Hilltoppers.
Carmel's Steven O'Block made a 47-yard field goal in the first half.
August, 27, 2011
8/27/11
4:18
AM CT
By
Caleb Benoit
| ESPNChicago.com


WESTERN SPRINGS -- Lyons Township High School quarterback Connor Onion kept the offense moving in his first varsity start, and the Lions' playmaking defense took care of the rest.
Onion completed passes to seven different receivers and No. 20 Lyons forced five turnovers and blocked a punt in its 24-19 season-opening win over No. 16 Stevenson on Friday night.
The five turnovers included a game-sealing interception by Conner Wasz, who picked off Stevenson quarterback
Matt Micucci
inside Lyons' 20-yard line with 1:44 left in the fourth quarter. It was one of four interceptions by the host Lions, who found themselves in the right place at the right time from the opening kickoff.
"Obviously, our secondary came up huge," Lyons coach Kurt Weinberg said. "We got a lot of guys, athletically, who can play very, very well. We came up with some huge stops, but also some big turnovers when we needed them."
Onion, meanwhile, played calm and collected. In Lyons' four- and five-receiver spread offense, he completed 20-of-33 for 190 yards and a touchdown to receiver Matthew Harris. Harris and Rennick Thompson tied for the team lead with six catches.
Perhaps most importantly, Onion didn't throw an interception.
"Everyone this week was saying, 'You're going to throw up. You're going to be nervous. Your knees are going to be shaking,'" Onion said. "But I felt confident, and the coaches prepared us well."
Onion said getting called up to varsity team at the end of last season helped prepared him for Friday's win. It was a big one, too: Stevenson had won 19 straight regular-season games.
"I didn't know that," Weinberg said. "Ultimately, just beating a great program like Stevenson makes you feel good. We know who they are, and we know what they do. They win football games. They hit you in the mouth, and we knew it would be a tough one coming (into the game). I'm just happy to beat Stevenson."
While Lyons' offense was often methodical, using short passes to rack up 15 first downs, its defense played with exclamation points. Evan Booth had two interceptions while Jamari Burks added another. It wasn't just the defensive backs, though. Jimmy Mitchell recovered the blocked punt in the first quarter and Robert Mitchell recovered the fumble before halftime.
The win is an early boost for the Lions, whose difficult schedule includes Downers Grove South and Glenbard West in the next two weeks.
Meanwhile, Stevenson's bid for a 23rd consecutive playoff berth hit a Week 1 snag.
"We turned the ball over tonight," Stevenson coach Bill McNamara said. "We gave them more opportunities than they could ever ask for. Hats off to Lyons. They took advantage of it. We got some work to do. We'll get better."
Stevenson never led but had its chances. Anthony Bozin's and Nathan Kahn's short touchdown runs in the second and fourth quarters, respectively, pulled the Patriots with a score. But each of their next possessions ended with turnovers, including the final interception at the end of the game.
"It's real disappointing," said Stevenson wide receiver Troy Radtke, who hauled in a game-high seven catches for 169 yards. "But after the slow start, I'm really proud of our team after coming back and digging deep in the second half. We really showed a lot of heart out there."
One of the Lions' most dangerous weapons, Will Konstant, limped off the field with an ankle injury late in the third quarter and did not return. He often replaced Onion when Lyons' offense moved inside the 10-yard line and twice scored on 1-yard touchdown runs.
Players of the game:
Lyons -- QB Connor Onion (Jr.) 20-for-33, 190 yards, TD; WR/DB Evan Booth (Sr.) two INTs. Stevenson -- WR/DB Troy Radtke (Sr.) 7 receptions, 169 yards, TD.
Stat of the game:
Stevenson quarterback Matt Micucci, who doubles as the team's kicker, missed an extra point after converting all 47 of his attempts last season.
It was over when:
Lyons defensive back Conner Wasz intercepted Stevenson's Matt Micucci inside Lyons' 20-yard line with 1:44 left in the fourth quarter.
Quote of the night:
"There's some things we'd like him to do better," Weinberg said of Onion, "But all in all, I think he ran the machine well and ran the show well. He did a good job distributing the ball and understanding what we were after. I think he did a good job for his first start, for sure."
August, 27, 2011
8/27/11
4:01
AM CT
By
Andrew Braverman
| ESPNChicago.com
Both the 2009 and 2010 season openers between Fremd and Lake Zurich went down to the wire; Friday's 2011 edition in Palatine did not follow suit.
Coming off of a second-place finish in Class 7A, the visiting Bears and a running back-by-committee offense did their best
Jacob Brinlee
impression and ran away with a 35-3 victory at Fremd's Hale Hildebrandt Field.
"The effort they gave is what we expect -- it was the same effort we gave in the previous years of close games," Lake Zurich head coach, Bryan Stortz said. "They went out fighting and batting and the difference was that our kids executed a little better."
[+] Enlarge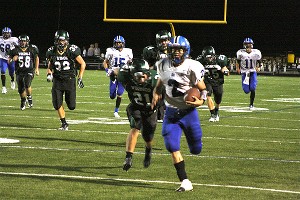 Will Shih for ESPNChicago.comLake Zurich's Mike Shield scores on a 66-yard TD run in the 3rd quarter.
Brinlee, who graduated this past spring as Lake Zurich's all-time leading rusher, was replaced by senior Mike Shield and junior Connor Schrader, who finished with a combined 246 rushing yards and a pair of second-half touchdowns (both by Shield).
Quarterback Zach Till, who started last season as a junior, was all set to go again, but a rolled ankle caused the Bears to call on senior backup Steven Kuhn, who looked like a seasoned veteran under center against the Vikes.
The 6-foot-4 hurler first got Lake Zurich rolling with his legs, scoring on a first-quarter 6-yard keeper over the left side. After Fremd's Andrew Stark drilled a 23-yard field goal to cut the Bears' lead to 7-3, Kuhn led Lake Zurich to another scoring drive in the second; he capped off the six-play drive with a near identical run, this time from three yards out.
After a series of three-and-outs from both sides, Lake Zurich's Minnesota-bound linebacker,
Jack Lynn
, picked off Fremd sophomore quarterback Sam Beutler with 1:06 remaining in the first half. The Bears then recorded another touchdown three plays later on a 6-yard TD pass from Kuhn to Grant Soucy.
"I got an unfortunate notification that I was starting last week and I really had to step up big in this game," Kuhn said. "My teammates, my coaches and the community got me ready and gave me all of the confidence in the world and I just went out and tried to give them my all tonight."
Fremd's Beutler, who took charge of the Vikings' offense midway through last season, struggled mightily against the Bears' defense, finishing 10-of-26 for 161 yards and three interceptions. He was credited with a fumble as well.
"We threw interceptions, we weren't able to establish the run, and in order for Sam to be more successful throwing the ball, we need to be able to run," said Fremd head coach Mike Donatucci, who will step down at the conclusion of this season after 19 years at the helm. "We were also out there way too long defensively.
"But this is going to help our guys. They've been in the heat of the battle, they went up against a tough, physical team and we could hang. We'll figure it out."
Just as the Bears had to replace Brinlee, the Vikings need to replace Justin Wallace, who ran behind a pair of Division-I offensive lineman last season in Ohio State's Brian Bobek and Northwestern's
Jack Konopka
. Fremd freshman Darius Burchette, who only saw action in the second half Friday, finished with 28 yards on nine attempts while senior A.J. McGhee led the Vikes with 30 yards on eight attempts.
Stat of the game:
Lake Zurich's tandem running attack of Shield and Schrader combined to average more than 11 yards-per-carry against the Vikings.
It was over when:
Lynn intercepted a Vikings' pass late in the first half, leading to a Bears' touchdown three plays later. Lake Zurich had all of the momentum and a 21-3 halftime advantage.
Quote of the night:
"We want to be known for running the football and that is not going to change." -- Lake Zurich head coach Bryan Stortz
August, 27, 2011
8/27/11
1:07
AM CT
CHICAGO -- "Go Butkus," a Mount Carmel fan shouted from the Soldier Field stands on Friday.
It's not a stretch to think those same words were shouted from that same location 40 years ago, directed at legendary
Chicago Bears
linebacker Dick Butkus.
On Friday, it was intended for Butkus' great nephew, Mount Carmel junior Don Butkus, who was making his varsity starting quarterback debut -- and just happened to be doing it at Soldier Field.
Displaying a confidence worthy of his famous relative, Butkus threw a touchdown pass and rushed for another score to help No. 7 Mount Carmel defeat No. 10 Simeon, 23-14, in the opening game of the 2011 season.
"It feels great," said Butkus of playing at Soldier Field. "There's nothing much else to say. He played here for a couple years. It's feels great to be on it, step on the field he did.
"This means a lot. First game coming out, playing good, playing a strong team, having a win, it's awesome."
[+] Enlarge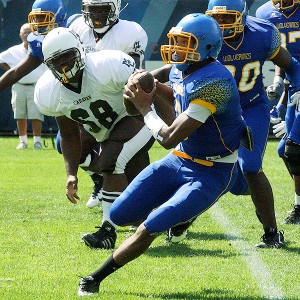 Scott Powers for ESPNChicago.comSimeon quarterback Robert Gregory threw for 153 yards and two touchdowns on Friday.
A year ago at Soldier Field, Simeon upset Mount Carmel in a 47-41 shootout. On Friday, it was a lower scoring affair.
After Mount Carmel took a 7-6 lead into halftime, thanks to a 7-yard touchdown pass from Butkus to Jason Gasser, the Caravan offense began moving the ball more easily in the second half. Mount Carmel looked to senior speedy running back
Brandon Greer
, who rushed once in the first half for -6 yards, to change the offensive tide.
On Greer's first carry of the second half, he busted it for 36 yards. Three runs later, he nearly scored for the Caravan. Greer broke through Simeon's line, ran for 19 yards and, as he approached the end zone, stuck the ball out, hoping to cross the goal line. The ball came loose from his hand and Simeon recovered.
"I told him when he sat down, 'I'm not going to yell at you,'" Mount Carmel coach Frank Lenti said. "'You owe me one. You owe me a touchdown. The next time we get the ball, you owe me a touchdown. Promise?' He said, 'I promise.'"
Following a Mount Carmel safety, Greer came through on his guarantee. He found a hole up the middle and sprinted for a 41-yard touchdown to give Mount Carmel a 16-6 advantage.
"He said I owed him," Greer said. "I felt like I had to go back out there and do it for the team."
Greer rushed for 160 yards and one touchdown on 14 carries in the second half.
Butkus put the Caravan ahead 23-6 when he rushed in from four yards out with 4:15 remaining in the fourth quarter. Butkus was 3-of-6 passing for 30 yards and a touchdown, and he rushed for 37 yards on 11 carries.
"He always plays very confident," Lenti said of Butkus. "I told him before we left school, 'When I give the team a motivational talk before the game, you can listen to the words, but you cannot get caught up in the emotion. You're the quarterback of the team. You have to be cool, calm and collected.'
"He said (afterward,) 'I did it. I did it. I did.' I said, 'Quit having such big eyes. You're making me nervous.'"
Simeon senior
Robert Gregory
had an up-and-down day. Gregory had made a name for himself against Mount Carmel last season, but he struggled on Friday due to an injured left shoulder. Simeon coach Dante Culbreath estimated that Gregory was playing at 65 percent.
Despite his injury, Gregory still threw for 153 yards and two touchdowns and rushed for 51 yards.
"He wanted to run, but he's banged up," Culbreath said. "You want to run the ball, but you think about the banged up part.
"It was some first-game stuff (we struggled with today.) We're lacking some experience now. As long as the season goes on, we know we have eight more games we know we're going to have to play. We hope by the eighth game we'll have everything cleaned up. I've seen a lot of great things from our team."
Mount Carmel's Frank Kelly intercepted a pass, and Caravan sophomore Steve Richardson Jr. was credited with the tackle which resulted in the safety.
Simeon's Cywettnie Brown and John Gardner caught the Wolverines' two touchdown passes.