High School:

Aaron Bailey
August, 16, 2012
8/16/12
9:36
AM CT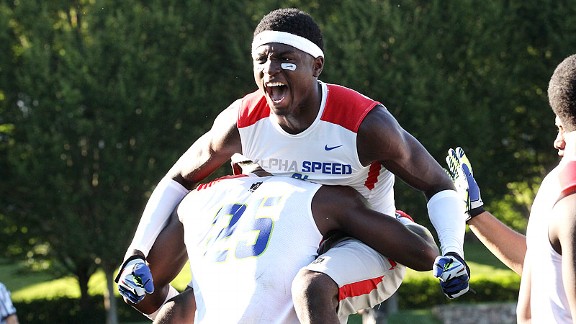 Tom Hauck for ESPN.comNot only is Treadwell the top uncommitted recruit in Illinois, he is the top undecided player in the Midwest.
The 2013 class is one of the strongest in Illinois in recent memory. There are 12 prospects rated as four-star recruits from the state in 2013, which matches combined total from 2011 and 2012.
Although the top two spots in Illinois are occupied by skill positions players -- WR
Laquon Treadwell
(Crete, Ill./Crete-Monee) and RB
Ty Isaac
(Joliet, Ill./Joliet Catholic) -- six of the top 10 players in the state can be found along the lines. That isn't much of a surprise, as the Midwest is known for producing big boys.
Five offensive tackles are found among the top 10 players in Illinois, and another offensive lineman -- guard
Kyle Bosch
(Wheaton, Ill./St. Francis) -- comes in at No. 6. Overall, the top part of the state's 2013 class is heavy on offense as 12 of the top 14 prospects could all play on that side of the ball.
Two Big Ten teams without much success recently are hoping they found their quarterbacks of the future from the state.
Read the entire story
.

November, 29, 2011
11/29/11
8:47
PM CT
ESPNChicago.com's high school football reporters hand out their "Best of 2011" awards.
BEST GAME
Scott Powers: Joliet Catholic 32, Carmel 31 in Week 1 -- I nearly repeated my choice of last year -- Lake Zurich-Stevenson -- but I couldn't go against the drama-packed affair between Carmel and Joliet Catholic. It was only Week 1, but it felt like a playoff game between two of the area's best teams. Carmel looked as if it was going to scratch out a 31-25 victory when Michael Panico scored on a 56-yard touchdown and Brian Brennan added the 2-point conversion with 2:55 remaining. But Joliet Catholic's Ty Isaac, whose name will appear a few times in this entry, changed that when he scored a 75-yard touchdown with 35.3 second left. Isaac Grashoff made the extra point, and Joliet Catholic won 32-31.


John Paschall: Lake Zurich 10, Glenbard West 3 in Week 11 -- In a gritty, spectacular defensive performance, Lake Zurich dug in and put a cap on the high-powered Hilltoppers' offense. When your punter steals the show in the second half, you know your offense is struggling. That was the case for Lake Zurich which didn't convert a first down in the second half until the game was on the line with 2:47 left.


Caleb Benoit: Nazareth 24, Joliet Catholic 21 in Week 6 -- Nazareth lost to Joliet Catholic 57-0 in 2010, but Week 6 this year was a complete turnaround. Despite losing its top running back to injury on its first play from scrimmage, Nazareth earned a 24-21 road win over the Hilltoppers. It was a landmark win for the Nazareth program, which didn't lose again until the Class 6A quarterfinals.


Andrew Braverman: Stevenson 24, Maine South 22 in Week 11 -- Without question, the best game I saw was Stevenson's upset of No. 1 Maine South in the second round of the Class 8A playoffs. The atmosphere was unbelievable, the weather was perfect and the game had plenty of drama. From Stevenson quarterback Matt Micucci getting injured during the Patriots' first drive to him leading his team to victory with the help of a sophomore and freshman wide receiver, there were too many ups and downs to count. Maine South quarterback Matt Alviti did all he could to keep the Hawks alive, but Stevenson made every big play it needed to end an 0-7 playoff draught against the former three-time defending state champions. An instant classic.


Andy Frye: Marist 56, Joliet Catholic 51 in Week 9 -- It was a 15-touchdown thriller in which Marist quarterback Ian Woodworth threw for 557 yards and helped upset Joliet Catholic and capture part of the East Suburban Catholic League title. After its eighth touchdown in a mostly offensive battle, Marist held Joliet Catholic from scoring at fourth and 1 near the goal line in front of a roaring home crowd.


BEST INDIVIDUAL PERFORMANCE
[+] Enlarge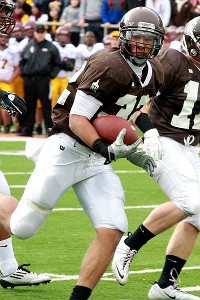 Scott Powers/ESPNChicago.comJoliet Catholic's Ty Isaac had 515 rushing yards and six touchdowns against Montini on Saturday.
Powers: No one had a bigger day than Joliet Catholic's Ty Isaac in the Class 5A state championship. He broke the state record for rushing yards in a game in the first half alone and finished with 515 yards and six touchdowns. I don't think I've ever seen anything like it.


Braverman: The best individual performance was a tough one for me. I was able to take in plenty of "team" victories as opposed to sheer dominance shown from one player. However, Maine South's Matt Alviti scored five touchdowns in the Hawks' come-from-behind win at New Trier in Week 5 and spoiled the Trevians' homecoming. After trailing by 10 points at halftime, Alviti and the Hawks woke up and rolled to a 40-24 win in Northfield. The junior quarterback finished with 195 yards through the air and four touchdowns while also running for 36 yards and a score.


Benoit: After starting running back Rudy Romagnano was injured in the first quarter, Nazareth junior Josh Moore stepped in and rushed for 167 yards on a career-high 37 carries to beat then-No. 5 Joliet Catholic in Week 6. Moore wasn't the most skilled running back on the field that night, but with encouragement from Romagnano and Nazareth coach Tim Racki, he sustained drives and helped keep the Hilltoppers' high-powered offense off the field.


Frye: Nazareth quarterback Sam Poulos drove quietly but creatively as his team won 24-0 in their playoff performance against Cary-Grove. The 5-foot-9 quarterback hit three different receivers and kept the pace frantic against their rivals. He also had a little help from his protective Roadrunner offensive line.


Paschall: This one's easy -- Batavia's Cole Gardner. The 6-6, 250-pound tight end/defensive end did a little bit of everything for the Bulldogs in their 42-0 smashing of Lakes. He had a sack, forced fumble, block punt and his two receptions went for touchdowns. Talk about stat stuffing.


BEST OVERALL PLAYER
[+] Enlarge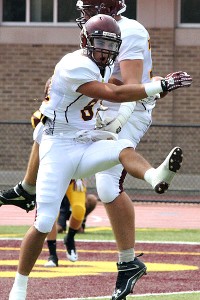 Scott Powers/ESPNChicago.com Montini's Jordan Westerkamp might go down as the best receiver in state history.
Powers: Montini wide receiver Jordan Westerkamp was my choice for the ESPNChicago.com Player of the Year for a reason. He was as good as it got this year in Illinois. He may go down as the state's greatest wide receiver.


Benoit: It's obvious Joliet Catholic's Ty Isaac will end up playing major college football. The junior running back has size, speed and offers from several schools, including Illinois and Notre Dame.


Frye: Bolingbrook's Aaron Bailey got going slowly and was held to 26 yards in the first half by Naperville Central in the 8A semis. But I wasn't surprised when he turned it on late with his speed. Bailey added 126 rushing yards in the fourth quarter to seal Bolingbrook's passage to the 8A final and their eventual state championship.


Paschall: I would have said Josh Williams of Downers Grove South if Addison Trail had not bottled him up the whole game, so my choice is Glenbard West's Tommy Schutt.


FAVORITE PLAYER TO WATCH
Powers: There's nothing like a defensive player who can impact nearly every play. That was Glenbard West's Tommy Schutt this season. He was not only skilled and dominant this season, but he also brought a fire to Glenbard West's defense that his teammates fed on.



[+] Enlarge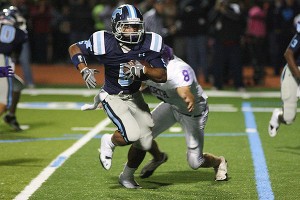 Scott Powers for ESPN.comDowners Grove South's Josh Williams scored 36 touchdowns this season.
Benoit: There were few players who could change a game like Downers Grove South's Josh Williams. His lack of size (5-9, 175) may be limiting the number of college offers he's receiving, but there's no arguing with his performance. The senior running back finished the season with 2,338 rushing yards and 36 total touchdowns.


Braverman: Though Matt Alviti may be the most highly-touted prospect I saw all season, Prairie Ridge's Jordan Getzelman gets my vote for most fun to watch player. "Getz" was a big-play threat any time he stepped on the field and was almost able to score at will when rushing or on kick returns. Maine South senior running back Paul Preston was a close second for "most fun."


Frye: After covering Brother Rice three times, I've come to assume that their all-time leading rusher Martez Walker possesses his own internal jet engine. His 95-yard kickoff return against Mount Carmel in September was reminiscent of Devin Hester, and every time Walker got the ball he was a threat.


Paschall: It was funny watching the Wheaton Warrenville South vs. Providence game because every time Wheaton Warrenville South had the ball, everyone in the stadium knew it was just going to hand it off to Dan Vitale. But even when Providence stacked the box, Vitale either made guys miss or plowed right through them to carry his team into the next round. It was exciting and mesmerizing to watch.


MOST MEMORABLE PLAY
Powers: Crystal Lake South kicker Brad Walovitch's 51-yard field goal to beat Cary-Grove was the most memorable for me. It wasn't just the kick, but the fact he had missed a 46-yarder badly before. It took a lot of confidence by his coach and in himself to get back out there and make the second attempt in a clutch situation.


Benoit: In what was predicted to be a close game, Naperville Central junior Nick Thomas ran back the opening kickoff 76 yards for a touchdown in his team's 42-14 win over Homewood-Flossmoor in the Class 8A state quarterfinals. The big play fired up the home crowd on a cold November night and served as a catalyst for the Redhawks' win.


Braverman: The most memorable play also belongs to Prairie Ridge. The 6A champs hosted Nazareth in the quarterfinals, and after the Roadrunners walked on to the field and basically taunted the home team and their fans, Prairie Ridge forced a fumble on the first play from scrimmage and senior defensive back John Borst took the return 18 yards to the house. The opening momentum shift led to a 35-7 Prairie Ridge route.


Frye: I guess I prefer the gritty and imperfect plays in football. During the start of Nazareth's playoff game against Cary-Grove, Aeneas White -- who claimed he doesn't get to catch much in practice -- ran a straight route up the center and plucked an over-the-shoulder catch for a 56-yard touchdown, giving Nazareth its first of four scores in the win.


Paschall: Loyola's Charlie Dowdle made an outstanding one-handed catch streaking down the sidelines against Glenbard North in the Class 8A semifinals. Not only did he score on the play, he also put the Ramblers, who trailed 13-0 at halftime, on top for good and sent them to the championship game.
November, 28, 2011
11/28/11
5:33
PM CT
Here are five players who stood out during the state championship games and received our weekly ESPNChicago.com Helmet Stickers:
[+] Enlarge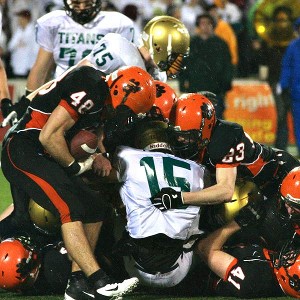 Scott Powers, ESPNChicago.com Adam Dansdill was a defensive standout for Wheaton Warrenville South in their Class 7A title game loss to Rockford Boylan.
Adam Dansdill, Wheaton Warrenville South DB: Dansdill gave the Tigers a chance in the Class 7A state championship. He blocked a field goal, forced a fumble and returned it for a touchdown, and he broke up a pass in the end zone. He finished with six tackles.


Aaron Bailey, Bolingbrook QB: Bailey rushed for 174 yards and two touchdowns and was 8-of-13 passing for 140 yards in the Raiders' 21-17 win over Loyola in the Class 8A championship.


Collin Corcoran, Prairie Ridge LB: Corcoran had 11 tackles, three tackles for loss, one pass breakup and one sack in the Wolves' Class 6A state championship victory.


Ty Isaac, Joliet Catholic RB: Isaac broke the state record for rushing yards in a title game in the first half alone in Saturday's Class 5A state championship. He finished with 515 yards and six touchdowns. He averaged 19.8 yards per carry.


Jordan Westerkamp, Montini WR: Westerkamp will go down as one of the state's greatest receivers. He added 11 receptions for 331 yards and five touchdowns in the Class 5A state championship, his third career title.
November, 18, 2011
11/18/11
10:12
PM CT
Bolingbrook junior quarterback
Aaron Bailey
has come to accept he possesses some extraordinary football skills.
Like the entire state, Bailey can't ignore what he's done this season while helping Bolingbrook become a state title contender. With his vision and blazing speed, he's made 50-yard runs look like ordinary feats. He's amassed 1,642 yards and 27 touchdowns rushing and thrown for 869 yards and nine touchdowns.
How Bailey has come to terms with his ability and success has been to reflect the credit to whom he believes is responsible for it -- God. In any interview Bailey does, he doesn't go more than a few sentences without bringing the attention back to his faith.
[+] Enlarge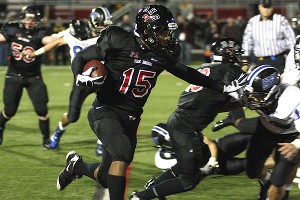 Scott Powers/ESPNChicago.comBolingbrook quarterback Aaron Bailey has rushed for 27 touchdowns this season and passed for nine more.
For Bailey, the ESPNChicago.com Player of the Week, that's what is more important.
"I just thank God for the many blessings he's set upon me," said Bailey, who is 6-2 and 210 pounds. "I don't want to waste it. He blessed me with that talent. I just want to go out there and have fun and do his will."
Bailey has combined fun and faith often this season. On every touchdown he's scored this season, he's stopped in the end zone and raised his hands and head to the sky.
"I'm thanking God for the opportunity," Bailey said.
The opportunities have been plentiful, especially during Bolingbrook's playoff run, which will continue in Class 8A semifinals on Saturday.
Bailey scored five times, including runs of 40 and 44 yards, in last week's quarterfinal win against Downers Grove South. He broke a 38-yard run on the opening play against Mount Carmel in the second round, added a 34-yard touchdown run later in the game and finished with 127 yards. In the first round, he rushed for 304 yards and had touchdown runs of 12, 66, 71 and 80 yards against Neuqua Valley.
Bolingbrook senior linebacker
Antonio Morrison
and his defensive teammates have learned not to get too comfortable on the sideline.
"We know he's going to score and put the ball in the end zone," Morrison said. "We already know he's going to do that. We just get ready for the next series and see how fast he can put it in the end zone."
Bolingbrook coach John Ivlow has come to expect the same. In Bailey's second year in Bolingbrook's option offense, he has come a long way.
"Even throughout the season, he's getting better and better each week," Ivlow said. "He's a big kid. When you can get a big kid who can run like that, it's like having an extra guy who can run the ball. Not a lot of guys are focusing on the quarterback."
Bailey has had most of his success this season running the ball, but he has made some opponents pay with his arm. Ivlow believed if Bailey put more time into his throwing he'd be an even better passer.
The problem is Bailey's adoration for football is equal to his adoration for baseball. While other quarterbacks are working on their mechanics in the offseason, Bailey is getting ready to hit a curveball.
"It's kind of a seesaw," Bailey said. "Once football season comes, I love football. Once baseball season comes, I love baseball. There's a point of time where I'll have to make a decision. It's hard."
Plenty of schools have already taken interest in Bailey's football ability. He's received offers from
Colorado State
,
Illinois
,
Iowa
,
Northern Illinois
,
Northwestern
,
Minnesota
and
Purdue
. Some schools are recruiting him at quarterback and others at wide receiver. Northwestern has told him he could be like current Wildcats sophomore
Kain Colter
, who has played quarterback and wide receiver.
Bailey said there's also a chance he could pursue playing baseball and football in college. He hoped to have more conversations with schools about that during the offseason.
For now, his concentration is on the playoffs. Bolingbrook is one game from making a trip downstate.
"You want to soak it all in," Bailey said. "It's been a lot of fun."
October, 31, 2011
10/31/11
3:27
PM CT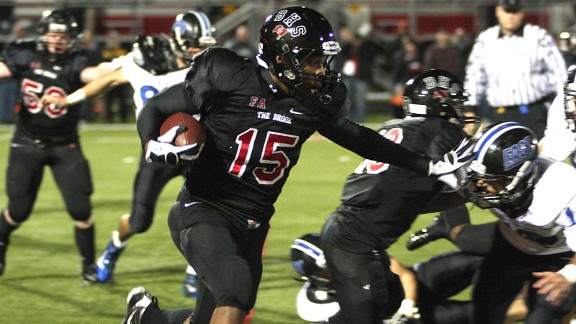 Scott Powers/ESPNChicago.comAaron Bailey rushed for 304 yards and four touchdowns in Bolingbrook's win over Neuqua Valley in Class 8A.
Here are five players who stood out during the first round of the playoffs and received our weekly ESPNChicago.com helmet stickers.
Aaron Bailey, Bolingbrook QB
: Bailey kept it on the ground in Bolingbrook's win over Neuqua Valley in Class 8A. He rushed for 304 yards and four touchdowns, including runs of 12, 66, 71 and 80 yards.
Cole Garner, Batavia WR
: Gardner caught three second-half touchdown passes to lead Batavia's comeback win over Notre Dame. He had six catches for 110 yards and three scores on the night.
Darvell Harris, Dunbar QB
: Harris did a lot of everything in Dunbar's 66-26 win over Taft in Class 8A. Harris was 16-of-23 passing for 429 yards and five touchdowns and rushed for 144 yards and a touchdown.
Tim Lombard, St. Rita RB:
Lombard rushed for 225 yards and four touchdowns in the Mustangs' 35-10 win over Shepard in Class 7A.
Martez Walker, Brother Rice RB
: Walker broke the school's single-season records for touchdowns and points during the Crusaders' win over Sandburg in Class 8A. He has 19 touchdowns and 118 points after running for 182 yards and three scores in the win.