February, 27, 2012
2/27/12
9:30
PM CT
As the IHSA playoffs kick off, Simeon and Proviso East remained the top teams in ESPNChicago.com's boys basketball rankings.
Read the full story.
February, 22, 2012
2/22/12
5:59
PM CT
1. Thornwood's 57-55 win over Andrew sounded like a fun one.
Thornwood's Johnte Shannon sank a game-winning 3-pointer with 11.5 seconds left. Andrew had been up 51-45 during the fourth quarter. Thornwood's
Darrell Combs
, a Loyola recruit, had 24 points. Andrew's Jubril Adekoya had 26 points and 10 rebounds in the loss, which was only the Thunderbolts' second this season. The win gave Thornwood at least a share of SouthWest Suburban Red title. It hasn't won the conference crown since 2002.
2. Belleville East junior guard and Illinois recruit Malcolm Hill is having a stellar season.
Hill is averaging 23.3 points, which second best in the St. Louis area. On Tuesday, he blocked a potential game-winning shot to secure an upset over Collinsville, which is 23-4 overall. He had a team-high 19 points in the win.
3. Crete-Monee's Laquon Treadwell is a big-time football prospect, but he's pretty good at basketball, too.
Treadwell had another strong game Tuesday, scoring 19 points and grabbing 10 rebounds in a 61-54 win over T.F. South. Maybe someone can convince him to play both sports in college.
February, 1, 2012
2/01/12
8:39
PM CT
Here are five high school basketball thoughts for your Wednesday:
1. It's undoubtedly hard to go undefeated for an entire regular season: Andrew fell from the unbeaten ranks Tuesday when it was upset by Thornton on a buzzer-beating shot. Proviso East remains as the area's only unbeaten team. Proviso East's greatest challenges will likely come on Feb. 17 and 18 when the Pirates faces Downers Grove South and Warren on back-to-back nights. It is impressive how many one-loss teams there are this season. That list includes Simeon, Curie, Plainfield East, Metea Valley and now Andrew.
2. Speaking of Andrew, it'll likely fall a bit from the rankings after its only loss: The Thunderbolts had put together a nice run of 16 consecutive wins, but their schedule hasn't exactly been demanding. They looked as if they might run the table after defeating Thornwood on Sunday, but Thornton had other ideas. Andrew's overall profile took a hit with the loss.
[+] Enlarge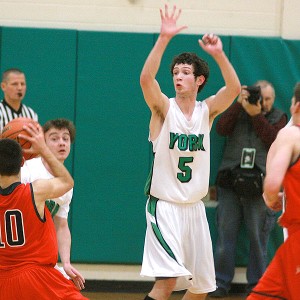 Scott Powers for ESPNChicago.comDavid Cohn and York are on a 10-game win streak.
3. Since the holidays, York has been one of the area's hottest teams: The Dukes have won 10 straight game, and junior star guard David Cohn has been a big reason for that. Among his feats, he scored 47 points on 13-of-17 shooting in a 75-64 win over Hinsdale Central recently.
4: The Catholic League has taken its lumps the last few weeks: First, De La Salle and St. Rita were upset last week. On Tuesday, St. Ignatius was the next top-ranked Catholic League team to fall. The Wolfpack were upset by Leo on Tuesday. It's hard to gauge the Catholic League right now.
5. The Red-West is still a mess at the top: Marshall, Orr and Farragut all have 7-2 records right now. Whitney Young could join them at the top if the Dolphins defeat Crane later this week. All four teams could make some noise come Public League and state playoff time.
December, 25, 2011
12/25/11
3:58
PM CT
Fresh off a close win over Whitney Young, Simeon remains No. 1 in the ESPNChicago.com prep hoops rankings. Who else is moving up and down in advance of this week's holliday tournaments.
Full story.
December, 21, 2011
12/21/11
6:34
PM CT
Here are five thoughts on the high school boys basketball scene for your Wednesday afternoon.
1. The early scholarship offer trend is getting way out of hand: It's been ridiculous for a while, but an offer the other day reminded me of that. Cal Poly recently became the first school to offer Simeon freshman D.J. Williams. Nothing against Cal Poly -- I'm not that familiar with the program -- but why does it need to be offering a freshman who hasn't even played varsity basketball yet? I don't see the point. If Williams is as good as projected, he'll land way out of Cal Poly's league. If he doesn't pan out, does Cal Poly need to be offering low- to mid-major players as freshmen to secure them? Maybe the offer was given to attract publicity. If so, mission accomplished. I'm writing about Cal Poly for the first time.
2. There's a good chance Thursday's Simeon-Whitney Young contest could be a one-sided game in front of an empty house: Simeon has lived up to the hype so far as the No. 1 team in the country and has only gotten better with the return of point guard Jelani Neely from injury. Whitney Young fell out of ESPNChicago's rankings after losing to Orr 45-29 last week. Orr turned around and lost to Farragut this week. Whitney Young was without Tommy Hamilton Jr., Jermaine Morgan and Jordan Smith due to injuries, but it will be without at least Hamilton Jr. for the Simeon game as well. Whitney Young, especially its guards, will have to step it up Thursday if it's going to compete with Simeon. As for Thursday's attendance, the price tag of $15 and $33 for seats through Ticketmaster and the fact the game was moved from its original date could lead to a small crowd.
3. The location for the City-Suburban Showdown is still up in the air: It is supposed to be played at the UIC Pavilion on Feb. 18, but promoter Bob Rylko and UIC athletic director Jim Schmidt are awaiting word from the NCAA whether the event can be held at the UIC. The NCAA has been enforcing a rule this season that non-scholastic events can't be held at Division I facilities. Every similar event around the country has had to move to another location. People may want to hold off buying tickets until the location is finalized.
4. Jabari Parker needed only 21 minutes to do something no Simeon player had done: His 40-point, 21-minute performance against Perspectives-Calumet on Monday was the most points ever by a Simeon player in a game. Parker eclipsed Tim Flowers' record of 35 points.
5. Outside of Jabari Parker, the players who have been the most impressive in the area so far haven't been the nationally-ranked ones: Crane's Willie Conner, St. Rita's Tony Hicks, Andrew's Jubril Adekoya, Bloom's Donald Moore, New Trier's Connor Boehm and Curie's Devin Foster are among those who have been the most consistent so far this season.
December, 7, 2011
12/07/11
7:20
PM CT
Here are five early observations to the 2011-2012 high school boys basketball season.
1: It's going to be a crazy year: The preseason assumption was it was top-ranked Simeon and everyone else, and that couldn't be truer through a few weeks of action. Try to follow these early results. Second-ranked Warren, which was thought to be Simeon's biggest competitor, lost to Stevenson on Tuesday. Stevenson previously lost to Elgin, which lost to Geneva, which lost to Oswego, Naperville Central and Oswego East. Other teams which have at least one loss already include Crane, De La Salle, Downers Grove South, Farragut, Homewood-Flossmoor and Morgan Park.
2 So, who's good: Well, of course, Simeon. The Wolverines are a work in progress as they figure out a few new roles, but they still rolled in their first two games against decent competition. Outside of Simeon, Proviso East, Andrew, Bloom, Plainfield East, Marist and Seton have proven to be the most consistent teams so far. Proviso East won its invitational at the Tournament of Champions in downstate Washington. Andrew won Crete-Monee's tournament. Marist has a quality win over St. Rita. Seton knocked off Crane on Tuesday. Bloom has a win over Homewood-Flossmoor. Plainfield East defeated Downers Grove South.
3 Just good high school players: The Chicago area has its share of nationally-ranked players, but it also has a lot of simply good high school players. Some of the guys who been impressive so far are Crane's Willie Conner, St. Rita's Tony Hicks, Bloom's Donald Moore and Seton's J.R. Tolliver. Conner's stock could especially rise as the season unfolds. He's become a lot more than a shooter.
4 Catch Young while you can: Whitney Young only plays 11 games in Illinois and only four times at home this season. The Dolphins have a true national schedule, which takes them to California, Kentucky, New Jersey, North Carolina, South Carolina and West Virginia. They travel to North Carolina twice. Their biggest in-state game will be against Simeon at UIC on Dec. 22.
5 Eligible transfers: Crane received good news Monday when it discovered Markee Williams was eligible after transferring from Morgan Park. Hyde Park also had all four of its transfers, including Moshawn Thomas, approved. Crane and Hyde Park should be among the state contenders with those players on the floor.