March, 15, 2012
3/15/12
9:13
PM CT
Here's a look at Friday's Class 4A state semifinals:

Proviso East (31-0) vs. Rockford Auburn (31-2) at 6:30 p.m. on ESPN3.com
The story: This is a rematch for these teams. They met in the Proviso West holiday tournament semifinals, and Proviso East won 75-56. Proviso East jumped on Rockford Auburn early and was able to build a lead with its quick guards and ball pressure. Proviso East coach Donnie Boyce didn't expect a similar game and knows Auburn will be prepared this time around. One of the more interesting matchups will be Proviso East point guard Keith Carter, who is headed to Saint Louis, against Auburn point guard Fred Van Vleet, who is going to Wichita State.
Proviso East player to watch: All-area selection Sterling Brown, the younger brother of Shannon Brown, continues to develop his game. He has a number of high-major schools, including DePaul and Northwestern, after him.
Auburn player to watch: Van Vleet is considered one of the state's top seniors. He has the type of court vision few players possess.
Pick: Proviso East
Simeon (31-1) vs. Bloom (28-3) at 8:15 p.m.
The story: Simeon won't be satisfied unless it wins its third consecutive state title. The Wolverines have proven they're not perfect. There have been a couple of in-state teams which have taken them to the wire, but no one has defeated them. Evanston coach Mike Ellis said he thought Simeon had to beat itself for it to lose. Bloom went through a rough stretch in early January where it lost three out of five games, but has been perfect every since. The Blazing Trojans will need to keep this a low-scoring game to likely pull off the upset. They've scored an average of 44.2 points in the playoffs and allowed an average of 34.2 points.
Simeon player to watch: Jabari Parker is the top junior in the country and is the ESPNChicago.com Player of the Year. He normally doesn't disappoint.
Bloom player to watch: Bloom point guard Donald Moore is an all-area selection. He does a little bit of everything for Bloom.
Pick: Simeon
March, 10, 2012
3/10/12
10:09
PM CT
Here are a few prep hoop thoughts as the super-sectionals approach.
1. Not much drama in Class 4A: No. 1 seeds Bloom, Edwardsville, Proviso East, Rockford Auburn, Simeon and Warren all got through their sectionals with little trouble. The biggest surprises, if they can be called that, was No. 4 seed West Aurora and No. 5 seed Evanston advancing to the super-sectional round.
2. DuSable's rise: DuSable's run is the story of the playoffs. DuSable was 12-9 heading into the playoffs and now has won four consecutive Class 3A games, including an upset over St. Ignatius, and is about to play Hillcrest at Joliet Central for a spot at state. Chris Galbreath had 12 points to lead the way in DuSable's 57-55 win over Dunbar in the St. Ignatius sectional championship on Friday. Malik Williams and Galbreath combined for 21 points in Tuesday's 51-44 upset of St. Ignatius.
3. Mike Ellis is no stranger to postseason success: Evanston's run is surprise, but then again it isn't. Evanston coach Mike Ellis has experienced plenty of postseason success in his career. He was previously at Peoria Richwoods and coached the Knights to two state championship runner-up finishes. One of them came when Derrick Rose hit a game-winning shot to beat him in 2006. Ellis is in his second year at Evanston. The Wildkits are now 21-10 this season and will play Simeon in the Chicago State super-sectional on Tuesday.
February, 27, 2012
2/27/12
9:30
PM CT
As the IHSA playoffs kick off, Simeon and Proviso East remained the top teams in ESPNChicago.com's boys basketball rankings.
Read the full story.
February, 25, 2012
2/25/12
6:45
PM CT
The Class 3A and 4A boys basketball playoffs begin on Monday. Here's a glance at the top games and players to see this week.
Five regional semifinals to see
1. St. Charles East vs. St. Charles North at St. Charles North on Wednesday

2. Marist vs. Brother Rice at Marist on Tuesday

3. Stevenson vs. Prospect at Stevenson on Wednesday

4. Benet vs. Bolingbrook at Metea Valley on Wednesday

5. Neuqua Valley vs. Naperville Central at Neuqua Valley on Wednesday

Five potential regional championships to see on Friday
1. St. Rita vs. Whitney Young at Whitney Young

2. Bogan vs. De La Salle at Mount Carmel

3. Farragut vs. St. Joseph at Nazareth

4. Crane vs. Riverside-Brookfield at Riverside-Brookfield

5. Minooka vs. Bloom at Joliet Central

6. Crete-Monee vs. Joliet West at Thornton

7. West Aurora vs. Naperville North at Oswego

8. Harlan vs. Morgan Park at Rich Central

9. Evanston vs. Notre Dame at Notre Dame

10. Schaumburg vs. Glenbard West at Glenbard West

Ten to players to see in regional play (alphabetical order)
There will likely be plenty of time to see Simeon's Jabari Parker and some of the other stars in the area, but these players and teams may or may not be around come next week.
1. David Cohn, junior, York: It hasn't been a great year for high-scoring numbers, but Cohn has been one of the exceptions. He can drop 30-plus points on any night. He had 47 points just recently. York is a No. 4 seed in the Lake Park regional.
[+] Enlarge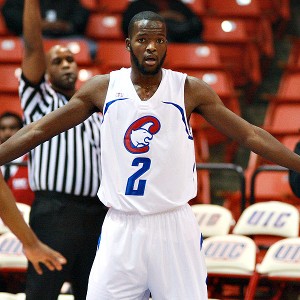 Scott Powers/ESPNChicago.comWillie Conner and Crane could be a tough out in the Riverside-Brookfield regional.
2. Willie Conner, senior, Crane: Conner improved his game this season and made himself a mid-major college prospect. Crane has been up and down this season, but Conner has been consistent. Crane is a No. 5 seed in the Riverside-Brookfield regional.
3. Tony Hicks, senior, St. Rita: Hicks, a Penn recruit, has been as good as any senior in the state. He's been averaging 25 points a game. St. Rita is a No. 4 seed in the Whitney Young regional.
4. Mike LaTulip, senior, Prospect: LaTulip is headed to Illinois next year as a preferred walk-on. He's been one of the area's top shooters and scorers this year. Prospect is a No. 9 seed in the Stevenson regional.
5. Jahlil Okafor, sophomore, Young: Okafor is the state's top sophomore and among the nation's top players in the Class of 2014. The state hasn't seen a big man as skilled as Okafor since possibly Eddy Curry. Whitney Young is a No. 5 seed in the Whitney Young regional.
6. Sean O'Mara, sophomore, Benet: O'Mara, a 6-9 center, has emerged as one of the state's top young prospects. He's a skilled big man and is following in the footsteps of former Benet center Frank Kaminsky. Benet is a No. 6 seed in the Metea Valley regional.
7. Michael Orris, senior, Crete-Monee: Orris, a 6-3 point guard, is headed to Illinois next season. He's expected to help backup Tracy Abrams there. Crete-Monee is a No. 4 seed in the Thornton regional.
8. Juwan Starks, senior, West Aurora: Starks is on the verge of West Aurora's career-scoring record of 1,613 points, which is owned by Billy Taylor (1987-1991). Starks is 60 points shy of matching Taylor. West Aurora is a No. 4 seed in the Oswego regional.
9. Tyler Ulis, sophomore, Marian Catholic: Ulis, a 5-8 point guard, is a scoring machine. He put up 38 points in a loss to St. Viator last month. Marian Catholic is a No. 7 seed and could face Andrew in the Andrew regional championship.
10. Milik Yarbrough, sophomore, Zion-Benton: Yarbrough could eventually be one of the nation's top players in the Class of 2014. He's a multi-skilled 6-6 guard/forward. Zion-Benton is a No. 16 seed in the Zion-Benton regional.
January, 2, 2012
1/02/12
9:37
PM CT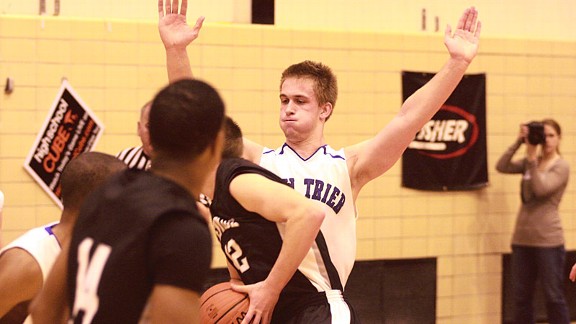 Scott Powers/ESPNChicago.comConnor Boehm led New Trier to the title game of the Proviso West tourney.
Here's a look back at this season's holiday tournaments:
Best tournament:
The honor goes to Pontiac this season. Having Simeon helped, but Pontiac was about much more than Simeon this season. On the final day alone, fans were treated to three overtimes games, two of which went to double overtime, and nearly witnessed Simeon upset by Peoria Manual. It would be hard to find two better holiday tournament semifinal games than Curie-Warren and Simeon-Manual anywhere in the country.
Runner-up tournament
St. Ignatius is the reason for York finishing second here. While the tournament favorites won at Proviso West, the McDipper, Pontiac and plenty of others tournaments, St. Ignatius added an element of surprise at York. The Wolfpack first fought back from a double-digit deficit to defeat Downers Grove South in the semifinals and then defeated De La Salle in the championship.
Top games:
Curie 77, Warren 68, 2 OT at Pontiac: In the first Pontiac semifinal, Warren forced a first overtime when JoVaughn Gaines drained a 3-pointer from the corner in the final seconds of regulation and then sent the game into a second overtime when Jon Geske dropped in a late layup. Curie won in the end. Devin Foster had 27 points in the win.
Simeon 48, Peoria Manual 47 at Pontiac: Not to be outdone by the first semifinal, Simeon and Peoria Manual went down to the buzzer to determine their game. Manual had two shots at overtaking Simeon on its final possession, but missed a shot around the basket and had the ball stolen in the game's final seconds. The game had 10 lead changes.
St. Ignatius 47, De La Salle 44, OT at York: In the championship game, St. Ignatius senior Brian Howard sent the game into overtime with an off-balance 3-pointer with four seconds left, and the Wolfpack prevailed in overtime again the tournament favorites.
St. Ignatius 52, Downers Grove South 50 at York: In the semifinals, St. Ignatius overcame a 12-point deficit to upset Downers Grove South. Abdoulie Contch scored the game-winner in the lane with 1.5 seconds left.
Elgin 57, Glenbard North 51 at Elgin: Before Elgin could win close semifinal and championship games, it had to win a tight quarterfinal matchup with Glenbard North. Former AAU teammates, Elgin's Kory Brown and Glenbard North's Josh Fleming, went head to head in the final minutes. Fleming had a game-high 21 points, but Brown, who had 19 points, came out with the victory.
Crete-Monee 67, Seton 66, OT at Rich South: In the semifinals, Crete-Monee's Marvie Keith sank two free throws with 35 seconds left to lift his team to the upset victory. Mark Conner scored 19 points off the bench for Crete-Monee. Crete-Monee squandered a nine-point lead in the fourth quarter to allow overtime.
Metea Valley 69, Rolling Meadows, OT at Hinsdale South: Metea Valley nearly saw its unbeaten season ruined by Rolling Meadows, which led 39-30 heading into the fourth quarter. Spearheaded by Kenny Obendorf and his 20 points, Metea Valley rallied in regulation and won in overtime.
New Trier 61, Homewood-Flossmoor 58 at Proviso West: The second-round matchup was expected to be a good one, and it didn't disappoint. The game went back and forth until New Trier got hot in the second half and connected on seven 3-pointers in the final quarters. Connor Boehm had 25 points in the win. Tyrone Sherman had 24 points for Homewood-Flossmoor.
All-tournament first team
New Trier senior forward Connor Boehm, Proviso West tournament: Boehm has been one of the most consistent players in the state this season. At Proviso West had 25 points and nine rebounds vs. Homewood-Flossmoor, 14 points and 14 rebounds vs. Morgan Park, 16 points and six rebounds vs. Proviso East and 17 points and seven rebounds vs. Von Steuben.
Elgin senior guard Kory Brown, Elgin: Brown stepped up game after game in the Maroons' run to their own holiday tournament championship. He had a 18 points, six rebounds, two blocks and two steals in Elgin's upset win over La Lumiere in the tournament championship.
Proviso East senior guard Keith Carter, Proviso West: Carter keyed the Pirates' run to their first Proviso West title since 1991 and was awarded the tournament MVP. He had 18 points and five steals in a win over Benet in the quarterfinals.
Bloom senior guard Donald Moore, Rich South: Carter's point guard play led the Blazing Trojans to their first McDipper title since 1995. He had 14 points and four assists in the title game. He was named the tournament MVP.
Simeon senior forward Steve Taylor, Pontiac: Jabari Parker may have won the MVP trophy at Pontiac, but many, including Parker, thought it should have gone to Taylor. Taylor had 11 points and seven rebounds to lead the top-ranked Wolverines over Curie in the championship game.
All-tournament second team
St. Ignatius senior guard Brian Howard, York: Howard and St. Ignatius surprised Downers Grove South and De La Salle on their way to the York title. Howard sent the championship game into overtime with a 3-pointer and finished with 20 points. He was named tournament MVP.
Metea Valley senior guard Kenny Obendorf, Hinsdale South: Obendorf continued to put up big numbers while helping Metea Valley to the Hinsdale South tournament championship. He had 24 points in the championship game and was named the tournament MVP.
Benet sophomore center Sean O'Mara, Proviso West: O'Mara isn't as hyped as some of the state's sophomores, but he's been more productive than most of them. He was impressive throughout Proviso West. He had 20 points, 13 rebounds, four assists and two blocks against Proviso East in the semifinals.
Simeon junior forward Jabari Parker, Pontiac: Parker didn't disappoint the sellout crowds at Pontiac. He hit difficult jumpers, swatted shots and threw down a few jaw-dropping dunks. In Simeon's one-point win over Peoria Manual, he scored 21 points and grabbed 12 rebounds.
Warren senior forward Darius Paul, Pontiac: Paul averaged 15.5 points and 12.5 rebounds in four games at Pontiac. With fellow post player Nathan Boothe in foul trouble against Curie, Paul scored 21 points and grabbed 15 rebounds.
Honorable mention
Andrew junior forward Jubril Adekoya, Kankakee

Plainfield East senior forward Brian Bennett, Pekin; Crane senior guard Willie Conner, Romeoville; De La Salle junior forward Alvin Ellis, York; Stevenson senior guard Michael Fleming; Curie senior guard Devin Foster, Pontiac; Morgan Park junior guard Billy Garret Jr., Proviso West; North Chicago senior guard Aaron Simpson, Bloomington; Crete-Monee junior forward LaQuon Treadwell, Rich South; Downers Grove South senior guard Jerron Wilbut, York

The unbeatens
Andrew (9-0): Won the Kankakee's holiday tournament, biggest upcoming test could be at Thornwood on Jan. 20.
Bloom (13-0): Won the McDipper, have plenty of tough games in the future, including at Homewood-Flossmoor on Jan. 24.
Immaculate Conception (12-0): Won its own holiday tournament, could still be undefeated heading into matchup at Elgin on Feb. 15.
Glenbard West (10-0): Won its own holiday tournament, could be challenged this week when playing at Bolingbrook and York.
Metea Valley (13-0): Won Hinsdale South's holiday tournament, will host Lake Park, which is also undefeated in the Upstate Eight Valley, on Saturday.
Plainfield East (11-0): Won the Pekin holiday tournament, hosts Wheeling tournament winner Naperville Central on Jan. 17.
Simeon (12-0): Won the Pontiac holiday tournament, face nationally-ranked No. 36 Miller Grove in West Virginia on Saturday.
December, 26, 2011
12/26/11
2:42
PM CT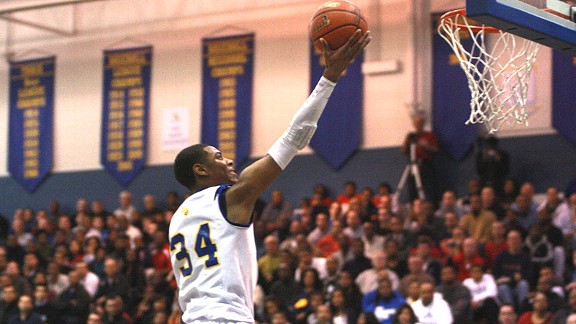 Scott Powers/ESPNChicago.comAlex Foster and De La Salle should be one of the favorites at York.
The holiday tournament season is upon us. Here's a guideline to the week ahead.
Five tournaments to attend
1) Pontiac, Dec. 28-30: It helps that Pontiac has the country's top team in Simeon and top player in Jabari Parker, but that's just the start. Curie and Warren have both been ranked in the top 5 this season and could give Simeon a game. Peoria Manual is one of the top teams outside of the Chicago area this season and has a number of Division I players. The semifinals could include all four teams.
2) Proviso West, Dec. 27-30: This could be an interesting year at Proviso West because of the parity. Proviso East, which is ranked No. 2, is the favorite, but it's wide open after that. Glenbrook North, Homewood-Flossmoor, Morgan Park, New Trier and St. Joseph have all been ranked at some point this season.
3) Rich South, Dec. 26-27, 29-30: The McDipper could include a top-10 championship game between No. 5 Seton and No. 7 Bloom. Both enter the tournament undefeated. Crete-Monee, Evanston, Hales, Leo, Marian Catholic and Rich South give the tournament depth.
4) York, Dec. 27-30: The Jack Tosh Tournament added De La Salle this season. The Meteors should be the favorites, and they could see Downers Grove South in the championship. Maine South, Naperville North, Riverside-Brookfield and St. Ignatius should be competitive, too.
5) Wheeling, Dec. 27-30: Wheeling has become a whole lot more interesting with the rise of Notre Dame, St. Viator and Stevenson this season. Notre Dame and Stevenson are ranked, and St. Viator is 10-0 heading into the tournament.
Five players to see
1) Jabari Parker, Simeon at Pontiac: If you haven't already seen Parker, the No. 1 junior in the country, see him. If you've already seen him, see him again. Friday is the best day to be at Pontiac. Simeon is likely to play at 2:30 p.m. in the semis and 9 p.m. in the championship.
2) Billy Garrett Jr., Morgan Park at Proviso West: Garrett Jr. is the future of DePaul. His game has continued to develop, and he has a chance to be one of the nation's top guards when he arrives to Lincoln Park.
3) Gavin Schilling, De La Salle, York: There are actually a number of De La Salle players to see, but Schilling has been the hot name as of late.
4) Tyler Ulis, Marian Catholic, Rich South: Ulis, a sophomore guard, has been receiving rave reviews. This could be a good chance to witness him against other top players.
5) Jewell Loyd, Niles West at Stevenson and Loyola: If you're to see one girls basketball player all season or even possibly all decade, Loyd is the one to watch. She puts up 40 points and 20 rebounds on a regular basis. Niles West plays at Stevenson on Tuesday and Loyola on Wednesday.
Recommend itinerary
Monday: Rich South is the only tournament running. If you're looking to go to just one or two game, the late afternoon (4 p.m.) is a good place to start.
Tuesday: The first day of Proviso West is always interesting. The Rich South quarterfinals start at 4p.m. York vs. Riverside-Brookfield at York at 7:15 p.m. could be a fun first-round matchup.
Wednesday: It's the first day of Pontiac if you want to be there the entire time. New Trier and Homewood-Flossmoor could meet in Proviso West's second round at 5:15 p.m. Neighborhood rivals Proviso East and St. Joe's could also meet at 8:30 p.m. at Proviso West.
Thursday: Warren and Waukegan is a potential second-round game at Pontiac at 11 a.m. St. Ignatius vs. Downers Grove South could be a York semifinal at 7:15 p.m. Stevenson and Notre Dame are aligned to meet in a Wheeling semifinal at 7:15 p.m.
Friday: Pontiac is the place to be, but you can double-dip by going there for the semifinals at 1 p.m. and 2:30 p.m. and head back toward the city for another championship game. Rich South's championship is at 7 p.m. York's championship is at 7:15 p.m. Proviso West's championship is at 8 p.m. Wheeling's championship is at 8:45 p.m.
Five storylines
1) Morgan coach Nick Irvin's father, Mac Irvin, passed away on Saturday. Mac was a legendary figure in Chicago basketball. Morgan Park opens the Proviso West tournament at 9 a.m. on Tuesday.
2) Simeon's road to another Pontiac title won't be easy. The Wolverines could see a talented Peoria Manual team in the semis and either Curie or Warren in the championship game. Warren lost to Simeon in the Pontiac and state title games last year. If Simeon survives, it will remain the No. 1 team in the country.
3) Proviso East hasn't won a Proviso West championship since it won it in back-to-back years in 1990 and 1991. First-year Proviso East coach Donnie Boyce was a senior on the 1990 team. It would be fitting for him to coach the Pirates to a title this year.
4) How many undefeated teams will remain after this week? Bloom and Seton are undefeated at Rich South. Curie and Simeon are undefeated at Pontiac. St. Viator takes it undefeated record into Wheeling. Bogan travels to Centralia with an unbeaten mark. Andrew (at Kankakee) Plainfield East (Pekin) and Metea Valley (Hinsdale South) are also undefeated.
5) Some players will make stars out of themselves after this week. Who will we be talking about next week?
December, 25, 2011
12/25/11
3:58
PM CT
Fresh off a close win over Whitney Young, Simeon remains No. 1 in the ESPNChicago.com prep hoops rankings. Who else is moving up and down in advance of this week's holliday tournaments.
Full story.
December, 21, 2011
12/21/11
6:34
PM CT
Here are five thoughts on the high school boys basketball scene for your Wednesday afternoon.
1. The early scholarship offer trend is getting way out of hand: It's been ridiculous for a while, but an offer the other day reminded me of that. Cal Poly recently became the first school to offer Simeon freshman D.J. Williams. Nothing against Cal Poly -- I'm not that familiar with the program -- but why does it need to be offering a freshman who hasn't even played varsity basketball yet? I don't see the point. If Williams is as good as projected, he'll land way out of Cal Poly's league. If he doesn't pan out, does Cal Poly need to be offering low- to mid-major players as freshmen to secure them? Maybe the offer was given to attract publicity. If so, mission accomplished. I'm writing about Cal Poly for the first time.
2. There's a good chance Thursday's Simeon-Whitney Young contest could be a one-sided game in front of an empty house: Simeon has lived up to the hype so far as the No. 1 team in the country and has only gotten better with the return of point guard Jelani Neely from injury. Whitney Young fell out of ESPNChicago's rankings after losing to Orr 45-29 last week. Orr turned around and lost to Farragut this week. Whitney Young was without Tommy Hamilton Jr., Jermaine Morgan and Jordan Smith due to injuries, but it will be without at least Hamilton Jr. for the Simeon game as well. Whitney Young, especially its guards, will have to step it up Thursday if it's going to compete with Simeon. As for Thursday's attendance, the price tag of $15 and $33 for seats through Ticketmaster and the fact the game was moved from its original date could lead to a small crowd.
3. The location for the City-Suburban Showdown is still up in the air: It is supposed to be played at the UIC Pavilion on Feb. 18, but promoter Bob Rylko and UIC athletic director Jim Schmidt are awaiting word from the NCAA whether the event can be held at the UIC. The NCAA has been enforcing a rule this season that non-scholastic events can't be held at Division I facilities. Every similar event around the country has had to move to another location. People may want to hold off buying tickets until the location is finalized.
4. Jabari Parker needed only 21 minutes to do something no Simeon player had done: His 40-point, 21-minute performance against Perspectives-Calumet on Monday was the most points ever by a Simeon player in a game. Parker eclipsed Tim Flowers' record of 35 points.
5. Outside of Jabari Parker, the players who have been the most impressive in the area so far haven't been the nationally-ranked ones: Crane's Willie Conner, St. Rita's Tony Hicks, Andrew's Jubril Adekoya, Bloom's Donald Moore, New Trier's Connor Boehm and Curie's Devin Foster are among those who have been the most consistent so far this season.
December, 7, 2011
12/07/11
7:20
PM CT
Here are five early observations to the 2011-2012 high school boys basketball season.
1: It's going to be a crazy year: The preseason assumption was it was top-ranked Simeon and everyone else, and that couldn't be truer through a few weeks of action. Try to follow these early results. Second-ranked Warren, which was thought to be Simeon's biggest competitor, lost to Stevenson on Tuesday. Stevenson previously lost to Elgin, which lost to Geneva, which lost to Oswego, Naperville Central and Oswego East. Other teams which have at least one loss already include Crane, De La Salle, Downers Grove South, Farragut, Homewood-Flossmoor and Morgan Park.
2 So, who's good: Well, of course, Simeon. The Wolverines are a work in progress as they figure out a few new roles, but they still rolled in their first two games against decent competition. Outside of Simeon, Proviso East, Andrew, Bloom, Plainfield East, Marist and Seton have proven to be the most consistent teams so far. Proviso East won its invitational at the Tournament of Champions in downstate Washington. Andrew won Crete-Monee's tournament. Marist has a quality win over St. Rita. Seton knocked off Crane on Tuesday. Bloom has a win over Homewood-Flossmoor. Plainfield East defeated Downers Grove South.
3 Just good high school players: The Chicago area has its share of nationally-ranked players, but it also has a lot of simply good high school players. Some of the guys who been impressive so far are Crane's Willie Conner, St. Rita's Tony Hicks, Bloom's Donald Moore and Seton's J.R. Tolliver. Conner's stock could especially rise as the season unfolds. He's become a lot more than a shooter.
4 Catch Young while you can: Whitney Young only plays 11 games in Illinois and only four times at home this season. The Dolphins have a true national schedule, which takes them to California, Kentucky, New Jersey, North Carolina, South Carolina and West Virginia. They travel to North Carolina twice. Their biggest in-state game will be against Simeon at UIC on Dec. 22.
5 Eligible transfers: Crane received good news Monday when it discovered Markee Williams was eligible after transferring from Morgan Park. Hyde Park also had all four of its transfers, including Moshawn Thomas, approved. Crane and Hyde Park should be among the state contenders with those players on the floor.