February, 27, 2012
2/27/12
9:30
PM CT
As the IHSA playoffs kick off, Simeon and Proviso East remained the top teams in ESPNChicago.com's boys basketball rankings.
Read the full story.
February, 25, 2012
2/25/12
6:45
PM CT
The Class 3A and 4A boys basketball playoffs begin on Monday. Here's a glance at the top games and players to see this week.
Five regional semifinals to see
1. St. Charles East vs. St. Charles North at St. Charles North on Wednesday

2. Marist vs. Brother Rice at Marist on Tuesday

3. Stevenson vs. Prospect at Stevenson on Wednesday

4. Benet vs. Bolingbrook at Metea Valley on Wednesday

5. Neuqua Valley vs. Naperville Central at Neuqua Valley on Wednesday

Five potential regional championships to see on Friday
1. St. Rita vs. Whitney Young at Whitney Young

2. Bogan vs. De La Salle at Mount Carmel

3. Farragut vs. St. Joseph at Nazareth

4. Crane vs. Riverside-Brookfield at Riverside-Brookfield

5. Minooka vs. Bloom at Joliet Central

6. Crete-Monee vs. Joliet West at Thornton

7. West Aurora vs. Naperville North at Oswego

8. Harlan vs. Morgan Park at Rich Central

9. Evanston vs. Notre Dame at Notre Dame

10. Schaumburg vs. Glenbard West at Glenbard West

Ten to players to see in regional play (alphabetical order)
There will likely be plenty of time to see Simeon's Jabari Parker and some of the other stars in the area, but these players and teams may or may not be around come next week.
1. David Cohn, junior, York: It hasn't been a great year for high-scoring numbers, but Cohn has been one of the exceptions. He can drop 30-plus points on any night. He had 47 points just recently. York is a No. 4 seed in the Lake Park regional.
[+] Enlarge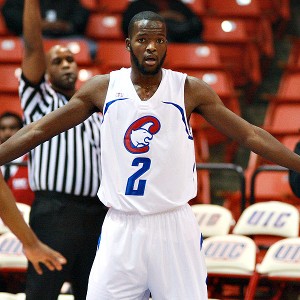 Scott Powers/ESPNChicago.comWillie Conner and Crane could be a tough out in the Riverside-Brookfield regional.
2. Willie Conner, senior, Crane: Conner improved his game this season and made himself a mid-major college prospect. Crane has been up and down this season, but Conner has been consistent. Crane is a No. 5 seed in the Riverside-Brookfield regional.
3. Tony Hicks, senior, St. Rita: Hicks, a Penn recruit, has been as good as any senior in the state. He's been averaging 25 points a game. St. Rita is a No. 4 seed in the Whitney Young regional.
4. Mike LaTulip, senior, Prospect: LaTulip is headed to Illinois next year as a preferred walk-on. He's been one of the area's top shooters and scorers this year. Prospect is a No. 9 seed in the Stevenson regional.
5. Jahlil Okafor, sophomore, Young: Okafor is the state's top sophomore and among the nation's top players in the Class of 2014. The state hasn't seen a big man as skilled as Okafor since possibly Eddy Curry. Whitney Young is a No. 5 seed in the Whitney Young regional.
6. Sean O'Mara, sophomore, Benet: O'Mara, a 6-9 center, has emerged as one of the state's top young prospects. He's a skilled big man and is following in the footsteps of former Benet center Frank Kaminsky. Benet is a No. 6 seed in the Metea Valley regional.
7. Michael Orris, senior, Crete-Monee: Orris, a 6-3 point guard, is headed to Illinois next season. He's expected to help backup Tracy Abrams there. Crete-Monee is a No. 4 seed in the Thornton regional.
8. Juwan Starks, senior, West Aurora: Starks is on the verge of West Aurora's career-scoring record of 1,613 points, which is owned by Billy Taylor (1987-1991). Starks is 60 points shy of matching Taylor. West Aurora is a No. 4 seed in the Oswego regional.
9. Tyler Ulis, sophomore, Marian Catholic: Ulis, a 5-8 point guard, is a scoring machine. He put up 38 points in a loss to St. Viator last month. Marian Catholic is a No. 7 seed and could face Andrew in the Andrew regional championship.
10. Milik Yarbrough, sophomore, Zion-Benton: Yarbrough could eventually be one of the nation's top players in the Class of 2014. He's a multi-skilled 6-6 guard/forward. Zion-Benton is a No. 16 seed in the Zion-Benton regional.
January, 25, 2012
1/25/12
8:50
PM CT
CHICAGO --
Derrick Rose
's shadow continues to loom over Simeon's basketball program.
Simeon coach Robert Smith doesn't let his 2011-12 team forget what Rose and his teammates did when they were wearing blue and gold earlier this century. If the current Wolverines are ever going to impress Smith, they need to exceed what Rose and company accomplished.
On Wednesday, Smith was again happy, but not ecstatic. While No. 1 Simeon defeated No. 11 Bogan 68-57 in a matchup of Red-West unbeatens, Smith still wasn't completely satisfied with his team's play.
[+] Enlarge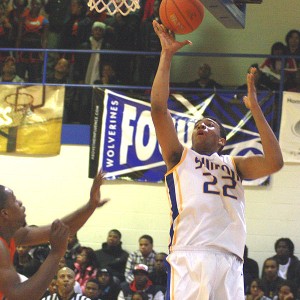 Scott Powers/ESPNChicago.comSF Jabari Parker's versatile game helped him win multiple state titles at Simeon.
"This team doesn't have that killer instinct," said Smith, whose team improved to 19-1 overall and 8-0 in conference. "When Derrick was here, if they had you down by 30, they wanted to get to it 50. They didn't get bored.
"No, I don't think we've played a complete game yet. I hope it comes. It would be scary if we could get firing on all cylinders and play all four quarters."
For a half Wednesday, Simeon was at full tilt.
Simeon opened the game playing aggressive defense and contesting every Bogan attempt. After each Bogan miss, the Wolverines snatched the rebound, pushed the ball other way and quickly got the ball into the hoop.
Before five minutes had passed, Simeon already held a 16-3 lead. The Wolverines went up by as many as 15 points in the first quarter and extended it to a 34-12 advantage by halftime.
"That's a good team," Smith said. "They can shoot 3-pointers. We just wanted to get out in front and build a cushion before they started making them."
From the other bench, Bogan coach Arthur Goodwin couldn't believe his eyes. The Bengals were playing their worst basketball at the worst time. They shot 4-of-29 from the field and 3-of-13 from the free-throw line in the first half.
Goodwin thought his team was possibly intimidated by the packed crowd at Simeon.
"We didn't play Bogan basketball in the first half," said Goodwin, whose team fell to 19-2 and 7-1. "You got to hit free throws to beat a good basketball team. In the second half, we played Bogan basketball."
Bogan was able to make it interesting in the final two quarters. The Bengals began taking the ball to the hoop for easy buckets and then went back to their outside shooting, which finally began to work.
Behind 10 points from Devonte Smith and two 3-pointers by Kendall Wesley, Bogan outscored Simeon 27-16 in the third quarter and cut the lead to 11.
In the end, though, the deficit was too much to make up. Simeon wasn't going to collapse that far as
Kendrick Nunn
and
Steve Taylor
combined for 12 fourth-quarter points to seal the win.
Nunn, Taylor,
Jabari Parker
and Jaleni Neely each took turns stepping up for Simeon. Parker finished with 20 points, 12 rebounds and five blocks. Nunn had 20 points and eight rebounds. Neely had 11 points and Taylor had 10 points and seven rebounds.
"They each came through with big plays," Smith said. "That's nice to have."
Smith had a team-high 13 points and nine rebounds for Bogan. Ronnell Buckner and Donte Jackson contributed 11 points each.
December, 25, 2011
12/25/11
3:58
PM CT
Fresh off a close win over Whitney Young, Simeon remains No. 1 in the ESPNChicago.com prep hoops rankings. Who else is moving up and down in advance of this week's holliday tournaments.
Full story.