March, 20, 2011
3/20/11
12:57
AM CT
Rock Island-Centralia GameCast

PEORIA, Ill. -- Rock Island senior forward Romal Davis briefly panicked like nearly every Rocks' supporter in Carver Arena when star guard Chasson Randle fouled out with 57.8 seconds remaining in the first overtime on Saturday.

"I was like, 'Man,'" Davis said. "I didn't know what to think. He's our leading scorer. But when he fouled out, man, it was like, 'Wow.'"



[+] Enlarge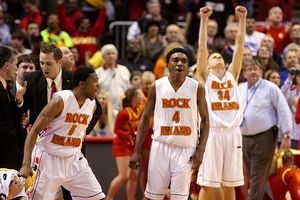 Scott Powers for ESPNChicago.comRock Island defeated Centralia to earn its first 3A title in Peoria, Ill. on Saturday.

Davis may not have been feeling confident at that point, but neither he nor his teammates wavered in their play from the moment their leader left the floor. The Rocks forced a second overtime in Randle's absence and outscored Centralia 10-0 in the final period to defeat the Orphans 50-40 and capture their first Class 3A state championship.

"This is a lifetime dream, and the dream has come true," said Davis while being mobbed by friends and family. "I can't even explain the feeling."

In the second overtime, Davis (10 points, nine rebounds) took charge first for the Rocks. He sank a jumper to give Rock Island a 42-40 lead with 3:36 left. It would be the game-winner.

From there, the Rocks took care of business at the free-throw line. After going 3 of 8 at the line in the first overtime, Rock Island redeemed itself in the final four minutes.

Royce Muskeyvalley sank two free throws to put them ahead 44-40. Denzel McCauley hit two more to give them a 46-40 lead. Muskeyvalley drained four more, and Rock Island had a 50-40 advantage.

"After the first overtime, we got in the huddle, and we told each we had to start playing hard, go for the loose balls and start hitting our free throws," said McCauley, who had nine points and 17 rebounds.

On the other end, Centralia lost its scoring touch. The Orphans missed two free throws and three field-goal attempts and turned the ball over twice in the second overtime.

Randle had led Rock Island (30-3) to a number of wins this season, but he was relieved his teammates had picked him up when it was needed most.

"Man, it was just great," said Randle, who finished with 13 points, seven rebounds, three assists and three steals. "The team did a great job of sticking together and staying in the game, and that's what we did.

"I'm just happy right now. I'm speechless."

R.J. Kwiatkowski (15 points) and Bryan Betts (13 points) led Centralia (30-5).


March, 18, 2011
3/18/11
10:36
PM CT
PEORIA, Ill. -- North Chicago coach Gerald Coleman believed he had nothing to lose when he decided to begin stalling late in the first quarter against Centralia in Friday's Class 3A semifinal.
His team had burst out of the gates, and the game was being played at the frantic pace he preferred. The Warhawks had scored 18 points in the game's 4:34 and were ahead by six.
Coleman wanted to be up more. He thought North Chicago could deliver the knockout punch if he could pull Centralia out of its zone. It was with 2:50 remaining in the quarter he told his team to hold the ball.
It was a decision that possibly cost North Chicago the game, and Coleman would defend adamantly following the Warhawks' 59-55 loss to Centralia at Carver Arena.
After North Chicago stalled, the game's momentum shifted in Centralia's favor. North Chicago scored only eight points in the final 10 minutes and 50 seconds of the first half. Centralia overtook the Warhawks in the second quarter and went ahead 31-26 at halftime.
Coleman was asked about his tactic afterward, and he defended it by saying he didn't believe a coach's decision could affect a state semifinal game.
"When you get downstate, there's no such thing as a decision that you made costs you the game," Coleman said. " Now a referee calls a technical foul on somebody, that costs you the game. But coaching decisions and a team down here, they don't cost you the game."
Coleman said he didn't worry when his team stopped scoring at a high pace after its hot start. The Warhawks' 55 points did tie for their lowest output of the season.
"If you follow North Chicago basketball, we're that type of team," Coleman said. "That's the way we've played all year. We can score 18 points on you in a couple of minutes, and we can come back and score six points in the next 10 minutes. That's the style of basketball we play."
[+] Enlarge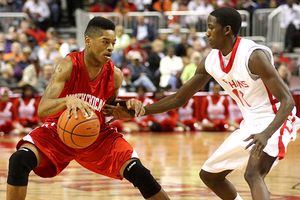 Scott Powers, ESPNChicago.comAaron Simpson had 14 points in a losing effort for North Chicago.
North Chicago junior guard Aaron Simpson, who had scored the team's first eight points, did admit he felt the game change late in the first quarter.
"We were in a rhythm, going down, scoring back to back," Simpson said. "It is what is. We're in Peoria. We have to look to the next game."
Centralia coach Lee Bennett had no plans of coming out of his zone.
"I don't know 100 percent which athletes would exhaust first, but I willing to take the chance that it wouldn't be theirs," Centralia coach Lee Bennett said. "So [them holding the ball] was fine."
North Chicago wasn't able to resume scoring as it did early, but the Warhawks still had their chances to win Friday. They took a 36-35 lead late in the third quarter.
Centralia responded with a 10-0 run, and the Orphans would hold the lead the rest of the way.
Jaylin Linson (16 points, eight rebounds), Maurice Gordon (11 points) and Simpson (14 points) led North Chicago. R.J. Kwiatkowski scored a game-high 23 points for Centralia.