High School:

Charlie Tilson
June, 7, 2011
6/07/11
6:53
PM CT
New Trier senior centerfielder Charlie Tilson was selected by the
St. Louis Cardinals
in the second round as the 79th overall pick of the MLB draft on Tuesday.
Tilson wasn't displeased to be taken by the Cardinals, despite his proximity to Wrigley Field. While the
Chicago White Sox
have always been his No. 1 team, the Cardinals haven't trailed far behind.
"I've worn red to Cubs games before," Tilson said, laughing. "The Cardinals are a wonderful organization. I'm just honored to be drafted. It's a fortunate thing. It's exciting to see your name called in the MLB draft."
Tilson was expected to be selected in the first few rounds. Although he watched the draft on Monday, he wasn't disappointed not to be taken in the first 60 picks.
"To be honest, this is kind of what we expected," Tilson said. "You never know. I was pretty optimistic about how today would go."
Tilson was unsure Tuesday whether he'd end up signing with the Cardinals or play at the University of Illinois next season. Prior to the draft, he said he had hoped for a signing bonus in the seven-figure vicinity. He has until Aug. 15 to sign with the Cardinals.
"To be honest, it's too early to tell," Tilson said. "Right now, we'll see where it goes. I'm fortunate to have two great options. I'm excited for either one.
"There certainly is a lot more to come. I obviously would like to get it done, get it out of the away, but for a decision like this you have to take into account all things. For today, I couldn't be happier."
Tilson, who throws and hits left-handed, had a .406 average, scored 41 runs and stole 28 bases during his senior season for the Trevians. He is thought to be a potential leadoff hitter at the major league level.
June, 4, 2011
6/04/11
7:00
PM CT
WINNETKA, Ill. -- New Trier's Charlie Tilson has a figure -- actually seven of them -- that will decide whether he will be playing baseball professionally or for Illinois a year from now.
[+] Enlarge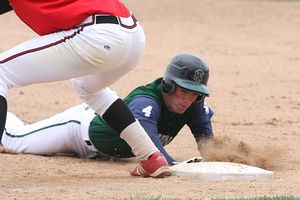 Scott Powers/ESPNChicago.comCharlie Tilson hit over .400 this season at New Trier.
Tilson, a 6-foot, 185-pound speedy centerfielder and leadoff hitter, and his family have decided for him to take the leap into professional baseball and bypass college that an organization will have to select him in the early rounds of the MLB draft, which begins on Monday, and offer him somewhere in the vicinity of a seven-figure signing bonus.
"I've come out with a number that it's going to take for me to go," said Tilson, who is also the ESPNChicago.com/Muscle Milk Prep Athlete of the Week. "I don't know if I'll get it. My education is important to me. I may end up out-pricing myself.
"I'm excited. If it were to work out, it would be a great scenario. My No. 1 goal is to play professional baseball, but at the same time I want to get a great education and Illinois is a great school, and they've had a great season."
Tilson is considered to be a borderline first-round pick. He's No. 29 in ESPN's top 100 draft rankings. If he isn't taken in the first round on Monday, he's expected to go early on Tuesday.
"There is an outside shot that Tilson sneaks into the bottom few picks of the first round to a team such as Tampa Bay who has multiple selections, but otherwise fits nicely in the sandwich round based on talent alone," ESPN MLB draft analyst Jason Churchill said. "He's committed to the University of Illinois, but is considered signable which should keep him in the top two rounds."
One MLB scout thought Tilson's signing bonus request would certainly be a topic of conversation when teams are deciding to draft him.
"Potentially, yes, he could get seven figures, but potentially it's also the thing that stops him from going somewhere," the scout said. "It puts him in limbo."
There may be some doubts whether a team can sign Tilson, but there isn't any over his ability. After stealing seven bases and being the only player to hit a home run at last summer's Area Code Games in California, Tilson has been on everybody's radar. Ever since then, scouts have been out in droves to New Trier's baseball games to see Tilson play.
"He's a special player," New Trier coach Mike Napoleon said. "We knew that. We didn't bring him up as a sophomore for no reason. Everyone locally knew him, everyone in the state of Illinois. In that same sense, it just exploded in the Area Code Games. When you're the only guy to hit a home run, steal a few bases and throw a couple guys out, that's national news."
Tilson, who throws and hits left-handed, continued to impress scouts with his speed, defense and hitting during his senior season. Tilson had a .406 average, scored 41 runs and stole 28 bases through May 31.
"He has a unique offensive set of tools," one American League scout said. "He's a plus-runner. He has leadoff type of ability. He can be a table setter."
If Tilson and a team can't agree on a number, Illinois coach Dan Hartleb will gladly take him. Other schools tried to sway Tilson from Illinois following his performance at the Area Code Games, but he has remained loyal.
Hartleb, whose team is playing in the NCAA tournament this week, has kept in touch with Tilson throughout the draft process, but hasn't put any pressure on him. Hartleb said he wants Tilson to do what's best for his career.
"It's not going to be an easy decision either way they go," Hartleb said. "They do have some very good options whether it's the University of Illinois or with the professional side. We hope we can get him to the University of Illinois. He'll continue to fill a void and help us move forward in the leadoff spot. We'll have to see how it all unfolds."
Tilson had hoped to be playing in a super-sectional game during the draft on Monday, but New Trier was knocked out of the state playoffs in the sectional semifinals. Instead, Tilson will watch the draft with his family at his home.
"I'm not going to make too big of a deal out of it because you never know what happens," Tilson said. "I don't want to build it up. I'd be lying if I said I wasn't going to be nervous. I don't know what to expect. I thought I had a pretty good season. It's one of those things we'll just see how it goes."