October, 19, 2011
10/19/11
10:28
PM CT
Here's a look at the final regular-season week of action in ESPNChicago.com's top 20.
Glenbrook South (7-1) at No. 1 Maine South (8-0)


When:
Friday at 7 p.m.
The story:
Maine South takes a 54-game Central Suburban South winning streak into this game. The Hawks' last division loss was in 2000 to New Trier. Glenbrook South has often finished second to Maine South and is hopeful to change that this year. The Titans' lone loss this season was to Stevenson early in the year. Glenbrook South has gone undefeated in conference and put up similar overall numbers to Maine South.
Glenbrook South player to watch:
Fullback Kevin Schroeder has been key to the Titans' offense.
Maine South player to watch:
Running back Paul Preston has been stellar all season for the Hawks.
Prediction:
Maine South 38, Glenbrook South 28
---
No. 2 Glenbard West (8-0) at Downers Grove North (2 6)


When:
Friday at 7:30 p.m.
The story:
Glenbard West has already clinched the West Suburban Silver title. The Hilltoppers have shut out their last two opponents. Downers Grove North is better than its record. The Trojans have been in every game this season, but just haven't found a way over the hump.
Glenbard West player to watch:
Senior offensive lineman Johnny Caspers recently committed to Stanford.
Downers Grove North player to watch:
Quarterback Riley McGinnis has a big arm.
Prediction:
Glenbard West 31, Downers Grove North 7
---
No. 3 Lincoln-Way East (8-0) at Joliet West (2-6)


When:
Saturday at 12 p.m.
The story:
Lincoln-Way East should close out its Southwest Suburban Blue title run with an easy win. The Griffins had no trouble last week and beat Joliet Central 42-0. Joliet West has won two conference games, but is coming off a 56-19 loss to Homewood-Flossmoor.
Lincoln-Way East player to watch:
Defensive end Joel Magrum returned an interception for a touchdown last week.
Joliet West player to watch:
Wide receiver Korey Rogers knows how to find holes in a secondary.
Prediction:
Lincoln-Way East 42, Joliet West 7
---
No. 5 St. Rita (7-1) at No. 4 Loyola (8-0)


When:
Saturday at 1 p.m.
The story:
The Catholic League Blue championship comes down to this game. Loyola has had St. Rita's number for the past few years. A season ago, the Ramblers beat St. Rita on its home field and forced a three-way tie for the conference crown. Both teams have stellar defenses. It could be a game decided by a field goal or a lone touchdown.
St. Rita player to watch:
Defensive back Ryan Leonard is a big hitter.
Loyola player to watch:
Quarterback Malcolm Weaver got dinged up last week, but will be needed this week.
Prediction:
Loyola 17, St. Rita 14
---
No. 6 Downers Grove South (8-0) at Addison Trail (7-1)


When:
Friday at 7:30 p.m.
The story:
Downers Grove South hasn't been tested in the West Suburban Gold in recent years. That could change this week. Addison Trail has proven to be among the area's top teams, especially with its defense. Its only loss was a narrow one to Glenbard West. Addison Trail will have to find a way to stop Josh Williams, who is approaching 2,000 yards for the season.
Downers Grove South player to watch:
Defensive lineman Jeremy Ulrich had a sack and a fumble recovery in last week's win.
Addison Trail player to watch:
Anthony Messina had three touchdown runs in last week's win.
Prediction:
Downers Grove South 24, Addison Trail 10
---
Cary-Grove (6-2) at No. 7 Prairie Ridge (8-0)


When:
Friday at 7:15 p.m.
The story:
Prairie Ridge has been one of the state's most dominant teams this season. The Wolves have out-scored their opponents 360-65 through eight weeks. Cary-Grove is out of the Fox Valley Valley title race, but it could spoil Prairie Ridge's outright championship. The Trojans did upset Lake Zurich early in the season and possess one of the area's top defenses.
Cary-Grove player to watch:
Junior quarterback Quinn Baker has the Trojans' option offense running smoothly.
Prairie Ridge player to watch:
Corey Barcoft is one of the key players on the Wolves' defense.
Prediction:
Prairie Ridge 31, Cary-Grove 14
---
Lockport (6-2) at No. 8 Bolingbrook (7-1)


When:
Friday at 7:30 p.m.
The story:
Bolingbrook will likely have to settle for second place in one of the area's toughest conferences. The Raiders have allowed only three points since losing to Lincoln-Way East. Lockport is headed to the playoffs, but hasn't fared well against the top talent in the conference. The Porters lost to Homewood-Flossmoor and Lincoln-Way East by a combined 66 points.
Lockport player to watch:
Dexter Taylor scored two rushing touchdowns in last week's win over Sandburg.
Bolingbrook player to watch:
Quarterback Aaron Bailey will be in consideration for ESPNChicago.com's Offensive Player of the Year.
Prediction:
Bolingbrook 35, Lockport 14
---
Providence (5-3) at No. 9 Mount Carmel (6-2)


When:
Friday at 7 p.m. at Gately Stadium
The story:
Mount Carmel fell out of the Catholic League Blue race last week with a loss to rival St. Rita. The Caravan will be looking to get back on track against Providence. Mount Carmel's offense has struggled in its defeats this season. Providence is 0-3 against conference opponents this season.
Providence player to watch:
Running back Andrew Hoffmeister leads the Celtics' offense.
Mount Carmel player to watch:
Brandon Greer scored the Caravan's lone touchdown last week against St. Riva.
Prediction:
Mount Carmel 28, Providence 20
---
No. 10 Crete-Monee (8-0) at Rich East (6-2)


When:
Saturday at 12 p.m.
The story:
Crete-Monee can win the Southland title outright with a win over Rich East, which has one conference loss. Crete-Monee hasn't scored less than 30 points in a game this season. Rich East has allowed more than 30 points just once. Something will have to give in this game.
Crete-Monee player to watch:
Recruiting attention is picking up for wide receiver LaQuan Treadwell.
strong>Rich East player to watch: Running back Rondell Willingham has been key to the team's offensive success this season.
Prediction:
Crete-Monee 35, Rich East 20
---
Oak Forest (6-2) at No. 11 Lemont (8-0)


When:
Friday at 7 p.m.
The story:
Lemont has already secured itself the South Suburban Blue title. The Indians have put together a memorable defensive season. They've allowed one opponent more than six points. Oak Forest should be another challenge. The Bengals have scored 40 or more points five times this season.
Oak Forest player to watch:
Running back Tevin Coleman is one of the state's best.
Lemont player to watch:
Jake Lemming is among the Indians' defensive playmakers.
Prediction:
Lemont 31, Oak Forest 14
---
Streamwood (6-2) at No. 12 Batavia (8-0)


When:
Friday at 7:30 p.m.
The story:
Batavia can put the finishing touches on its Upstate Eight River title this week. The Bulldogs have held six opponent to seven points or less and are coming off back-to-back shutouts. Streamwood guaranteed itself a playoff spot with a win last week. It'll be the Sabres' first playoff appearance since 2002.
Streamwood player to watch:
Running back Alex Morrow rushed for 228 yards in last week's win.
Batavia player to watch:
Quarterback Noel Gaspari has been among the area's best this season.
Prediction:
Batavia 42, Streamwood 14
---
St. Viator (2-6) at No. 13 Nazareth (7-1)


When:
Saturday at 1 p.m.
The story:
Nazareth will earn a share of the East Suburban Catholic title with a victory over St. Viator. The Roadrunners' offense and defense have been clicking the past few weeks and out-scored their last two opponents 86-19. St. Viator's defense has struggled this season, but did shut out Benet in a 28-0 win last week.
St. Viator player to watch:
John Balas had four receptions for 129 yards and two touchdown in last week's win.
Nazareth player to watch:
Joshua Moore has been having some remarkable rushing performances.
Prediction:
Nazareth 42, St. Viator 14
---
No. 14 Joliet Catholic (7-1) at Marist (6-2)


When:
Friday at 7:30 p.m.
The story:
There's a good chance that this could be a high-scoring affair. Marist put up 64 points in last week's win over Carmel. Joliet Catholic is among the state's offensive leaders with 376 points this season. The winner will get at least a share of the East Suburban Catholic title.
Joliet Catholic player to watch:
Defensive back Brody Wilhelmi blocked a punt last week.
Marist player to watch:
Ian Woodworth threw eight touchdowns in last week's win.
Prediction:
Joliet Catholic 49, Marist 42
---
No. 15 Wheaton North (7-1) at Wheaton Warrenville South (5-3)


When:
Friday at 7:30 p.m.
The story:
Wheaton North can win the DuPage Valley outright with a win over Wheaton Warrenville South. The Falcons haven't done much against Wheaton Warrenville South in recent years. Their last win over the Tigers came in 2002. Last year, Wheaton Warrenville South beat them twice. The Tigers are riding a four-game winning streak since their early struggles.
Wheaton North player to watch:
Running back Patrick Sharp gives the Falcons a balanced offensive attack.
Wheaton Warrenville South player to watch:
Running back Dan Vitale is one of the area's most versatile players.
Prediction:
Wheaton North 17, Wheaton Warrenville South 14
---
Wheaton Academy (1-7) at No. 16 Montini (6-2)


When:
Friday at 7:30 p.m.
The story:
Montini's offense has been scary lately. Last week, the Broncos put up 75 points. Two weeks ago, they scored 59 points. They should have another big offensive day against Wheaton Academy. The Warriors lost 42-0 to Aurora Central Catholic last week.
Wheaton Academy player to watch:
Isaiah Rosas is an offensive threat for the Warriors.
Montini player to watch:
Wide receiver Jordan Westerkamp is in the running for ESPNChicago.com Player of the Year.
Prediction:
Montini 49, Wheaton Academy 0
---
Conant (6-2) at No. 17 Palatine (7-1)


When:
Friday at 7:30 p.m.
The story:
Palatine can win the Mid-Suburban League West outright with a win over Conant. Aside from a narrow win over Schaumburg, the Pirates have been dominant against conference competition. Conant should be up for the test. The Cougars are playoff bound and their two losses came by a combined five points.
Conant player to watch:
Tim Manckzo is the Cougars' premier offensive weapon.
Palatine player to watch:
Linebacker Kurt Becker is playmaker on defense.
Prediction:
Palatine 28, Conant 17
---
Grayslake Central (7-1) at No. 18 Crystal Lake South (7-1)


When:
Friday at 7:15 p.m.
The story:
This could be an interesting Fox Valley crossover game. Crystal Lake South has proven itself throughout the season and will be favored. The Gators are one of the area's top defensive teams and have allowed only one opponent more than 12 points this season. Grayslake Central has the same record, but hasn't played the same level of competition. This will be a chance for the Rams to earn some respect.
Grayslake Central player to watch:
Joel Valdivia was unstoppable last week. He rushed for 365 yards and six touchdowns against rival Grayslake North.
Crystal Lake South player to watch:
Reese Dziedzic rushed for two touchdowns in last week's win over Jacobs.
Prediction:
Crystal Lake South 20, Grayslake Central 10
---
No. 19 Marian Central (8-0) at Marmion (5-3)


When:
Friday at 7:30 p.m.
The story:
Marian Central will take the Suburban Christian Blue with a win. The Hurricanes have proven themselves with narrow wins over Montini and Oswego this season, and they've dominated everyone else. Marmion has been up and down this season after reaching the Class 6A title game last year. It defense has been its strength and will need to be again against Marian Central. The Hurricanes have scored 40-plus points in their last four games.
Marian Central player to watch:
Quarterback Chris Streveler has been consistent throughout the season.
Marmion player to watch:
Running back Jake Ruddy is a threat to run or catch the ball out of the backfield.
Prediction:
Marian Central 24, Marmion 14
---
Kaneland (8-0) at No. 20 Morris (8-0)


When:
Friday at 7:30 p.m.
The story:
This game will decide the Northern Big 12 East championship. Both teams have been dominant most of the season. Morris' defense has probably been slightly better than Kaneland's, and Kaneland's offense probably has the edge between the two teams. They both were tested last week and prevailed. Kaneland rolled in last year's meeting, winning 47-7. There isn't much separating the two teams this season.
Kaneland player to watch:
Wide receiver Quinn Buschbacher scored five touchdowns in a game earlier this season.
Morris player to watch:
Quarterback Austin Feeney was the difference in last week's 14-10 win over Rochelle. He scored on a 58-yard run to give his team the lead.
Prediction:
Morris 28, Kaneland 24
April, 28, 2011
4/28/11
8:26
PM CT
Andre Holmes
was filling out his goal sheet following his second season at Division II Hillsdale College (Mich.) when he came across a question he didn't know how to answer.
The question read, "Football after college?"
Holmes had never considered playing professionally. He nearly gave up the sport because he didn't see a future in it as a sophomore at Conant High School in Hoffman Estates, Ill. Even when he began to show some promise as a 6-foot-4 wide receiver as a high school senior, no Division I schools bothered to give him a look.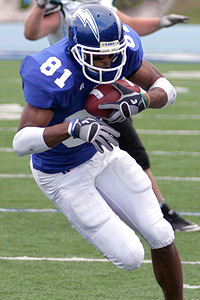 Courtesy of Hillsdale College Former Conant standout and Hillsdale College receiver Andre Holmes has the size (6 foot 4, 210 pounds) NFL teams love.
Holmes left the question blank and asked Hillsdale College offensive coordinator Barry Fagan for his opinion on his potential.
"He said, 'If you keep working, why can't you play at the next level?'" Holmes said.
With that, a light went on for Holmes. He began asking himself that same question. Why can't I play at the next level?
Three years later, Holmes is about to realize that goal.
Following junior and senior seasons where he combined for 181 catches, 2,444 yards and 17 touchdowns, crushing all of Hillsdale's records, and holding his own at the NFL draft combine, Holmes has given himself a shot to be selected in the NFL draft or at the very least be a team's free agent priority.
"I don't really have a clue right now," Holmes said of the draft. "It depends on how the cards play out. It could be anywhere from the fourth [round] to undrafted. My agent feels like I'll get drafted, and he's very confident with that. I know I'm going to get a call asking me to wear the jersey of some team. I'm going to come into training camp and work hard."
Holmes knows that path well. It's his work ethic that propelled him to where he is now.
The son of former DePaul basketball star Kevin Holmes, Andre was blessed with some natural athletic ability and size. Even in high school, Conant coach Bill Modelski saw Holmes' potential. That's why Modelski convinced him otherwise when Holmes contemplated quitting football for soccer.
"We were like, 'No,'" Modelski said. "I'm like, 'Listen, we have a plan for you, stick with it. Thank God he did. By his senior year, he blossomed into a very good receiver, and you could tell he wasn't done growing. He was going to keep developing.
"Some people missed the boat on him. There wasn't a lot recruiting interest in him. I made contact with several Division I-AA schools, and many never even called me back. Hillsdale College was interested, and the rest is history."
Hillsdale coach Keith Otterbein can understand why Division I schools weren't willing to give Holmes the time of day. Even at the Division II level, Holmes was a risk.
"There wasn't a large volume of tape on him to say he was a good player," said Otterbein, whose program also recently produced
Oakland Raiders
starting offensive tackle Jared Veldheer. "Even with his size, potential and upside, obviously a lot of people passed on him because it wasn't backed up with high school tape. What we did is take a chance on that potential to come through. Five years later, we look smart, but we were taking a chance."
Holmes arrived at Hillsdale as a 6-4, 180-pound freshman, and Otterbein's first move was to redshirt him. Holmes was going to need time if he had any chance to succeed.
Holmes understood that as well. It didn't take long before he was in the team's weight room, trying to add muscle to his lean frame.
With each year, Holmes took steps forward. He put on a few extra pounds. He gained strength. He added speed. When the team got together for its yearly weight-lifting competition, Holmes always beat his personal bests from the season before, and even has a collection of t-shirts to show for it.
"Every year we have a series of seven tests, and if you get five or more personal bests, you get a t-shirt," said Holmes, who is now 210 pounds. "Every time, I got a t-shirt. I kept progressing every year. It's basically you have that self-drive to get better every day. That's what I looked forward to. The motivation was I wanted to be a better player the next year."
On the field, he learned to utilize his added tools along with what he already had in height and athleticism. Once he put them all together, Holmes became an opposing defense's nightmare.
As a senior, he had 30 more receptions and 468 more yards than other wide receiver in his conference. In the first round of the playoffs, he had 16 catches for 208 yards.
The numbers caught NFL scouts' attention, earning himself an invitation to the NFL draft combine. There, he continued to impress. He ran a 4.53-second 40-yard dash, had a 35-inch vertical, bench-pressed 225 pounds 11 times and had a broad jump of 130 inches. His broad jump was one of the best at the combine, and his other results were competitive with the other wide receivers.
Holmes' performance led to a visit with the
Dallas Cowboys
, a private workout with the
New England Patriots
and a regional workout with his hometown
Chicago Bears
. The
Baltimore Ravens
have also expressed interest in him.
Holmes ultimately doesn't care who drafts him, but he admitted playing for the Bears would be special.
"There's a lot of teams who have contacted me for my contact information," Holmes said. "The Bears are one of them. I've talked to Jerry Angelo. I feel it's a definite possibility."
Otterbein hopes Holmes is drafted, but more importantly he believed Holmes will have to prove himself at an NFL camp to stick around.
"He'll either be a late-round guy or someone will get a steal as a free agent," Otterbein said. "I think he's good enough to play in the NFL. I'll put it that way. I really do.
"I hope he gets that one-day glamour of being drafted. The life-changing part isn't being drafted, but when he gets to go to a camp and gets the chance to prove he belongs. Whether he's a sixth-round pick or a free agent, it doesn't matter how he gets there."
Holmes felt at ease about his future and the draft.
"I'm not really nervous right now," Holmes said. "I'm not sure how I'll feel during the draft. I feel like I've done all I can do. I'm more excited about it and can't wait for the draft to come."
October, 23, 2010
10/23/10
4:57
AM CT
By
Andrew Braverman
| ESPNChicago.com
PALATINE -- Everything was lined up for the Fremd Vikings as they hosted Conant in their regular-season finale.

Fresh off an upset of previously unbeaten Barrington, Fremd needed just one more win to ensure its streak of 15-consecutive playoff appearances continued, not to mention its streak of seven straight shared or outright MSL-West titles. The visiting Cougars were traveling to Palatine after having lost at home to rival Hoffman Estates one week earlier (a loss that snapped the Hawks' 23-game losing streak).

But even with its season on the line, Fremd head coach Mike Donatucci never viewed the Week 9 matchup against Conant as a trap. "It could very easily have been, but our kids knew what was at stake," Donatucci said. "This group of kids and these seniors are very special."

Hard work and resilience paid dividends Friday night as the Vikings beat Conant 31-10 on senior night, boosting their record to 5-4 (4-1 in conference) and securing a playoff contest.

Despite fumbling on its first drive of the game, Fremd was first to light the scoreboard as senior running back Justin Wallace ran in a 1-yard touchdown with the first quarter winding down.

In the second quarter, Fremd increased its lead to 10-0 as freshman Andrew Stark drilled a 31-yard field goal, but Conant would respond with a 24-yard field goal of its own, thanks to junior John Maevski, with just 24 seconds remaining in the half.

Fremd began the second half by recovering a Cougars' fumble on the kickoff, and from there, it was all Vikings. A third-quarter touchdown from Wallace (1-yard run) was followed by a pair of scores in the fourth quarter. Freshman quarterback Sam Beutler scrambled five yards to paydirt and senior Richie Concialdi capped the onslaught with a 4-yard touchdown pass to Jack Konopka. Conant (2-7, 0-5) scored its lone touchdown with just over three minutes remaining on a Jacobi Sims' 43-yard run.

"Even after starting 1-4, none of our goals were taken away from us," said senior running back Justin Wallace. "We still had a chance to win conference and make the playoffs so we focused one game at a time and we did it. It feels great."

So now it's a wait-and-see mentality for Donatucci and the Vikings. The IHSA state playoff pairings will be announced tomorrow night at 8, and before the hour's through, Fremd will know where it has to travel to begin the Class 8A tournament.

Until then, Donatucci plans to enjoy the victory.

"We've had a lot of success and this means a lot. This means a lot to our program," said the head coach. "To have your backs to the wall and still be able to perform and believe in the things that these kids have been taught is a great thing to see."

And as for the Vikings' 14-year-old signal caller, well, he's already begun speaking like a veteran. "We're going to have a great week of practice and whereever we have to go, we're going to go and play Fremd football." said Beutler. "I get jokes all the time about being young but the older guys on the team really make everything more comfortable."

Player of the game: Fremd senior running back, Justin Wallace: 24 carries, 165 yards, two TDs.

Stat of the game: Senior quarterback Richie Concialdi finished 1-for-1 passing -- a 4-yard touchdown to Jack Konopka.

It was over when: Fremd recovered a Conant fumble on the opening kickoff of the second half and scored 21 unanswered points.

Quote of the night: "It's fine with me. It's better than going home!" - Fremd head coach, Mike Donatucci, on having to play a first-round playoff game on the road.