High School:

Dave Inserra
August, 24, 2011
8/24/11
2:29
AM CT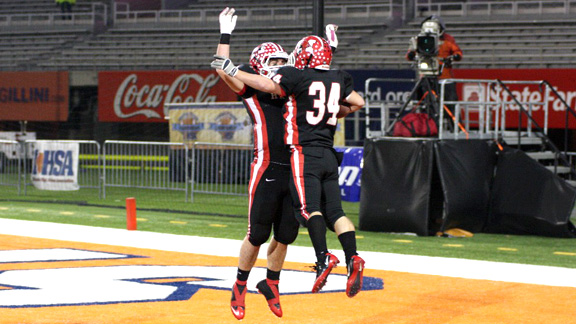 Scott Powers for ESPNChicago.comMaine South will be gunning for its fourth consecutive state championship.
Last season
: 12-2 overall, Central Suburban South 5-0, won the Class 8A state championship, ranked No. 3 in the final ESPNChicago.com 2010 poll
Season ahead
: Maine South is ready to put its focus back on the football field.
It was a stormy offseason for the Hawks following their third consecutive Class 8A state championship. The IHSA placed the program on probation, took away home playoff games and suspended coach David Inserra for one game following a lengthy investigation, which found Maine South had created counterfeit sideline passes to the state championship game and demonstrated unsportsmanlike behavior at the awards ceremony.
Maine South defensive coordinator Rick Magsamen was also suspended one game by the IHSA, but he has since left the program and joined Elk Grove's staff.
"Personally for both myself and our staff, it was difficult," Inserra said. "We're learning from it and trying to move on. Everybody's got to get better. We're not trying to dwell on it."
With the incidents behind them, the Hawks do have plenty of reason to look forward to 2011. The Hawks return a bulk of last year's state championship team, including its star quarterback Matt Alviti, running back Paul Preston and linebackers Tyler Fahey and Luke Lenti.
While some coaches don't like discussing repeating as champions, Inserra has embraced it. He hopes his team wants to win its fourth consecutive title and isn't shy to say so.
"The kids have taken it on as a motivation to work that much harder," Inserra said. "We talk about opportunities. This is an opportunity that not many kids get to win a fourth state championship."
Inserra has expanded his responsibilities this season as well. He will also be the team's defensive coordinator.
"Most coaches don't have the luxury of having both an offensive and defensive coordinator," Inserra said. "I accept the role readily. I don't want it; I want the coach [Magsamen] with me, but we'll go with it and I'll put my own twist on it. We won't change much."
Star power
: Matt Alviti may become the biggest name in the state pretty quickly. The junior quarterback has already won a state championship and has offers from Illinois, Northwestern and Notre Dame. He and Maine South's offense are expected to take it up another notch or two this season. "He's so comfortable in the pocket," Inserra said. "He absolutely understands the offense. He just gets it. He can read defenses."
Breakout performer:
Junior Pat Maloney got a taste of varsity last season and even played three different positions on the offensive line in the state title game. He'll be looked to this season as the team's starting offensive tackle and will also start as its defensive tackle.
Defensive difference-maker
: Senior linebacker Tyler Fahey was named to the ESPNChicago.com all-area team last season. He had 81 tackles, 13 tackles for a loss, seven sacks, four interceptions, three fumble recoveries and two defensive touchdowns. "He's just such a leader on defense," Inserra said. "He just really understands the game."
Newcomer to watch
: Juniors Mike Rubino and Dan Poulos will be asked to help out on the offensive line this season. Rubino is a 6-4, 210-pound center. Poulos is a 6-2, 250-pound right guard.
Schedule breakdown:
Maine South has a strong non-conference schedule again with Warren and Wheaton Warrenville South in the first two weeks. The question is whether the Central Suburban South can give Maine South a game this year. The Hawks haven't lost in the Central Suburban South since 2000. They travel to New Trier and host Glenbrook South this season.
Key game:
Sept. 2 vs. Wheaton Warrenville South -- Maine South was embarrassed by Wheaton Warrenville South on national television last season. The Hawks lost 44-7 on the road. This is their opportunity for revenge, and a chance to prove they're the top team in the state. "The Wheaton game is huge because it's two of the best teams in the state," Inserra said. "We're probably not going to see them in the playoffs. You want to have those bragging rights for yourself."
What they're saying:
"We don't mind it," said Inserra of having five two-way players. "We love it in fact."
January, 14, 2011
1/14/11
10:03
PM CT
The IHSA suspended Maine South head football coach David Inserra and assistant coach Rick Magsamen one game each to begin the 2011 season, and the program was placed on probation until Dec. 1, 2011 for actions during the Class 8A state championship game in November.

The probation includes Maine South not being able to host playoff games "until demonstrating compliance with IHSA playoff policies."

The IHSA will evaluate Maine South's compliance after a minimum of two playoff games.

"Part of that compliance will include the school submitting a plan to establish institutional control of the football program and a plan to improve sportsmanship by fans, coaches and players," the IHSA stated in its release.

"Maine South and District 207 regret the embarrassing incidents and rules violations that were outlined by the IHSA on November 29 and subsequently confirmed by the IHSA's presentation of facts and by an internal investigation conducted by Maine South and District 207," the school said a statement Friday night.

Maine South was under investigation after the IHSA discovered the Hawks had created and distributed counterfeit sideline passes to the Class 8A state championship game. The IHSA also looked into the presence of alumni on the sidelines, incidents that occurred while stadium security attempted to remove those with fake passes and inappropriate behavior by Inserra at the awards ceremony following the game. The IHSA also received complaints against Maine South's behavior in other playoff games.

"There were a litany of indiscretions that took place at the state finals this year and that situation was compounded by issues that occurred at other playoff games," IHSA executive director Marty Hickman said in a statement on Friday. "That established a pattern of behavior in our minds and thus, it became important to look at the program as a whole. From a state final perspective, it was important for us to look at this not only from a safety and sportsmanship perspective, but also to gauge if Maine South had gained a competitive advantage by having more than the allowable number of coaches on the field and in the coaches press box.

"It was important that these penalties represented the seriousness of the actions. We wanted to make it clear that it couldn't just be an apology and then back to business as usual. Based on the talks and meeting we have had with Maine South since the state finals, I am confident that their administration and coaching staff have already taken steps in the right direction and are going to work diligently to prevent something like this from happening again. We appreciate the school and administration's cooperation and candor throughout this entire process and will work together to move beyond this."

A message left for Inserra was not returned immediately.

January, 10, 2011
1/10/11
10:03
PM CT
The Illinois High School Association board met with Maine South administrators Monday to discuss the creation and distribution of counterfeit sideline passes and the postgame conduct of the school's football coaches during the Class 8A state football championship in November.

The IHSA board expects to hand out a penalty later this week.

Maine South principal Shawn Messmer, athletic director Steve Adams, assistant athletic director Jaret Kirshner and football coach David Inserra attended the meeting.

"We appreciate the cooperation of Maine South and its administration since these incidents occurred," IHSA executive director Marty Hickman said in a statement. "They were genuinely sorry and recognized that these negatives have overshadowed the great positive they achieved in winning a state title.

"They also provided a well thought out plan to prevent these types of abuses from occurring in the future. I will complete additional follow-up with the school on some questions raised by our board in the coming days and then review all the applicable information before making a ruling on an appropriate penalty. I intend to have that ruling to the school later this week and will have no further comment until Maine South receives that ruling and I have the opportunity to discuss it with them."