High School:

David Sobolewski
February, 20, 2011
2/20/11
5:00
AM CT
CHICAGO -- There's a new No. 1.
In a game that lived up to every ounce of hype, No. 2 Benet defeated No. 1 Simeon 58-54 in the City-Suburban Showdown before 8,184 fans at UIC Pavilion on Saturday.
Simeon (23-2) had been the area's top-ranked team since the opening day of the season, and it didn't go down without a fight. It wasn't until Benet's Matt Parisi sank two free throws with 3.5 seconds left that Simeon was overtaken.
A season ago, Simeon defeated Benet in double overtime of the Hinsdale Central supersectional.
[+] Enlarge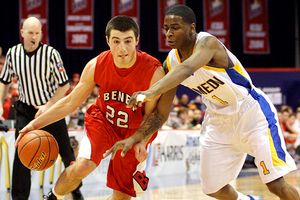 Scott Powers for ESPNChicago.comBenet's Matt Parisi drives against Simeon's Tywon Pinkney on Saturday.
"I'm going to be honest with you," Simeon coach
Robert Smith
said. "They're the best team. They're the best team in the state of Illinois right now."
Benet's fans, which made up of the bulk of the arena, erupted in cheers when the Redwings' win was finalized. The players ran into their locker room, shouting in celebration, but came out more reserved.
"It's a great honor to be No. 1, but you still have to play the games," Benet senior
Frank Kaminsky
said.
Benet is the No. 1 team right now, and there might not be a better combo than Kaminsky and his running mate
David Sobolewski
. Sobolewski, a Northwestern recruit, and Kaminsky, a Wisconsin recruit, took turns pushing the Redwings (26-0) forward.
Sobolewski struck early, scoring eight first-quarter points to put Benet ahead 16-6. He would finish with 15 points and five assists.
Later, it was Kaminsky who came through. Although he has struggled from deep this season, he sank two clutch two 3-pointers in the third quarter. He finished with 19 points, 10 rebounds, four assists and five blocks.
"I'm proud of our guys," Benet coach Gene Heidkamp said. "They all stepped up and did what they had to for us."
Simeon's own star, sophomore
Jabari Parker
, did everything he could to keep the Wolverines in the game. He scored a game-high 21 points, grabbed five rebounds, dished out two steals and had two steals.
"He was the one person we thought they didn't have an answer for," Smith said of Parker.
Heidkamp was impressed.
"He's one of the best I've seen in some time," Heidkamp said.
Pat Boyle (10 points) and Pat McInerney (nine points) also helped Benet in the win.
Rashawn McElrath (nine points, eight rebounds) and Darien Walker (seven points) contributed for Simeon.
No. 12 Morgan Park 57, Rock Island 54:
In a matchup of Morgan Park's
Wayne Blackshear
, a Louisville recruit, and Rock Island's
Chasson Randle
, a Stanford recruit, Blackshear and the Mustangs came out on top in the event's second game.
Blackshear scored a game-high 18 points and grabbed 13 rebounds for Morgan Park (18-5). Randle finished with 13 points, eight rebounds and three assists for Rock Island (23-3).
No. 13 Lyons 55, No. 7 Proviso East 53:
In the event's first game, Lyons forward Spencer Mahoney scored the game-winner on a layup with 3.2 seconds remaining.
Dylan Fiedler (14 points), Eric Powers (13 points),
Nick Zeisloft
(11 points) and Mahoney (11 points) all scored in double figures for Lyons (22-2).
The loss was the second of the weekend for Proviso East (19-5). The Pirates also lost to Downers Grove South on Friday. Against Lyons, they were led by
Sterling Brown
(14 points) and Trashaun Carroll (12 points, eight rebounds).
December, 31, 2010
12/31/10
9:09
PM CT
Here are the top 10 storylines of the year in area high school boys basketball.
[+] Enlarge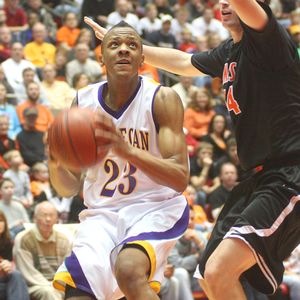 Scott Powers for ESPNChicago.comJereme Richmond led Waukegan downstate again while averaging 21 points and 11 rebounds.
1. The final page:
Since committing to Illinois as a freshman,
Jereme Richmond
became one of the most touted and scrutinized players in the state's history. His every move on and off the court was dissected. In 2010, he put the final touches on his storied high school career, and he didn't disappoint, leading Waukegan downstate again while averaging 21 points, 11 rebounds, two assists, three blocks and one steal. His season earned him the ESPNChicago.com Player of the Year award and Mr. Basketball.
2. Unknown to well-known:
A year ago, 6-foot-10 forward
Anthony Davis
was known as a basketball star among the few hundred students at Perspectives High School. Today, he's a star to the whole country. Davis' stock rose dramatically from the end of his junior high school season to the start of his senior year. In between, he played his first club basketball since grammar school, dominated from coast to coast, was offered by nearly every high-major school, signed with Kentucky and was ranked No. 2 in the Class of 2011 by ESPN.
3. Simeon is still Simeon:
Three years after winning its last state championship with Derrick Rose, Simeon again was on top of the Illinois high school basketball world in 2010. The Wolverines won the Class 4A state championship in March, have been dominant so far this season as the No. 1 team in the state and earlier this week won another Pontiac Holiday Tournament title. Sophomore
Jabari Parker
could be the program's next pro.
4. The rise of Benet:
In the past year, Benet won its first regional since 2005, its first sectional since 1983, pushed state champion Simeon to the brink in the super-sectionals, had two players sign with Big Ten programs (
David Sobolewski
to Northwestern and
Frank Kaminsky
to Wisconsin) and just recently won the historic Proviso West Holiday Tournament. Entering 2011, the Redwings are 14-0 and appear again to be Simeon's greatest challenger.
5. Wayne's world:
Morgan Park star
Wayne Blackshear
had plenty of moments throughout 2010, but none was bigger than in the Public League championship. With his team down by one, he hit a game-winning runner over a Marshall defender in the final seconds to lift the Mustangs to the title. Afterward Morgan Park coach Nick Irvin said, "Wayne Blackshear is a bad man."
6. Chi-town is Weber's town:
Illinois coach Bruce Weber snatched four highly-ranked Class of 2011 Chicago commitments, which may just be his greatest recruiting feat. Weber will bring in ESPNU Top 100 players Mount Carmel point guard
Tracy Abrams
, Orr small forward
Mycheal Henry
and De La Salle power forward
Mike Shaw
along with St. Ignatius center
Nnanna Egwu
, who is the 10th-ranked center in the country.
7. Boatright is all right:
East Aurora's
Ryan Boatright
may not be the most highly-ranked player in the area, but he is the most entertaining. He not only scores a massive amount of points, but he does it while putting on a show with crossovers, dunks, acrobatic jumpers and more. He was sensational against Hales in November with a stat line of 55 points, 10 rebounds, 10 steals, three assists and two blocks. He scored 63 points against Proviso West earlier this month. He even ended 2010 by scoring 43 points on Dec. 30. He also added some drama to year by committing to West Virginia, de-committing shortly after and then committing to Connecticut.
8. Sign here:
The Class of 2011 is considered one of the state's best ever, and it made last month's signing period one of the most memorable. Anthony Davis signed to Kentucky, Wayne Blackshear went to Louisville, Ryan Boatright to Connecticut,
Sam Thompson
to Ohio State, Illinois inked four top players and DePaul and Northwestern each grabbed two area star players.
9. No. 1 to us:
Not everyone agreed with ESPNChicago.com, but we placed Hillcrest atop of our final 2009-2010 season rankings ahead of Simeon. Hillcrest won the Class 3A state championship and finished the season 31-3. The Hawks didn't face as tough of a playoff road to their state championship, but we argued they had a better season than Simeon.
10. The battle of Vincennes:
One of the most entertaining and hyped games of the year occurred just eight days in. On Jan. 8, a capacity crowd packed Simeon for its Public League Red South matchup with Morgan Park, a fellow Vincennes Avenue school. The home team pulled out a 54-48 victory, but Morgan Park got its revenge in the city playoffs. Their 2011 matchup has already been moved to a larger venue.
December, 24, 2010
12/24/10
9:01
PM CT
NILES, Ill. -- Benet's
David Sobolewski
bounced one basketball with his left hand, one with his right hand, kept his eyes up and continued speaking.
A Northwestern recruit, Sobolewski had no trouble with the basic drill, as expected.
When the half dozen kindergarten through fourth grade kids surrounding Sobolewski attempted the same feat, it proved much more difficult and comical. Some stared down and focused as hard as they ever had in their young lives attempting to get both balls to bounce simultaneously. They would dribble once with their left hand, then once with their right and eventually the two balls would end up scattering in different directions across the gym.
As the kids chased down the basketballs, Sobolewski smiled and kept on dribbling. He was enjoying himself, plus it beat practice.
[+] Enlarge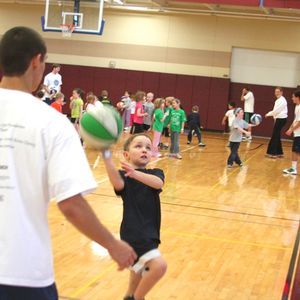 Scott Powers / ESPNChicago.comAbout 300 children attended a basketball clinic featuring players from area teams to benefit the Danny Did Foundation.
Sobolewski, along with Benet coach Gene Heidkamp, Loyola coach Tom Livatino, Notre Dame coach Kevin Clancy and players from their teams, took time away from their own programs on Thursday to spend the afternoon running a basketball clinic for 300 kids to raise money for the Danny Did Foundation, which aims to create awareness for the condition of Sudden Unexplained Death in Epilepsy.
The Danny Did Foundation was created by Mike and Mariann Stanton after their four-year-old son, Danny, died in December of 2009 from a seizure while he was sleeping. In the last year, the foundation has published and distributed flyers that are handed out at hospitals around the country, raised around $300,000 and convinced three Chicago-area hospitals to begin clinically testing a Finnish-made device that detects seizures.
"Right after the day Danny died, my wife Mariann and I, amongst the many things we said to each other was, 'Why didn't we know this could happen?'" Mike said. "Subsequently, we found out that doctors do know that this result does occur with a condition like Danny's. Right away, we decided we're going to start something to let other people know.
"The name Danny Did came from the last line of his obituary, which I wrote. It's, 'Please go and enjoy your life. Danny did.'"
Benet became involved with Thursday's basketball clinic through Heidkamp's lifelong relationship with the Stanton family. He grew up three doors down from the Stantons in the Edgewater neighborhood and has remained friends with Mike and his brother Tom Stanton. Tom was previously an assistant for Heidkamp at Nazareth and is currently an assistant at Loyola.
Heidkamp helped set up the clinic and cancelled his team's Thursday practice to allowing his players to participate in it.
"The foundation is something that's important to a lot of people," Heidkamp said. "Our team was very excited to be asked. I just took volunteers. I asked if anybody would be interested in coming out. As you can see, we had a nice turnout. This is their first day off from school. For them to come out on their first day, the first day they can probably sleep in, and want to be a part of it, means a lot to me, and I think it shows a little bit about these kids. When I explained what the cause was for and why were doing it, these guys all got on board."
Sobolewski didn't hesitate at volunteering.
"It's a great way for our whole team to give back to the community," Sobolewski said. "Obviously, it was a tragic event that happened. We were all really excited to help out today. It's awesome interacting with the kids. They're all fans of basketball, and they're willing to learn from you and listen to you. It's been really nice to coach them up and teach them a few things."
For the Stanton family members, such events are always bittersweet. They look at the hundreds of kids running around with smiles on their faces, and it places a smile on their own faces, but it also reminds them of Danny.
"It's very emotional for me," Mike said. "The reason we have something like this is because Danny would have loved to have something like this. To come out here and walk in and see the line out the door with all these kids, it's extremely emotional. It's hard, but it's like, 'I'll take it.'
"One thing I always say is, 'Danny continues to have an impact in this world', and I believe that."
While it's often difficult, it also drives them to push forward with the foundation.
"We've been really aggressive in our outreach, and we'll keep doing that because we feel it needs to be done, and people need to know about SUDEP," Tom said. "They need to know you can die of a seizure, and 50,000 people die because of seizures every year in the U.S. People hear that, and they're surprised, and that's not right. It's a message that needs to get out."
For more information on the foundation and SUDEP, go to www.dannydid.org.
December, 11, 2010
12/11/10
9:12
PM CT
The Chicago area is stacked with nationally-ranked players, and it should make for a very interesting race to ESPNChicago.com's Player of the Year award.
Here's a look at the early front-runners:
1. Morgan Park senior guard Wayne Blackshear
Blackshear may no longer be the highest ranked prospect in the state, with the arrival of Kentucky recruit
Anthony Davis
to the scene, but he still is the front-runner for the player of the year award. Unlike Davis' Perspectives team, Morgan Park is a state contender, and that makes Blackshear more relevant. Blackshear can score, and there may not be a more clutch player in Illinois. He's signed with Louisville.
2. Orr senior forward Mycheal Henry
Of all the candidates, Henry is the most gifted shooter. He's drawn comparisons to former Public League star Bobby Simmons with his ability. Henry is going to put up numbers, and that will keep him among the race leaders. He had 30 points, 14 rebounds, four steals and two blocks in his season opener last week. Even with foul trouble on Sunday, he dropped 21 points on T.F. North. He's signed with Illinois.
3. East Aurora senior guard Ryan Boatright
Boatright is the most exciting player to watch. He not only scores, but he scores in dramatic fashion. He not only passes, but he makes those passes look pretty. He not only drives to the lane, but he gets there after crossing over his opponent, spinning past another and acrobatically laying the ball into the net. He's already dropped 55 points in a game this season, which some other basketball minds have raved about. He's signed with Connecticut.
4. Perspectives senior forward Anthony Davis
While Davis is considered the No. 2 prospect in the country by ESPN, he is No. 4 on this list simply because of the school he plays for. Perspectives is a tiny school and has an even smaller basketball program. Davis is like a whale in fish bowl there. His team can't compete with the rest of the area's powers, and it'll likely affect Davis' player of the year stock. Of course, if he averages 30-plus points and 20-plus rebounds, which he is almost doing now, he'll be hard to ignore. He's signed with Kentucky.
5. Benet senior guard David Sobolewski
Sobolewski isn't as highly regarded nationally as some of the players on this list, but locally there's few better at doing whatever his team needs to win. He can score in bunches when asked to, but he can also dish it. Benet is the No. 3 team in the area because of him. He's signed with Northwestern.
6. Simeon sophomore forward Jabari Parker
Parker is considered one of the top sophomores in the country. The son of former NBA player Sonny Parker, he's the perfect mixture of size, skill and intelligence. Simeon is the area's top team, and Parker is its star player. What may hold him back are his numbers. The Wolverines are more balanced than any team around, and Parker's numbers aren't flashy due to that. He's uncommitted and is being recruited by nearly every top program.
7. Whitney Young senior guard Sam Thompson
Thompson is the jack of all trades. He isn't going to put up gaudy scoring numbers, like Boatright, or rebounding ones, like Davis, but he's going to fill up the whole stat sheet with points, rebounds, assists, steals and blocks. He's long and one of the area's best defenders. Like Jabari Parker, Thompson plays for a very balanced team. He is signed with Ohio State.
[+] Enlarge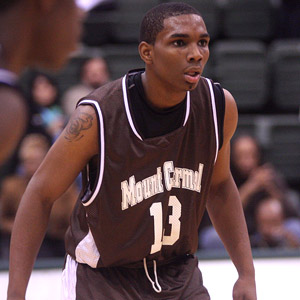 Scott Powers/ESPNChicago.comMount Carmel senior guard Tracy Abrams is an Illinois recruit.
8. Mount Carmel senior guard Tracy Abrams
Abrams was once considered the top player in Illinois' loaded Class of 2011, but an early commitment and injuries knocked him off the map for a bit. Now with one last season, he'll be looking to place himself back up there. He has the skill set to do so. He's an all-around point guard and is considered to be the successor to Demetri McCamey at Illinois. He is signed with the Illini.
9. Glenbard East senior guard Jon Hill
Hill is the one mid-major player on this list. Hill is a versatile guard for one of the top teams in the state. He can fill it up, especially from deep. In an early win over Glenbard North, he scored 28 points on 9-of-10 shooting and added five assists and four steals. He had a game-high 25 points in a recent win over Wheaton Warrenville South. He's signed with Illinois State.
10. De La Salle senior forward Mike Shaw
Shaw has been one of the area's top big men throughout his career. He can score, rebound and alter shots, and he's done it pretty consistently. What people expect out of him this year, though, is for him to begin dominating. He'll be looked to take over games with his versatile ability. If he can do that, he'll move up these rankings. He is signed with Illinois.
Others to watch:
Hales senior guard
Aaron Armstead
(Wisconsin-Green Bay), Hillcrest senior guard
Julius Brown
(Toledo), Rich South senior guard
Macari Brooks
(DePaul), Proviso East junior guard
Keith Carter
(uncommitted), Notre Dame senior forward Quinton Chievious (uncommitted), St. Ignatius senior center Nnana Egwu (Illinois), Brooks senior guard
George Marshall
(Wisconsin), Niles North senior forward
Abdel Nader
(New Mexico), Homewood-Flossmoor junior forward
Delvon Rencher
(uncommitted), York senior guard Will Sullivan (uncommitted).
December, 8, 2010
12/08/10
2:58
AM CT
The 2010 boys basketball season is young, but we've already discovered some truths about it
The race for ESPNChicago.com's Player of the Year is going to be going exciting: Perspectives' Anthony Davis is putting up 30-plus points and 20-plus rebounds like it's an ordinary feat. It's hard to imagine anyone topping East Aurora's Ryan Boatright's 55-point Thanksgiving tournament performance. Morgan Park's Wayne Blackshear dominates in every category and does it in the clutch. Benet's David Sobolewski scores, passes and just wins. The list goes on and on.


Simeon is pretty darn good: Being the No. 1 team in the state and nationally ranked by ESPN's RISE, Simeon has obviously been thought of highly. But what the Wolverines did in Sunday's 57-29 win over defending Class 3A state champion and a top-10 area team, Hillcrest, showed just how special this year's team can be. What makes Simeon even more unique is how balanced it is. There are about eight players capable of hurting you.


St. Joe's will be missed in the ESCC, but …: For many years, St. Joe's carried the East Suburban Catholic Conference. While the Chargers and legendary coach Gene Pingatore have departed for the Catholic League, it hasn't affected its old conference all that much. Benet, which is ranked No. 3 in the area, has picked up that torch. With talent in all their classes, the Redwings appear they'll be around for a while. No. 14 Notre Dame has also been impressive in the season's opening weeks. St. Patrick could also be among the area's best later in the season if its offense can figure it out. The Shamrocks have talented pieces.


Proviso West is stacked again: In its 50th year, the Proviso West Holiday Tournament unveiled its pairing on Monday. No two ranked teams meet in the first round, but they will soon after. The field includes No. 2 Morgan Park, No. 3 Benet, No. 7 Homewood-Flossmoor, No. 11 Proviso East, No. 12 Hillcrest, No. 18 Proviso West, No. 19 T.F. North and undefeated Glenbrook North.


These programs reload: Glenbrook North and Thornton lost their star players from a year ago with Alex Dragicevich going to Notre Dame and Reggie Smith to Marquette. Yet, the two programs continue to flourish. Glenbrook North is off to a 5-0 start and is on the verge of being ranked. The Spartans have size and a rising sophomore star in Andrew McAuliffe. As for No. 15 Thornton, senior guard Brian Green leads the way, but there's plenty of talent on the undefeated Wildcats.


The Illini are set for the future: Illinois coach Bruce Weber has challenged his incoming 2011 recruits to record a triple-double every time out. So far, they're not far off. St. Ignatius center Nnanna Egwu has already achieved the feat twice. Orr forward Mycheal Henry had 24 points, 11 rebounds, 10 steals and four blocks in his season debut last week. Last week, Mount Carmel guard Tracy Abrams had 17 points and seven steals against St. Francis de Sales. And as always, De La Salle forward Mike Shaw is compiling numbers in all categories.