High School:

DePaul Blue Demons
September, 23, 2013
9/23/13
2:05
PM CT
Chicago Curie senior forward
Cliff Alexander
, ESPN's No. 2-ranked prospect, tweeted Monday his top-6 schools are Arizona, DePaul, Illinois, Kansas, Memphis and Michigan State.
Alexander told ESPNChicago.com on Sunday he had cut Kentucky from his original top-10 list and was also considering Connecticut and Oregon because they were recruiting Huntington Prep senior point guard
JaQuan Lyle
. Alexander and Lyle have discussed attending the same school. Connecticut and Oregon didn't make Alexander's list on Monday.
Baylor, Indiana and Louisville also did not make the cut after being on Alexander's top-10 list.
Alexander has made official visits to Arizona and DePaul. He will also make official visits to Kansas on Oct. 4, Memphis on Oct. 18 and Illinois on Oct. 26. He said he might also take an unofficial visit to Michigan State.
Alexander said he expects to commit in mid-December and sign his letter of intent in the spring.
Alexander said Sunday that DePaul and Illinois were among his finalists because he's interested in playing in state and is intrigued by the direction the programs are headed.
DePaul's recent recruiting efforts in Chicago have helped their standing with Alexander. He said he'd like to play with former Chicago Public League players Billy Garrett, Tommy Hamilton,
Rashaun Stimage
and Myke Henry.
"I love [DePaul] coach Oliver Purnell," Alexander said. "He's a great guy. He's built a great relationship with my mom. We had a fun time. I'm really considering them. It helps a lot playing with Tommy, Myke, Billy and Rashaun. I know those guys."
Alexander said he also feels comfortable with the Illini's coaching staff and players.
"Coach [John] Groce since he got the job, he's been communicating with me well," Alexander said. "My mom loves him, that whole coaching staff. I've been down there a few times and just hanging with the guys."
October, 5, 2012
10/05/12
3:44
PM CT
Simeon Career Academy (Chicago) forward
Jabari Parker
, the nation's No. 1-ranked senior, cut his list to five schools on Friday, and it includes BYU, Duke, Florida, Michigan State and Stanford.
Read the entire story
.
September, 12, 2012
9/12/12
7:22
PM CT
Florida coach Billy Donovan met with Chicago Simeon's
Jabari Parker
on Tuesday, and DePaul's Oliver Purnell was scheduled to meet Wednesday with the nation's top-ranked senior.
Read the entire story
.
April, 7, 2011
4/07/11
3:15
AM CT
DePaul assistant coach Billy Garrett can relax now.
His son Billy Garrett Jr., a Morgan Park sophomore guard, relieved his father's worries and committed to DePaul on Tuesday night.
Garrett Jr. chose the Blue Demons over interest from Florida State, Kansas, Pittsburgh, Stanford and UNLV.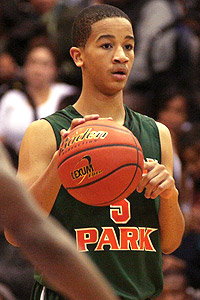 Scott Powers/ESPNChicago.comBilly Garrett Jr. averaged 15 points per a game as a sophomore.
"It probably wouldn't have looked too good if I had gone off somewhere else," Garrett Jr. said. "It probably takes a lot of pressure off him. He was happy when I told him. He was excited."
Garrett Jr., a 6-foot-4 guard, is considered one of the state's top Class of 2013 prospects. He averaged 15 points a game for Morgan Park as a sophomore.
When Garrett Jr. arrives to DePaul, it'll be the first time his dad actually coaches him. Garrett has been a college assistant since 2000. He has been with DePaul for the past two seasons.
"It means a lot to be with my dad," said Garrett Jr., who has a 4.7 GPA on a 4.0 scale. "Not a lot of people get that chance. It's great to play for him and coach [Oliver] Purnell.
"But beside my dad, the other main reason to play for DePaul was being in the Big East. I want to play in the best conference in the country."
Garrett Jr.'s mission now is to recruit his friends to DePaul. He'll be looking to sway Simeon's Jabari Parker, Whitney Young's Tommy Hamilton Jr., Morgan Park's Markee Williams, Simeon's Steve Taylor, Leo's Russell Woods and others to Lincoln Park.
"All of the scholarships we have, I'll be trying to fill them," Garrett Jr. said. "I think we can potentially win the whole thing with players out of the city. I'm definitely trying to get them to come with me."
Garrett Jr. is DePaul's first Class of 2013 recruit.