September, 24, 2011
9/24/11
4:37
AM CT
By
Andy Frye
| ESPNChicago.com
After becoming Illinois' winningest prep football coach last week, Frank Lenti's next win didn't come easy as Mt. Carmel battled well equipped Catholic League rival Brother Rice.
Running back
Brandon Greer
rushed for three touchdowns and quarterback Don Butkus ran in two as the Caravan took down Brother Rice, 35-24.


During Mt. Carmel's first drive, Butkus mixed the run and the pass. Butkus was 3 for 3, passing for 35 yards in the first quarter while the Caravan also got a 16-yard rush from Draco Smith and two 5-yard runs from Greer. Butkus snuck in from the 3-yard line to cap the drive for the game's first score.
Brother Rice responded immediately with a field goal making it 7-3, but struggled to get things going as starter QB Pat Parilli came out before halftime.
Rice also struggled to contain Mt Carmel's offense.
Greer made it 14-3 at the start of the second quarter with an explosive 46-yard run, before Butkus struck again with his own 23-yarder to put it at 21-3 for Mt. Carmel.
Rice's marquee running back
Martez Walker
kept the Crusaders in the game by returning Mt Carmel's kickoff 95 yards for a TD, setting the score at 21-10. Walker finished with 130 yards.
Greer spoke highly of the Crusaders.
"They're the best team we played so far," he said. "We knew they'd give us a ball game, so this week Coach Lenti practiced us hard."
Greer's second touchdown gave Mt. Carmel a 28-10 halftime lead, finding the end zone on a 25-yard rush after Dominic Villa's 65-yard kickoff return.
Rice's Matt Page subbed in at quarterback for Parilli, and stuck to a running game.
Andrew Walker
scored to make it 28-16 after Rice missed the extra point.
Greer scored a third time in the last minute of the third quarter with a 51-yard touchdown run to put Mt. Carmel ahead 35-16.
Rice's final score came on a one-yard reception by tight end James Gannon, followed by a two-point conversion.
Player of the game:
Mt. Carmel's Brandon Greer -- 3 TDs 160 rushing yards.
Stat of the game:
Martez Walker returned a kickoff 95 yards for a touchdown.
It was over when:
Rice QB Matt Page threw a third-down interception from the 6-yard line, all after Brother Rice recovered the Caravan's fumble at midfield from their onside kick.
Quote of the night:
"I was just trying my best for our team against their team. I almost came up short." -- Brandon Greer.
August, 27, 2011
8/27/11
1:07
AM CT
CHICAGO -- "Go Butkus," a Mount Carmel fan shouted from the Soldier Field stands on Friday.
It's not a stretch to think those same words were shouted from that same location 40 years ago, directed at legendary
Chicago Bears
linebacker Dick Butkus.
On Friday, it was intended for Butkus' great nephew, Mount Carmel junior Don Butkus, who was making his varsity starting quarterback debut -- and just happened to be doing it at Soldier Field.
Displaying a confidence worthy of his famous relative, Butkus threw a touchdown pass and rushed for another score to help No. 7 Mount Carmel defeat No. 10 Simeon, 23-14, in the opening game of the 2011 season.
"It feels great," said Butkus of playing at Soldier Field. "There's nothing much else to say. He played here for a couple years. It's feels great to be on it, step on the field he did.
"This means a lot. First game coming out, playing good, playing a strong team, having a win, it's awesome."
[+] Enlarge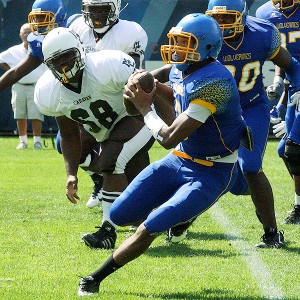 Scott Powers for ESPNChicago.comSimeon quarterback Robert Gregory threw for 153 yards and two touchdowns on Friday.
A year ago at Soldier Field, Simeon upset Mount Carmel in a 47-41 shootout. On Friday, it was a lower scoring affair.
After Mount Carmel took a 7-6 lead into halftime, thanks to a 7-yard touchdown pass from Butkus to Jason Gasser, the Caravan offense began moving the ball more easily in the second half. Mount Carmel looked to senior speedy running back
Brandon Greer
, who rushed once in the first half for -6 yards, to change the offensive tide.
On Greer's first carry of the second half, he busted it for 36 yards. Three runs later, he nearly scored for the Caravan. Greer broke through Simeon's line, ran for 19 yards and, as he approached the end zone, stuck the ball out, hoping to cross the goal line. The ball came loose from his hand and Simeon recovered.
"I told him when he sat down, 'I'm not going to yell at you,'" Mount Carmel coach Frank Lenti said. "'You owe me one. You owe me a touchdown. The next time we get the ball, you owe me a touchdown. Promise?' He said, 'I promise.'"
Following a Mount Carmel safety, Greer came through on his guarantee. He found a hole up the middle and sprinted for a 41-yard touchdown to give Mount Carmel a 16-6 advantage.
"He said I owed him," Greer said. "I felt like I had to go back out there and do it for the team."
Greer rushed for 160 yards and one touchdown on 14 carries in the second half.
Butkus put the Caravan ahead 23-6 when he rushed in from four yards out with 4:15 remaining in the fourth quarter. Butkus was 3-of-6 passing for 30 yards and a touchdown, and he rushed for 37 yards on 11 carries.
"He always plays very confident," Lenti said of Butkus. "I told him before we left school, 'When I give the team a motivational talk before the game, you can listen to the words, but you cannot get caught up in the emotion. You're the quarterback of the team. You have to be cool, calm and collected.'
"He said (afterward,) 'I did it. I did it. I did.' I said, 'Quit having such big eyes. You're making me nervous.'"
Simeon senior
Robert Gregory
had an up-and-down day. Gregory had made a name for himself against Mount Carmel last season, but he struggled on Friday due to an injured left shoulder. Simeon coach Dante Culbreath estimated that Gregory was playing at 65 percent.
Despite his injury, Gregory still threw for 153 yards and two touchdowns and rushed for 51 yards.
"He wanted to run, but he's banged up," Culbreath said. "You want to run the ball, but you think about the banged up part.
"It was some first-game stuff (we struggled with today.) We're lacking some experience now. As long as the season goes on, we know we have eight more games we know we're going to have to play. We hope by the eighth game we'll have everything cleaned up. I've seen a lot of great things from our team."
Mount Carmel's Frank Kelly intercepted a pass, and Caravan sophomore Steve Richardson Jr. was credited with the tackle which resulted in the safety.
Simeon's Cywettnie Brown and John Gardner caught the Wolverines' two touchdown passes.