High School:

Donnie Boyce
November, 12, 2012
11/12/12
8:21
PM CT
[+] Enlarge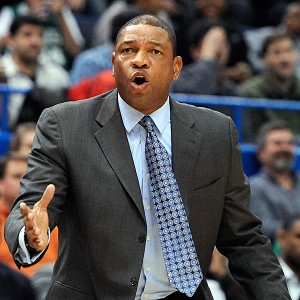 AP Photo/Jessica HillDoc Rivers keeps track of the continued success at Proviso East.
CHICAGO --
Boston Celtics
coach Doc Rivers may be 20-plus years removed from his playing days at Proviso East High School in Chicago's western suburbs, but he's still loyal to the program.
Prior to Monday's game against the
Chicago Bulls
, Rivers was asked how he felt about Proviso East being back on the rise after reaching the IHSA Class 4A state championship last season. It was the first return trip to the finals since 1992.
"What do you mean on the rise?" Rivers said in a harsh tone. "They're always on the rise."
Rivers was only joking, but he does really still keep close tabs on Proviso East. And the Pirates, for the most part, have been one of Illinois' most consistently successful programs. They've reached 14 state tournaments, won four titles and have produced past and present NBA players like Rivers, Jim Brewer,
Donnie Boyce
,
Sherell Ford
,
Michael Finley
,
Shannon Brown
,
Dee Brown
,
Reggie Jordan
and
Steven Hunter
.
Plus, like in Rivers' day, Proviso East still wears jerseys with sleeves.
"Proviso East is what it is," Rivers said. "You know what it is. It's a heck of a school. For basketball, I don't know if there's any place better in the country, not only in the state, as far as the history of it."
Rivers does still keep close tabs on Proviso East, too. He often talks with his brother Grady Rivers, who still attends games, and Boyce, the current Proviso East coach, about the team.
Boyce said their conversations are important to him and his players.
"It means a lot," Boyce said. "He's not only a friend, but a mentor to me. I'm always taking things from him and watching him coach. He helps pass my message to the players and show what the program is all about when he talks to them.
Boyce even one day hopes to follow Rivers' footsteps into the NBA as a coach.
"I want to coach at the highest level," Boyce said. "I want to attack it just as when I was a player."
Proviso East enters this season as one of the state favorites again. The Pirates' roster includes
SMU
recruit
Sterling Brown
, Shannon's younger brother, and
Illinois State
recruit
Paris Lee
.
February, 18, 2012
2/18/12
9:54
PM CT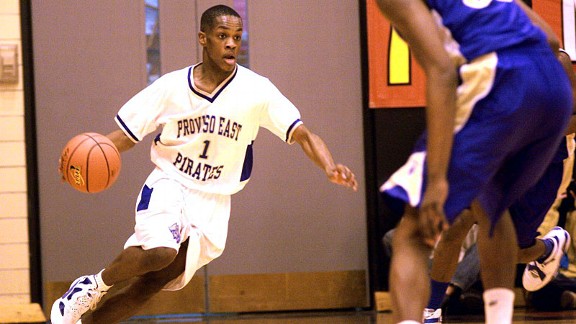 Scott Powers for ESPNChicago.comParis Lee helped Proviso East to a City-Suburban Showdown win over Warren on Saturday.
HILLSIDE, Ill. -- Proviso East coach Donnie Boyce would have taken blowouts over Downers Grove South and Warren this week, but he was hopeful for two close games.
Having been on Proviso East's 1991 championship team, a team which suffered one loss in 33 games, Boyce understands what it takes to win it all, and that includes the occasional test.
After pulling out a three-point win over Downers Grove South on Friday, the No. 2 Pirates persevered again in a tight contest Saturday, defeating No. 4 Warren 73-66 in the City-Suburban Showdown at Proviso West High School.
"These are the games I live for," said Boyce, whose team improved to 24-0 on the season. "These are the type of games you find out what kind of character you have, what kind of team you have. You're going to have to face some adversity throughout the state tournament."
Proviso East did look like it was going to run away with Saturday's game early on. The Pirates' pesky and speedy guards brought havoc onto Warren as it tried to get the ball up court. Proviso East forced the Blue Devils into six turnovers and raced out to a 23-12 advantage after one quarter.
Proviso East guards
Keith Carter
,
Paris Lee
and
Paris Burns
led the initial charge. They combined for 14 points and four steals in the first quarter.
"This is a big weekend," Carter said. "This is the weekend coach Donnie Boyce was looking forward to. This is a big statement for us. We just wanted to show him we were ready."
[+] Enlarge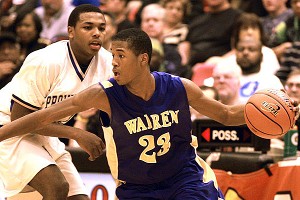 Scott Powers for ESPNChicago.comWarren's JoVaughn Gaines scored 13 points in a loss to Proviso East.
Warren wasn't going down without a fight, though. After trailing 43-29 at halftime, the Blue Devils began making a push midway through the quarter and continued it the rest of the game.
Warren pulled within 54-51 with 6:10 left in the game on a
Darius Paul
putback, but it was as close as the Blue Devils would get.
"We had a bunch of early turnovers," said Warren coach Chuck Ramsey, whose team fell to 21-3. "They turned them into points. We got behind. We made several runs, but it wasn't good enough."
Carter led the way for Proviso East with 17 points, five rebounds, four assists and three steals. Burns also had 17 points, and subs Michael Nicholas (10 points) and Branden Jenkins (eight points) contributed for the Pirates.
Paul (19 points, 13 rebounds), Mitch Munda (10 points), JoVaughn Gaines (13 points) and Jon Geske (13 points, eight rebounds) contributed for Warren.
No. 18 New Trier 59, No. 11 St. Rita 41:
New Trier outscored St. Rita 26-10 in the second and third quarters combined and won the early game of the City-Suburban Showdown.
Connor Boehm
(16 points, 11 rebounds),
Steven Cook
(10 points, eight rebounds) and David Bragiel (10 points) contributed for New Trier (20-5).
St. Rita's
Dominique Matthews
scored a team-high 12 points. New Trier held St. Rita's
Tony Hicks
to six points on 2-of-12 shooting. The Mustangs dropped to 14-10 overall.
December, 30, 2011
12/30/11
11:19
PM CT
HILLSIDE, Ill. -- When Donnie Boyce was hired prior to the season, his promise was to return Proviso East's program to the heights it reached during his playing days.
On Friday, his words met the Pirates' actions when No. 2 Proviso East defeated No. 11 New Trier 68-55 in the Proviso West holiday tournament championship before 2,780 fans. It was the Pirates' first title since they won it in consecutive years in 1990 and 1991. Boyce was a senior on the 1990 team.
[+] Enlarge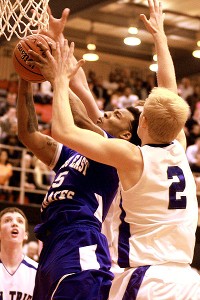 Scott Powers for ESPNChicago.comTrashaun Carroll and No. 2 Proviso East may be Simeon's most formidable challenger for an IHSA title.
"It's amazing," said Boyce, whose team improved to 11-0. "To be able to win it as a player and then come back my first year coaching, it's unbelievable. I'm just really pleased with the effort my team gave this whole tournament."
Proviso East set the tone for Friday's win in the opening minutes of the game. The Pirates jumped on New Trier with their intense full-court pressure and disrupted the Trevians' offense while creating their own scoring opportunities.
Proviso East built a 23-10 after one quarter. Senior Keith Carter, who earned tournament MVP honors, had six of his 15 points in the first quarter.
"That was a key," Carter said. "We had started slow the first three [tournament] games. That made us fight hard."
New Trier answered back. The Trevians (11-2) never took the lead, but they did pull within two points by halftime and kept Proviso East within striking distance throughout the second half.
Proviso East's Paris Burns gave his team some breathing room in the third quarter. He had six points, four rebounds and one steal in the quarter, and the Pirates took a 48-41 advantage into the final eight minutes.
The Pirates were balanced across the board. Carter, Burns (12 points), Paris Lee (17 points) and Sterling Brown (15 points, 12 rebounds) all finished in double figures. Brown was also named to the all-tournament first team.
"I feel coach Donnie is bringing the old swagger back from the state championship team and bringing it to now," Lee said. "I feel good for the program. This means a lot. It hasn't really hit me yet, but I'm pretty sure it's going to hit me."
New Trier's Connor Boehm also earned first-team tournament honors after his 16-point, six-rebound performance against Proviso East. Austin Angel (12 points), Steven Cook (12 points) and Jordan Thomas (15 points) contributed for the Trevians.
November, 8, 2011
11/08/11
3:41
AM CT
Simeon coach Robert Smith didn't feel like he was coaching the No. 1 team in the country when the Wolverines took the floor Monday for the first practice of the 2011-2012 season -- but in a good way.
Given all the hype surrounding the Wolverines, it wouldn't have been surprising if some of it had gone to their heads. Smith discovered that wasn't the case.
"They came out there like they weren't even ranked," Smith said following practice. "They were diving for balls. They're hungry and still feel like they have something to prove."
[+] Enlarge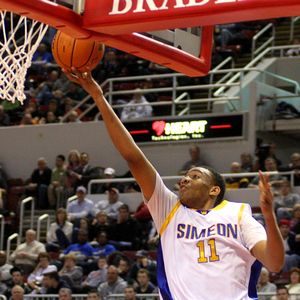 Scott Powers for ESPNChicago.comJabari Parker and Simeon are ready to begin their title defense.
While all the individual skill is undeniable, Smith's concern right now is developing team chemistry. It wasn't often this summer that Simeon played as a full team with
Jabari Parker
and
Kendrick Nunn
out of town with Team USA responsibilities.
"We're very talented, but as far as experience we're a young team," Smith said. "The chemistry is not good right now."
Smith began his eighth season as Simeon's head coach on Monday. He's gone 197-36 and has won four state championships. First day of practices are old hat to him.
For Proviso East coach Donnie Boyce, the first day of practice Monday was something special. It was his inaugural one as the Pirates' coach.
"All day yesterday and all day today, I couldn't wait until 3:40 p.m.," said Boyce, who starred at Proviso East and went on to play in the NBA. "It was very exciting to say the least."
Like Simeon, Proviso East is expected to be among the top teams in the state. The Pirates return point guard
Keith Carter
, who recently committed to
Saint Louis
, rising junior star
Sterling Brown
and a number of other experienced players.
Boyce spent his first day dealing with an open tryout, which is school policy. He had about 50 players come out. But aside from evaluating talent, Boyce also began the framework of teaching the type of defense he expected from his team this season.
"The one thing I always felt our teams were known for was our pressure," Boyce said. "We gave them 32 minutes of hell. I'd like to bring that back here."
Teams will hold practices for the next two weeks, and games will begin on Nov. 21.
July, 25, 2011
7/25/11
4:37
PM CT
Former Proviso East star Donnie Boyce is returning to his alma mater to be its boys basketball coach.

Proviso East vacated all of its coaching positions following the school year and opened up its search to all applicants. Boyce replaces David Chatman, who has been the Pirates coach since the 2003-2004 season.

Boyce along Michael Finley and Sherell Ford led the Pirates to a state championship in 1991. All three later played in the NBA.

"It's a dream come true to come back to where it all started for me in this basketball world," Boyce said on Monday. "This is a dream job. This is only the high school coaching job I would take. I bleed blue. This is somewhere I definitely want to be for a long time and hopefully bring a lot of winning seasons."

Boyce was drafted by the Atlanta Hawks in 1995 after starring at Colorado. He played two seasons for the Hawks and bounced around other professional leagues for the rest of his career. He retired in 2006.

Boyce has been coaching since the end of his playing career. He spent time as a coach with the NBA D-League's Reno Bighorns, the ABL's Chicago Throwbacks and was an assistant at Triton College last season.

Boyce was partly attracted to the Proviso East position because of the way he saw another former Pirates star give back to the area.

"I grew up on the same block as Doc Rivers," Boyce said. "Watching someone like Doc, a mentor, I've seen some of the things he's done since his playing days to come back and give to the community. I thought this would give me an opportunity to do the same and share my basketball knowledge to the young players."

Boyce was also interested in the position to get Proviso East back to where it once was in the state's basketball community. The Pirates last won a state championship in 1992, a year after Boyce graduated, and haven't been to the state tournament since 1993.

"In my opinion, Proviso East is the Duke of high schools," Boyce said. "It's one of the schools on that level. We have a wealth of talent that comes through the school. I think some of the things that were lacking and some of the reasons we haven't been as successful is because of sacrifice, teamwork and discipline. During those lean years, we were lacking those qualities that made us great.

"Proviso East when I was here helped me so much in my college and pro career. We all learned the true meaning of sacrifice. We all sacrificed our individual games for the team. We had six or seven playing end up playing Division I basketball."

Proviso East is expected to be among the area's top teams next season. The Pirates return a number of players, including Division I prospects Sterling Brown, who is Shannon Brown's younger brother, and Keith Carter.

"I think we have a great chance to compete for a state championship," Boyce said. "If the guys buy into the system and believe in each other, the sky's the limit."