December, 19, 2012
12/19/12
4:59
PM CT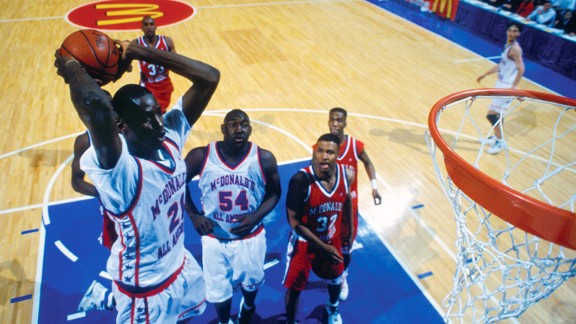 Courtesy of McDonald's All American GamesKevin Garnett was special even in high school, and he and Ronnie Fields formed an imposing tandem.
CHICAGO --
Kevin Garnett
's face lit up Tuesday when he saw a special visitor before the
Boston Celtics
' morning shoot-around.
It was former high school teammate Ronnie Fields. The reunion was 10 years in the making as their careers had gone in different paths since they last shared a basketball court, but as they threw their arms around each other it was apparent their friendship remained strong.
February, 25, 2012
2/25/12
6:45
PM CT
The Class 3A and 4A boys basketball playoffs begin on Monday. Here's a glance at the top games and players to see this week.
Five regional semifinals to see
1. St. Charles East vs. St. Charles North at St. Charles North on Wednesday

2. Marist vs. Brother Rice at Marist on Tuesday

3. Stevenson vs. Prospect at Stevenson on Wednesday

4. Benet vs. Bolingbrook at Metea Valley on Wednesday

5. Neuqua Valley vs. Naperville Central at Neuqua Valley on Wednesday

Five potential regional championships to see on Friday
1. St. Rita vs. Whitney Young at Whitney Young

2. Bogan vs. De La Salle at Mount Carmel

3. Farragut vs. St. Joseph at Nazareth

4. Crane vs. Riverside-Brookfield at Riverside-Brookfield

5. Minooka vs. Bloom at Joliet Central

6. Crete-Monee vs. Joliet West at Thornton

7. West Aurora vs. Naperville North at Oswego

8. Harlan vs. Morgan Park at Rich Central

9. Evanston vs. Notre Dame at Notre Dame

10. Schaumburg vs. Glenbard West at Glenbard West

Ten to players to see in regional play (alphabetical order)
There will likely be plenty of time to see Simeon's Jabari Parker and some of the other stars in the area, but these players and teams may or may not be around come next week.
1. David Cohn, junior, York: It hasn't been a great year for high-scoring numbers, but Cohn has been one of the exceptions. He can drop 30-plus points on any night. He had 47 points just recently. York is a No. 4 seed in the Lake Park regional.
[+] Enlarge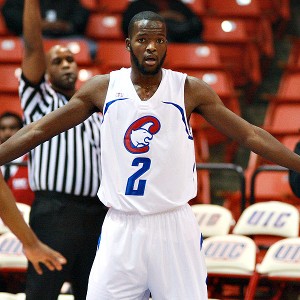 Scott Powers/ESPNChicago.comWillie Conner and Crane could be a tough out in the Riverside-Brookfield regional.
2. Willie Conner, senior, Crane: Conner improved his game this season and made himself a mid-major college prospect. Crane has been up and down this season, but Conner has been consistent. Crane is a No. 5 seed in the Riverside-Brookfield regional.
3. Tony Hicks, senior, St. Rita: Hicks, a Penn recruit, has been as good as any senior in the state. He's been averaging 25 points a game. St. Rita is a No. 4 seed in the Whitney Young regional.
4. Mike LaTulip, senior, Prospect: LaTulip is headed to Illinois next year as a preferred walk-on. He's been one of the area's top shooters and scorers this year. Prospect is a No. 9 seed in the Stevenson regional.
5. Jahlil Okafor, sophomore, Young: Okafor is the state's top sophomore and among the nation's top players in the Class of 2014. The state hasn't seen a big man as skilled as Okafor since possibly Eddy Curry. Whitney Young is a No. 5 seed in the Whitney Young regional.
6. Sean O'Mara, sophomore, Benet: O'Mara, a 6-9 center, has emerged as one of the state's top young prospects. He's a skilled big man and is following in the footsteps of former Benet center Frank Kaminsky. Benet is a No. 6 seed in the Metea Valley regional.
7. Michael Orris, senior, Crete-Monee: Orris, a 6-3 point guard, is headed to Illinois next season. He's expected to help backup Tracy Abrams there. Crete-Monee is a No. 4 seed in the Thornton regional.
8. Juwan Starks, senior, West Aurora: Starks is on the verge of West Aurora's career-scoring record of 1,613 points, which is owned by Billy Taylor (1987-1991). Starks is 60 points shy of matching Taylor. West Aurora is a No. 4 seed in the Oswego regional.
9. Tyler Ulis, sophomore, Marian Catholic: Ulis, a 5-8 point guard, is a scoring machine. He put up 38 points in a loss to St. Viator last month. Marian Catholic is a No. 7 seed and could face Andrew in the Andrew regional championship.
10. Milik Yarbrough, sophomore, Zion-Benton: Yarbrough could eventually be one of the nation's top players in the Class of 2014. He's a multi-skilled 6-6 guard/forward. Zion-Benton is a No. 16 seed in the Zion-Benton regional.
February, 1, 2012
2/01/12
8:39
PM CT
Here are five high school basketball thoughts for your Wednesday:
1. It's undoubtedly hard to go undefeated for an entire regular season: Andrew fell from the unbeaten ranks Tuesday when it was upset by Thornton on a buzzer-beating shot. Proviso East remains as the area's only unbeaten team. Proviso East's greatest challenges will likely come on Feb. 17 and 18 when the Pirates faces Downers Grove South and Warren on back-to-back nights. It is impressive how many one-loss teams there are this season. That list includes Simeon, Curie, Plainfield East, Metea Valley and now Andrew.
2. Speaking of Andrew, it'll likely fall a bit from the rankings after its only loss: The Thunderbolts had put together a nice run of 16 consecutive wins, but their schedule hasn't exactly been demanding. They looked as if they might run the table after defeating Thornwood on Sunday, but Thornton had other ideas. Andrew's overall profile took a hit with the loss.
[+] Enlarge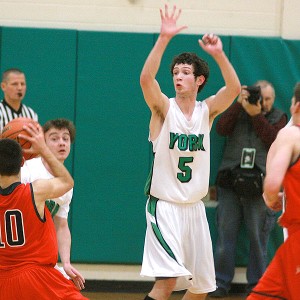 Scott Powers for ESPNChicago.comDavid Cohn and York are on a 10-game win streak.
3. Since the holidays, York has been one of the area's hottest teams: The Dukes have won 10 straight game, and junior star guard David Cohn has been a big reason for that. Among his feats, he scored 47 points on 13-of-17 shooting in a 75-64 win over Hinsdale Central recently.
4: The Catholic League has taken its lumps the last few weeks: First, De La Salle and St. Rita were upset last week. On Tuesday, St. Ignatius was the next top-ranked Catholic League team to fall. The Wolfpack were upset by Leo on Tuesday. It's hard to gauge the Catholic League right now.
5. The Red-West is still a mess at the top: Marshall, Orr and Farragut all have 7-2 records right now. Whitney Young could join them at the top if the Dolphins defeat Crane later this week. All four teams could make some noise come Public League and state playoff time.
December, 25, 2011
12/25/11
3:58
PM CT
Fresh off a close win over Whitney Young, Simeon remains No. 1 in the ESPNChicago.com prep hoops rankings. Who else is moving up and down in advance of this week's holliday tournaments.
Full story.
December, 21, 2011
12/21/11
6:34
PM CT
Here are five thoughts on the high school boys basketball scene for your Wednesday afternoon.
1. The early scholarship offer trend is getting way out of hand: It's been ridiculous for a while, but an offer the other day reminded me of that. Cal Poly recently became the first school to offer Simeon freshman D.J. Williams. Nothing against Cal Poly -- I'm not that familiar with the program -- but why does it need to be offering a freshman who hasn't even played varsity basketball yet? I don't see the point. If Williams is as good as projected, he'll land way out of Cal Poly's league. If he doesn't pan out, does Cal Poly need to be offering low- to mid-major players as freshmen to secure them? Maybe the offer was given to attract publicity. If so, mission accomplished. I'm writing about Cal Poly for the first time.
2. There's a good chance Thursday's Simeon-Whitney Young contest could be a one-sided game in front of an empty house: Simeon has lived up to the hype so far as the No. 1 team in the country and has only gotten better with the return of point guard Jelani Neely from injury. Whitney Young fell out of ESPNChicago's rankings after losing to Orr 45-29 last week. Orr turned around and lost to Farragut this week. Whitney Young was without Tommy Hamilton Jr., Jermaine Morgan and Jordan Smith due to injuries, but it will be without at least Hamilton Jr. for the Simeon game as well. Whitney Young, especially its guards, will have to step it up Thursday if it's going to compete with Simeon. As for Thursday's attendance, the price tag of $15 and $33 for seats through Ticketmaster and the fact the game was moved from its original date could lead to a small crowd.
3. The location for the City-Suburban Showdown is still up in the air: It is supposed to be played at the UIC Pavilion on Feb. 18, but promoter Bob Rylko and UIC athletic director Jim Schmidt are awaiting word from the NCAA whether the event can be held at the UIC. The NCAA has been enforcing a rule this season that non-scholastic events can't be held at Division I facilities. Every similar event around the country has had to move to another location. People may want to hold off buying tickets until the location is finalized.
4. Jabari Parker needed only 21 minutes to do something no Simeon player had done: His 40-point, 21-minute performance against Perspectives-Calumet on Monday was the most points ever by a Simeon player in a game. Parker eclipsed Tim Flowers' record of 35 points.
5. Outside of Jabari Parker, the players who have been the most impressive in the area so far haven't been the nationally-ranked ones: Crane's Willie Conner, St. Rita's Tony Hicks, Andrew's Jubril Adekoya, Bloom's Donald Moore, New Trier's Connor Boehm and Curie's Devin Foster are among those who have been the most consistent so far this season.
March, 16, 2011
3/16/11
2:23
AM CT
Simeon-Farragut GameCast

HINSDALE, Ill. – Simeon coach Robert Smith wasn't sure what he was going to get from junior forward Steve Taylor in Tuesday's Class 4A Hinsdale Central super-sectional.

Taylor had missed the previous two days with a groin injury. Smith was hoping for the best, but wasn't certain.

Taylor never doubted he was going to be fine, and he was right.

Showing why he's considered the state's top junior prospect, Taylor scored a team-high 20 points, grabbed 11 rebounds and came up with two steals in No. 1 Simeon's 74-61 win over No. 7 Farragut.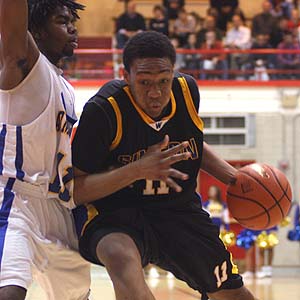 Scott Powers/ESPNChicago.comSimeon's Jabari Parker drives against Farragut's Gabriel Williams in Tuesday's Hinsdale Central super-sectional.

With the win, the Wolverines are headed down to Peoria again to defend their Class 4A state title. They'll play No. 8 Glenbard East in the state semifinals on Friday.

"I put an ice pack on it," said Taylor of his injury. "I didn't feel it. … I didn't get to play downstate last year, so I'm super excited about it."

Smith was excited about Taylor's play. He scored inside with layups and dunks. He scored around the basket with hooks. He scored from deep with 3-pointers.

"It was one of his best games in a while," Smith said. "That's why he's the best player in the state."

Simeon (28-2) punched its ticket to Peoria in the early going of Tuesday's game. The Wolverines pounced on Farragut with a 9-0 run and built a 14-5 lead after one quarter. By halftime, their advantage was up to double digits.

"We usually come out slow," Taylor said. "For us to come out on top of things and come out hard, I feel comfortable with that. I think we can win if we keep coming out the way we've been coming out."

Farragut's 1-2 punch of Gabriel Williams and Demetrius Tolliver was able to at least make the game entertaining in the second half. Going back and forth, the duo hit shot after shot, never allowing Simeon to feel too comfortable until the final buzzer.

Tolliver scored 17 of his 24 points in the fourth quarter. Williams' points were more spread out, but he finished with a game-high 29. Both connected on five 3-pointers.

Despite Farragut's second-half push, Simeon was able to stay in front -- thanks to its free-throw shooting. The Wolverines were 21 of 30 from the line in the fourth quarter.

March, 11, 2011
3/11/11
1:35
AM CT
Basketball junkies will have reason to rejoice Friday.

For the first time, ESPNChicago.com will be Gamecasting live high school basketball games with scores and stats. All eight 4A sectionals -- Huntely vs. Rockford, East Aurora vs. Glenbard East, Young vs. Farragut, Lyons vs. Simeon, East St. Louis vs. Normal, Thornton vs. Crete-Monee, Warren vs. Mundelein and Niles North vs. Schaumburg -- will be covered live beginning Friday at 7:30 p.m. CT.