High School:

George Marshall
March, 18, 2011
3/18/11
8:12
PM CT
[+] Enlarge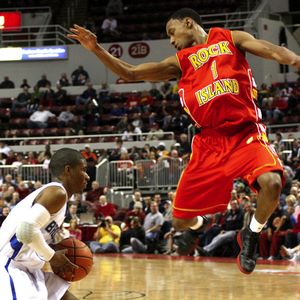 Scott Powers, ESPNChicago.com Brooks' Mike Powell struggled to find his shooting touch against Rock Island on Friday.
PEORIA, Ill. – Brooks senior guard
George Marshall
was just waiting for his shot to start falling through the net on Friday.
Like any shooter, Marshall has experienced off days in his career, but he also knew if he kept putting shots up some of them would eventually drop. It was always the case.
That was until Friday taught him otherwise.
Marshall and backcourt mate Mike Powell tried couldn't get their offense going Friday as Rock Island topped the Eagles 55-36 in a Class 3A semifinal at Carver Arena.
Marshall, a Wisconsin recruit, didn't score his first point until he sank a free throw with 1:18 left in the fourth quarter and didn't make his first field goal until 25 seconds remained. He finished 1 of 12 from the field for five points.
Powell, who is being recruited by a number of Division I schools, also struggled. He shot 1 of 14 from the floor and scored three points.
Together, they shot 2 of 26 and combined for eight points. They had been averaging just under 36 points a game.
"Really, I'm not sure exactly what it was," Marshall said. "We had good looks. The concentration was there. There's no particular reason. I've had off games, but as far an entire game like that, no."
The Eagles shot of 1 of 7 and trailed 12-1 after one quarter. Their second quarter was slightly better, but they still shot just 3 of 21 from the field and went into halftime down 23-11.
"Obviously, the first quarter killed us," Brooks coach Bobby Locke said. "We couldn't overcome that."
Brooks missed its share of open looks, but Rock Island also factored into the Eagles' woes.
"They're a great team, average a lot of points, and I'm sure their guys feel like they missed some looks they make most of the year," Rock Island coach Thom Sigel said. "And it's probably true, but I think we had a lot to do with that. I thought we had good help, great team defense."
Rock Island's star
Chasson Randle
wasn't feeling it Friday, either. He shot 5 of 15 from the field and scored 12 points. Randle, who signed with Stanford, was named the state's Gatorade player of the year earlier in the week.
The lone bright spot for Brooks was the play of senior forward
Keith Gray
. One of the state's top uncommitted players, Gray had 12 points and 12 rebounds. His twin brother
Kevin Gray
had seven points and five rebounds.
Rock Island was led by Denzel McCauley's 14 points, nine rebounds and three blocks.
February, 16, 2011
2/16/11
10:59
PM CT
Brooks guard George Marshall has experienced a roller coaster of emotions this season.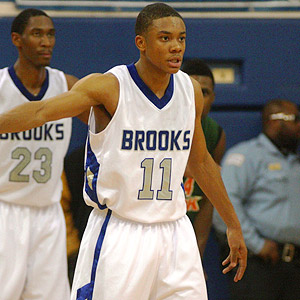 Scott Powers/ESPNChicago.comBrooks guard George Marshall is bound for Wisconsin.
From anticipation and excitement over signing with Wisconsin and entering his senior year as one of the top guards in the state, to the disappointment of breaking his left hand in December and undergoing surgery.
But now he's back. And after sitting out 14 games -- a bulk of the season -- Marshall believes there's plenty of time remaining for the roller coaster to hit new heights.
Marshall earned ESPNChicago.com/Muscle Milk Prep Athlete of the Week honors as he helped lead Brooks into the Chicago Public League semifinals with three wins. Marshall scored 12 fourth-quarter points and hit the game-winner in the final seconds of Sunday's 56-54 comeback victory over Farragut.
"It's the biggest moment so far in my career," Marshall said. "It was just exciting.
"[The season's] been difficult because before I got hurt I was playing pretty well. I was really looking forward to the whole season. For me to come right back and contribute to the team and lead them, it means a lot."
Up until the final quarter against Farragut, Marshall had been quiet, and Brooks had paid for it. Marshall had gone scoreless for the game's first 24 minutes, and Farragut had built its lead up to 15 points in the second half.
Seeing his time quickly slipping past him, Marshall decided he needed to do something.
"George ran over to me and said, 'Give me the ball,'" Brooks coach Bobby Locke said. "A real ballplayer asks for the ball in the heat of the moment. He was ready to make some plays for us."
Locke called a pick-and-roll. Marshall dribbled, his teammate set a pick, Marshall maneuvered and burst toward the basket and scored. From there, he added eight more points over the coming minutes to pull Brooks back into the game.
With the game tied after Farragut missed a free throw in the final minute, Locke went back to the pick-and-roll. Marshall received the screen, dribbled left, found open space about 17 feet out, leaped and released the ball from his right hand.
"I stepped right into it and followed through," Marshall said. "Once it left my hand, I knew it was going in."
The ball fell through the net with 3.7 seconds remaining.
"Bottom line, he wanted it," Locke said. "He wanted to do his part. He felt like it was his time to step up. That's what you expect from a high-major caliber player."
Marshall's game will remind Wisconsin fans of their current star guard, 6-1 junior Jordan Taylor. The 6-0 Marshall is a prototypical combo guard. He can handle it, shoot it and pass it.
"We do some of the same things," Marshall said of Taylor. "We create. He shoots well. I shoot well. We get other guys involved. I could see myself filling that role in the coming years."
Locke shares that confidence.
"Jordan gets it done, but I think George is more of a natural," Locke said. "George creates his offense. George is a natural point guard who can score the ball."
Marshall has his eyes set on national championship at Wisconsin, but for now he has big plans for the remainder of his season.
"City, I definitely think we can win city," Marshall said. "Simeon beat us before, but I wasn't playing. State, I don't think we're looking past anybody, but I think we can win state.
"I'm hitting my stride at the right time. I'm having a lot of fun. Winning is a lot of fun. As long as we keep winning, I'm going to have a lot of fun. Hopefully, a bigger moment in my career will come. Hopefully, it'll be winning a championship."
December, 24, 2010
12/24/10
1:44
AM CT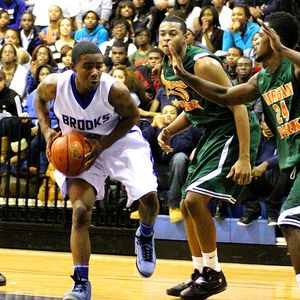 Scott Powers/ESPNChicago.comBrooks' Mike Powell has flourished after being switched to point guard by new coach Bobby Locke.
CHICAGO -- As soon as Bobby Locke became Brooks boys basketball coach earlier this year, he recognized one change that needed to be made immediately -- seniors Mike Powell and
George Marshall
had to swap positions.
In years past, Marshall had been the Eagles' point guard, and Powell was their shooting guard. Locke saw within his first days with the team that both players had point-guards skills, but Marshall was the more natural scorer and Powell was the more natural passer. It only made sense to flip them.
Once Locke made the move, he could see the difference instantly. Marshall, a Wisconsin recruit, still was his normal self, scoring and dishing with the best of them, but it especially elevated Powell's game. The ball was in Powell's hands more, and it made himself, Marshall and his teammates better.
Powell, the ESPNChicago.com/Muscle Milk Prep Athlete of the Week, so far has been the difference for Brooks through seven games, averaging 20 points and eight assists while helping them to a 6-1 start, which included a narrow loss to No. 2 Morgan Park.
"The biggest thing was he was playing out of position," Locke said of Powell. "George has always been running the point. Mike played the 2, and colleges always looked at him as a two-guard playing in a point guard's body. Mike's just running the show now. He's guarding the other team's best player, he's penetrating and dishing, and he's scoring the ball. He's going to have an outstanding season."
Locke's arrival has also provided Powell with more confidence and freedom offensively. Powell feels he can take chances as the point guard and not have to worry his first mistake will get him taken out of the game.
"With Coach Locke, he's seen what I could do and what I'm capable of, and he's let me loose now," said Powell, who is 5-foot-10. "I'm more comfortable at the [point]. I have good vision and know how to get people the ball. Coach thinks I'm more of a pure point guard, and he allows me to run the show."
Locke has been just as impressed with Powell's defensive ability. Under Brooks' last coach, Chris Head, Powell learned how to play fundamental defense and gained an appreciation for bottling up the opponents' best scorers.
"I know I can score, but I'm not going to let my man do what I'm going to do to him," Powell said. "If we both have 30 points and five assists, we're going to cancel each other out. The game's about matchups and battles. If everyone on our teams wins their matchups, we'll win. Defense is about desire, too. Some people don't care about defense. They just care about offense."
Colleges are beginning to care about Powell. Previously, Marshall and twin big men Keith and
Kevin Gray
drew all the Division I attention on the Eagles, but Powell is starting to receive his share, too.
Baylor, George Washington and Southern Illinois have been among the schools who have expressed interest in him already this season.
"What's happening is guys are looking for a lead guard," Locke said. "I think he's going to end up somewhere much better than people realize because there's people still looking for a point guard. When it's all said and done, people are going to say where has this kid been.
"It's coming. The numbers are going to be there. As we continue to win games, it's going to get better and better for him."
Powell can see it coming, too, and he's grateful that's it finally arrived.
"It was hard to be patient," Powell said. "There's really nothing you can do, but keep on working. I can't stop playing. I just go to keep on working."