High School:

Glenbard East
March, 19, 2011
3/19/11
2:38
AM CT
PEORIA, Ill. – Simeon didn't expect to be handed the Class 4A state title Friday because it was favored to win the trophy later on in the weekend.
Like Derrick Rose and those before them, these Simeon players understood they would have to earn their state title.
On Friday in the Class 4A state semifinals, they were challenged and met that challenge.
After squandering a 15-point lead and falling behind in the second half, Simeon stepped up when it mattered most and defeated Glenbard East 56-53 to advance to Saturday's state championship game.
"It was a great semifinal game, probably one of the best I've been involved in since I've been coming down," Simeon coach Robert Smith said. "These guys up here and the ones in the locker room their desire to win is huge. We could have folded when they went up. But nobody got rattled, nobody got out of our offense.
"We just did everything the Simeon way and we controlled the game and got the lead back."
Simeon (29-2), the state's top-ranked team, looked as if might put away Glenbard East (27-4) in the opening quarter. The Wolverines scored the game's first 15 points, and it wasn't until Kevin Priebe made a 3-pointer at 2:47 of the first quarter did the Rams get on the board.
It wouldn't be the last of the 3-pointers by Glenbard East either. With Glenbard East trailing by so much so early and Simeon playing in a 2-3 zone, the Rams needed the 3-pointer and were given opportunities to shoot them.
[+] Enlarge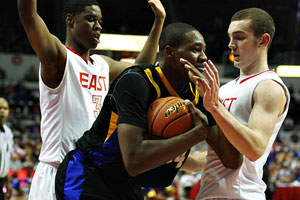 Scott Powers/ESPNChicago.comSteve Taylor, the state's top junior, posted 4 points, 5 rebounds and 8 assists in Simeon's semifinal victory.
Glenbard East sank five 3-pointers in the first half and cut Simeon's lead to five points at half. East hit seven more in the second half.
"From day one, we've really talked about composure," Glenbard East coach Scott Miller said. "That's what we hung our hat on all year. It's not over until it's over. We just told them to keep fighting, keep playing."
Glenbard East kept that up in the second half, too. The Rams tied the game 36-36 and then took their first lead of the game when Johnny Hill's layup at 7:53 of the fourth quarter put them up 38-36, and he later put them up again at 41-40 at 5:27.
With its season on the line, Simeon didn't flinch, and senior Rashawn McElrath was the one to emerge for the Wolverines. He scored to give Simeon the lead back at 42-40 and then scored again to give it a 44-41 lead.
Simeon wouldn't trail again.
McElrath would do his part at the free-throw line, too. He sank all seven of his attempts and finished the game with a team-high 17 points.
"I've been waiting my turn," McElrath said. "Every year we have 15 new players. It don't matter who gets to shine. I just want to win."
Hill, an Illinois State recruit, was the force behind Glenbard East's comeback and its near win. He finished with 22 points on 7 of 11 shooting. He also hit three 3-pointers and grabbed five rebounds.
Jabari Parker (16 points) and Darien Walker (12 points) contributed for Simeon.
Priebe (11 points), Zach Miller (10 assists) and Dante Bailey (nine points) contributed for Glenbard East.
March, 17, 2011
3/17/11
8:33
PM CT
Some years the state basketball playoffs go down as expected, and some years they don't. This year, it's the latter.
In Class 3A, Morgan Park and Peoria Notre Dame were thought all season to be headed toward an epic semifinal matchup in Peoria. On Friday when the semifinals are played, neither will be on the floor.
In Class 4A, expectations were even higher for a rematch between No. 1 Benet and No. 2 Simeon. Simeon took care of business and will be playing this weekend, but Benet was upset in the sectional semifinals and will be watching from home.
Some of the year's best regular-season players and teams will be missing from the state tournament this weekend, but it won't be completely void. There are plenty of talented individuals and teams still standing.
All four state semifinals and both state championship games can be seen on ESPN3.com.
CLASS 3A
Brooks (28-3) vs. Rock Island (28-3)
Time:
12:15 p.m.
[+] Enlarge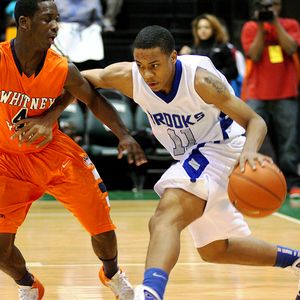 Scott Powers for ESPNChicago.comWisconsin-bound George Marshall of Brooks averages 17.3 points.
The story:
This is could be the main event of the Class 3A weekend. Before the playoffs, the assumption was that this matchup would be Morgan Park vs. Peoria Notre Dame, but Morgan Park was knocked off by Brooks, and Notre Dame fell to Peoria Central, which then lost to Rock Island. Either way, this should be an entertaining one. Both have been among the state's top teams regardless of class all season. Brooks won the Chicago Public League title and has four Division I prospects. Rock Island possesses one of the best players in the state in Chasson Randle and a talented big man in Denzel McCauley. Rock Island's losses this season were to Morgan Park, Peoria Notre Dame and East St. Louis. Brooks' losses were Morgan Park, Simeon and Bogan.
Brooks player to watch:
Mike Powell Jr. was an ESPNChicago.com all-area selection, but George Marshall is the Eagles' most talented player. He sat the bulk of the season with a hand injury and has been dominant since returning. He's averaging 17.3 points, 5.9 rebounds and 5.4 assists and is headed to Wisconsin next season.
Rock Island player to watch:
Stanford recruit Chasson Randle is regarded as one of the top players in the country. He's ranked No. 60 in the Class of 2011 by ESPN Recruiting. He's averaging 22.3 points, 7.7 rebounds and 2.6 assists.
Prediction:
Brooks 63, Rock Island 60
North Chicago (17-13) vs. Centralia (29-4)
Time:
2 p.m.
The story:
North Chicago is the biggest surprise of the state playoffs. The Warhawks opened regional play with a 12-13 record and defied their seeding all the way to Peoria. North Chicago likes to run, and it likes to score. The Warhawks have scored 80 or more points 12 times this season and haven't scored less than 55 points. Centralia's run to Peoria isn't a shock. The Orphans are one of the state's most storied programs and have made 23 previous state tournament appearances. Their only losses this season were to Bogan, O'Fallon, Breese Mater Dei and Mt. Vernon. They prefer a more low-scoring game and haven't allowed more than 58 points to an opponent this season.
North Chicago player to watch:
Junior guard Aaron Simpson was an ESPNChicago.com all-area selection. He leads the Warhawks' high-powered offensive attack with 22.5 points a game. He had a season high of 44 points.
Centralia player to watch:
R.J. Kwiatkowski, a 6-2 senior guard, is the lone Centralia player in double figures. He averages 17.6 points.
Prediction:
North Chicago 65, Centralia 54
CLASS 4A
Simeon (28-2) vs. Glenbard East (27-3)
Time:
6:30 p.m.
The story:
Simeon is the team to beat. The Wolverines are ranked No. 1 in the state and are the defending Class 4A state champions. They're led by sophomore Jabari Parker, but they are a team full of Division I prospects. It's going to take an off day coupled with an unbelievable performance by someone to defeat them. Of course, that's what Glenbard East is looking for. The Rams have been impressive throughout the playoffs, which included wins over Downers Grove South and East Aurora. They've haven't lost since falling to Benet on Jan. 21. Glenbard East is led by seniors Johnny Hill and Zach Miller.
Simeon player to watch:
Derrick Rose won two state championships at Simeon. Jabari Parker could be on his way to four state titles. Parker has excelled this season on the big stage, so this could be his weekend. He's ranked the No. 2 sophomore in the country by ESPN Recruiting.
Glenbard East player to watch:
Johnny Hill is one of the most underrated players in the state. He's averaging 20.9 points, 5.4 rebounds and 2.6 assists and is headed to Illinois State next year.
Prediction:
Simeon 68, Glenbard East 60
Warren (30-3) vs. Normal Community (27-6)
Time:
8:15 p.m.
The story:
Warren was one of the favorites to reach Peoria. The Blue Devils don't have any big-name stars, but they're unselfish, know their roles and just win. Their losses this season were to Simeon, Lake Forest Academy and Galesburg, and they haven't lost since Jan. 15. Normal Community is more of a surprise to advance to Peoria. The Ironmen were solid all season and all of their losses were narrow ones, but they weren't expected to get past Crete-Monee in the super-sectionals.
Warren player to watch:
Junior forward Darius Paul was an ESPNChicago.com all-area selection. He averages 11.2 points and 7.2 rebounds and has continued to play better throughout the season. His older brother is Illinois sophomore guard Brandon Paul.
Normal Community player to watch:
Anthony Beane, a 6-1 junior guard, leads the Ironmen in scoring at 14.3 points per game. He had 17 points in Normal Community's upset of Crete-Monee.
Prediction:
Warren 58, Normal Community 53
March, 11, 2011
3/11/11
1:35
AM CT
Basketball junkies will have reason to rejoice Friday.

For the first time, ESPNChicago.com will be Gamecasting live high school basketball games with scores and stats. All eight 4A sectionals -- Huntely vs. Rockford, East Aurora vs. Glenbard East, Young vs. Farragut, Lyons vs. Simeon, East St. Louis vs. Normal, Thornton vs. Crete-Monee, Warren vs. Mundelein and Niles North vs. Schaumburg -- will be covered live beginning Friday at 7:30 p.m. CT.

March, 9, 2011
3/09/11
7:48
PM CT
Here are five things to watch for in Wednesday's boys basketball playoffs:
1. The headliner:
On Tuesday, East Aurora vs. Benet was the marquee game. On Wednesday, it's No. 8 Homewood-Flossmoor vs. No. 9 Crete-Monee in the Thornwood sectional semifinals. They met in January, and Crete-Monee pulled out a 67-62 win behind 25 points by DePaul recruit Jamee Crockett. Homewood-Flossmoor has returned junior forward
Tim Williams
since then and is picking up steam. Both teams have multiple Division I players and are state title contenders. The winner plays Thornton in the sectional championship on Friday.
[+] Enlarge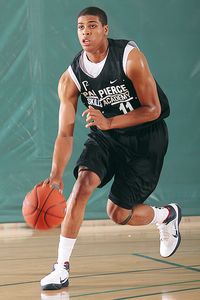 Kelly KlineMcDonald's All-American Wayne Blackshear leads Morgan Park against Hillcrest on Wednesday.
2. Class 3A showdown:
Hillcrest is the defending Class 3A champs, and Morgan Park is favored by many to be this year's Class 3A winner. After Wednesday, only one will remain in the hunt. Hillcrest is led by
Julius Brown
, one of the top point guards in the area. Morgan Park is powered by McDonald's All-American guard
Wayne Blackshear
. Both teams have had their ups and downs this season, but both have been steady lately.
3. Next up for the Boat Show:
East Aurora's
Ryan Boatright
and Co. shocked the state by knocking off previously-unbeaten No. 1 Benet on Tuesday. Which team will face the hot-handed Tomcats in the East Aurora sectional championship will be decided between Downers Grove South and Glenbard East on Wednesday. Both teams have stellar backcourts and have been ranked the entire season. Downers Grove South will be favored, but it wouldn't be a surprise if Glenbard East emerged victorious.
4. City vs. suburban:
Curie and Lyons has each lost only two games all season. Curie lost to Niles West at the Pontiac holiday tournament and fell to Brooks by three points in the Public League tournament. Lyons lost by one point to Dowers Grove South in December and lost to Riverside-Brookfield in early December. This has the all makings of a tight battle at the Argo sectional. The winner plays No. 2 Simeon.
5. We meet again:
Niles West coach Bob Williams will face his former team Schaumburg in the New Trier sectional semifinals. Williams coached 18 seasons at Schaumburg, had a 347-155 record and won one state championship. He resigned from Schaumburg due to differences with the administration in 2009 and was hired at Niles West before last season. Niles West is 18-11 this season, and Schaumburg has gone 17-11.
January, 22, 2011
1/22/11
3:30
AM CT
The Public League playoffs will lead to some intriguing matchups. The state playoffs, especially down in Peoria, will have even more.
But when it comes to one single day, there may not be a bigger one for Chicago-area high school basketball fans
than Saturday, when three games feature top-10 teams battling each other.
No. 1 Simeon vs. No. 5 Morgan Park at Chicago State at 7:30 p.m. is the headliner. The teams are rivals. Both are city- and state-title contenders. Both possess nationally-ranked players in Morgan Park's
Wayne Blackshear
and Simeon's
Jabari Parker
and have plenty of other Division-I talent. The game can be seen on ESPN3.com.
In the second best game of the day, No. 2 Benet meets No. 6 Glenbard East in the High School Hoops Showdown at 8:30 p.m. at the Sears Centre in Hoffman Estates. Undefeated Benet is led by
Northwestern
recruit
David Sobolewski
and
Wisconsin
recruit
Frank Kaminsky
. Glenbard East is 14-2, and its only losses are to undefeated Peoria Notre Dame and No. 4 Proviso East. Its stars are
Illinois State
recruit Jon Hill and
Northern Illinois
recruit
Zach Miller
.
There's also a full slate of action at the Whitney Young Shootout, which features six games and begins at noon. Every matchup features at least one ranked team, but the biggest game is No. 9 Hales Franciscan vs. No. 10 Whitney Young at 6 p.m. Hales Franciscan is powered by brothers Aaron and Aaric Armstead. Whitney Young has a mass supply of Division I players, including
Ohio State
-bound
Sam Thompson
.