October, 15, 2011
10/15/11
3:23
AM CT
By
Andrew Braverman
| ESPNChicago.com
FOX LAKE, Ill. -- No one, not even the students at Grant High School, gave the host Bulldogs much of a chance against Antioch on Friday night. The unbeaten Sequoits boasted the North Suburban Prairie's best defense, had already clinched a spot in the postseason and rolled into Fox Lake having won their four previous road games by an average of just over 18 points. None of it mattered, however, as Grant forced four turnovers en route to its sixth win of the season, a 22-14 upset win over No. 17 Antioch (7-1, 4-1).
"This may not have been our biggest win [since I started coaching], but it's definitely our most satisfying," said Grant head coach Kurt Rous. "It was a great program victory for us."


After a sloppy first quarter, Antioch struck first when senior running back Danny Arden (151 yards, TD) capped off a seven-play, 88-yard drive with a three-yard touchdown run with under five minutes to play in the first half.
Antioch carried its 7-0 lead into the second half, but the momentum quickly turned Grant's way when the Bulldogs (6-2, 5-1) recovered a pooch-kick to start the third quarter. Although the Bulldogs' drive would stall, they forced their third Sequoits fumble three plays later and converted the turnover into a 42-yard touchdown pass from Alex Villa to fellow senior Jerry Gaylor; Grant would miss the extra point.
Antioch punted on its first drive of the second half and Grant looked as if it was going to do the same, but the Bulldogs instead called for a fake punt that sprung senior Dillon Watters down the left sideline for a 65-yards touchdown run. Junior Kyle Whitman added to the lead with a successful two-point conversion run that pushed Grant's lead to 14-7 late in the third quarter.
"Coach [Tom] Evans designed that play and it was wide open - I just ran," said Watters. "I knew I had it right away, once I saw the corner turn his back and watched their safety go to the other side of the field. It was all green."
Antioch would fight back and tie the game in the fourth when quarterback Josh Anttila ran for a 13-yard touchdown with 8:30 remaining, and for a while it looked like the conference rivalry was headed for overtime.
That is, until Villa led the Bulldogs on a six-pay scoring drive that concluded one minute after it started as Whitman carried eight-yards for the game-winning touchdown with :45 left on the clock. Watters then put the game on ice with his own two-point conversion run.
"Our team has been fighting all season -- this has been a great comeback since starting 1-2," said Vila. "To be in first place [in the division] feels amazing. I'm speechless right now."
The win guarantees Grant a spot in the IHSA State Playoffs and at least a share of the North Suburban Prairie title. The Bulldogs will finish the regular season next Friday at Warren.
Antioch will finish up at home against North Chicago and the Sequoits now know that they can't take any opponent lightly.
"We can't underestimate anyone," said Arden. "We came in here thinking we were going to win but we'll need to refocus and get back to the basics next week."
Player of the game: Grant QB Alex Villa was 7-of-12 passing for 99-yards and at TD with 96 yards rushing on 17 carries; Antioch senior RB Danny Arden had 151 yards rushing on 22 carries, TD.
Stat of the game: Grant is now 5-2 against Antioch since the Sequoits moved into the North Suburban Prairie.
It was over when: Three things happened: Whitman scored on an eight-yard touchdown run with less than a minute to play in the game, Watters punched in the ensuing two-point conversion and the Bulldogs intercepted Anttila's desperation pass in the game's final seconds.
Quote of the Night: "I heard kids in the hallway saying that they weren't coming to the game because we got blown out last year. Nobody gave us a chance to win except the guys on the field and our coaches. That town up to the North thought they would come in and destroy us and all season long I've been hearing about how good [Antioch is]. We come out and play high school football. We don't do anything flashy and tonight we did some good things." - Grant head coach Kurt Rous.
October, 13, 2011
10/13/11
2:40
AM CT
Here's a look at the eighth week of action in ESPNChicago.com's top 20.
No. 1 Maine South (7-0) at Waukegan (3-4)


When:
Saturday at 1:30 p.m.
The story:
Maine South is on the verge of another unbeaten regular season. The Hawks should be fine this week, but could be tested against Glenbrook South next week. Waukegan has lost its last two games, including a 56-14 loss to Glenbrook South last week.
Maine South player to watch:
Danny Allegretti had an interception against Evanston last week.
Waukegan player to watch:
Maurice Childs provides the running threat for the Bulldogs.
Prediction:
Maine South 49, Waukegan 14
---
York (5-2) at No. 2 Glenbard West (7-0)


When:
Saturday at 1 p.m.
The story:
Glenbard West faces its second quality team in as many weeks. The Hilltoppers defeated Addison Trail 14-0 last week. York has lost it two games this season by a combined three points. Its 27-point total in last week's loss was its lowest of the season. Glenbard West hasn't allowed more than 14 points in a game this season.
York player to watch:
Quarterback Joe Lucca threw 225 yards and ran for 75 yards against Lyons last week.
Glenbard West player to watch:
Joe Zito is one of the Hilltoppers' many reliable running backs.
Prediction:
Glenbard West 28, York 14
---
Joliet Central (0-7) at No. 3 Lincoln-Way East (7-0)

When:
Friday at 7:30 p.m.
The story:
Lincoln-Way East will likely roll in its last two regular-season games. The Griffins' next two opponents have combined for two wins this year. Joliet Central has been out-scored 291-20 through seven weeks.
Joliet Central player to watch:
Quarterback Carlos Curry will look to get his offense going this week.
Lincoln-Way East player to watch:
Quarterback Blake Winkler is hearing from Ivy League and FCS schools.
Prediction:
Lincoln-Way East 49, Joliet Central 7
---
No. 4 Loyola (7-0) at Brother Rice (5-2)


When:
Friday at 7:30 p.m.
The story:
Loyola finishes out its regular season with two tough games with Brother Rice and St. Rita. The Ramblers will certainly earn their Catholic League Blue title if they win out. Brother Rice has been on the wrong end of two tights games against Mount Carmel and St. Rita. The Crusaders are still one of the area's top teams and should give Loyola a game.
Loyola player to watch:
Michael Paloian had two sacks and recovered a fumble against Fenwick last week.
Brother Rice player to watch:
Richard Mayer has been a nice complimentary back to Brother Rice's two star running backs.
Prediction:
Loyola 24, Brother Rice 17
---
No. 6 Mount Carmel (6-1) at No. 5 St. Rita (6-1)


When:
Friday at 7:30 p.m.
The story:
The Mount Carmel-St. Rita rivalry has one way in recent years. St. Rita has won the last three meetings, including 54-18 win in 2009 and last year's 35-14 victory. The Mustangs' offense doesn't look as potent this season. They scored a total of 40 points in their two other Catholic League Blue games. Mount Carmel's offense has put up numbers, but was held to seven points against Loyola. If St. Rita wins, Mount Carmel will fall out of the conference title race.
Mount Carmel player to watch:
Quarterback Don Butkus threw for three touchdowns and ran for one in last week's win over St. Laurence.
St. Rita player to watch:
Wide receiver Kenny Golladay scored the game-winning touchdown against Bishop McNamara last week.
Prediction:
St. Rita 21, Mount Carmel 20
---
Hinsdale South (4-3) at No. 7 Downers Grove South (7-0)


When:
Friday at 7:30 p.m.
The story:
For Downers Grove South to win another West Suburban Gold title, it will have to go through two quality opponents in the following weeks. Hinsdale South has one conference loss. It has been up and down for the Hornets all season. They haven't won or lost two games in a row. They did win last week.
Hinsdale South player to watch:
Safety Bryan Taheri forced one of five turnovers last week.
Downers Grove South player to watch:
Sophomore defensive back DeAndre Washington had an interception last week.
Prediction:
Downers Grove South 35, Hinsdale South 20
---
McHenry (3-4) at No. 8 Prairie Ridge (7-0


When:
Friday at 7:15 p.m.
The story:
Prairie Ridge was tested early against Jacobs last week and overcame a 14-0 deficit to win 35-14. It was the Wolves' smallest margin of victory this season. Cary-Grove could still present a challenge for them during the last week of the season, but Prairie Ridge should have no trouble this week. McHenry has allowed 40-plus points against all of the conference's top-tier teams.
McHenry player to watch:
Quarterback Robert Tonyan can be a difference-maker.
Prairie Ridge player to watch:
Linebacker Collin Corcoran had two sacks last week.
Prediction:
Prairie Ridge 49, McHenry 7
---
No. 9 Bolingbrook (6-1) at Lincoln-Way Central (1-6)


When:
Friday at 7:30 p.m.
The story:
Bolingbrook will likely have to settle for second place in the Southwest Suburban Blue. The Raiders bounced back from their loss to Lincoln-Way East with a 27-3 win over Sandburg last week. Their defense is among the area's best. Lincoln-Way Central has lost its last five games.
Bolingbrook player to watch:
Linebacker Anthony Morrison will be in the running for ESPNChicago.com Defensive Player of the Year. He had 14 tackles last week.
Lincoln-Way Central player to watch:
Brett Ditchman scored his team's lone touchdown against Lincoln-Way East last week.
Prediction:
Bolingbrook 42, Lincoln-Way Central 7
---
Rich South (3-4) at No. 11 Crete-Monee (7-0)


When:
Friday at 6 p.m.
The story:
Crete-Monee had its closest game of the season last week, beating Rich Central 34-20. The Warriors will hope to put away Rich South earlier this week. Rich South has four losses, but only one in conference and is in second place in the Southland.
Rich South player to watch:
Running back DeAndre Washington ran for 165 yards and two touchdowns against Rich East last week.
Crete-Monee player to watch:
Michigan recruit Anthony Standifer is one of the area's premier defensive backs.
Prediction:
Crete-Monee 42, Rich South 17
---
Marist (5-2) at No. 11 Carmel (5-2)


When:
Friday at 7:30 p.m.
The story:
There's a four-way tie for the East Suburban Catholic lead. Either Carmel or Marist won't be involved in that race any longer after Friday. Carmel won 20-16 at Marist last season. Carmel's offense is tough to stop, but Marist has proven it can score points this season, too. This could be another close one. Marist closes out its regular season with Joliet Catholic.
Marist player to watch:
Tom O'Neil kicked a game-winning 38-yard field goal against St. Patrick last week.
Carmel player to watch:
Running back Jordan Kos is coming off a five-touchdown performance.
Prediction:
Carmel 38, Marist 28
---
No. 12 Lemont (7-0) at T.F. North (5-2)


When:
Friday at 7 p.m.
The story:
Lemont will be favored the next two weeks, but it could be tested against T.F. North and Oak Lawn. Both opponents are 5-2 right now. The challenge against Lemont is trying to score on its defense. The Indiana have allowed 32 points in total this year, and 20 of those came in one game. T.F. North has scored 50-plus points twice this season.
Lemont player to watch:
Christos Giatras rushed for 106 yards on five carries in last week's win over Hillcrest.
T.F. North player to watch:
Anyone on T.F. North's kickoff team. The Meteors recovered three onside kicks last week.
Prediction:
Lemont 42, T.F. North 10
---
No. 13 Batavia (7-0) at St. Charles North (2-5)


When:
Friday at 7:30 p.m.
The story:
Batavia wasn't ranked in the preseason, but has been one of the area's most dominant teams. The Bulldogs have gotten it done on offense and defense. They've only allowed two opponents more than 13 points this season, and they've scored 35 or more points in every game. That trend should continue against St. Charles North. The North Stars dropped their first five games and have won their last two.
Batavia player to watch:
Tight end Evan Zeddies had a team-high three catches and a touchdown in last week's win.
St. Charles North player to watch:
George Edlund ran for 172 yards in last week's win over Larkin.
Prediction:
Batavia 49, St. Charles North 13
---
No. 14 Nazareth (6-1) at Riverside-Brookfield (2-5)


When:
Friday at 7 p.m.
The story:
Nazareth takes a step out of the East Suburban Catholic race for a week and plays Riverside-Brookfield in a non-conference game. Nazareth is on a five-game winning streak, and its offense has especially been rolling. Riverside-Brookfield defeated Elmwood Park 28-0 last week for its second win. The Bulldogs lost to No. 12 Lemont 48-0 earlier in the season.
Nazareth player to watch:
Kalium Ewing returned two interceptions for touchdowns in last week's win.
Riverside-Brookfield player to watch:
Quarterback Dylan Beketic threw for three touchdowns and ran for one against Elmwood Park last week.
Prediction:
Nazareth 45, Riverside-Brookfield 10
---
No. 15 Joliet Catholic (6-1) at St. Patrick (3-4)


When:
Friday at 8 p.m.
The story:
Joliet Catholic bounced back from its loss to Nazareth with a 64-13 win over Marian Catholic last week. The Hilltoppers' offense could have another field day against St. Patrick. The Shamrocks have allowed 30-plus points in their last four games. St. Patrick is also on a four-game losing streak after starting out 3-0.
Joliet Catholic player to watch:
Defensive end Josh Falk recovered a fumble and blocked a punt against Marian Catholic.
St. Patrick player to watch:
Quarterback Ryan Tentler is a threat to pass or run the ball.
Prediction:
Joliet Catholic 49, St. Patrick 20
---
No. 16 Geneva (6-1) at South Elgin (3-4)


When:
Saturday at 1:30 p.m.
The story:
Geneva responded after its loss to Batavia with a 42-0 win over Streamwood last week. The Vikings' offense could have another productive day against South Elgin. The Storm have had a rocky season after finishing 7-4 in 2010. South Elgin's defense recently struggled against Bartlett and Neuqua Valley in losses.
Geneva player to watch:
Running back Bobby Hess scored twice in last week's win over Streamwood.
South Elgin player to watch:
Adolfo Pacheco rushed for 39- and 85-yard touchdowns and caught a 40-yard touchdown pass against East Aurora last week.
Prediction:
Geneva 45, South Elgin 20
---
No. 17 Antioch (6-0) at Grant (5-2)


When:
Friday at 7:30 p.m.
The story:
This game will decide the North Suburban Prairie championship. Antioch is undefeated in conference, and Grant has one loss. Antioch pulled out some close wins early on, but has been dominant as of late. The Sequoits have won their last three games by 16 points or more. Grant's lone conference loss came against Lakes. The Bulldogs have won their last three games and scored 40-plus points in three of them.
Antioch player to watch:
Anthony Formella is 5-9 and 132 pounds, but he can make big plays at wide receiver.
Grant player to watch:
Kyle Whitman rushed for 115 yards and two touchdowns against North Chicago last week.
Prediction:
Antioch 38, Grant 21
---
Glenbard North (5-2) at No. 18 Wheaton North (6-1)


When:
Friday at 7:30 p.m.
The story:
Wheaton North holds a one-game lead in the DuPage Valley, but it faces back-to-back tough games with Glenbard North and Wheaton Warrenville South. Wheaton North's offense was limited in last week's 14-7 win over Naperville Central. Glenbard North has lost its last two games. The Panthers only scored a total of 13 points in those losses. Their defense is still among the area's best.
Glenbard North player to watch:
Running back Phil Jackson is Glenbard North's premier offensive player.
Wheaton North player to watch:
Wide receiver Johnny Daniels had a 46-yard touchdown catch last week. He's among the area's top receivers.
Prediction:
Wheaton North 17, Glenbard North 14
---
No. 19 Montini (5-2) at Walther Lutheran (2-5)


When:
Saturday at 1 p.m.
The story:
Montini is becoming the team it was expected to be in the preseason. With quarterback John Rhoden's return from injury, the Broncos' offense is clicking. Rhode threw eight touchdowns in last week's win over St. Edward. Walther Lutheran allowed 63 points to Byron earlier this season and has given up 40-plus points three times.
Montini player to watch:
Wide receiver Joseph Borsellini should become a larger threat with Rhode now throwing him passes.
Walther Lutheran player to watch:
Najee Toomer ran for two touchdowns, including a 90-yarder, in last week's win over Aurora Central.
Prediction:
Montini 49, Walther Lutheran 10
---
Hoffman Estates (0-7) at No. 20 Palatine (6-1)


When:
Friday at 7:30 p.m.
The story:
Palatine is two wins away from winning the Mid-Suburban West title. The Pirates should be able to cruise this week against Hoffman Estates. The Hawks have been out-scored 333-79 this year. Palatine is riding a six-game winning streak after losing to Montini in the season opener. It'll close out the regular season with Conant.
Hoffman Estates player to watch:
Quarterback Jordan Hudak rushed for three touchdowns and threw for two against Schaumburg last week.
Palatine player to watch:
Cam Kuska rushed for 167 yards and two touchdowns on 16 carries against Fremd last week.
Prediction:
Palatine 49, Hoffman Estates 7
October, 9, 2010
10/09/10
5:08
AM CT
ELMHURST, Ill. – Glenbard West senior Daver Glawe should have felt sick -- maybe even needing to find a garbage can on the sidelines before Friday's game.
At least, he could have sweated a bit and showed he had some kind of nerves before stepping foot on the field.
There were plenty of reasons for Glawe to be an emotional mess. It was his first career varsity quarterback start. He was facing unbeaten York with Glenbard West's three-year conference undefeated streak on the line. He was also playing before a standing-room-only crowd with the majority of those fans rooting against him.
[+] Enlarge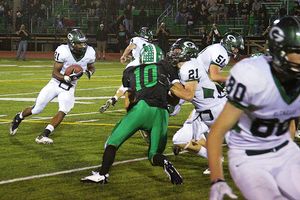 Scott Powers/ESPNChicago.comGlenbard West's Kendall Johnson carries the ball against York on Friday.
Glenbard West coach Chad Hetlet was even nervous for him.
Not Glawe, though. He showed no hint that he was about to embark on anything significant. Displaying the calmness of a veteran, he completed 9-of-12 passes for 213 yards and two touchdowns and led No. 3 Glenbard West to a 27-10 win over No. 20 York in the West Suburban Silver matchup.
Glawe was even relaxed enough to make a few jokes in the huddle and on the sidelines.
"He's a jokester," said Glenbard West senior wide receiver Mark Hiben, who was the recipient of four passes for 126 yards and a touchdown. "He was having fun. He was making everyone laugh. He really calms everyone down. It's definitely not normal. That's why he's such a great kid."
Hetlet was just as impressed.
"This is a varsity start," Hetlet said. "It doesn't get any bigger than this. They were loud. He was poised. He was more poised than I was."
York (6-1, 4-1) gave Hetlet and the Hilltoppers plenty of reason to worry early. After Glenbard West fumbled away the ball on the game's first play from scrimmage, York capitalized with a 37-yard field goal by Sean McDaid. Following another defensive stop, the Dukes went ahead 10-0 in the second quarter on an 18-yard touchdown pass from Jim Nudera to Jordan Preuss.
York's fans began chanting, "Overrated."
It was too soon, though. From there, it was all Glenbard West.
Glawe got the Hilltoppers (7-0, 4-0) going three plays after York's touchdown when he connected with Hiben on a 68-yard score. Running back Nick Burrello scored the first of his two touchdowns at the end of the first half, and Glenbard West took a 13-10 lead into halftime.
In the second half, it was more of the same. The Hilltoppers' offense kept rolling, and the defense contained York. Burrello scored again to put the Hilltoppers ahead 19-10, and Glawe later threw a five-yard touchdown to Kendall Johnson and then completed a pass to Nathan Marcus (three catches for 73 yards) for the two-point conversion for the final score.
"It's something you dream of, definitely, coming in an environment like this," Glawe said. "It's just an awesome time. My O-line said, 'Trust us, and we'll give you the time. You'll make the plays, and we have confidence.' The coaches were saying all week, 'We got confidence. It's your time to shine.' It's definitely a big help when your coaches and your teammates give that little boost."
The Hilltoppers dedicated the win to former player Pierre Washington Steele, who was killed in a car accident in February. After the win, Hetlet raised a memorial plaque for Steele over his head, and his players cheered.
"His number was No. 7, so this happened to be Week 7," Hetlet said. "This is the game we dedicated to him. It was very emotional. I thought the kids played with a lot of heart. It was good to see how hard the kids came out and competed on a big stage."
October, 9, 2010
10/09/10
4:13
AM CT
By
Andrew Braverman
| ESPNChicago.com
FOX LAKE, Ill. -- While it certainly wasn't pretty, Vernon Hills' shutout streak lived to see another week thanks to a 20-0 victory over rival Grant on Friday night in Fox Lake.

Making up for a poor offensive showing, the widely discussed Cougars defense did not disappoint, forcing seven Grant turnovers -- six fumbles and one interception.

Perhaps it was the absence of Ohio State-bound receiver Evan Spencer that enabled the Bulldogs' defense to limit Vernon Hills to just 5-yards of total offense.

"Obviously we missed Evan because he helps us spread the field out," said Cougars head coach Tony Monken. "I'm not sure how word got out that he was hurt, but their defensive scheme was definitely lined up as if they knew he'd be out."

Spencer, who did not see action due to a lower muscle strain, is expected to be back in the Vernon Hills lineup next week against Lake Forest. In his absence, Vernon Hills' other Division-I receiver, DaVaris Daniels (headed to Notre Dame), only managed one catch for 13 yards in the first quarter. Daniels did, however, make jaws drop on an 85-yard punt return touchdown to score Vernon Hills' first points midway through the second quarter.

Despite only trailing 7-0 at halftime, Grant failed to establish its offense, not managing a first down until minutes into the third quarter. Senior running back-turned-quarterback Alex Cacchione ran for 70 yards on 21 carries, while fellow senior Steven Niewiedzial collected 59 yards on the ground. The two also accounted for three fumbles and an interception.

For Vernon Hills, running back Brian Palmer shouldered much of the load in the second half, finishing the game with 43 rushing yards and the final two Cougars' touchdowns. "In the second half, our offensive line did a hell of a job," said Palmer, who scored on runs of 3 and 2 yards. "They started moving guys up front and that was huge for us."

Palmer's first score was set up by one of two Dustin Rusch fumble recoveries after punter Austin Miller pinned the Bulldogs back on their own 3-yard line, while the second also came off of a turnover in the fourth quarter.

Even with a comfortable 20-0 lead down the stretch, everyone on the Vernon Hills sidelines held their collective breath during Grant's final drive. With under a minute remaining and Grant facing a fourth-and-14 from the Vernon Hills 28, Steven Niewiedzial's 45-yard field goal attempt fell inches short, securing a seventh straight shutout for the Cougars.

"Our defense is doing a heck of a job and they saved us tonight," Monken said.

Players of the game: Vernon Hills RB Brian Palmer: 12 carries, 43 yards, 2 TDs and Vernon Hills Dustin Rusch and Wayne Didier: 2 Fum Rec each.

Stat of the game: Vernon Hills forced 7 Grant turnovers but was outgained 128-5 in total offense; Grant did not complete its only pass of the game.

It was over when: The Cougars' shutout was secured for the seventh week in a row.

Quote of the night: "Our special teams coordinator said he couldn't kick one from that far, so I trusted him," Monken said laughing. "We were more worried about the fake than we were about blocking it."