March, 16, 2012
3/16/12
5:42
PM CT
[+] Enlarge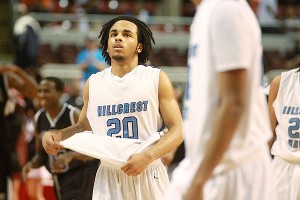 Scott Powers for ESPNChicago.comHillcrest shot just 18-of-49 from the field on Friday.
PEORIA, Ill. -- Hillcrest junior Jovan Mooring's explanation for his team's 60-50 loss to Peoria Central in the Class 3A state semifinals Friday was as simple and precise as possible.
"Shots just weren't falling like they were during the season," Mooring said.
Mooring, an ESPNChicago.com all-area selection, was 0 for 8 from the field. Virgil Fleming was 3 for 11. Kyle Oden was 1 for 10. As a team, Hillcrest was 18 of 49.
It was just one of those days.
Peoria Central (27-3) will play North Chicago for the championship on Saturday. Hillcrest (26-6) will face Springfield Lanphier in the third-place game.
Hillcrest did hang with Peoria Central for a quarter. But with the game tied at 15 after the first eight minutes, the two teams went their separate ways. Peoria Central out-scored the Hawks 14-4 in the second quarter and went ahead 29-19 at halftime. Hillcrest shot 0 for 6 from the field in the second quarter.
The third quarter wasn't any better for Hillcrest. Its offensive woes continued, and Peoria Central extended its lead to 42-26 heading into the fourth quarter.
Hillcrest coach Don Houston thought Peoria Central's large front line did have something to do with some of its problems. The Lions' roster included 6-10 Kevin Jordan, 6-5 Aldonis Foote, 6-7 Trey Kellum and 6-6 Shamar Hill.
"We got to give some credit to Peoria," Houston said. "They have a lot of length in there, and they altered a lot of shots. We've seen some length throughout the season, but them altering a lot of those shots it made us miss some shots that we normally make."
Hillcrest did find some life in the final quarter. The Hawks' shots started finally finding the net, and Hillcrest was able to cut Peoria Central's lead to single digits in the final minutes. Hillcrest outscored Peoria Central 24-18 in the fourth quarter, but it was too late for the Hawks.
"We came out and played a strong fourth quarter, and it shows the character of my players that they've had all season," Houston said. "I'm just extremely proud of them. I'm proud that they didn't lay down, and I'm proud that they went out ahead and fought all the way to the end."
Jayon'e Troutman (13 points, four steals) and Jalen Loving (16 points) led Hillcrest.
Foote (21 points, four steals), Kellum (11 points), Kevin Jordan (10 rebounds) and Myles Boone (10 points) contributed for Peoria Central.
March, 15, 2012
3/15/12
8:59
PM CT
Here's a look at Friday's Class 3A state semifinals:
North Chicago (24-6) vs. Springfield Lanphier (28-3) at noon
The story: Both teams are powered by their guards and will be looking to get out and run on a college floor. Both teams often score 70-plus points, so this could be a high-scoring affair. North Chicago is led by two-time all-area selection Aaron Simpson. He's talented enough to get to the basket whenever he wants, but he often prefers to pull from NBA range. North Chicago sophomore forward JaVairius Amos-Mays is also a star in the making. Sophomore Larry Austin and seniors T.J. Davis and Everett Clemons all score in double figures for Springfield Lanphier. Clemons averages a team-best 18.9 points and went off for 40 points in a game early this season.
North Chicago player to watch: Simpson may just be the most entertaining player in the state. He likes to shoot from long distance and put on a show, and his coach allows him to do so. He's averaging 26.3 points.
Springfield Lanphier player to watch: Clemons is Lanphier's best player now, but sophomore Larry Austin is the team's biggest college prospect. He already has a number of high-major schools after him.
Pick: North Chicago
Hillcrest (24-5) vs. Peoria Central (26-3) at 2 p.m.
The story: These are two programs that have been here before. Hillcrest won a state championship just two years ago. Peoria Central hasn't been to state since 2004, but has four state championships under its belt. Peoria Central has succeeded thanks to its size. The Lions have four starters who are 6-5 or taller. They've balanced with five players averaging between 6.8 points and 12.6 points. Hillcrest doesn't have the height Peoria Central does, but it's not small. Senior starters Delmon Brame and Jalen Loving are both 6-6. Hillcrest wins often by its defense. It's held opponents to less than 50 points in 15 games this season.
Hillcrest player to watch: All-area selection Jovan Mooring is willing to take any shot whenever he's got an inch of space. He was of 156-of-396 shooting this season. He also attempted 191 3-pointers.
Peoria Central player to watch: Forward Trey Kellum leads the Lions in scoring at 12.6 points and rebounds with 7.0 rebounds.
Pick: Peoria Central
February, 27, 2012
2/27/12
9:30
PM CT
As the IHSA playoffs kick off, Simeon and Proviso East remained the top teams in ESPNChicago.com's boys basketball rankings.
Read the full story.
February, 12, 2012
2/12/12
12:49
PM CT
Bolingbrook and Whitney Young seem destined for a show down in the Hinsdale Central super-sectional. The two powerhouses remain atop the final regular season of edition of ESPNChicago.com's girls basketball rankings.
Read the entire top 20.
January, 16, 2012
1/16/12
3:55
PM CT
Bolingbrook and Whitney Young continued to hold strong in the top two spots of the ESPNChicago.com top 20 girl basketball teams while Loyola and Geneva moved into the rankings.
Read the full story.
January, 2, 2012
1/02/12
8:15
PM CT
Bolingbrook's multi-year run a top the Girls basketball rankings continues this week. The Raiders won their only contest against St. Mary's (Canada) this past week. Whitney Young, Marist, Trinity and Bartlett round out the top five.
Read the full rankings.
December, 25, 2011
12/25/11
4:34
PM CT
In spite of suffering it's first loss of the season in a national tournament this past week, Bolingbrook maintains its position as the top-ranked team in ESPNChicago.com's girls basketball rankings. Who else moved in?
Read the full story.
December, 3, 2011
12/03/11
10:39
PM CT
CHICAGO -- Simeon coach Robert Smith walked from his team's season-opening 69-51 win over Hillcrest like most of the crowd at the UIC on Saturday.
[+] Enlarge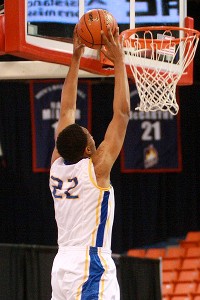 Scott Powers for ESPNChicago.comJabari Parker scored 26 points as Simeon topped Hillcrest on Saturday night.
At times, Simeon was impressive, blocking shots, grabbing rebounds, connecting on passes and soaring to the rim for dunks and acrobatic layups. In other words, it looked like the No. 1 team in the country. For other stretches, Simeon looked ordinary and prone to the errant passes and turnovers that any other high school team is.
Smith felt overall it was an OK start to the season, but he didn't believe his Wolverines played like they were the top-ranked team in the nation.
"No, not today," Smith said. "I think Findlay Prep and Oak Hill have a little bit of an advantage. But when we get to the point where we're getting ready to play Findlay Prep, we should be playing like the No. 1 team in the country. Those guys got some talent. We got some talent, but Findlay has five guys in the top 50 in the country. I think by the time we get to that point we'll be fine."
Simeon may not be as loaded top to bottom as those teams, but it does possess arguably the nation's top player regardless of class in junior Jabari Parker. And on Saturday, Parker continued to show why everyone's endlessly touting his abilities.
With a mixture of 3-pointers, mid-range jumpers and a few dunks to please the crowd, Parker scored a game-high 26 points, including 17 in the first half.
"Jabari right now is more aggressive than I've seen him since I've known him," Smith said. "He understands he's the best player in the country. There's a lot riding on his back. He's just trying not to disappoint his family and Simeon, period."
Count Hillcrest coach Don Houston among those impressed.
"He's a man amongst boys out there," Houston said. "He's a great player. I've seen him some moves out there that high school kids just don't do."
Simeon (1-0) was sloppy early, committing eight turnovers in the first quarter, but Hillcrest (4-2) came out even tighter allowing the Wolverines to build an early 15-6 lead. Simeon extended its advantage to 27-11 midway through the second quarter.
For much of the second half, Hillcrest hung with Simeon. The Wolverines outscored Hillcrest just 35-32 in the final two quarters.
"We didn't come out as strong as we normally do," Houston said. "Once we realized we can probably play with these guys, we played with them the rest of the way. I just wish we had a better showing in the first half."
Simeon senior Steve Taylor finished with 20 points and 10 rebounds and Kendrick Nunn had nine points.
Hillcrest was led by Jayon'e Troutman and Jovan Mooring, who each had a team-high 13 points.
No. 5 Curie 81, Gary Bowman 71, OT: The Condors (1-0) survived their season opener behind a career-high 30 points by Devin Foster. Foster was 19-of-23 from the free-throw line. Curie sophomore Cliff Alexander had nine points and seven rebounds before fouling out in the fourth quarter.
Bowman's DeJuan Marrero, who is a DePaul recruit, had 14 points, eight rebounds and three blocks.
No. 18 Homewood-Flossmoor 57, No. 13 Morgan Park 47: The Vikings (5-1) were led by Maurius Hills (16 points) and Tyrone Sherman (16 points). Billy Garrett Jr., a DePaul recruit, scored a game-high 18 points for Morgan Park (1-1).
November, 18, 2011
11/18/11
9:10
PM CT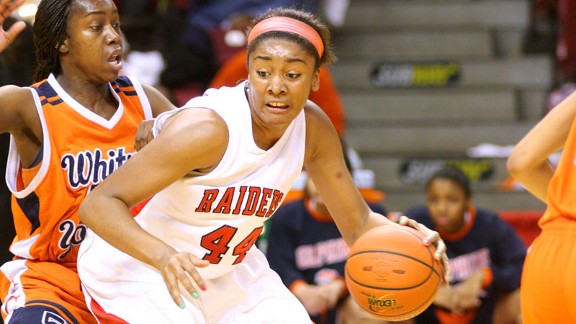 Scott Powers / ESPNChicago.comtbd
1. Bolingbrook:
The Raiders are shooting for their fourth consecutive state title this season, but they also are seeking something even bigger. They want to be the No. 1 team in the country. "That's the kids' goal," Bolingbrook coach Anthony Smith said. "They want to finish off the season No. 1." From top to bottom, Bolingbrook is as talented as ever. It had eight players sign recently with Division I programs. That list is led by senior forward
Morgan Tuck
, who is headed to Connecticut. She averaged 21 points last season. Forward
Cabriana Capers
(Auburn), forward
Nia Moore
(Illinois), forward Annaya Moore (UAB), forward ChaRosese Williams (Stetson), guard Keiera Ray (Pennsylvania), guard Allie Hill (Texas-Pan American) and guard DeLacy Anderson (George Washington) are also signed. Bolingbrook will have to replace ESPNChicago.com 2010 player of the year
Ariel Massengale
, who now plays at Tennessee, and hope to do so with junior
Kennedy Cattenhead
.
2. Whitney Young:
The Dolphins haven't been able to get past Bolingbrook the past three seasons. Last year's Class 4A semifinal game was an instant classic with Bolingbrook pulling out a 50-49 win. They'll be the favorites to get another shot at the defending champs. Whitney Young will be led by its backcourt of
Linnae Harper
, one of the country's top juniors, and
Janee Thompson
, a nationally-ranked senior and Kentucky recruit. Whitney Young will also look to sophomores Khaalia Hillsman and Taylor Brame and seniors Tessa Haldes and
Alexis Lloyd
.
3. Trinity:
The Blazers are looking to make that jump into the state's elite teams this season and appear to have the talent and experience to do so. They went 29-4 last season and return DePaul recruit and all-area selection
Megan Podkowa
, who averaged 17 points and nine rebounds last season, junior guard Taylor Nazon, who averaged 11 points, senior guard
Alyssa Dengler
, junior forward Shannon McGinnis and senior center Vickie Harris. Lauren Prochaska and Mikayla Leyden should also contribute.
4. Maine South:
The Hawks pulled off one of last season's biggest upsets when they knocked off Whitney Young in the Class 4A third-place game. Whitney Young may not have been as motivated after losing in the semifinals to Bolingbrook, but it still was a big win for Maine South and could propel it this season. The Hawks return all five starters and their top six players from last year's team. Senior guard
Michelle Maher
, who has signed with Western Illinois, and junior forward Jacqui Grant, who has an offer from DePaul, both averaged around 12 points last season.
5. Marist:
The RedHawks look to be a state contender this season with all five starters back from last year's squad that went 27-6 and lost to Marian Catholic in a Class 4A sectional championship game. Among Marist's returnees is junior guard JeTaun Rouse, who was the lone sophomore on last year's ESPNChicago.com all-area team. The other returning starters are seniors
Randyll Butler
, a Colgate recruit, and
Asianna Bey
, a Memphis recruit, and juniors Leah Bolton and
Claire Ryan
. All five starters will likely play Division I basketball.
6. Hillcrest:
The Hawks have finished second in Class 3A the last two years. The goal this season is finally to win the title. They return four starters and four key reserves from last year's 29-3 team. The group is led by Seton Hall recruit and all-area selection Shanise Heady and Southern Mississippi recruit
Samirah Ali
. Seniors
Jasmine Sanders
and
Jahmia Phillips
also are returning starters.
7. Morgan Park:
The Mustangs return three of their top players from last season's 27-5 team. Morgan Park will be led by small forward
Kendyl Nunn
, a Toledo recruit, center
Gabrielle Richmond
, a St. Bonaventure recruit, and point guard Debra Jenkins, the glue of the team. Sophomore guard Shami Goodman and freshman Marsha Howard are also expected to receive major minutes. Morgan Park's sophomore team won the city championship last year.
8. Montini:
The Broncos graduated four starters, including three Division I players, from last year's Class 3A state championship team. This is a program that reloads, though. Senior forward Tianna Brown is the lone returning starter, and she averaged eight points last season. Center
Diamond Thompson
was just a contributor on last year's team, but recently committed to Notre Dame.
Nikia Edom
, a versatile 5-6 junior, and forward
Malayna Johnson
will also contribute this season. Some of the newcomers to watch will be sophomores
Jasmine Lumpkin
,
Kelly Karlis
,
Kateri Stone
and Sara Ross and freshmen Kelsey Bogdan and
Rainey Kuykendall
.
9. Bartlett:
The Hawks lost all-area selection
Jacki Gulczynski
to graduation, but still return plenty of talent and depth from last year's 28-2 team. The group is led by
Haley Videckis
, an Indiana recruit, who averaged 10 points last year. Senior Kristin Conniff also averaged 10 points last season. Bartlett also returns forward Lisa Palmer and guard Janessa Baker. Seniors Ashley Johnson, Nicole Gobbo, Natalia Grodzki and Kate Gutzwiller will also be looked to this season. Videckis' sister Kendra, a sophomore, will also play on varsity this season.
10. Waubonsie Valley:
The Warriors return five starters from last year's 24-5 team. Senior guard Tami Morice leads the returnees after averaging 13 points last season.
Becky Williford
, Eric Jordan,
Rachael Ross
and Gratia Brooks are also back. Williford will be back from ACL surgery in December. Waubonsie Valley will also look to a sophomore and three freshmen to contribute this season.
11. Niles West:
The Wolves only have two returning starters, but one of them is
Jewell Loyd
, and that's all that matters. Loyd, a Notre Dame recruit, is one of the nation's most electrifying players. She averaged 30 points, 15 rebounds, four assists, four steals and three blocks last season. She gives Niles West a chance in every game. For it to truly compete for a state title, it'll need junior guard Molly Kleppin, the other returning starter, senior Jackie Cardena, sophomores Dashae Shumate and Alex Galanopoulous and others to contribute as much as they can.
12. Lincoln-Way East:
The Griffins should again be one of the area's top teams this season after going 25-6 last year. They return Loyola recruit
Taylor Johnson
, who averaged 13 points last season, and senior center Caitlin McMahan, who had 10 double-doubles last year. Senior Amy Jacobsen and juniors Meaghan McMahon and Natalie Hill should be key contributors this season as well.
13 Zion-Benton:
The Zee-Bees are coming off their second-place finish in Class 4A. They return all-area selection Octavia Crump, who averaged a near double-double last season, sophomore guard Samantha Rodriguez, who started as a freshman, senior Aaliyan Smith, senior guard Morgan Franklin, and junior guard Kaitlyn Stabenow, the team's best shooter. Senior Jessica Williams didn't play basketball last season, but was the sophomore team's MVP two years ago. She'll be heavily relied on this season.
14. Fremd:
The Vikings should possess one of the state's best backcourts with senior shooting guard Jessi Wiedemann, a Valparaiso commitment, and junior point Ashley McConnell returning and the arrival of highly-touted freshman point guard
Haley Gorecki
. Fremd is coming off a 25-7 season and lost just one game this summer.
15. Fenwick:
The Friars could be the most entertaining team to watch this season. Coach Dave Power is going full run-and-gun this year. His goal every game is to take almost 80 shots, including 40 3-pointers. Fenwick will be led by senior forward and Yale recruit
Meredith Boardman
, sophomore point guard Jade Owens, junior guard Maggie Reilly and senior guard Marek Burchett.
16. Geneva:
Sarah Meadows replaces longtime coach Gina Nolan this season. Meadows will have a lot to work with this season.
Ashley Santos
, a Marquette recruit, will be the Vikings' go-to player. She averaged 15.8 points, 5.7 rebounds, 3.2 steals and 1.1 blocks last season. Geneva also returns starting guard Rachel Hinchman and junior forward Sami Pawlak from last year's 25-7 team. Sophomores
Michaela Loebel
and
Morgan Seberger
should also contribute this year.
17. Homewood-Flossmoor:
After winning 22 games in coach Dana Noble's first year, the Vikings are out for more this year. They'll be led by 5-10 guard
Charnelle Reed
, who averaged 13 points, 3.6 rebounds, three assists and 2.4 steals last season. They also return junior guards Syndi Johnson and
Lauren Parker
and senior forward
Amena Brent
.
18. New Trier:
The Trevians were a bit of a rollercoaster last season. With nine seniors and 12 returnees back this season, they hope to be up more than down. The group is led by 6-1 guard
Maggie Lyon
, a Northwestern recruit, who averaged 17 points, eight rebounds and four assists last season. Senior forward Jessica Blackwell also averaged eight points and six rebounds last year.
19. Marian Catholic:
The Spartans graduated a bulk of their talent, but this won't be a rebuilding season. Their roster is full of young and talented players. Among those upcoming stars are sophomore guard Ashton Millender, sophomore guard Brianna Morrison and freshman guard Teniya Page. Seniors
Alanna Ferry
,
Amber Williams
and
Sarafina Handy
and junior Megan Walsh are back from last season, and their leadership will be key.
20. Cary-Grove:
The Trojans hope to carry over the momentum of last year's playoff run, which ended in a narrow sectional loss to Geneva. Cary-Grove returns three starters -- senior versatile guard Paige Lincicum, junior forward
Olivia Jakubicek
and junior guard Joslyn Nicholson -- from that 27-4 team.
October, 5, 2011
10/05/11
11:29
PM CT
Here's a look at the seventh week of action in ESPNChicago.com's top 20.
Evanston (4-2) at No. 1 Maine South (6-0)


When:
Thursday at 7 p.m.
The story:
Maine South's offense has lived up to its billing this season. The Hawks have put up 40 or more points in five games. Quarterback Matt Alviti and running back Paul Preston are an elite 1-2 punch. Evanston has won four games, but has struggled against top-tier teams. The Wildkits' losses were to Glenbrook South and Loyola.
Evanston player to watch:
Running back Ray Bahr has had some big days this season. He scored three times in the first half against Maine East.
Maine South player to watch:
Quarterback Matt Alviti is coming off a five-touchdown game.
Prediction:
Maine South 49, Evanston 10
---
No. 2 Glenbard West (6-0) at Addison Trail (6-0)


When:
Friday at 7:30 p.m.
The story:
Both Addison Trail and Glenbard West enter their Week 7 matchup undefeated. Glenbard West has proven itself. Addison Trail will look to accomplish that this week. The Blazers have outscored their opponents 172-13, but none of their six previous foes currently has a winning record. A win over Glenbard West -- or even a close game -- would build credibility. Glenbard West quarterback Justice Odom is expected to miss this week after suffering a knee injury last week.
Glenbard West player to watch:
Running back Kendall Johnson is dangerous rushing or receiving the ball.
Addison Trail player to watch:
Defensive back Vince Beltrano had two interceptions in last week's win.
Prediction:
Glenbard West 27, Addison Trail 10
---
No. 3 Lincoln-Way East (6-0) at Lincoln-Way Central (1-5)


When:
Friday at 7:30 p.m.
The story:
Lincoln-Way East survived the rough patch of its scheduled, pulling out wins over Bolingbrook, Homewood-Flossmoor and Sandburg. The Griffins should have an easy time closing out the regular season undefeated. Their next three opponents have won a combined three games.
Lincoln-Way East player to watch:
Brian Bayer made a difference last week. He came through on the defensive line and as a short-yardage back.
Lincoln-Way Central player to watch:
Brett Ditchman rushed for 201 yards and two touchdowns against Joliet West last week.
Prediction:
Lincoln-Way East 49, Lincoln-Way Central 7
---
No. 4 Loyola (6-0) at Fenwick (3-3)


When:
Friday at 7:30 p.m.
The story:
Loyola took a major step toward winning another Catholic League title with last week's win over Mount Carmel. The Ramblers' schedule doesn't get much easier from here on out. After Fenwick, which does have its strengths, they face Brother Rice and St. Rita. Fenwick has won its last two games. In its other matchup against a Catholic League Blue opponent, Fenwick lost 42-0 to St. Rita.
Loyola player to watch:
Connor Person is another one of Loyola's top receivers. He had a 36-yard touchdown against Mount Carmel.
Fenwick player to watch:
Jack Stibitch rushed for 108 yards and two touchdowns in last week's win over Gordon Tech.
Prediction:
Loyola 42, Fenwick 7
---
No. 5 St. Rita (5-1) at Bishop McNamara (5-1)


When:
Friday at 7:30 p.m.
The story:
St. Rita may have the state's toughest schedule the next three weeks. Bishop McNamara leads the Catholic League White. Its only loss this season was to Brother Rice. After Bishop McNamara, St. Rita closes out the regular season with Mount Carmel and Loyola. The Mustangs haven't allowed more than 17 points to an in-state opponent.
St. Rita player to watch:
Zach Soria led the Mustangs' rushing attack in last week's win over Hales.
Bishop McNamara player to watch:
Quarterback Channing Dolliger has come through with some key throws this season.
Prediction:
St. Rita 31, Bishop McNamara 13
---
No. 6 Mount Carmel (5-1) at St. Laurence (2-4)


When:
Friday at 7:30 p.m.
The story:
Mount Carmel will look to bounce back from its first loss of the season. The Caravan's offense was contained in last week's 12-7 loss to Loyola. Quarterback Don Butkus and company will look to get it going again against St. Laurence, which lost 49-31 to Providence earlier in the season.
Mount Carmel player to watch:
Brandon Greer is a major player on both sides of the ball.
St. Laurence player to watch:
Andrew Javorka caught two touchdown passes in last week's loss to Bishop McNamara.
Prediction:
Mount Carmel 49, St. Laurence 10
---
Proviso East (1-5) at No. 7 Downers Grove South (6-0)


When:
Friday at 7:30 p.m.
The story:
Downers Grove South's last true test of the regular season may be Addison Trail in Week 9. Until then, the Mustangs should have no trouble the next few weeks. Downers Grove South has outscored its opponents 234-34 this season. Proviso East lost to Addison Trail 35-0 last week.
Proviso East player to watch:
Quarterback Malcolm Hilliard has produced for the Pirates this season.
Downers Grove South player to watch:
Wide receiver Kaylon Miler is one of the Mustangs' many offensive stars.
Prediction:
Downers Grove South 49, Proviso East 7
---
No. 8 Prairie Ridge (6-0) at No. 19 Jacobs (6-0)


When:
Friday at 7:15 p.m.
The story:
This could be the game of the week or another Prairie Ridge rout. On paper, Jacobs should give Prairie Ridge a game, but no one has been able to do that so far. Even last week, the Wolves scored 41 points on a tough Crystal Lake South defense. Jacobs has been able to score on everyone this season. The Golden Eagles are averaging 38 points a game.
Prairie Ridge player to watch:
Collin Corcoran had three tackles for a loss in last week's win over Crystal Lake South.
Jacobs player to watch:
Caz Zyks not only has a cool name, but he leads Jacobs' rushing attack.
Prediction:
Prairie Ridge 35, Jacobs 27
---
No. 9 Lake Zurich (5-1) at Stevenson (4-2)


When:
Thursday at 7 p.m.
The story:
These two teams created one of the best games of last season. Stevenson scored in the final seconds to pull out a 24-23 upset of Lake Zurich. Lake Zurich will be favored again this season. The Bears have been dominant on the both sides of the ball since losing to Cary-Grove in Week 2. Stevenson suffered its second loss of the season last week. It lost to Lake Forest 10-7. The Patriots' offense will need to step up this week.
Lake Zurich player to watch:
Mike Shield has been key on both sides of the ball for the Bears.
Stevenson player to watch:
Quarterback/kicker Matt Micucci has scored points in a variety of ways this season.
Prediction:
Lake Zurich 24, Stevenson 20
---
No. 10 Bolingbrook (5-1) at Sandburg (5-1)


When:
Friday at 7:30 p.m.
The story:
Lincoln-Way East likely has the conference crown wrapped up now, but second place still is available. Bolingbrook and Sandburg each enter this game with one conference loss. Both teams lost to Lincoln-Way East. Bolingbrook will be favored in this one. The Raiders were up 14-0 against Lincoln-Way East before surrendering 20 consecutive points. Sandburg lost 31-7 to Lincoln-Way East.
Bolingbrook player to watch:
Bolingbrook quarterback Aaron Bailey is a threat to run for a touchdown on every snap.
Sandburg player to watch:
Quarterback Anthony Adams completed 4-of-6 passes for 110 yards and three touchdowns last week.
Prediction:
Bolingbrook 35, Sandburg 13
---
No. 11 Crete-Monee (6-0) at Rich Central (3-3)


When:
Friday at 6 p.m.
The story:
Crete-Monee had a battle on its hands for a bit in last week's win over Bloom. Ultimately, it won 32-7. The Warriors should have an easier time this week. Rich Central hasn't beat a team with a winning record this season.
Crete-Monee player to watch:
Marcus Terrell has been one of the area's premier quarterbacks this season.
Rich Central player to watch:
Wide receiver Brandon Fowler caught six passes for 103 yards last week.
Prediction:
Crete-Monee 49, Rich Central 10
---
St. Viator (1-5) at No. 12 Carmel (4-2)


When:
Friday at 7:30 p.m.
The story:
Carmel is back in the East Suburban Catholic race with Joliet Catholic's loss. The Corsairs do still have to face Marist, but otherwise shouldn't be tested. St. Viator has allowed 50-plus points in four games this season. Carmel's high-powered offense will be another challenge for it.
St. Viator player to watch:
Quarterback Mickey Macius has the potential to be one of the area's best next season.
Carmel player to watch:
Quarterback Brian Brennan was impressive running and throwing the ball last week.
Prediction:
Carmel 49, St. Viator 17
---
Hillcrest (0-6) at No. 13 Lemont (6-0)


When:
Friday at 7 p.m.
The story:
Lemont's defense continues to be one of the best in the state. The Indians shut out their fourth opponent last week. They've allowed 26 points in six games. They should have a good shot at another shutout this week. Hillcrest is winless and is averaging just over 10 points a game.
Hillcrest player to watch:
Devonte Brewer will look to give the Hawks an offensive spark.
Lemont player to watch:
Mike Anzalone rushed for 183 yards on 24 carries in last week's win.
Prediction:
Lemont 35, Hillcrest 0
---
Elgin (1-5) at No. 14 Batavia (6-0)

When:
Friday at 7:30 p.m.
The story:
Batavia should win the Upstate Eight River after defeating Geneva last week. The Bulldogs' remaining games shouldn't be too difficult. This week's opponent Elgin has lost its last five games. Batavia quarterback Noel Gaspari's shoulder injury wasn't as bad as it appeared last week. He's expected to play this week.
Elgin player to watch:
Running back/defensive back Dennis Moore has scored nearly every way possible this season.
Batavia player to watch:
Dom Guzaldo came through last week with 92 rushing yards and three touchdowns.
Prediction:
Batavia 45, Elgin 10
---
Notre Dame (3-3) at No. 15 Nazareth (5-1)


When:
Saturday at 1:30 p.m.
The story:
Nazareth shocked the area with a win over Joliet Catholic last week. The Roadrunners have put themselves in position to make a run at the conference title. Their toughest games are likely behind them. Notre Dame has been good and bad this season. The Dons lost their first three games, but have won their last three.
Notre Dame player to watch:
Nick Pieruccini ran for a touchdown and threw for one in last week's 14-0 win over Benet.
Nazareth player to watch:
Joshua Moore rushed for 176 yards and one touchdown on 37 carries in last week's win.
Prediction:
Nazareth 31, Notre Dame 14
---
Marian Catholic (3-3) at No. 16 Joliet Catholic (5-1)

When:
Friday at 7:30 p.m.
The story:
Joliet Catholic's offense looked invincible until last week's loss to Nazareth. With the loss, the Hilltoppers dropped into a four-way tie for first place in the East Suburban Catholic Conference. Their offense will certainly be motivated to pick it back up this week against Marian Catholic. The Spartans lost to Marist 52-27 last week.
Marian Catholic player to watch:
Running back Jeruel Taylor has more than 1,000 yards on the season.
Joliet Catholic player to watch:
Running back Ty Isaac is in the mix for the ESPNChicago.com Player of the Year.
Prediction:
Joliet Catholic 49, Marian Catholic 31
---
Streamwood (5-1) at No. 17 Geneva (5-1)


When:
Friday at 7:30 p.m.
The story:
Geneva and Streamwood suffered their first losses of the season last week. Geneva lost to Batavia, and Streamwood fell to St. Charles East. Geneva had its chances against Batavia, but its defense couldn't contain the Bulldogs in the end. Streamwood's defense had its own troubles in its 49-34 loss. St. Charles East had been winless.
Streamwood player to watch:
Dalton Lundee threw for 274 yards and three touchdowns last week.
Geneva player to watch:
Parker Woodworth rushed for more 100-plus yards again in last week's loss.
Prediction:
Geneva 42, Streamwood 20
---
No. 18 Antioch (6-0) at Round Lake (1-5)


When:
Thursday at 7:30 p.m.
The story:
Antioch is getting closer and closer to an undefeated regular season. The Sequoits' only challenge is likely next week's opponent Grant and should be able to take care of business the other two weeks. They were sharp in last week's victory over Lakes. Round Lake has been out-scored 206-86 this season.
Antioch player to watch:
Danny Arden was unstoppable last week. He rushed for 248 yards and three touchdowns.
Round Lake player to watch:
Daniel Vega has been one of the team's main offensive weapons.
Prediction:
Antioch 42, Round Lake 7
---
Naperville Central (4-2) at No. 20 Wheaton North (5-1)


When:
Friday at 7:30 p.m.
The story:
The DuPage Valley race is heating up. Wheaton North took sole possession of first place with Glenbard North's loss to Naperville Central last week. Wheaton North is 4-0 in conference, but four teams trail by just one game. Naperville Central pulled off a major upset last week and will be looking to carry that momentum into this week. Its defense has been its strength this season. Wheaton North has been averaging 32.7 points a game.
Naperville Central player to watch:
Senior linebacker John Dulleck is one of the defense's key pieces.
Wheaton North player to watch:
Quarterback John Peltz has had the Falcons' offense rolling this season.
Prediction:
Wheaton North 24, Naperville Central 17
March, 9, 2011
3/09/11
7:48
PM CT
Here are five things to watch for in Wednesday's boys basketball playoffs:
1. The headliner:
On Tuesday, East Aurora vs. Benet was the marquee game. On Wednesday, it's No. 8 Homewood-Flossmoor vs. No. 9 Crete-Monee in the Thornwood sectional semifinals. They met in January, and Crete-Monee pulled out a 67-62 win behind 25 points by DePaul recruit Jamee Crockett. Homewood-Flossmoor has returned junior forward
Tim Williams
since then and is picking up steam. Both teams have multiple Division I players and are state title contenders. The winner plays Thornton in the sectional championship on Friday.
[+] Enlarge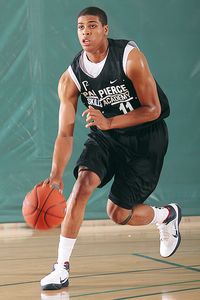 Kelly KlineMcDonald's All-American Wayne Blackshear leads Morgan Park against Hillcrest on Wednesday.
2. Class 3A showdown:
Hillcrest is the defending Class 3A champs, and Morgan Park is favored by many to be this year's Class 3A winner. After Wednesday, only one will remain in the hunt. Hillcrest is led by
Julius Brown
, one of the top point guards in the area. Morgan Park is powered by McDonald's All-American guard
Wayne Blackshear
. Both teams have had their ups and downs this season, but both have been steady lately.
3. Next up for the Boat Show:
East Aurora's
Ryan Boatright
and Co. shocked the state by knocking off previously-unbeaten No. 1 Benet on Tuesday. Which team will face the hot-handed Tomcats in the East Aurora sectional championship will be decided between Downers Grove South and Glenbard East on Wednesday. Both teams have stellar backcourts and have been ranked the entire season. Downers Grove South will be favored, but it wouldn't be a surprise if Glenbard East emerged victorious.
4. City vs. suburban:
Curie and Lyons has each lost only two games all season. Curie lost to Niles West at the Pontiac holiday tournament and fell to Brooks by three points in the Public League tournament. Lyons lost by one point to Dowers Grove South in December and lost to Riverside-Brookfield in early December. This has the all makings of a tight battle at the Argo sectional. The winner plays No. 2 Simeon.
5. We meet again:
Niles West coach Bob Williams will face his former team Schaumburg in the New Trier sectional semifinals. Williams coached 18 seasons at Schaumburg, had a 347-155 record and won one state championship. He resigned from Schaumburg due to differences with the administration in 2009 and was hired at Niles West before last season. Niles West is 18-11 this season, and Schaumburg has gone 17-11.
March, 5, 2011
3/05/11
10:30
PM CT
NORMAL, Ill. -- Montini coach Jason Nichols was floored by his own team's stats following the Class 3A state championship on Saturday.
The third-ranked Broncos committed 24 turnovers, missed 15 layups and shot 36 percent from the field. But they still defeated No. 5 Hillcrest 67-45 to win their second consecutive Class 3A state title at Illinois State's Redbird Arena.
"Wow," Nichols responded.
It's safe to say Saturday's victory will not be remembered for Montini's offensive brilliance.
This one was won by the Broncos' defense.
A game after holding Springfield scoreless in the opening quarter of the state semifinals, Montini (36-1) came close to repeating the feat against the high-scoring Hawks. Hillcrest had entered the contest averaging 78 points a game, but over the game's first 5:29, it missed 10 shots, committed five turnovers and scored no points.
[+] Enlarge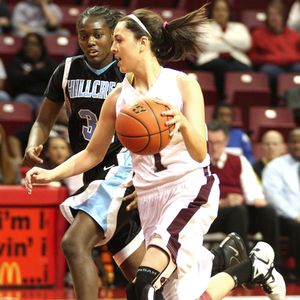 Scott Powers / ESPNChicago.comKasey Reaber helped Montini to a second straight 3A title on Saturday.
"I thought we did a great job defensively," Nichols said. "Let's be honest, that's a 79-point average team when they came into the state tournament, and we had them sitting at 35 when we pulled our five [starters.] That to me was the big thing – our defense tonight."
Montini wasn't scoring with ease during the same time period, but it was occasionally finding the bottom of the net. The Broncos built an 11-0 advantage before Hillcrest scored its first bucket with 2:31 left in the opening quarter.
The Hawks wouldn't get closer than seven points the rest of the way.
"We came out and knew it was going to be a tough game," said Montini's Kiki Wilson, who scored nine points. "They're better than Springfield, so we had to come out and play harder than we did last game. That's what we did. We came out and did it again. People didn't think we could do it."
Most people considered Montini to be the heavy 3A favorite for the entire season, but the Broncos believed there were some skeptics out there and had played that message up. They especially knew Hillcrest (29-3) was seeking revenge after losing to Montini in last year's state championship game.
"Hillcrest doubted us because their main player was out of the game last year," Montini senior Whitney Adams said. "They thought that was one of the main reasons why they lost. A lot of other teams thought they just could beat us. But they don't know all of the weapons we have."
Adams' personal weapon is her 3-point shot. After struggling during the early goings of Saturday's game, even shooting a handful of air balls, Adams eventually found her range, sank four 3-pointers and scored 16 points. She also added nine rebounds, four assists, three steals and one block.
"In the first half, I shot 3-5 air balls, and I just kept shooting," Adams said. "Jason just told me to keep shooting, keeping shooting, and I did."
With Adams and her teammates having their offensive woes during the first half, Notre Dame recruit Whitney Holloway stepped forward. She scored 13 of her game-high 19 points in the first half and helped the Broncos to a 31-15 halftime lead.
"This is amazing," Holloway said. "To get your first state championship is great, but to get two in a row, that's just amazing."
Samira Ali led Hillcrest with 15 points.
• Springfield defeated Marshall 53-43 in the third-place game. Springfield's Zahna Medley scored a game-high 24 points. Keshawnee Alley's 18 points and 11 rebounds led Marshall.