May, 7, 2013
5/07/13
3:18
PM CT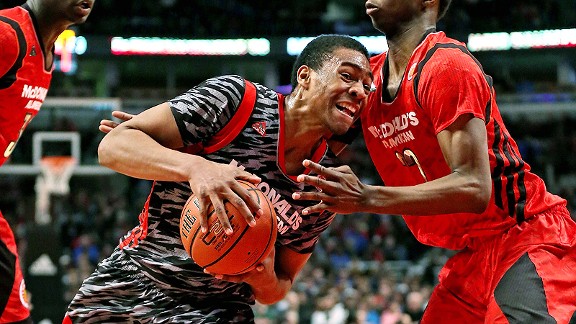 Jonathan Daniel/Getty ImagesJabari Parker might have gone to Illinois if John Groce had more time to recruit him.
Simeon coach
Robert Smith
believes Illinois' John Groce is on the right path as far as recruiting top talent out of Chicago.
In fact, Smith believes if Groce had been hired sooner, he might have had a shot at Jabari Parker.
Groce replaced Bruce Weber, who was fired, after the 2011-2012 season. Parker was already cutting his list of schools and eliminated Illinois from his choices. Parker had a good relationship with Weber, who had been recruiting him for years, but the uncertainty of change didn't sit well with the top recruit. Parker ultimately committed to Duke over BYU, Florida, Michigan State and Stanford.
Parker's teammates, Simeon senior guards Jaylon Tate and Kendrick Nunn, are both signed to play at Illinois next season.
"If Illinois had hired John Groce earlier, they would have had chance with Jabari," Smith said. "He was hired too late and Jabari was already looking at other schools. He wanted to play for his home state and win a national championship here.
"[I think Groce had a chance with Parker] because of his personality, him as a coach -- he let his players play -- and his charisma. I know Jaylon and Kendrick love him as a coach and person. I think that has a lot to do with them going there."
Smith believes those characteristics that will lead to Groce receiving future commitments from Chicago's premier players. One of the biggest criticisms of Weber was he failed to retain the state's top talent. Derrick Rose, Jon Scheyer, Sherron Collins, Evan Turner and Julian Wright chose to play out of state during Weber's Illinois tenure.
Curie forward Cliff Alexander, who is ranked No. 8 in the Class of 2014, is currently one of Illinois' main recruiting targets.
"I think it can happen with Cliff and getting him there and some of the other guys over there," Smith said. "I think Illinois has a real chance in the next three or four years to really do some things. I could see them go to the Final Four and possibly win a national championship in the next three or four years.
"It's just like the vision I had for Illinois when I was interested in the job. It's playing out without me being there. Coach Groce is doing a great job with that."
Groce was given a one-year contract extension and salary raise after this past season. He led Illinois to a 23-13 record, 8-10 in the Big Ten and to the NCAA tournament in his first year.
Groce's 2013 recruiting class is ranked No. 15 by ESPN. The class includes Nunn, Tate, small forward
Malcolm Hill
, power forward Austin Colbert and center Maverick Morgan. Illinois will also add three transfers -- Seton Hall sophomore guard
Aaron Cosby
, Illinois State junior forward Jon Ekey and Western Michigan forward
Darius Paul
.
June, 14, 2012
6/14/12
10:14
PM CT
Simeon rising senior guard Kendrick Nunn has yet to trim his list of colleges, but a recent visit to Marquette left a strog impression on him and his family, Nunn's father said on Thursday.
Nunn, a 6-foot-2 shooting guard, is ranked the No. 55 player in the country and second in Illinois in the Class of 2013 by ESPN. He averaged 15 points for Simeon last season and was previously committed to Texas A&M.
Nunn made recent visits to DePaul and Marquette. His father, Melvin Nunn, said their visit to Marquette went especially well.
"Marquette is definitely in there," Melvin said by phone on Thursday. "Everything Marquette has – their players, they succeed, you're talking about players, you're talking about a relationship already there. They're already in a position to get to that Elite Eight, the Final Four. That recruiting class they got coming in already, it's already up there for 2013. We're really, really considering Marquette in that top three (schools.)"
Melvin said his son was considering about 8-10 schools right now and hoped to trim the list to 3-5 schools in July. Nunn is currently considering DePaul, Illinois, Marquette, Memphis, Oklahoma State, Providence, Texas A&M and UCLA.
Melvin thought where Marquette had an advantage over a lot of the schools was it had already proven itself as a winning program.
"You can say DePaul can become a Marquette," Melvin said. "You talk about Marquette being in the top 15, top 20 in the last 3-4 years. I don't see them moving out of that any time real soon with the players they already got and the players they already have committed from 2013.
"You really look they're already in that position, and you're not even there. It's someone you should be considering if you want to be in that position when you're a freshman in college. It's the same thing when we chose Simeon. Do you want to go to a second-tier school or go to a school to help them continue to go on top? That's what we're looking at when picking a school.
"Do you want to have to be the person who has to turn it around? Do you want that pressure?"
That's also why Illinois could be a difficult sell for Nunn. Melvin said he wasn't sure new Illinois coach John Groce would have the pieces in place to succeed in a few years.
"It's something you have to think hard about, especially when you have a choice," Melvin said. "I think Groce can get it done. If we decided not to go to Illinois, it's not because we don't like Illinois, we don't like Groce. I just don't know when they can get it done and with who. It's going to take some 2013 players, some 2014, some 2015.
"We're talking about three years after he started there. He's used to winning now."
Melvin said he was a fan of Groce and Marquette coach Buzz Williams. He likes how both of them coach and develop players.
Nunn was invited to the National Basketball Players Association Top 100 this week, but he decided not to attend because he would have been able to go for two days. He will join the USA Basketball Men's Developmental National Team in Colorado Springs, Colo. on Friday in preparation for the FIBA U17 World Championships.
Melvin said they would discuss recruiting when Nunn returns from the world championships.
April, 13, 2012
4/13/12
4:33
PM CT
Crete-Monee senior point guard Michael Orris was released Friday from his letter of intent to Illinois and has reopened his recruitment.

Orris, a 6-3 point guard, was the Illini's lone Class of 2013 signed recruit. He averaged 12 points and four assists during his senior season. He originally committed to former Illinois coach Bruce Weber in September of 2011 and signed his letter of intent in November.

Weber was fired on March 9 and replaced by John Groce on March 29. Orris and his family met with Groce last week.

"What happened was Michael had a very close relationship with Bruce Weber," said Orris' AAU coach Scott Lidskin, who spoke on Orris' behalf on Friday. "When Bruce got fired, Michael and his family met with coach Groce. They said coach Groce was a real good guy and will do a lot of good things there, but they didn't feel as comfortable as they did with coach Weber. It's a different offense, different players."

This is the second time Orris will reopen his recruitment. He first committed to Creighton in May of 2011, and he decommitted from there in June after his former high school coach and recruiting advisor was charged with aggravated criminal sexual abuse of a minor.

"He's doing okay," Lidskin said of Orris. "Surprisingly, his spirits are great now. It's one of those things with everything going on with him the last two years with everything at Crete, coach Weber. It's been a rollercoaster ride.

"We're going to reopen his recruitment and get him in the right situation with the right coach. I know Michael's dream is still to play at a high-major school."

Lidskin had yet to hear from any schools on Friday. He was hopeful Orris' recruitment would be swift.
April, 5, 2012
4/05/12
1:15
PM CT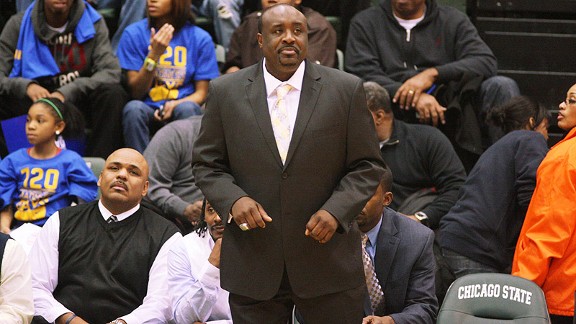 Smith_Robert 111212Robert Smith liked what he heard from John Groce.
Simeon coach Robert Smith said Thursday he recently had a positive conversation with new Illinois coach John Groce, but he didn't anticipate being asked onto Groce's staff.
Smith was contacted during Illinois' coaching search and previously said he would listen if offered an assistant position. Smith has compiled a 230-37 record and won an IHSA record five state championships in eight years at Simeon. His current players include the nation's No. 1 junior
Jabari Parker
,
Kendrick Nunn
, who was previously committed to Texas A&M, and Marquette recruit
Steve Taylor
.
"No, we didn't get into (his staff)," Smith said. "Basically, we had a conversation about him being the coach and what his views were. It wasn't anything about coaching. Right now, I'm happy where I'm at. It looks like I'm going to be here, and I'm basically getting ready for next year."
Smith was unfamiliar with Groce, who was previously Ohio's coach, before being hired at Illinois. Groce contacted Smith since being named Illinois' coach on March 29, and Smith was pleased with what he heard.
"We had a great conversation," Smith said. "I think he's going to be able to come in and relate to the guys. I think the guys will take to him. He has that charisma like some of the big-time coaches do."
March, 20, 2012
3/20/12
5:43
PM CT
A University of Illinois representative contacted Chicago's Simeon Career Academy coach Robert Smith regarding the Illini's coaching vacancy, according to a source, but it wasn't a formal interview.
Read the entire story.
March, 12, 2012
3/12/12
5:24
PM CT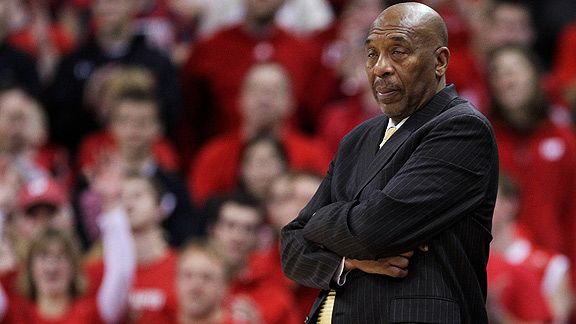 AP Photo/Joe KoshollekJimmy Collins once recruited Chicago for Lou Henson, but he said it was a team effort.
Former Illinois assistant and UIC head coach Jimmy Collins said Monday that Illinois would benefit in recruiting Chicago if it hired its first African-American men's basketball head coach.
Collins was an Illinois assistant to Lou Henson from 1983-1996. The Illini went 279-129 during that period and reached the Final Four in 1989. Collins was passed over for the Illinois head coaching position in 1996 and took over UIC's program that same year and retired from the Flames in 2010. He recruited Chicago throughout his career.
"I think it would be nice if it's a black American," Collins said. "I think it would be nice. I don't think it necessarily has to go that way. Illinois' tradition speaks for itself. It doesn't have to be a black American, but it would be nice if it was, and since the majority of the players in the Chicagoland area are black you got to have someone to relate to them.
"You got someone over there at Marquette in Buzz Williams who relates to people. You got Tom Izzo. You got coaches out there who see wins, not color. I think it would be extremely advantageous to bring in a black coach. I don't think it is the win all, kill all."
Collins believes either Illinois' next head coach or its assistant coaches have to have Chicago ties if they want to have recruiting success in the area.
"If your target is Chicago, you have to have someone familiar with the area," Collins said. "They need to fit in when they get in with Chicago's coaches. One thing about Chicago area, there are rivalries and all the Chicago coaches don't get along. Whoever they bring in, they have to meld everyone.
"You have to be sincere about those kids. A lot of the coaches don't get along, but they are all concerned with happens to the CPS [Chicago Public Schools] players when they go to college. Coaches may not like each other, but they love those kids."
Collins was in charge of recruiting mainly the Chicago area under Henson, but it was a team effort.
"I knew (Henson's) personality, what he wanted, what he liked to have," Collins said. "If I would come back and say to coach, 'Call these coaches and these are the points to emphasize,' he couldn't get in the phone in his hand fast enough. It was a team effort like a basketball team.
"You have to find somebody who is accepted by a majority of the Public League coaches. If that's the head coach, that head coach will have to spend a lot of time in the city. Coach Henson did that. You got to be visible. If the head coach isn't familiar with what goes on in Chicago, your assistants have to be."
Collins admitted Chicago wasn't always an easy place to recruit.
"Chicago is a tough place," Collins said. "It's a tough town, period. You got to get down and got to grind with the community. I know the personality of Chicago. You have to ferment it. Whoever comes in has to really come into Chicago and be accepted immediately. You can't take 2-3 years to be accepted. You have to help the local coaches, the local programs and maybe get in with some of the media people."
Collins wished Illinois the best in its hire. He was hopeful the Illini would return to being among the nation's top programs.
"I am a stepson of the Illini," Collins said. "I didn't go to school, but I was down there for 13 years, and I have a large and great deal of respect for the Illini nation, the university as a whole. The only thing I can add is I hope in their search they take the time to take some of the things I've said here into consideration and bring somebody in who can raise the Illini nation to the degree and point where it should be -- at the top of college basketball."
March, 6, 2012
3/06/12
11:45
AM CT
The family of Jabari Parker, who is the nation's top-ranked junior out of Chicago's Simeon Career Academy, is unsure if Illinois will remain in the recruiting mix for Parker if Bruce Weber is fired.
Read the entire story.
October, 28, 2010
10/28/10
8:14
PM CT
CHICAGO -- ESPNU Top 100 prospect Mike Shaw, of De La Salle, committed to Illinois at a news conference on Thursday.
The 6-foot-8 Shaw chose Illinois over DePaul and Marquette. He is ranked 69th overall in the Class of 2011 and the eighth best power forward by ESPN recruiting.
Read the entire story.