April, 20, 2012
4/20/12
4:56
PM CT
Chicago's King High School has always been touted for its basketball history.
[+] Enlarge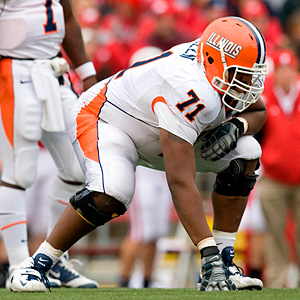 Jeff Hanisch/US PresswireIllinois' Jeff Allen is projected to be selected in the second round of the NFL draft by Mel Kiper.
From Marcus Liberty to Rashard Griffith to Leon Smith to Thomas Hamilton to Jamie Brandon to Imari Sawyer, the list of basketball stars to come through the Chicago South Side school has been plentiful.
King's football program is a different story. It isn't nearly as known, but
Jeff Allen
plans to change that.
Allen, who graduated from King in 2008 and started four years on the offensive line at Illinois, is expected to be selected somewhere in the opening rounds of the NFL draft next week.
"We have had some decent players from our high school program go onto college," Allen said of King. "We just haven't had any great players. That would be an honor for me. We've had some great players throughout time, but they obviously played basketball. To be included in the same sentence with them would be an honor."
Always one of the bigger kids growing up, Allen gravitated toward football at an early age. His dreams of the NFL started not too long after he began playing when he was 9 years old.
ABOUT THIS BLOG

Scott Powers
Scott Powers is an award-winning journalist and has been reporting on preps, colleges and pros for publications throughout the Midwest since 1997.
2014 TOP ILLINOIS FOOTBALL RECRUITS
BLOG ARCHIVE:
CATEGORIES:
IHSAScoreZone IL High School Assn
#IHSA FB Chicago (C. Vocational) 20, Chicago (Whitney Young) 7
about 19 hours ago

IHSAScoreZone IL High School Assn
#IHSA FB East St. Louis (Sr.) 55, O'Fallon (H.S.) 10
about 19 hours ago

IHSAScoreZone IL High School Assn
#IHSA FB Chicago (Kelvyn Park) 17, Chicago (Little Village) 14
about 19 hours ago

IHSAScoreZone IL High School Assn
#IHSA FB Chicago (Noble/Pritzker) 42, Chicago (Noble/Muchin) 20
about 19 hours ago

IHSAScoreZone IL High School Assn
#IHSA FB Chicago (Noble/Golder) 20, Chicago (Noble/Rauner) 14
about 19 hours ago

IHSAScoreZone IL High School Assn
#IHSA FB Chicago (Kenwood) 20, Chicago (Urban Prep/West) 14
about 19 hours ago

IHSAScoreZone IL High School Assn
#IHSA FB Chicago (Westinghouse College Prep) 18, Chicago (Phoenix Military Academy) 0
about 19 hours ago

IHSAScoreZone IL High School Assn
#IHSA FB Chicago (North Lawndale Charter) 45, Chicago (Hubbard) 13
about 19 hours ago

IHSAScoreZone IL High School Assn
#IHSA FB Chicago (CICS/Longwood) 14, Chicago (CICS/Ellison) 12
about 19 hours ago

IHSAScoreZone IL High School Assn
#IHSA FB Chicago (Brooks) 43, Chicago (Urban Prep/Bronzeville) 6
about 19 hours ago

IHSAScoreZone IL High School Assn
#IHSA FB Springfield (Southeast) 48, Springfield (Lanphier) 20
about 19 hours ago

IHSAScoreZone IL High School Assn
#IHSA FB Chicago (Bowen) 38, Chicago (TEAM Englewood) 0
about 19 hours ago

IHSAScoreZone IL High School Assn
#IHSA FB Clifton (Central) 30, Oakland [Tri-County Coop] 14
about 19 hours ago

IHSAScoreZone IL High School Assn
#IHSA FB Chicago (Noble Street Charter) 28, Chicago (Noble/Comer) 20
about 20 hours ago

IHSAScoreZone IL High School Assn
#IHSA FB Pawnee 58, Mt. Olive 8
about 20 hours ago

IHSAScoreZone IL High School Assn
#IHSA FB LaGrange Park (Nazareth Academy) 56, Woodstock (Marian) 35
about 21 hours ago

IHSAScoreZone IL High School Assn
#IHSA FB Chicago (Lindblom) 44, Chicago (Carver Military Academy) 9
about 22 hours ago

IHSAScoreZone IL High School Assn
#IHSA FB Chicago (UCCS/Woodlawn) 41, Chicago (Noble/Hansberry) 0
about 22 hours ago

IHSAScoreZone IL High School Assn
#IHSA FB Chicago (Noble/UIC) 14, Chicago (Noble/Rowe-Clark) 6
about 23 hours ago

IHSAScoreZone IL High School Assn
#IHSA FB Lake Forest (L.F. Academy) 28, Chicago (DePaul College Prep) 20
1 day ago

IHSAScoreZone IL High School Assn
#IHSA FB Mackinaw (Deer Creek-M.) 46, Big Rock (Crossroads Academy) 6
1 day ago

IHSAScoreZone IL High School Assn
#IHSA FB Glen Ellyn (Glenbard West) 22, LaGrange (Lyons) 14
1 day ago

IHSAScoreZone IL High School Assn
#IHSA FB Wilmette (Loyola Academy) 42, Oak Park (Fenwick) 0
1 day ago

IHSAScoreZone IL High School Assn
#IHSA FB Belleville (East) 23, Belleville (West) 21
1 day ago

IHSAScoreZone IL High School Assn
#IHSA FB Elgin (St. Edward) 35, Elmhurst (IC Catholic) 28
1 day ago

IHSAScoreZone IL High School Assn
#IHSA FB Rockford (Christian Life) 34, Hebron (Alden-H.) [Coop] 0
1 day ago

IHSAScoreZone IL High School Assn
#IHSA FB Naperville (Neuqua Valley) 50, South Elgin 28
1 day ago

IHSAScoreZone IL High School Assn
#IHSA FB Chicago (Manley) 20, Chicago (Douglass) 8
1 day ago

IHSAScoreZone IL High School Assn
#IHSA FB Princeville 28, Cambridge [Ridgewood Coop] 18
1 day ago

IHSAScoreZone IL High School Assn
#IHSA FB Winnetka (North Shore Country Day) 34, Arlington Heights (Christian Liberty Academy) [Coop] 0
1 day ago

IHSAScoreZone IL High School Assn
#IHSA FB Fairfield 53, Vienna [V.-Goreville Coop] 10
1 day ago

IHSAScoreZone IL High School Assn
#IHSA FB Chicago (Noble/Johnson) 40, Chicago (Goode STEM Academy) 12
1 day ago

IHSAScoreZone IL High School Assn
#IHSA FB Olympia Fields (Rich Central) 42, Richton Park (Rich South) 0
1 day ago

IHSAScoreZone IL High School Assn
#IHSA FB Chicago (Kennedy) 44, Chicago (Farragut) 8
1 day ago

IHSAScoreZone IL High School Assn
#IHSA FB Chicago (Farragut) 44, Chicago (Kennedy) 8
1 day ago

IHSAScoreZone IL High School Assn
#IHSA FB Bensenville (Fenton) 35, Elmwood Park 6
1 day ago

IHSAScoreZone IL High School Assn
#IHSA FB Herscher 47, Seneca 7
1 day ago

IHSAScoreZone IL High School Assn
#IHSA FB Carlinville 43, Pana (H.S.) 15
1 day ago

IHSAScoreZone IL High School Assn
#IHSA FB Rockford (Lutheran) 41, Winnebago 6
1 day ago

IHSAScoreZone IL High School Assn
#IHSA FB Urbana (H.S.) 38, Bloomington (H.S.) 20
1 day ago

IHSAScoreZone IL High School Assn
#IHSA FB Bloomington (Central Catholic) 20, Stanford (Olympia) 14
1 day ago

IHSAScoreZone IL High School Assn
#IHSA FB Romeoville (H.S.) 30, Plainfield (Central) 26
1 day ago

IHSAScoreZone IL High School Assn
#IHSA FB West Chicago (Wheaton Academy) 35, Palos Heights (Chicago Christian) 7
1 day ago

IHSAScoreZone IL High School Assn
#IHSA FB Rock Island (Alleman) 20, Moline (H.S.) 16
1 day ago

IHSAScoreZone IL High School Assn
#IHSA FB Oak Lawn (Richards) 46, Oak Lawn (Community) 21
1 day ago

IHSAScoreZone IL High School Assn
#IHSA FB Algonquin (Jacobs) 42, Grayslake (Central) 6
1 day ago

IHSAScoreZone IL High School Assn
#IHSA FB Bradley (B.-Bourbonnais) 52, Harvey (Thornton) 13
1 day ago

IHSAScoreZone IL High School Assn
#IHSA FB Murphysboro 65, Metropolis (Massac County) 20
1 day ago

IHSAScoreZone IL High School Assn
#IHSA FB Manlius (Bureau Valley) 43, Kewanee (H.S.) 6
1 day ago

IHSAScoreZone IL High School Assn
#IHSA FB Stockton 50, Ashton (A.-Franklin Center) 6
1 day ago

IHSAScoreZone IL High School Assn
#IHSA FB Kankakee (McNamara) 27, Burbank (St. Laurence) 21
1 day ago

IHSAScoreZone IL High School Assn
#IHSA FB Chicago (Payton) 8, Chicago (Marshall) 7
1 day ago

IHSAScoreZone IL High School Assn
#IHSA FB Chicago (Phillips) 69, Chicago (Julian) 0
1 day ago

IHSAScoreZone IL High School Assn
#IHSA FB Lombard (Montini) 43, Chicago (De La Salle) 30
1 day ago

IHSAScoreZone IL High School Assn
#IHSA FB Chicago (Fenger) 28, Chicago (Kelly) 23
1 day ago

IHSAScoreZone IL High School Assn
#IHSA FB Hoopeston (H. Area) [Coop] 34, Whitestown (Traders Point Christian), IN 6
1 day ago

IHSAScoreZone IL High School Assn
#IHSA FB Canton 60, Pekin 56
1 day ago

IHSAScoreZone IL High School Assn
#IHSA FB Urbana (H.S.) 38, Bloomington (H.S.) 20
1 day ago

IHSAScoreZone IL High School Assn
#IHSA FB Bensenville (Fenton) 35, Elmwood Park 6
1 day ago

IHSAScoreZone IL High School Assn
#IHSA FB Elmhurst (York) 42, Villa Park (Willowbrook) 7
1 day ago

IHSAScoreZone IL High School Assn
#IHSA FB Taylor Ridge (Rockridge) 58, Sherrard 16
1 day ago

IHSAScoreZone IL High School Assn
#IHSA FB Plainfield (East) 21, Oswego (East) 6
1 day ago

IHSAScoreZone IL High School Assn
#IHSA FB West Chicago (H.S.) 32, Elgin (H.S.) 12
1 day ago

IHSAScoreZone IL High School Assn
#IHSA FB West Chicago (Wheaton Academy) 35, Palos Heights (Chicago Christian) 7
1 day ago

IHSAScoreZone IL High School Assn
#IHSA FB Toulon (Stark County) 31, Kewanee (Wethersfield) [A.-Wethersfield Coop] 7
1 day ago

IHSAScoreZone IL High School Assn
#IHSA FB Grayslake (North) 50, Normal (Community West) 43
1 day ago

IHSAScoreZone IL High School Assn
#IHSA FB Niles (Notre Dame) 20, Chicago (Marist) 18
1 day ago

IHSAScoreZone IL High School Assn
#IHSA FB Batavia 40, St. Charles (East) 7
1 day ago

IHSAScoreZone IL High School Assn
#IHSA FB Darien (Hinsdale South) 40, Maywood (Proviso East) 6
1 day ago

IHSAScoreZone IL High School Assn
#IHSA FB Bunker Hill 44, Wood River (East Alton-W.R.) 16
1 day ago

IHSAScoreZone IL High School Assn
#IHSA FB Edwardsville (H.S.) 35, Alton (Sr.) 7
1 day ago

IHSAScoreZone IL High School Assn
#IHSA FB Flossmoor (Homewood-F.) 69, Joliet (Central) 0
1 day ago

IHSAScoreZone IL High School Assn
#IHSA FB Fox Lake (Grant) 63, North Chicago 24
1 day ago

IHSAScoreZone IL High School Assn
#IHSA FB Coal City 22, Plano 13
1 day ago

IHSAScoreZone IL High School Assn
#IHSA FB Geneseo 48, LaSalle (L.-Peru) 8
1 day ago