November, 5, 2013
Nov 5
8:15
AM CT
Chicago Simeon junior forward D.J. Williams committed to Illinois on Tuesday.

Williams, a 6-foot-7, 203-pound small forward, chose the Illini over DePaul, Florida, Georgetown, Providence, Purdue and Southern Methodist.

"From my first time on campus, I was just thinking it was the right move," Williams said by phone on Tuesday morning. "I've liked [Illinois] coach [John] Groce on and off the court. It's also close to my home. My family can watch me play. The Big Ten is also one of the best conferences in the country."

Williams is ranked No. 28 in ESPN's Class of 2015 and is the highest-ranked recruit Groce has landed since being hired in March of 2012. Illinois has two top-50 recruits committed in the Class of 2014 and signed two top-100 recruits in the Class of 2013.

ESPN recruiting nation scout/analyst Reggie Rankin thought Williams could be an impact player in the Big Ten and was another significant recruit for the Illini.

"I think he's a wing player that can score," Rankin said. "He's got great length. He's got a terrific mid-range game. He's active and he's got tremendous upside. He'll be an excellent wing scorer in the Big Ten. That's a tremendous get for them, especially from another instate, Chicago high school power.

"I think that now Groce has been there a year and he's more established that these things are going to happen more consistently. It may not be a steady stream, but I think he'll be able to get high-level underclassmen early because they're established there as a team and are doing well and are projected to do well. They also have an excellent class in play in 2014. I think it's part of Groce and his staff being more established and working their home turf, which is a tremendous recruiting ground for them."

Williams was optimistic he could attract other top players from his class and help build Illinois into a NCAA tournament championship contender.

"I can now start recruiting for the other players to kind of join me," Williams said. "Illinois is rolling really good. With the players they have coming in and more from my year, I think we can make a big run in the NCAA tournament."

Williams is the third player from Simeon to commit to Groce. He previously signed shooting guard Kendrick Nunn and point guard Jaylon Tate from Simeon. Both are expected to play for the Illini as freshmen this season.

Simeon coach Robert Smith said he was proud to send players to Illinois.

"It's one thing [former Simeon coach Bob] Hambric talked to me about when I was younger, about keeping guys at home is always big for Simeon, Illinois and the state," Smith said. "I think it's a great opportunity. Our basketball is too good in the state to have everyone leave for other schools. That's my drive to let other people and coaches know to try to keep our guys home. It's not for everyone. It's best for some players to go to Kentucky, Duke and North Carolina because it doesn't fit here, but we should try to make our basketball rich and good in Illinois."

Williams has made a number of unofficial visits to Illinois during the past few years. His most recent visit came during Illinois' homecoming on Oct. 26.

Illinois assistant coach Paris Parham was the lead recruiter on Williams.

Illinois is also among the final four schools for Chicago Curie senior forward Cliff Alexander, who is ranked No. 3 in the Class of 2014 by ESPN. He will announce between DePaul, Illinois, Kansas and Memphis on ESPNU on Nov. 15.

"Williams' commitment certainly can't hurt with Alexander," Rankin said. "It shows another Chicago high-level player has earned their trust to go to Illinois."

Williams is Illinois' first Class of 2015 recruit.

May, 7, 2013
May 7
3:18
PM CT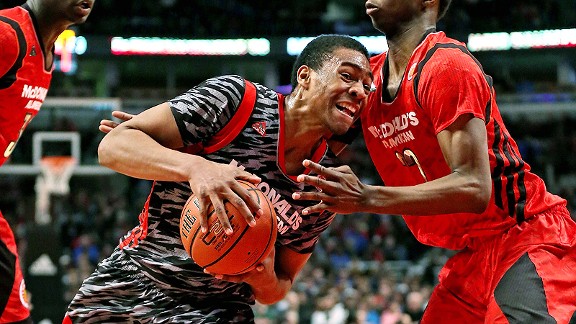 Jonathan Daniel/Getty ImagesJabari Parker might have gone to Illinois if John Groce had more time to recruit him.
Simeon coach
Robert Smith
believes Illinois' John Groce is on the right path as far as recruiting top talent out of Chicago.
In fact, Smith believes if Groce had been hired sooner, he might have had a shot at Jabari Parker.
Groce replaced Bruce Weber, who was fired, after the 2011-2012 season. Parker was already cutting his list of schools and eliminated Illinois from his choices. Parker had a good relationship with Weber, who had been recruiting him for years, but the uncertainty of change didn't sit well with the top recruit. Parker ultimately committed to Duke over BYU, Florida, Michigan State and Stanford.
Parker's teammates, Simeon senior guards Jaylon Tate and Kendrick Nunn, are both signed to play at Illinois next season.
"If Illinois had hired John Groce earlier, they would have had chance with Jabari," Smith said. "He was hired too late and Jabari was already looking at other schools. He wanted to play for his home state and win a national championship here.
"[I think Groce had a chance with Parker] because of his personality, him as a coach -- he let his players play -- and his charisma. I know Jaylon and Kendrick love him as a coach and person. I think that has a lot to do with them going there."
Smith believes those characteristics that will lead to Groce receiving future commitments from Chicago's premier players. One of the biggest criticisms of Weber was he failed to retain the state's top talent. Derrick Rose, Jon Scheyer, Sherron Collins, Evan Turner and Julian Wright chose to play out of state during Weber's Illinois tenure.
Curie forward Cliff Alexander, who is ranked No. 8 in the Class of 2014, is currently one of Illinois' main recruiting targets.
"I think it can happen with Cliff and getting him there and some of the other guys over there," Smith said. "I think Illinois has a real chance in the next three or four years to really do some things. I could see them go to the Final Four and possibly win a national championship in the next three or four years.
"It's just like the vision I had for Illinois when I was interested in the job. It's playing out without me being there. Coach Groce is doing a great job with that."
Groce was given a one-year contract extension and salary raise after this past season. He led Illinois to a 23-13 record, 8-10 in the Big Ten and to the NCAA tournament in his first year.
Groce's 2013 recruiting class is ranked No. 15 by ESPN. The class includes Nunn, Tate, small forward
Malcolm Hill
, power forward Austin Colbert and center Maverick Morgan. Illinois will also add three transfers -- Seton Hall sophomore guard
Aaron Cosby
, Illinois State junior forward Jon Ekey and Western Michigan forward
Darius Paul
.
November, 15, 2012
11/15/12
4:22
PM CT
CHICAGO -- If a college basketball coach is going to have one close relationship with any high school in Chicago, Simeon would be the desirable place.

The Wolverines have owned Illinois high school basketball for nearly a decade. Simeon has won five state championships and has had one runner-up finish in the past seven years. It has produced two players ranked in the nation's top 5 during that span and will have delivered at least 16 players since 2006 to Division I programs after the upcoming season.


June, 26, 2012
6/26/12
9:41
PM CT
Some of the Chicago area's most prominent high school and clubs coaches reacted positively Tuesday to
Illinois
hiring assistant coach Paris Parham.
Parham replaces Isaac Chew on Illinois coach John Groce's staff after Chew departed last month for a position at
Marquette
. Parham is expected to be the Illini's lead Chicago recruiter. He is a Chicago native, played at Dunbar High School in Chicago, coached at Phillips High School and Morgan Park High School in Chicago's Public League and has recruited the city and surrounding suburbs the last five years for
Illinois State
.
"It's rare a person gets an opportunity to do a do-over," said Whitney Young coach Tyrone Slaughter, whose roster includes nationally-ranked juniors
Jahlil Okafor
and
Paul White
. "I think coach Groce and the Illinois program got a do-over. We all liked the Chew hire, but I think the Paris Parham hire is one we love. It's means nothing negative against Chew. It's about the relationship we all have with Paris.
"I'm elated. This is one of the few times in Illinois basketball hire history that I can say I'm excited."
April, 5, 2012
4/05/12
1:15
PM CT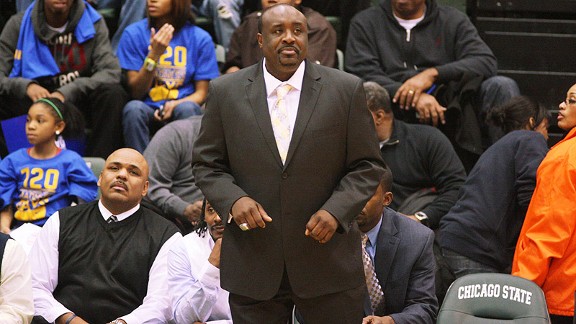 Smith_Robert 111212Robert Smith liked what he heard from John Groce.
Simeon coach Robert Smith said Thursday he recently had a positive conversation with new Illinois coach John Groce, but he didn't anticipate being asked onto Groce's staff.
Smith was contacted during Illinois' coaching search and previously said he would listen if offered an assistant position. Smith has compiled a 230-37 record and won an IHSA record five state championships in eight years at Simeon. His current players include the nation's No. 1 junior
Jabari Parker
,
Kendrick Nunn
, who was previously committed to Texas A&M, and Marquette recruit
Steve Taylor
.
"No, we didn't get into (his staff)," Smith said. "Basically, we had a conversation about him being the coach and what his views were. It wasn't anything about coaching. Right now, I'm happy where I'm at. It looks like I'm going to be here, and I'm basically getting ready for next year."
Smith was unfamiliar with Groce, who was previously Ohio's coach, before being hired at Illinois. Groce contacted Smith since being named Illinois' coach on March 29, and Smith was pleased with what he heard.
"We had a great conversation," Smith said. "I think he's going to be able to come in and relate to the guys. I think the guys will take to him. He has that charisma like some of the big-time coaches do."
March, 28, 2012
3/28/12
10:43
PM CT
Chicago-area high school and club coaches reacted with mixed opinions to Illinois' hiring of John Groce.
Most of the coaches reacted negatively to Groce's hiring, saying they were disappointed Illinois didn't hire someone with Chicago ties or someone they were familiar with.
"I got two words – good luck," said Mac Irvin Fire coach Mike Irvin, whose current players include nationally-ranked junior Jabari Parker and sophomore Jahlil Okafor. "I don't know him. I've never met him. I don't know who he is. Really the past 4-5 years, we've had high-major players in our program, so we never crossed paths with him."
Curie high school coach Mike Oliver had a similar reaction. Oliver's top player is 6-9 sophomore center Cliff Alexander, who is ranked No. 11 in the Class of 2014.
"I never heard of him in my life," Oliver said. "I don't know who he was. I understand he's the head coach of Ohio. I think it's very disappointing. Personally, I don't know his background. I don't think that's a big upgrade with what we had. I think we're back in the same situation or worse than when we had coach (Bruce) Weber."
MeanStreets club coach Tai Streets had one of his players, D.J. Cooper, go play for Groce, but also couldn't speak to knowing Groce. Streets' current players include juniors Kendrick Nunn, Paul White and Alvin Ellis and sophomore Tyler Ulis.
"I really haven't talked to him at all," Streets said. "I know he obviously recruited D.J. I was told he hung around some. I didn't talk to him. Illinois will be a good challenge for him. We'll see if he can make it happen."
Illinois recruiting analyst and former club coach Larry Butler believed Groce could be successful in Chicago.
"It's not a bad hire at all," Butler said. "I think he's a great hire. I think he's a dynamite communicator. He's proven he can get kids to elevate their play. He'll be able to deal with guys around Chicago. He'll be able to win guys over."
Illinois Wolves club coach Mike Mullins also thought Groce could do well at Illinois. Mullins' players include Illini commit Jalen James, a junior point guard and Normal University's Keita Bates-Diop.
"What I know of coach Groce is throughout the years he's done a great job recruiting wherever he's been and has moved up the ladder," Mullins said. "He's done everything to move up to be considered for this job. He didn't ask for the media circus around him. He didn't create that.
"I think he's proven he can recruit in the Big Ten. He recruited NBA players and recruited them all around the country. He has Midwestern roots. He's been successful in the NCAA tournament. Those are all things that prior to the search began were on the list what a new head coach should be able to do."
Whitney Young high school coach Tyrone Slaughter expected a more high-profile name. Slaughter's players include nationally-ranked sophomores White and Okafor.
"I guess my thing is I don't want to bury a guy before he starts," Slaughter said. "But for me, it's an interesting hire. That would be the best way I could put it. It's an interesting hire given that we've been talking so much about recruiting Chicago and Illinois.
"It wasn't what I expected to be the hire after coach Weber. I thought we were really looking to bring someone with a much grander national appeal. We obviously didn't do that."
Simeon high school coach Robert Smith was also unfamiliar with Groce. He believed Groce had some work to put in if he was going to have any chance at Parker, who attends Simeon and is the nation's top junior, or any of the area's top juniors.
"He's definitely behind the eight-ball," said Smith, who was contacted about Illinois' position. "I can tell you that. He can come in and overwhelm everyone and everyone can jump on his bandwagon. I'm not going to have a personal vendetta against Illinois. I'm still going to be for Illinois. I still want them to be No. 1 in the country."
Slaughter thought Groce's background in recruiting Greg Oden and Mike Conley Jr. could help him, but thought time was more of an issue.
"He's had success with high-end players, so maybe that part won't be difficult for him," Slaughter said. "The biggest part will be making up ground in a short amount of time. You have an inordinate amount of time make up in a short time in that a lot of these players have been recruited by coaches for awhile now. These are people they see and know."
Irvin felt the same.
"In 2013, there's a lot of high-major kids in that class," Irvin said. "They're being recruited by Kentucky, Duke, Kansas, Marquette, DePaul. They're being recruited by everybody. Now you bring in someone who hasn't had any contact with any of these players. He's got a lot of ground to make up. I'm not saying it can't be done. Anything is possible."
Smith felt it was vital for Groce to quickly create a relationship with Chicago's coaches. He believed DePaul coach Oliver Purnell went through a similar process when he was hired in 2010.
"You have to get the right people on staff and relate to the Chicago area and know the ins and outs of it," Smith said. "I think that happened a little with DePaul. I think Oliver and I had a conversation and our whole relationship changed.
"It's coming in and building a relationship and kind of listening. I'm not saying do what we say, but listen to Tyrone Slaughter and myself, the Irvins and Tai Streets, the people with the bulk of the players. We're not street guys. We're not going to be taking money. We just want our kids to be taken care of."
Oliver thought it was especially key to create relationships with the high school coaches.
"I think personally I'm looking for someone to have the best interest of the kids and try to get the best product we have in the state," Oliver said. "Just do it the right way. A lot of coaches recruit through the AAU system. I don't think that's the right way to do it. I think you have to build through the high school coaches. At the end of the day, the high school coaches knows three times the amount the AAU coaches know about a player."
Despite many of the coaches' initial reactions, they were looking forward to giving Groce the benefit of their doubt.
"I definitely wouldn't mind meeting him," Irvin said. "I would give him a chance. I'll see what my first impression is."
Slaughter hoped Groce would consider bringing someone with Chicago ties onto his staff.
"Obviously, we'd like to see someone from Chicago actively looked at to assume some responsibility at Illinois," Slaughter said. "I believe there are quality people here who could assist and help the staff and help turn that program."
The coaches also explained they were vocal about Illinois' coaching decision because they want the Illini to succeed.
"We just want to put Illinois on the national map," Oliver said. "I'm willing to work with the new coach. I believe everyone deserves a chance. I just want a fresh start. I love Illinois basketball."
March, 28, 2012
3/28/12
10:36
PM CT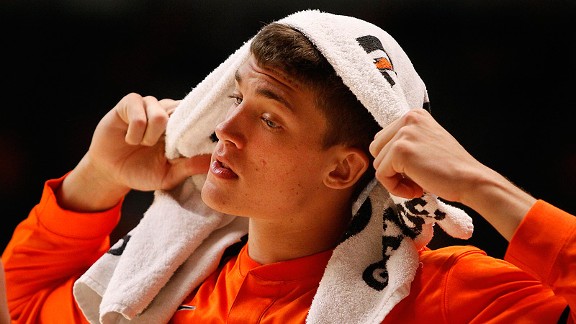 Ben Woloszyn/US PresswireMeyers Leonard might be a top-15 pick in the NBA draft this summer.
Here are six key objectives for new Illinois coach John Groce, who sources say agreed to a deal on Wednesday:
1. Convince sophomore Meyers Leonard to stay:
With Leonard, the Illini should be able compete at the top of the Big Ten. Without him, it's unlikely. Leonard dominated at times as a sophomore, but he still had inconsistencies due to foul trouble and his own personal frustrations. He likely will be drafted in the top 15 if he leaves, but he could be an All-American and a top-10 pick if he stays.
[+] Enlarge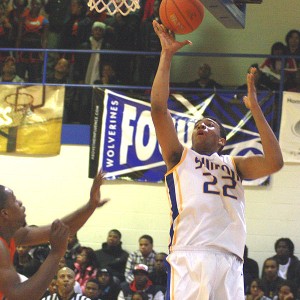 Scott Powers/ESPNChicago.comHow will a new coach affect Jabari Parker's decision on Illinois?
2. Reach out to Parker:
Simeon junior
Jabari Parker
is the No. 1 junior in the country and has been the priority for Illinois since he stepped foot on a high school court. Former Illinois coach Bruce Weber developed a good relationship with Parker and his family. It's unlikely Illinois will land Parker, but Groce has to make a strong push. Groce recruited Greg Oden and Mike Conley Jr. to Ohio State, so he has experience with top-end players.
3. Retain assistant coach Jerrance Howard:
He lives and breathes Illinois basketball. Howard grew up with it, played there and has now coached there. He has a strong relationship with the current players and the ones already committed. Howard has two years left on his contract. If he gets away, another high-major program will scoop him up, and he'll soon be recruiting against Illinois.
4. Bring someone with Chicago ties onto the staff:
Howard has opened many doors in Chicago, but Chicago coaches would be even more comfortable with one of their own. You're never going to please everyone in Chicago, but a coach with Chicago roots would go a long way in most gyms. Simeon coach
Robert Smith
is the logical choice, but he'll have to be persuaded to leave.
5. Drive to Chicago and start building relationships ASAP:
It's going to be an uphill climb for Groce in Chicago. Most Chicago coaches don't know him, so they're going to be skeptical until they speak with him. It will be a lot like what DePaul coach Oliver Purnell went through when he first was hired. Despite what critics have said, Chicago isn't any more difficult to recruit than any other major city. You have to get in there and gain trust. Groce can do that, but it will take a little time.
6. Deal with Illinois' current recruits:
Groce and the Illini's current commitments will have to decide what's best for everyone's futures. Crete-Monee point guard
Michael Orris
is the only player signed in the Class of 2012. Prospect senior combo guard
Mike LaTulip
was also recruited as a preferred walk-on. For the Class of 2013, Illinois has commitments from Belleville East shooting guard
Malcolm Hill
and LaLumiere point guard
Jalen James
. Both are highly touted and are considered to be Illinois' backcourt of the future.