High School:

Jordan Diamond
February, 3, 2012
2/03/12
7:43
PM CT
January, 25, 2012
1/25/12
1:53
PM CT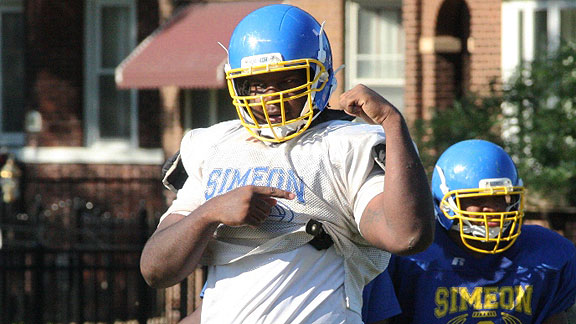 Scott Powers/ESPNChicago.comJordan Diamond will decide where he'll be flexing his muscles in college on Feb. 3.
Simeon senior offensive lineman
Jordan Diamond
, the 94th-ranked player on the ESPNU 150, and quarterback
Robert Gregory
will announce their commitments on Feb. 3, coach Dante Culbreath said Wednesday.
The 6-6, 290-pound Diamond will choose between Arkansas, Auburn, Michigan, Ohio State and Wisconsin, according to Culbreath. Diamond is the 10th-ranked offensive tackle in the country.
"He's been visiting each one of the schools, trying to find the best place for him," Culbreath said.
The 6-3, 185-pound Gregory will decide between Arkansas, Kansas, Minnesota and Purdue, according to Culbreath. Gregory was previously committed to Arkansas, but decommitted in December. He is the 64th-ranked athlete in the nation.
"He really wanted to play quarterback," Culbreath said. "He was looking at those situations out there. We wanted to open up his recruitment. All of the schools he's looking at now are recruiting him at quarterback."
Culbreath said the two players were close friends and could end up at Arkansas together.
"That would be totally unique," Culbreath said.
Culbreath said he's tried to give both players one piece of advice throughout their recruitment.
"I tell them to follow their hearts," Culbreath said. "Let your heart lead you. All of them are great schools."
August, 21, 2011
8/21/11
12:17
AM CT
CHICAGO -- Simeon senior offensive tackle Jordan Diamond plans to be patient when it comes to his college decision, and he expects the coaches recruiting him to do the same.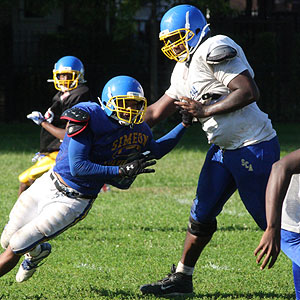 Scott Powers/ESPNChicago.comSimeon's Jordan Diamond is one of the nation's top offensive line prospects.
The 6-foot-5, 305-pound Diamond, ESPN's highest-ranked Illinois prospect, has made it clear that he won't be choosing a school until after his senior high school season on Chicago's South Side.
"Everything is wide open," Diamond said after a recent practice. "I haven't made a list or anything. I'm just focusing on my season, teaching the younger guys. I'm waiting to the end of the season. That's when things are going to heat up."
Diamond is ranked No. 102 in the ESPNU 150 and is considered the 12th best offensive tackle in the country. He's being recruited by nearly every top college program. Simeon coach Dante Culbreath counted 25 current offers for him.
While Diamond doesn't plan on a decision until likely November or later, he has been doing his share of research. He's already made visits to Arkansas, Auburn, Illinois, Michigan, Mississippi, Tennessee, Vanderbilt and Wisconsin.
"I've gotten around this year," Diamond said. "It's been a great experience for me."
Diamond would like to also make visits to Arizona, Arizona State, Florida, Miami and Oregon. Depending on how Simeon's season goes, he may take a few of those trips during the high school season.
When Diamond finally does dwindle his list, it'll come down to the people as much as the football for him.
"Every spot that I basically went to said I would have the opportunity to play early," Diamond said. "That's a consistent stand with all the schools. Right now, it's all about the people, the guys you're surrounding me with as teammates and players. That's what I'm looking for."
Diamond doesn't fear schools will rescind his scholarship offers as time passes. If some do, that's fine with him.
"Whoever wants me at the end," Diamond said. "It's going to be a dog fight. Anything is possible. The main thing is holding out and seeing where the real coaches are. The real coaches who stick there with you. That's what I'm looking for."
Culbreath recommends all his players take their time in recruiting. Former Simeon guard Chris Bryant, another highly-ranked offensive lineman, didn't commit to Michigan until January of his senior year.
"I try to force them to go through the process," Culbreath said. "That's my advice – go through the process. Things may change. You may commit to Oregon, and in the offseason the coach gets fired."
For now, Diamond's focus is on his high school team. He's added some weight in the offseason and worked to improve his speed. His main goal is to help Simeon become the first Chicago Public League team to win a state football championship.
"Just like every year, it's the state title," Diamond said. "We're trying to make history as a CPS unit. We have the talent to do it. Right now, it's going to be about discipline and hard work."
June, 8, 2011
6/08/11
6:14
PM CT
Simeon offensive tackle Jordan Diamond and Glenbard West defensive tackle Tommy Schutt were named to the Class of 2012 ESPNU 150 on Wednesday.

Diamond, who is 6-6, 291 pounds, is ranked No. 103 in the country. He is considering Auburn, Iowa, Michigan, Michigan State, Notre Dame, Ohio State and Wisconsin, among others.

"Diamond is a big and versatile offensive line prospect," ESPN recruiting coordinator Craig Haubert said. "He possesses good size, and in addition to playing tackle he could certainly slide inside and be a productive guard as well.

"He is a physical run blocker, but maybe the thing that jumped out to us most about Diamond was his ability to play on his feet in space. He moves well for a big man, exhibiting good balance and agility and does a good job when asked to pull or get down-field and block on the move at the second-level."

Schutt, who is 6-3, 305 pounds, is ranked No. 135 in the Class of 2012. He is considering Florida, Oregon, Penn State and Wisconsin, among others.

"Schutt is a good-sized kid who is physical, gives good effort, and is simply a pretty good football player," Haubert said. "He is not a quick penetrating disruptive force, but he seems to play with a passion for the game and plays it well and can be a stout, tough, and a productive football player in the trenches."

Although they didn't make the ESPNU 150 list, other Illinois players who were highly graded were Barrington offensive tackle Dan Voltz, Providence offensive tackle Ryan Ward, Lake Forest Academy defensive end Faith Ekakitie, Curie athlete Maurice Fleming, Montini offensive guard Jaleel Johnson, Bolingbrook outside linebacker Antonio Morrison, Edwardsville defensive tackle Vincent Valentine, Montini wide receiver Jordan Westerkamp, Rochester quarterback Wes Lunt and Simeon quarterback Robert Gregory.