High School:

Jordan Getzelman
November, 19, 2011
11/19/11
7:59
PM CT
BATAVIA, Ill. -- Prairie Ridge senior Connor Greenwald knew all too well the feeling of losing in a semifinal playoff game.
Greenwald had experienced that crushing disappointment as both a sophomore and junior when the Wolves were halted one step short of reaching the state championship in back-to-back seasons. It was a feeling that stayed with him throughout the last two years.


On Saturday, Greenwald was finally able to shake those memories for good and embrace a new feeling after Prairie Ridge defeated Batavia 33-22 in a Class 6A semifinal to advance to its first state championship game.
Prairie Ridge will play Peoria Richwoods, which defeated Lemont, for the state title on Saturday.
After sharing dozens of hugs with teammates and fans, Greenwald wasn't sure how to express what he was actually feeling at the moment.
"Words can't describe how awesome it is," said Greenwald, who rushed for a game-high 231 yards and two touchdowns. "I'm so happy with my whole team. We worked so hard to get to this point. We did it. It's awesome."
It didn't come easy for Prairie Ridge.
[+] Enlarge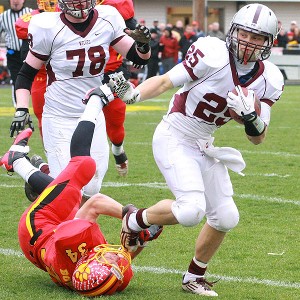 Scott Powers for ESPNChicago.comPrairie Ridge's Jordan Getzelman shakes free of Batavia's defender.
Down 14-13 at halftime, Prairie Ridge (12-1) first turned to its defense to create some momentum. On the opening drive of the second half, Batavia's offense was rolling and got inside the red zone. But with Batavia facing a fourth-and-2 from the 18, Prairie Ridge broke up a pass and gained possession.
"I think if we score on that drive, the game's ours," Batavia quarterback Noel Gaspari said.
Instead, Prairie Ridge took over the ball, drove 82 yards and went ahead 20-14 when Jordan Getzelman rushed for an 18-yard touchdown. Getzelman finished with 101 rushing yards.
A possession later, Prairie Ridge's Josh Hrudicka picked off a pass and ran the ball 37 yards into the end zone to put the Wolves ahead 26-14. They extended their lead to 33-14 when Greenwald scored the second of his two touchdowns.
Batavia (12-1) did make one more push. With the wind at his back, Gaspari got to work in the fourth quarter. He moved the ball quickly and scored on five plays with 10:56 left in the fourth quarter. He added a 2-point conversion pass to pull Batavia within 33-22.
After stopping Prairie Ridge on its next possession, Gaspari again had the Bulldogs advancing the ball. He had one touchdown pass brought back due to an illegal block. He almost threw another touchdown pass, but Prairie Ridge's
Sean Folliard
foiled that with a display of athleticism.
As Batavia's Evan Zeddies was catching Gaspari's pass in the end zone, Folliard flew at Zeddies, landed a massive hit and snatched the ball in mid-air for an interception.
"It's the semifinals, man," Folliard said. "All out. If you think they got the ball, you got to take it away, take it away. He had the ball, and I stripped it out as he was falling down."
With that, Prairie Ridge coach Chris Schremp finally was able to exhale.
"Until time ran out, I was nervous," he said. "[Folliard's] so athletic. Him coming away with the ball doesn't surprise me. Some of the things we get to see him do in practice. But a phenomenal play. One of the plays of the year for us."
Like Greenwald, Schremp felt a lot of pressure taken off of him with Saturday's win.
"My wife asked me this morning how I feel," Schremp said. "I said I don't know how to feel because it's going to turn out to be one of the best days of your career or one of the worst days of your career. It turned out pretty good today."
Gaspari was 29-of-46 passing for 374 yards, three touchdowns and three interceptions.
October, 26, 2011
10/26/11
12:33
AM CT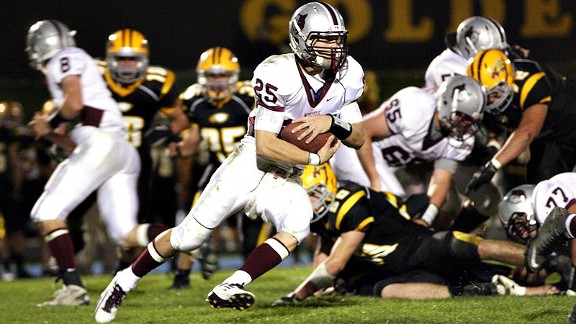 Scott Powers/ESPNChicago.comPrairie Ridge running back Jordan Getzelman is averaging 13 yards per carry this season.
There's no class more wide open than Class 6A in this season's IHSA football playoffs.
Picking the state champion out of a hat may be as accurate as an educated guess this year. There are at least nine state-title contenders.
Batavia, Cary-Grove, Crete-Monee, Lemont, Nazareth and Prairie Ridge are all currently ranked in the ESPNChicago.com Top 20. From outside the area, Normal Community, Normal Community West and Danville all have strong resumes. Then, there are teams like Antioch and Lake Forest, which have played well during spurts this season.
"Class 6A is solid," Batavia coach Dennis Piron. "There are lot of teams who could win it all. I expect a lot of upsets these first two weeks."
Best opening round game
No. 13 Grant vs. No. 4 Antioch:
Antioch will get a chance to avenge its only regular-season loss. Grant upset the Sequoits 22-14 in Week 8. Grant's Kyle Whitman scored the game-winning touchdown with 45.7 seconds remaining.
Top 10 Class 6A teams
1. Lemont (9-0):
The Indians defense is among the state's best. Lemont has allowed just five points a game and held five opponents scoreless. The Indians have the easiest road to the semifinals.
2. Batavia (9-0):
The Bulldogs have been one of the season's bigger surprises. While they were expected to be a good team this season, no one could have guessed they'd be so dominant. Batavia outscored opponents by an average of 35.4 points in the regular season.
3. Crete-Monee (9-0):
The Warriors have the talent to compete with anyone. The only question is if they'll be ready to play another top-ranked team. Their regular-season schedule was the easiest of the elite 6A teams.
4. Nazareth (8-1):
The Roadrunners fought through a demanding eight-game East Suburban Catholic schedule and won a share of the title. Their offense can put up points, but their defense was especially impressive in wins over Joliet Catholic and Marist.
5. Cary-Grove (7-2):
The Trojans are as hot as anyone in the class right now coming off an overtime win over Prairie Ridge. They could meet Nazareth in the second round.
6. Prairie Ridge (8-1):
The Wolves looked like the state championship favorite before falling 22-21 to Cary-Grove in Week 9. It was the first time their offense was held to less than 29 points.
7. Normal Community West (9-0):
The Wildcats are the premier 6A team outside of the Chicago area. They went undefeated in a tough Big Twelve Conference. They defeated Danville 15-14 in Week 5 and could see a rematch with the Vikings in the second round.
8. Danville (8-1):
The Vikings lost to Normal Community West by one point and defeated Normal Community by one.
9. Lake Forest (7-2):
The North Suburban Lake went under the radar this season, but the Scouts were right there with Lake Zurich and Stevenson. They defeated Stevenson 10-7 and lost to Lake Zurich 16-6.
10. Antioch (8-1):
The Sequoits were at one time ranked in the Chicago area. They could find themselves in the quarterfinals if they can return to form.
Top 5 players to watch
1. Crete-Monee, SR, DB, Anthony Standifer:
Standifer is one of the premier defensive backs in the state. He's headed to
Michigan
next season.
2. Lemont, JR, OL, Ethan Pocic:
Pocic is one of the state's biggest and most talented offensive lineman. He's 6-6 and 285 pounds and is being highly recruited.
3. Nazareth, SR, DB, Kalium Ewing:
Ewing was the East Suburban Catholic defensive player of the year. He's returned four interceptions for touchdowns.
4. Prairie Ridge, JR, RB, Jordan Getzelman:
Getzelman is averaging 13 yards per carry and has scored 11 rushing touchdowns and six receiving touchdowns.
5. Batavia, SR, QB, Noel Gaspari:
Gaspari is one of most talented quarterbacks in the area. He's thrown for 2,061 yards and 20 touchdowns.
Sleeper team
Bremen (6-3):
Someone will have to emerge to face Lemont in the quarterfinals, and it's likely Bremen. The Braves have been up and down a bit, but they do possess one of the state's top running backs in
David Smith
.
Coaches' thoughts
Crete-Monee coach Jerry Verde:
"We have a difficult opener versus Bloomington. They are a team that has made the playoffs 25 straight years. They play fundamentally sound defense and have some legitimate weapons on offense. Should we win Saturday, we would play an excellent Normal Community or Peoria Richwoods team. We feel good about where we are as a program, and feel we can compete with all the teams in our quadrant, but must first win round one."
Nazareth coach Tim Racki:
"We have a tough bracket, but we play in a tough conference. No such thing as an easy road in the playoffs in my opinion."
Lemont coach Eric Michaelsen:
"I think 6A is solid. There are a lot of good, well-coached teams."
The road for the defending Class 6A state champions
Boylan was bumped up to Class 7A, so there will definitely be a new champion in 6A.
Fun fact
Only five teams in the Class 6A playoff have won a state championship before. Richards and Peoria Richwoods have won two titles, and Cary-Grove, Deerfield and Normal Community have each won one.
State championship prediction:
Batavia defeats Lemont