High School:

Josh Williams
November, 5, 2011
11/05/11
3:54
AM CT
By
Andy Frye
| ESPNChicago.com
DOWNERS GROVE, Ill. -- Downers Grove South notched a crucial second win in Class 8A of the IHSA playoffs by routing Chicago Southside hopefuls Brother Rice 41-14 on Friday.
The Mustangs opened the scoring within three plays, as
Josh Williams
caught a tight pass from quarterback AJ Simoncelli for a 48-yard touchdown.


Brother Rice struggled with the ball early, unable to convert on fourth down twice and barely able to get within their opponents' territory.
The Mustangs, in contrast, did well by capitalizing on Crusader turnovers. An early punt to Brother Rice was fumbled at the Crusaders' 38 yard line, putting Downers Grove South in scoring position. Kicker Anthony Farinelli put up his first of two field goals make it 10-0 at the end of the first quarter.
The Crusaders would also fumble on first down in the second quarter again handing the Mustangs another scoring opportunity.
"We made way too many mistakes in the first half. We gave them great field position, gave them the ball," Brother Rice coach Steve Nye said. "But our guys didn't quit. They never quit."
Before the end of the half, Williams, who had 151 total yards on the night, scored the second touchdown, and a third right after the next Brother Rice fumble at their own 20. Farinelli kicked another 3-point strike with 0:04 left in the half to make it 27-0.
The Crusaders took some points back six minutes into the second half, as
Andrew Walker
raced in a 27-yard touchdown off a handoff. Walker, who had 82 total yards, followed it up five minutes later with another touchdown on the next possession to make it 27-14.
"We got comfortable a little in the third quarter and [Brother Rice] got some momentum," said Mustangs offensive tackle Sean Eslit. "But we found our rhythm and worked hard to get it done the last 12 minutes."
Downers South's defense contained Rice throughout the fourth quarter, as Crusaders quarterback Pat Parilli exited the game injured with nine minutes to go.
Simoncelli's fourth-quarter 18-yard pass to Kaylon Miller bumped the Mustangs' lead to 20 points. John Wauer later ran in a 1-yard handoff to seal the deal for Downers Grove South.
Player of the game:
Josh Williams, whose power and consistency gave Downers South three early TDs.
The game was over when:
At 34-14, the Mustangs' defense clamped down on Brother Rice, ending their scoring hopes.
Stat of the game:
Three touchdowns and 151 yards by Williams in a dominant Downers South first half.
Play of the game:
Kaylon Miller's sneaky TD reception off the right side at the start of the fourth.
Quote of the game:
AJ Simoncelli, "It was our offensive line. Those guys won the game for us."
What it means:
DGS moves on, and Brother Rice's season ends.
Martez Walker
and Andrew Walker, the Crusaders' top two all-time leading rushers, graduate to college ball.
October, 14, 2011
10/14/11
2:24
AM CT
Downers Grove South senior running back
Josh Williams
is constantly dealing with questions about his size and his recruitment.
At 5-foot-9 and 195 pounds, Williams isn't the biggest of backs. But when it comes to production, there haven't been many better in the state this season. He's rushed for 1,642 yards and 24 touchdowns, averaging more than 10 yards a carry in seven games.
Despite those numbers, it appears his physical measurements have mattered most to colleges. FBS and FCS schools haven't come calling, and Division III schools are his best options at this point.
While those are the topics he's asked about most, they've rarely been on Williams' mind otherwise this season. After missing the bulk of the last two seasons due to ankle injuries, he's having so much fun just being on the field and winning that the rest seems trivial to him.
[+] Enlarge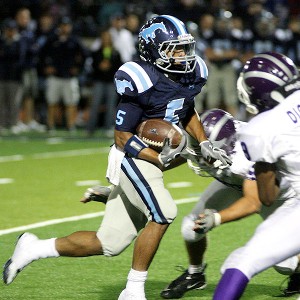 Scott Powers/ESPNChicago.comDowners Grove South's Josh Williams has rushed for 1,642 yards and 24 touchdowns in seven games this season.
"I'm enjoying it so much," said Williams, who is the ESPNChicago.com Player of the Week. "It's been so much fun with my teammates. It's so much fun to be able to do what we're doing, being 7-0. It's fun being with great friends.
"I'm being very patient [with recruiting.] That's important in this process. Some people want to give up. If I wait it out, continue to stay strong and not worry about the end result, everything will work out."
Much of Williams' mental strength comes from his religious background. His father is a pastor, and he was taught to put his faith in God. It's worked for him so far.
When Williams suffered ankle injuries as a sophomore and junior and had to sit out a total of nine games, he turned to God and found the guidance he needed.
"Having that faith, knowing everything would be good, it's all a mindset for you to look past it or continue to dwell on it," Williams said.
Williams focused on the future. Following his second ankle injury, he took the weight room and made sure both ankles were as strong as they could be to help prevent another setback.
Williams hasn't dealt with any ankle problems this season. He's been hitting holes, making cuts and breaking away from defenders as well as he ever has.
Downers Grove South coach John Belskis has been impressed.
"He cuts at a speed I don't think a lot of running backs have," Belskis said. "I'm dating myself, but running back Lydell Mitchell from the Colts said he wasn't the fastest back in the league, but he was the same speed in every direction. Josh is 4.5 ahead, 4.5 to the side, 4.5 backward. You can't get a solid hit on him. He also has the ability to run over you. He's an explosive, power back."
Williams' older brother Scottie also starred at Downers Grove South and was under-recruited. He is now a junior running back at Elmhurst College and has rushed for 651 yards in five games this season.
Belskis was sure Williams could play college football. He just wasn't positive at what level yet.
"We'll find out that soon enough," Belskis said. "There's a coach who is going to be awfully happy to have him. He probably doesn't know that yet."
Williams' numbers are undeniable. He ran for 336 yards and three touchdowns in the season opener against South Elgin. He ran for 282 yards and six touchdowns on 12 carries against Leyden. He went for 200-plus yards against Downers Grove North and Proviso East.
Williams is pleased with his season, but he's nowhere close to being satisfied.
"I do feel as if I showcased some of my ability," Williams said. "You can never become content. That allows a player to become lazy and not achieve higher goals. That's one thing I've focused on. I want to continue to do great things."
September, 24, 2011
9/24/11
3:56
AM CT
DOWNERS GROVE, Ill. – Despite rushing for 244 yards in a 24-14 win over neighborhood rival Downers Grove North on Friday, Downers Grove South running back Josh Williams wasn't smiling after the game.


Racking up 225 yards in the second half and scoring two touchdowns wasn't satisfying to him. He wasn't even pleased No. 9 Downers Grove South (5-0) remained undefeated, or that he has already accumulated 1,200 rushing yards and 19 touchdowns on the season.
Nope.
All Williams could think about following the Mustangs' victory was being contained in the first half and fumbling on Downers Grove North's 1-yard line in the second half. He sounded after the game as if his team had been eliminated from the playoffs.
"It's not supposed to happen," Williams said of his fumble. "It's not something I'm used to doing. I'm going to be down on myself until I prove to myself I will never do that again."
[+] Enlarge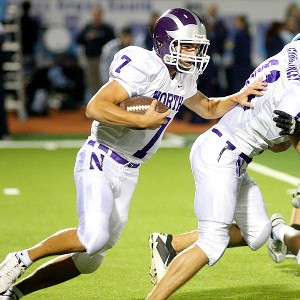 Scott Powers/ESPNChicago.comDowners Grove North quarterback Riley McGinnis follows his blockers on Friday.
Williams redeemed himself quickly following his fumble, which Downers Grove North recovered. When the Mustangs got the ball back, Williams scored on his first touch, rushing for a 28-yard touchdown to put his team ahead 24-0 in the fourth quarter.
Downers Grove North's defense did have Williams' number in the first half and kept the game close. He was held to 19 yards on seven carries in the first two quarters, and Downers Grove South only led 10-0 at halftime behind a 67-yard touchdown run by quarterback A.J. Simoncelli and a 32-yard field goal by Anthony Farinella.
"Their defense is really good," Williams said. "They knew what they were doing. I was so hard on myself [at halftime.] I hate the feeling like I'm being shut down."
Williams came out motivated in the third quarter and ran for 35 yards on his first carry, 11 yards on his second carry and scored on a 10-yard run on his third attempt. After five runs in the second half, he was over 100 yards for the game.
Downers Grove North's offense had its chances throughout the night. In the second quarter, the Trojans (1-4) set up a first-and-goal from the 7-yard line after a couple first-down passes by Riley McGinnis. But on their next play, they were penalized 10 yards for holding, and they failed to score on the drive.
Later in the third quarter, trailing 17-0, Downers Grove North again pushed the ball inside the Mustangs' 10. But on first-and-goal, the Trojans fumbled the ball and were pushed back 10 yards. The drive ended with an interception by Lance Leong on fourth down.
Downers Grove North made the score respectable with two fourth-quarter touchdowns. Anthony Rada, who ran for 132 yards, and Robert Sheppard each scored late rushing touchdowns.
Downers Grove South coach John Belskis wasn't pleased with the late touchdowns his defense allowed.
"We didn't finish the game like we normally do, but I think it's the sixth year in a row we've beaten them," Belskis said. "That's saying a lot. They're a good football team. Our kids now have bragging rights for our seniors. I'm happy for them, but not happy we didn't finish the game like we normally do."
Downers Grove North wide receiver Stephen Kanis caught five passes for 68 yards. McGinnis threw for 119 yards.